So Alive at Plattsburgh State with Those 'Fast Times at Ridgemont High'
My Freshman Year Through the Eyes of 1982 Film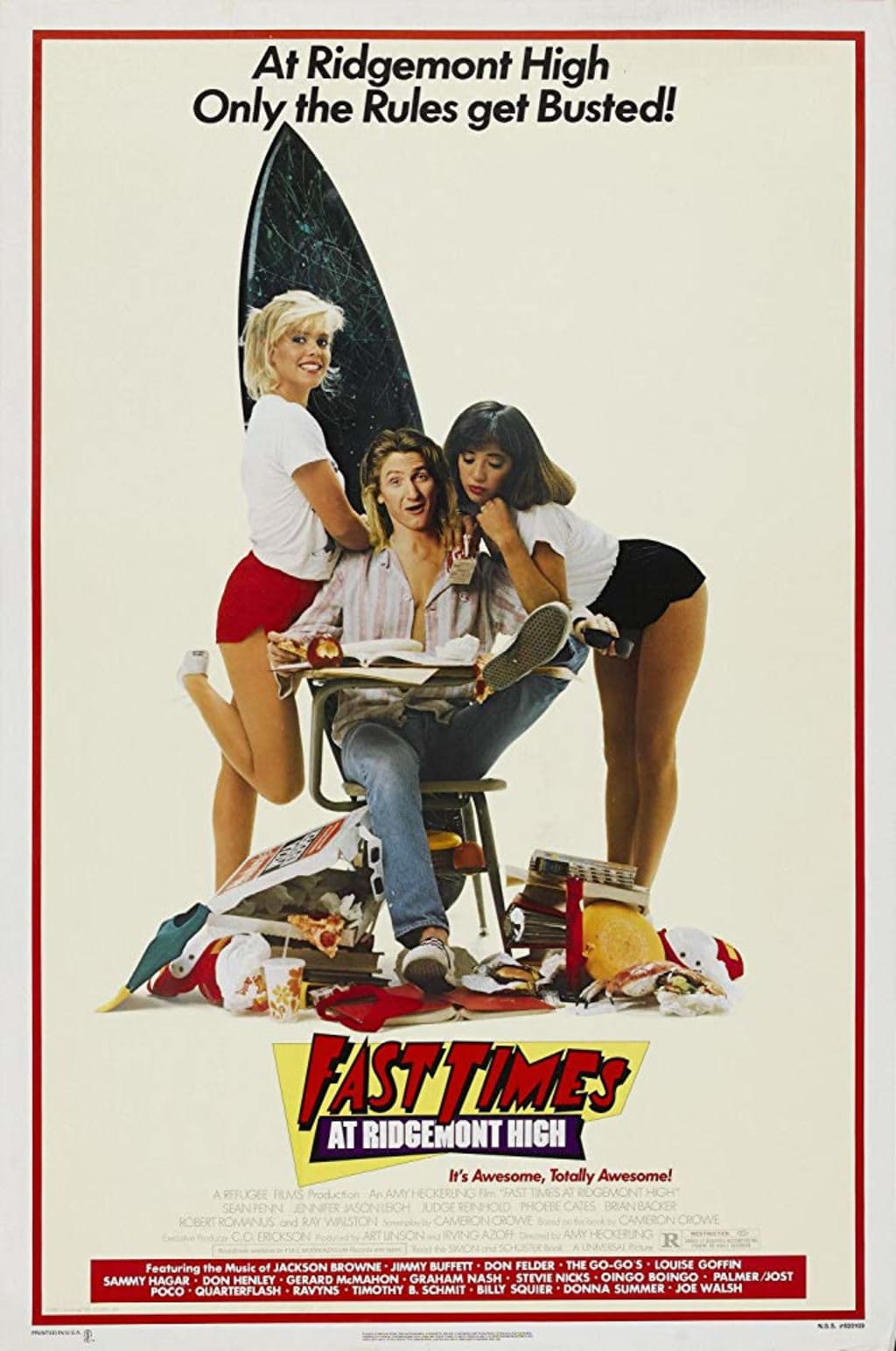 When I went off to Plattsburgh State in 1982, I was terrified. But by the time I came back two weeks later for a wedding, I was locked in. Like a returning hero, I was met by Fast Times at Ridgemont High, and the Cameron Crow film so fit the moment.
The American Graffiti of our generation, we proudly take the kudos for passing on the innocence. Rampant sex, hovering clouds of marijuana smoke and decadent academics—the future of America looked bright.
We even one-upped the Hollywood version. Dollar pitchers at the Monopole—the weekend didn't end on Monday, that's when it started. I certainly participated, but the other fun had me at a loss.
The computer girl gets on the elevator.
Enter Mark Ratner and did I really need a look in the mirror while everyone else was living it up. He did just meet a girl, though, and so did I.
Among the the tidal wave of college girls, I got on the fifth floor elevator and came face to face with my own personal tsunami. Blonde hair and blue eyes, "I'm just gonna walk up to her… I'm gonna talk to her tonight."
Thanks anyway Jackson, I easily struck up conversation and provided enough clever discourse to make my mark. I also believe it was during this first foray where I invented a line that college students now take for granted.
"Hey, what's your major," I was sure I was the first.
The delusions would progress exponentially. I found she was in my computer science class, and I dazzled everyday on the way back from the Faculty Office Building (FOB).
Hence, the Computer Girl and the FOB shuffle was born. I did not heed the cautionary tale part of Rat's incursion, though.
"She's got to be somebody's baby," all fingers were pointing toward me.
At the same time, it seemed that I was finally invited to the party, and the Sunday morning accounts never failed to entertain.
Nonetheless, I was every bit Mark Ratner. He's alone in her room, locked at the lips and runs for the hills. So I knew I'd suffer a similar type of fate and here entered my Damone.
Wisdom and Guidance at the Ready
"The Attitude dictates that you don't care if she comes,stays, lays or prays. Whatever happens, your toes are still tappin. When you are the cruelest and the coolest... then you have The Attitude," Damone had it covered
The big beautiful nose I shared with Ratner, the attitude was science fiction, and my state carried a more fundamental issue. I had no idea what to do, and what if being in the midst of it took all of eight seconds.
So roommate one was succinctly at the ready. "As long as you blow your load," Johnny told me over and over.
Ah to be young and completely devoid of wisdom. The truth is, Johnny's interpretation hit the spot. I figured I'd feel my way around and come out on top either way.
Don't use sex as a tool.
Otherwise, Johnny and Larry (my other roommate) were on the same page as Brad (Judge Reinhold). "I'm a senior now. I'm a single, successful guy, and I've got to be fair to myself. Lisa... I think I need my freedom," was the banter as we all bunked for bed every night.
Still, Larry always assured us about his Molly being a cool chick. "I think I'm going to marry her," he always tried to convince himself.
Of course, we believed that one as much as the line he was now parroting from Fast Times.
"We don't use sex as a tool," Larry laid out the sarcasm.
Three long weeks at college, though, and the tools were scarce. So me and Johnny were pretty suspicious when everyone left for dinner but Larry and a girl named Denise. She was curvy, to say the least, and we left the cafeteria early to catch him in the act.
Fortunately, we were a little late and I will never forget the smell. Remarkably, we kept his secret until the end of freshman year, but Johnny had more discerning restraint. One late night he was making out with a girl in the lounge, but a few minutes later, he was back in 51c with us.
The explanation was again succinct. "She didn't want to go back to her room so I got up and said goodnight."
Johnny didn't screw around, and he invoked the same phrase on consecutive girlfriends during the first few months. "Two weeks."
That was his limit…
Shuffling Along
As for me on the shuffle, my heart soared with every smile and twinkle of her blue eyes. If you can't envision, Jennifer Jason Leigh's wistful glances in Fast Times should provide plenty of portrait
Still, I had no plan, and like the exchanged look between Damone and Stacy on Mark's date, foreshadowing took a much more definitive glare. Friday night as Mothers, Pete was suddenly on the dance floor with the computer girl, and all I had was a double take. "What's going on there," I tried to deny.
I found out the next night. Our 5th floor party ended with Pete descending into his room with my girl. So for as much as I felt utter joy for two weeks, the juxtaposition came back to me in spades as I saw the lights go out.
The bottom drops out.
Now, I got the message. "She's got to be somebody's babe," but for me, it was a song called All Dead by Queen. Tragic lost love, "She came without a farthing, A babe without a name," began the refrain and sent my elevator to the basement.
Of course, the turn table was the thing that faced an imminent end, and by the 40th play, Johnny had to restrain himself from throwing the stereo out the window.
Like Mark Ratner, though, a possible reprieve emerged. I can still see Pete heading off with his backpack on Friday afternoon, and I was ready to pounce.
Yeah, Pete had nothing to worry, but then she appeared at my door around 8 O'Clock. Unfortunately, the thrilling turn of events was cancelled by my musical fallback position. "Girl, I want you here with me but I'm really not as cool as I'd like to be," Ray Davies' recent lyrics now crystalized for me.
So I maneuvered her out of my room to a third-floor party. We danced the whole night, and despite the fact that I two-stepped like a kangaroo, we were in close proximity throughout.
We were so alive.
"Don't you want me baby," by Human League never fails to brings me back. The fact that she was mouthing the words still makes me wonder whether she was the first I let get away.
No matter, the Mark Ratner in me made sure. He had a car to return and I had a calculus midterm. Free to escape, there were no more chances and Jackson Brown would not shut up for the rest of the year.
But just because I staggered through with my wounds, doesn't mean I will ever turn away from the Fast Times. We got the Beat kicking off the remembrance, we were young and so alive.
It doesn't matter whether we won or lost either. We took our own story away to the soundtrack never gets old.
Please Like My Movie Page on Facebook.
Author can be reached at [email protected].