Oregon Adventure pt. 1
My first trip to Oregon!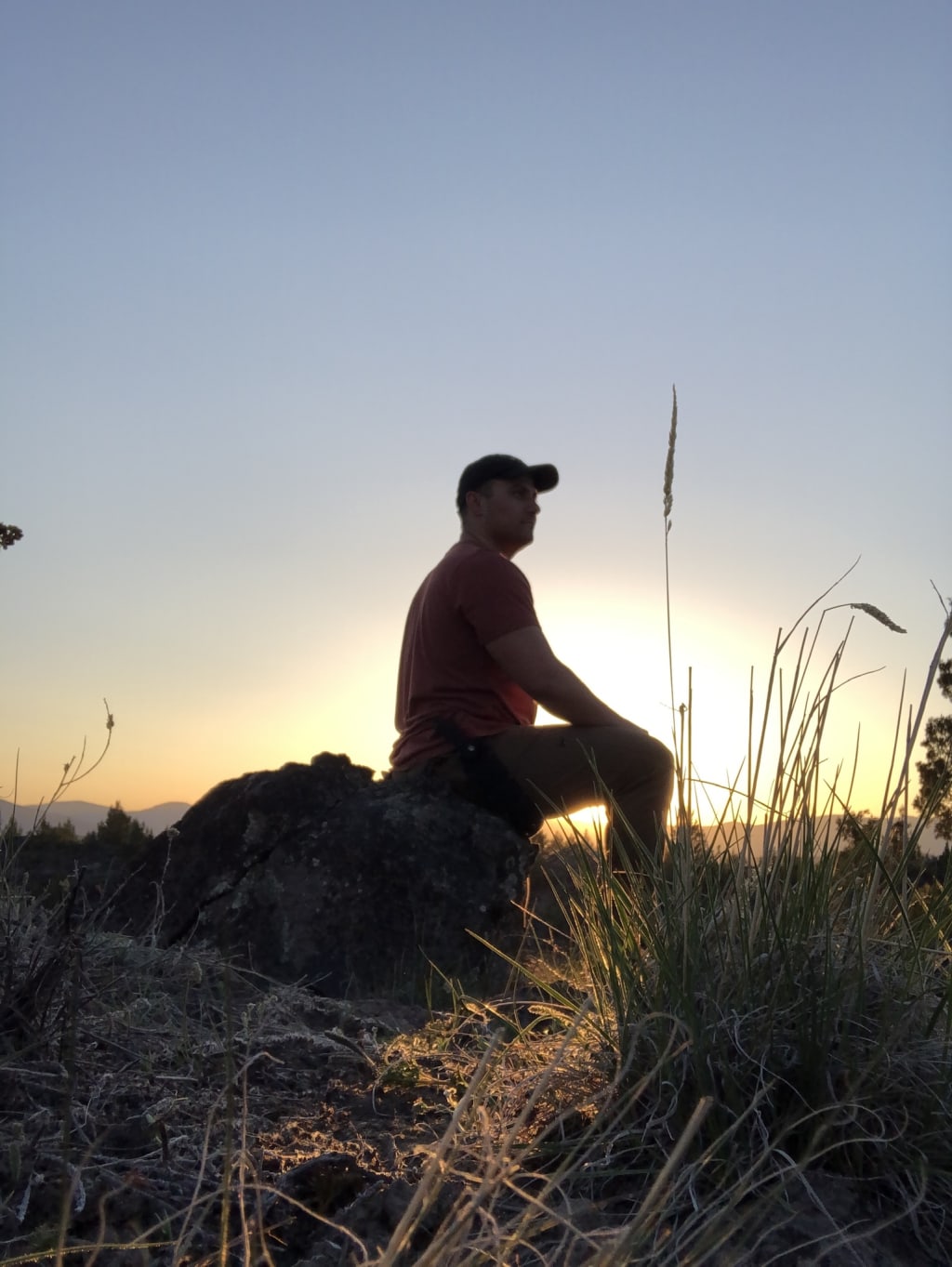 Sun going down - Mt Shasta
I took a trip to Oregon last week. Being one of the handful of states I have never visited, I was excited to check it out! I started off from northern Cali, and made my way north. My first stop was at a place called "Mt Shasta 360," a campsite I found on "HipCamp." This turned out to be a pretty awesome site, with a grand view of the mountain and a little fire pit.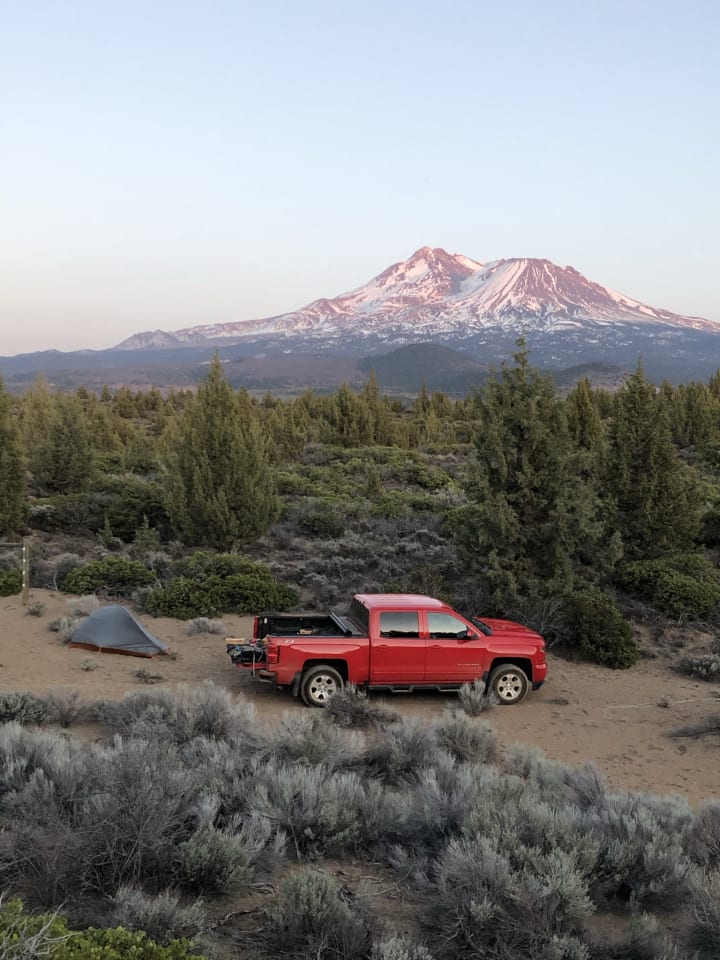 The view was amazing, and I hiked a little ways along an old, fallen wire fence which led me along to a great sunset view. Getting to my campsite before sundown with enough time to enjoy the scenery has become a rather new experience for me 😆😆 I made a fire and watched the stars while drinking a Smirnoff "SMASH" and listening to Jordan Peterson's "12 rules for life" on Audible.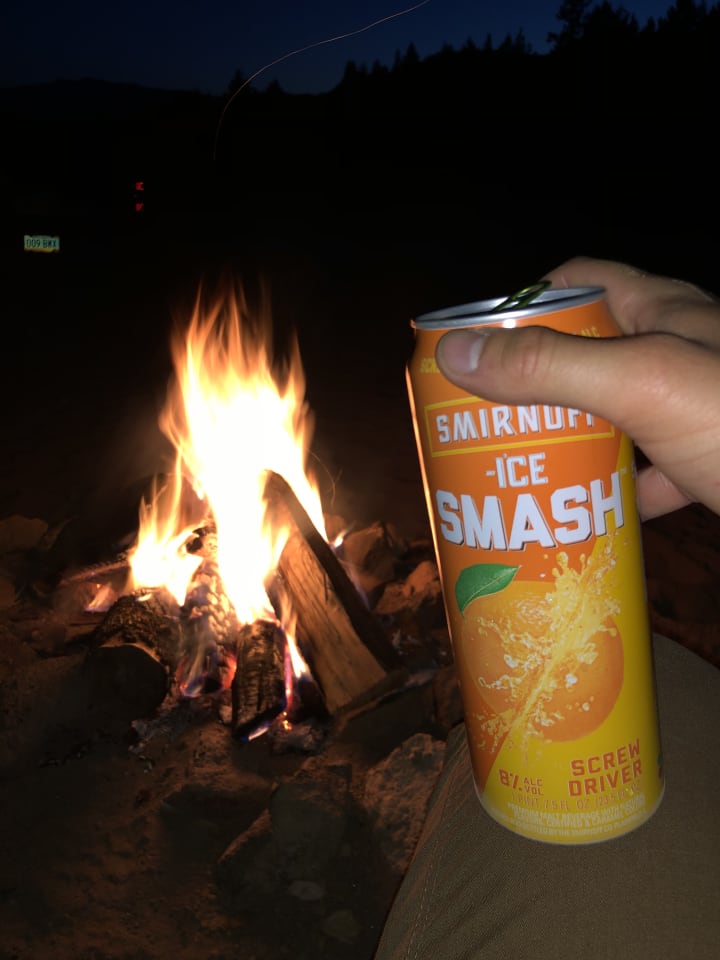 My next stop was in Bend, Oregon, a few hours up the road. As I made one of my stops along the route, a strong wind came out of nowhere and stirred up a "dust devil" around 50 feet high. I was shocked at how sudden this all took place, and was amazed at how I had only stayed in my car because a coworker had contacted me.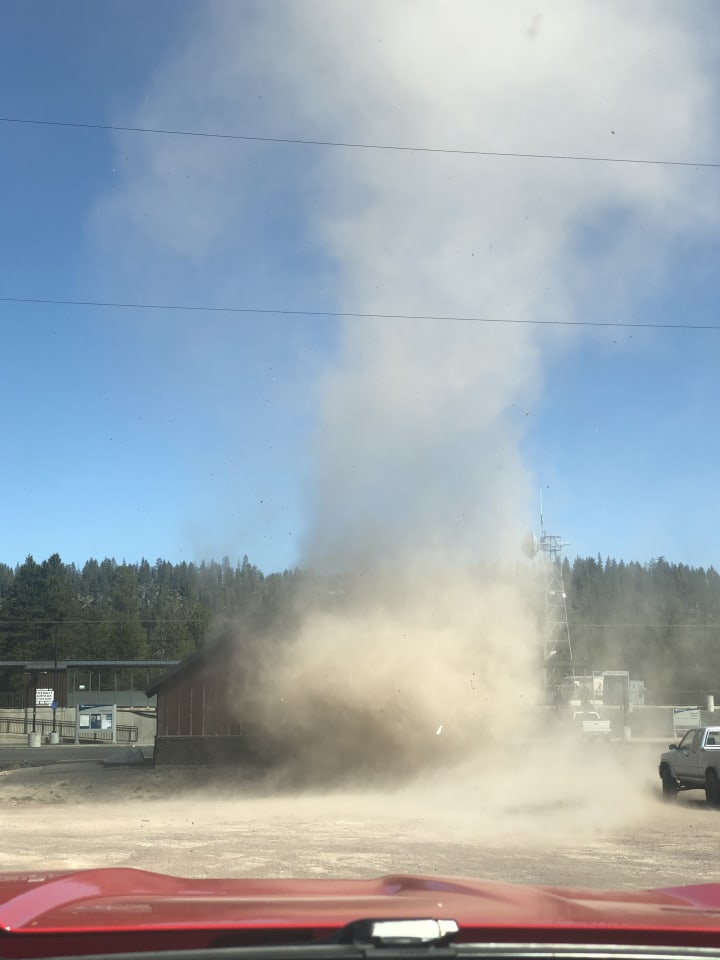 I asked a woman standing near me if this was her truck, because I wanted to take a photo of it. She said to have away, LOL. For some reason I like how colorful, old trucks look juxtaposed with nature. Maybe it's that vintage look or how old machines can almost become one with nature over time...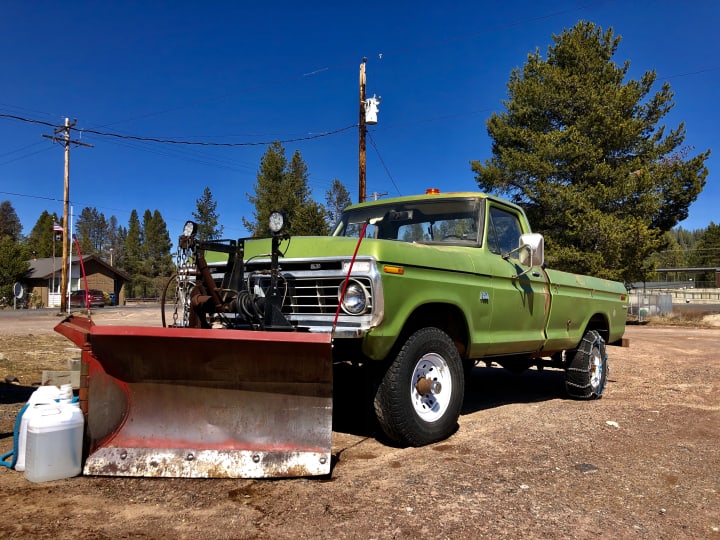 My next stop was in Bend, OR. My coworker had tipped me off to the fact that the last BLOCKBUSTER was located there, and that I should check it out. It was a rather iconic experience!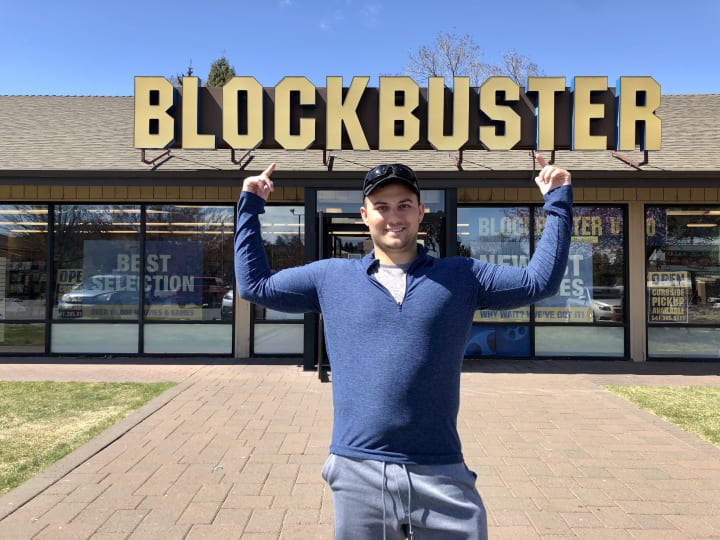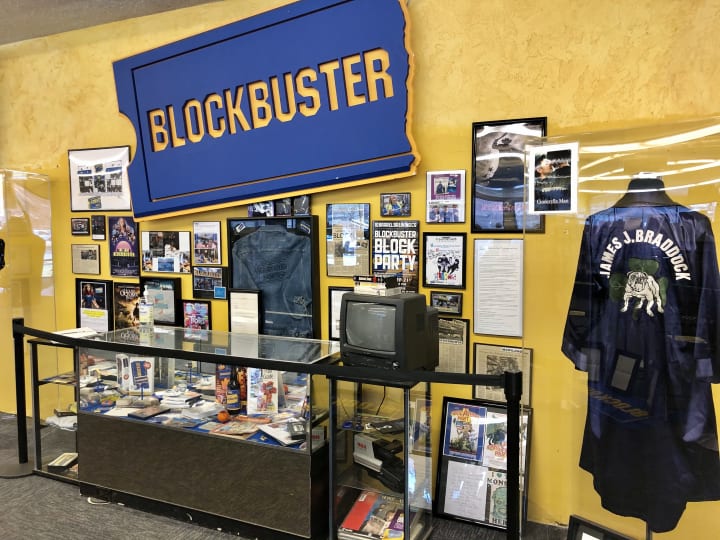 Someone I had talked to told me about Smith Rocks, so I drove past and took an obligatory truck pic 😆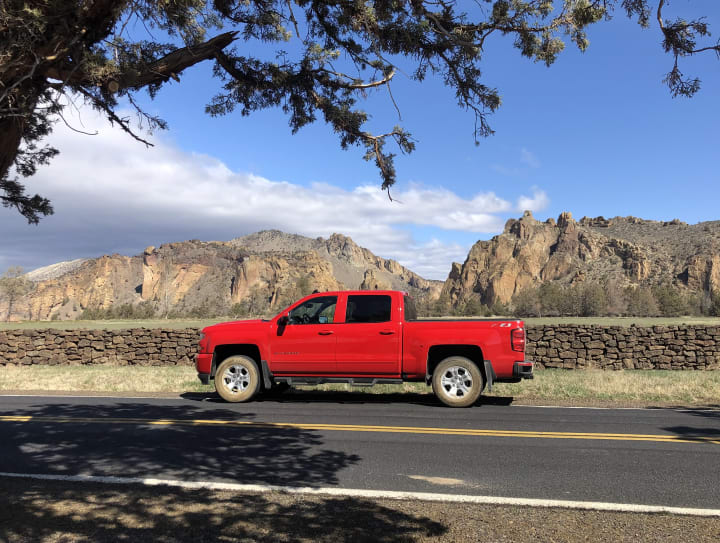 As I pressed on towards my northernmost destination of Mt Hood, I decided to check out one of the places I had seen online, called "Little Crater Lake." Of course, the photos online show a crystal clear, blue pond in the summertime. This provided a false perception, as I was around 2 months off from having my summertime dream trip. I made it to the state park, and came to the realization that the snow was still abundantly packed on the roads. However, my adventurous spirit pressed me on, as I found a way around the berm that was blocking the entrance.
I made my way along backroads, well out of cell phone reception at this point. I became a little concerned a couple times as I had to overcompensate with steering to maintain course in the soft snow. The woods were stunning!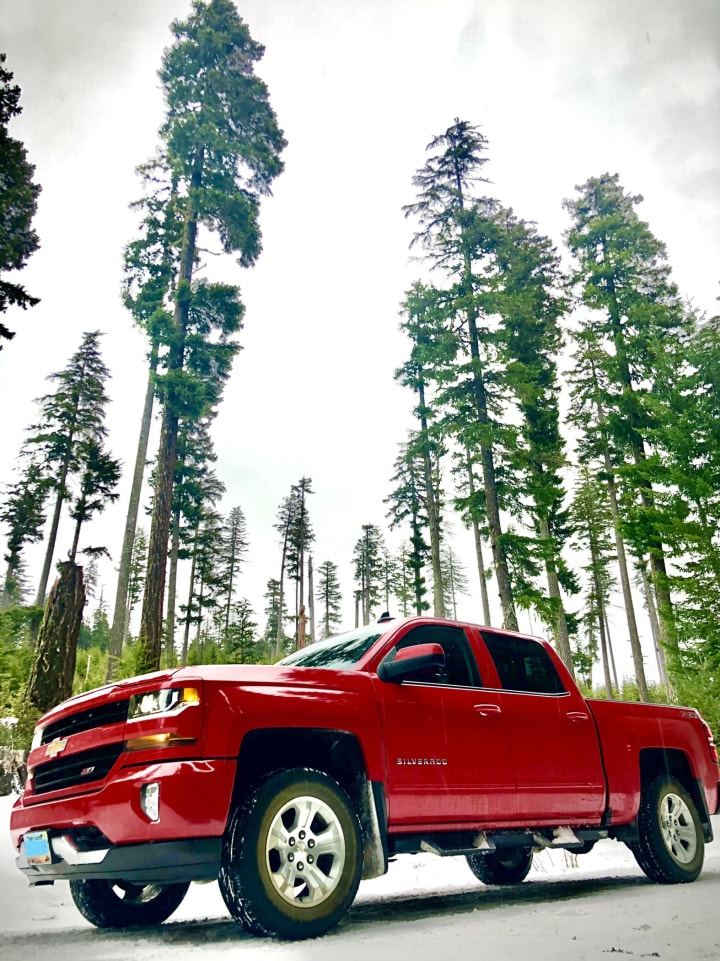 I eventually made it as far as I was willing to go, and walked the rest of the way to my lake destination. It was less impressive than expected, given the clouds prevented the sun from illuminating the vibrant blue color as I had anticipated from online photos: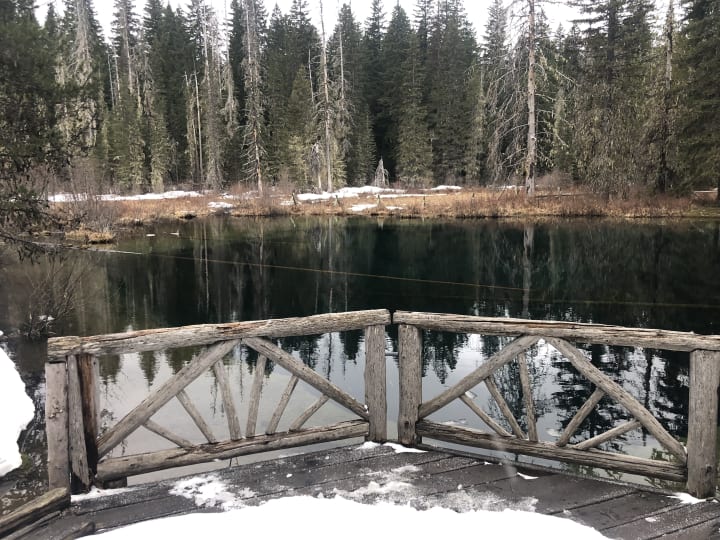 The real fun was only beginning for me...to "get out of the woods" as they say, I had to back up to a "T" in the road at the junction to the lake road. In doing so, I managed to back all the way up to the juncture but struggled with the best path to make the 90 degree turn. On my second attempt, my truck began to slow and settle to the left side. It suddenly dawned on me that I was stuck several miles out of cell phone service. I had about an hour to try and dig myself out before sundown. However, this was unsuccessful. My foldable Coleman shovel barely did the job, but gravity and friction were not on my side in this endeavor.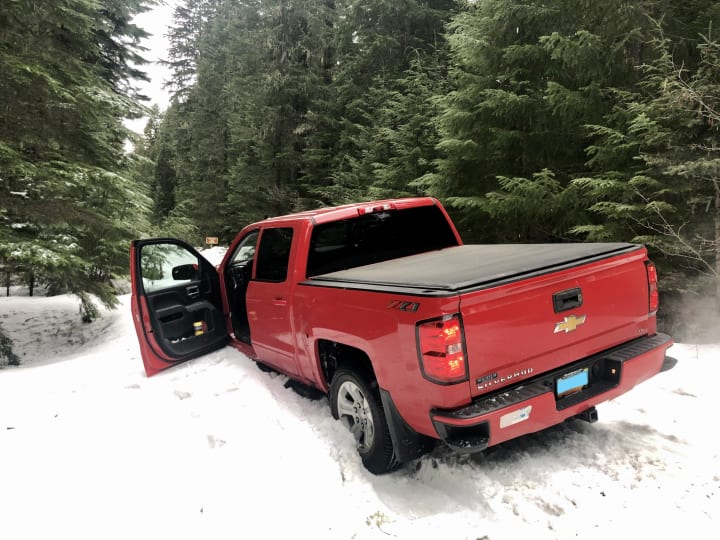 My street wheels spinning even in 4WD- Low, I knew I was going to have to spend the night.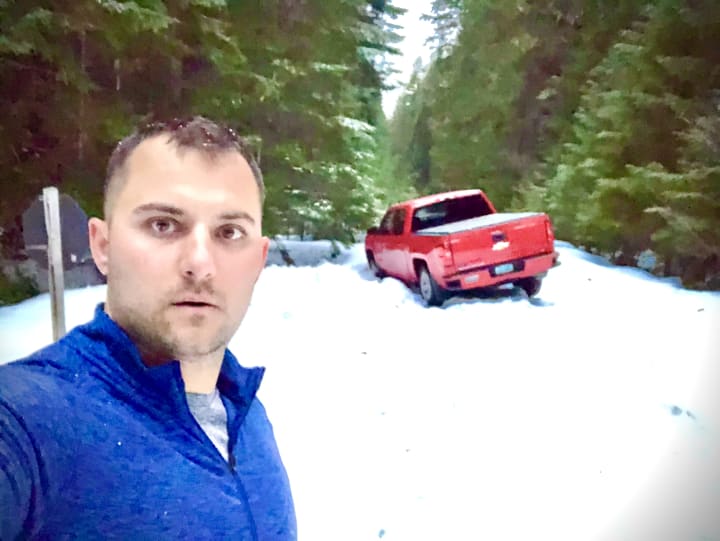 Having been through military survival training, I knew that keeping a positive mindset was paramount in this situation. Thankfully, I had enough gas to keep myself warm the whole night. I got up around 6:30am, put my layers and CamelBak on, took some of the Reese's Pieces I bought from BLOCKBUSTER and started hoofing it!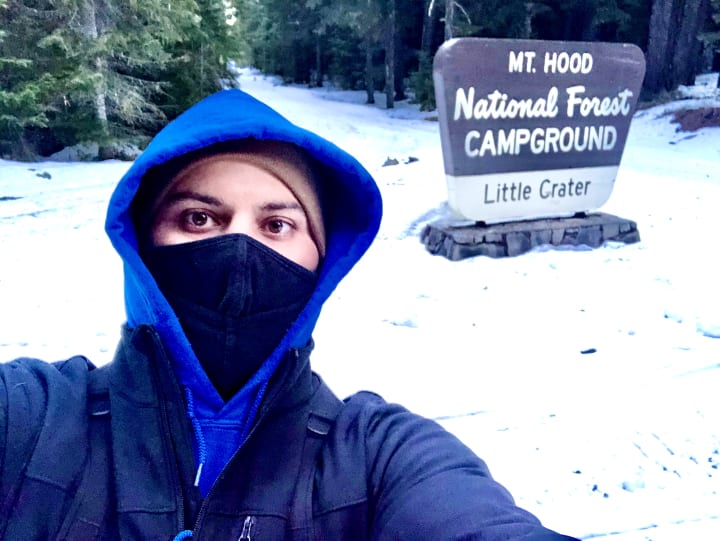 I knew that the next road junction was two and a half miles away, and that I could easily walk that in an hour. Sure enough, I hit the road in around 50 minutes and saw the sign for the entrance said 4 miles. After some belabored math on an empty stomach, I figured it would take another hour and a half to make it out. No problem. Still treating this like an emergency, I managed to make a 911 call on one bar of 3G to notify local authorities of my situation. As I kept hiking, my phone again went out of service range. I finally got some water out of my CamelBak, as the hose was frozen and I had to put it inside my jacket to thaw. This was Sasquatch country, and the scenery was absolutely beautiful!
Six and a half miles later, I got out of the woods at around 9am...yay, finally some civilization!! There were two long-term campers in the parking lot, and one of them invited me in for a cup of coffee. Julie told me they run a snowmobile program, and host wounded warriors and their families. I thought it was pretty cool, but then felt a little guilty when her husband Chris explained how vehicle ruts can result in kids flipping their snowmobiles and breaking bones. Oops! 😬
Soon, a forest service ranger showed up in response to my 911 calls. He was there to get me out...thank the Lord! He brought me to a ski park where I was able to coordinate a tow. Soon enough, I found myself in a "Sno-Cat" vehicle heading back down the same trail I had entered just the night before. The machine was just the trick to get my lodged Chevy out of the ditch!!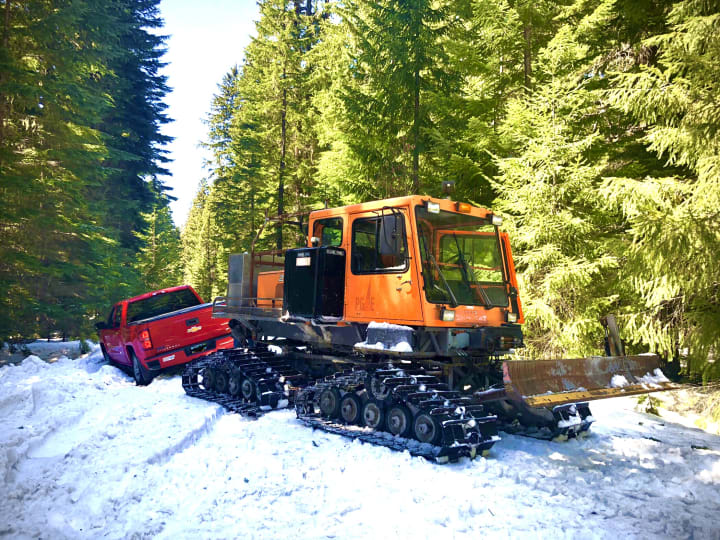 After being pulled to level ground, I followed the Sno-Cat out of the woods. It was actually really fun to watch it.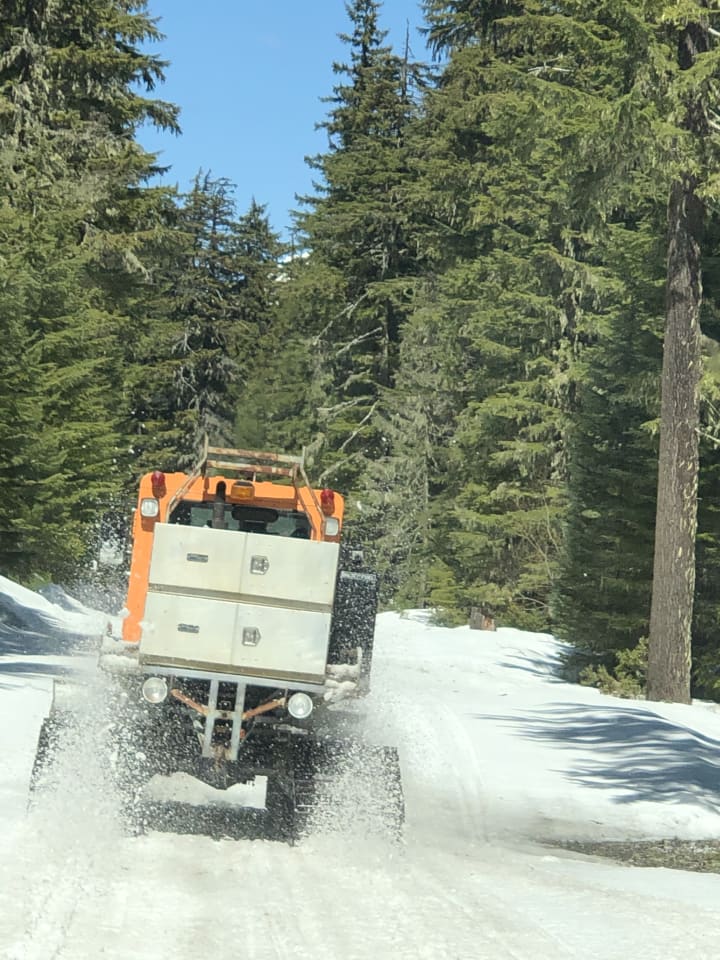 Now dislodged from the snow, I decided to do more exploring and managed to find a nice river access point next to a bridge. The water was incredibly frigid, but I still pushed myself to take a polar bear dip!!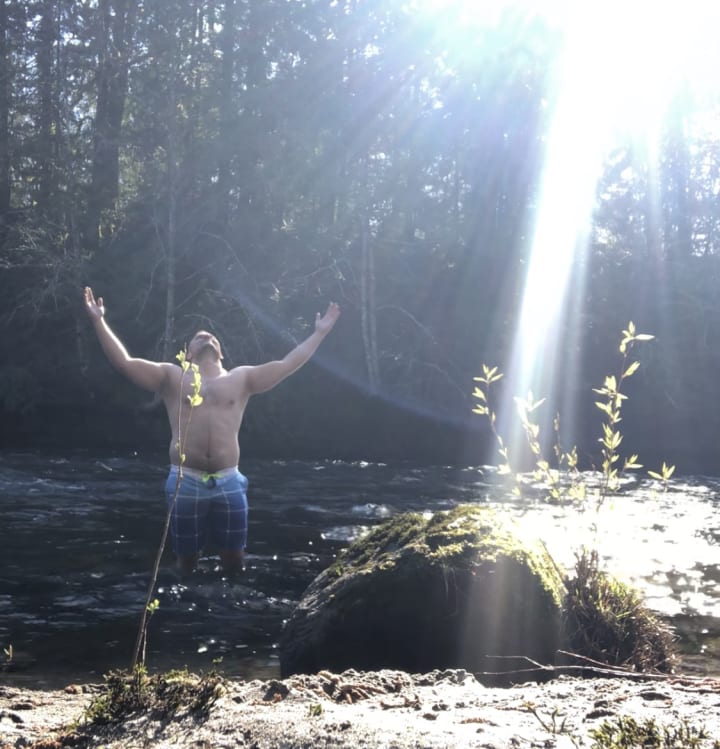 I could only stay in the water for about 20 seconds...this makes sense given that a lot of the water is probably melted snow runoff from the mountains! The river was amazing.