One Night in Mykonos
A Grecian Sunset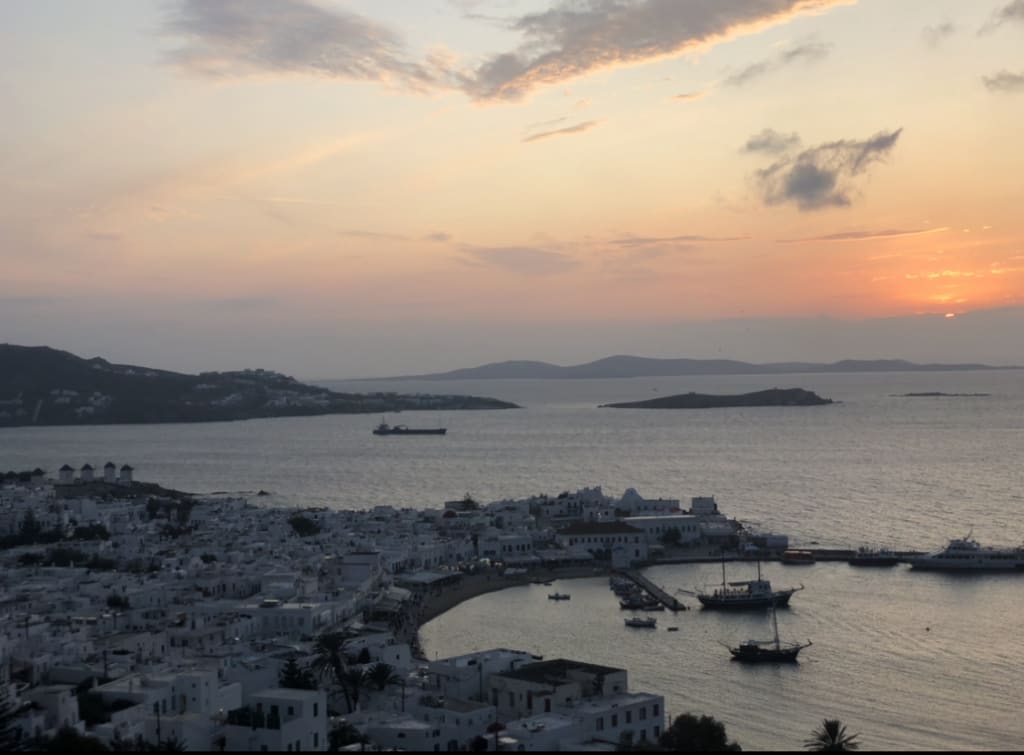 Before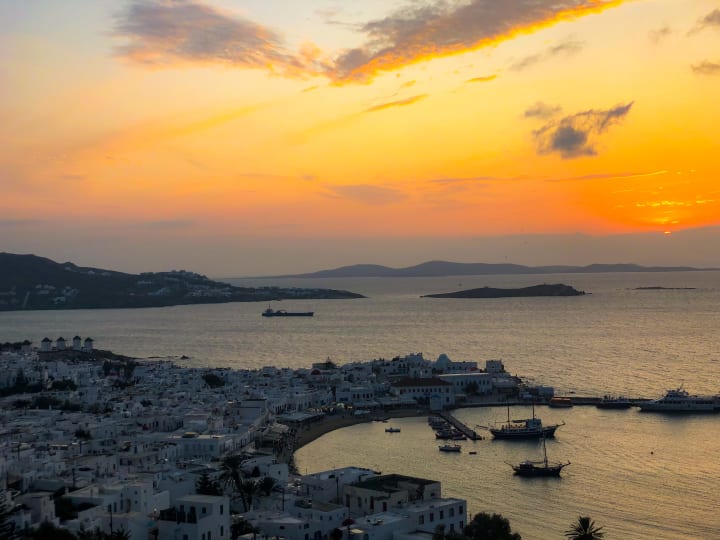 There's nothing like a world-wide pandemic to make you miss the sweet smell of the Mykonos coastline! I somehow wandered down a rabbit hole of photos from my trip to the Greek Islands in October of 2019, which inspired this particular submission! Our entire trip was breathtaking, each stop presenting a new wonder and a renewed sense of appreciation for the natural beauty of this great planet! I quickly learned that Greek hospitality welcomes you with open arms, dry white wine and plenty of olives!
While Mykonos typically has a strong reputation as the party island, October presented a more approachable edition of this image. I found it a quieter island that seemed to be exhaling from a busy summer season full of cruise ships and sardine-packed corridors. I watched shop owners gather left over inventory from the season and prepare to close down until the following summer. You'd never know this town was the host of some of Europe's (and perhaps the world's) most iconic party scenes. It was sleepy and it was real.
I think this timing worked tremendously in our favor. We met many down to earth locals who were perhaps less stressed than in the months before and were just eager to show off the natural beauty of their home town. On the last night of our stay, as we walked aimlessly down one of the many enchanting walkways near our hotel, we met an older gentleman that had quickly befriended us as fellow New Yorkers. After some banter about the abundance of dinner choices in the neighborhood, he escorted us to an amazing oceanfront restaurant nestled at the mouth of the main port. We were fed ample shots of complimentary ouzo along with the most tender grilled octopus I've ever tasted. To finish, two traditional Frappé coffees, which are whipped caffeinated goodness.
We were remorseful to be leaving such a majestic place the next day. In just one short week, the lifestyle of the Greek people had truly left an impact on us. Life is savored and every sweet flavor is inhaled in to the fullest. There is an overwhelming sense of community and a notion that you provide help when needed— without question! As we walked along the marina soaking in the final moments of our journey, I reflected on how I could bring my experiences and interactions here back home with me. Even in the weeks following my return home, I carried this sense of lightheartedness and gratitude for awe-inspiring moments with me. Plus... I brought home plenty of ouzo to make those memories even sweeter!
I've edited one of my favorite photos of a Mykonos Sunset! It's funny, when I think back to this particular evening, we were so eager to get to this hip bar in time for this amazing view that we worked ourselves into a frenzy! We first tried to walk there from our hotel, with the general direction from our concierge to "Just go straight!" It seems so simple, but we quickly found ourselves deep in the outskirts of the area almost positive that we'd miss the sunset. In a desperate last attempt, we hopped in a cab and were charged an astronomical price for less that a ten minute ride. But it was well worth it, we we made it just in the nick of time! We snagged ourselves a front row table and took in all of the wonder that this photo encompasses. On our way home, obviously much more relaxed without the time constraints, we saw a very clear road that we decided to take straight...and were lead right back to our hotel.
If I had to summarize what I learned from my time on the Greek islands... Take your time and focus on the road ahead of you!
-----------------------------------------------------------------------------------
The following are my photo editing details:
To start, I decreased the exposure and then increased the contrast to bring out and intensify the natural colors of the sky. I also slightly increased the color temp to lean more toward orange tones.
I added minimal saturation to bring more attention the details of the water— now you can more clearly see wave ripples.
Finally, I decreased the clarity to soften the houses so sunset is the subject of the image.
Here's to more travel photos and warm summer nights! Cheers!
europe
About the author
Just a girl that likes to read and aspires to write! ! English Lit lover trying to reignite my passion! Hope you enjoy!
Reader insights
Be the first to share your insights about this piece.
Add your insights