My Real SUPERHERO
We Think with Our Hands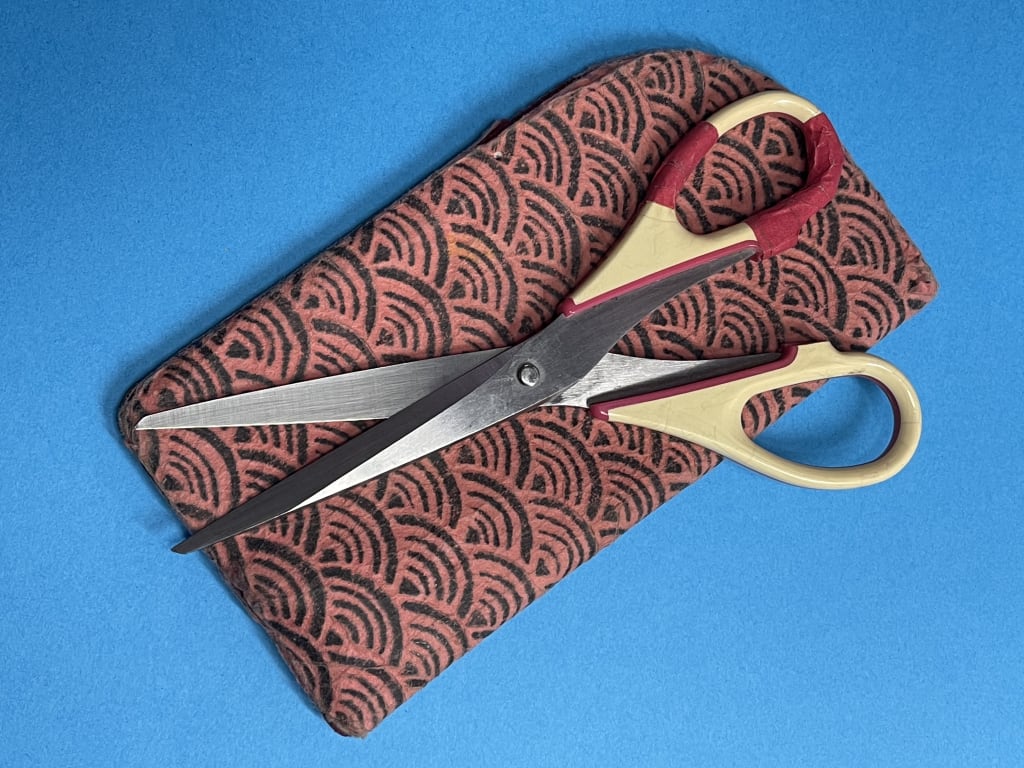 My SUPERHERO Scissors of 35 years
My Real SUPERHERO
How often do you have an opportunity to meet a real Superhero everyday? The truth is, in every household, a powerful, magical Superhero waits patiently to help you create happiness and befriend you for your lifetime. According to my mother, the first time I met my Superhero was at the age of 3, when I sat on the floor creating paper castles, kings and queens. Since then, my special friend, my Superhero, has brought me years of happiness.
We have been given the challenge of celebrating a craft that makes us happy, and revealing the inspirations that surfaced in our lives because of that craft. As a bilingual free-hand scissor artist and art educator, and because I am me, I approach this challenge from two perspectives: as an artist, and as a passionate art educator. But first, would you mind taking a detour at the next corner of artistic reasoning, and follow me into the land of the Superhero? We need to do this to help you understand who I am, and how this Superhero affects our creative happiness. Following our discoveries, nothing would make me happier than were you to pay the creative happiness forward by enlightening friends, family, colleagues and children about what you learned about this brilliant Superhero.
Two Hands Can
Who is this Superhero? The challenge, should you be brave enough to accept, is to locate its hiding place, which is hopefully a safe one. To give you a better handle on this task, I will give you a few hints to keep you in the loop… This Superhero plays a vital role in the lives of doctors, nurses, engineers, architects, chefs, hair stylists, manicurists, tailors, seamstresses, fashion designers, gardeners, scientists, dentists, printers, publishers, editors, and even Sumo wrestlers. Look in any drawer. Your beautiful friend, your Scissors, the Superhero of Utensils, is smiling back at you.
Scissors are a Superhero? As Buzz Lightyear would say, yes, and the rational stretches from "infinity and beyond". Let's cut to the quick. When you manipulate a brush, pencil, pen, marker, or an eraser, you only use one hand. Scissors are Superheroes because they require bilateral and hand-eye coordination, both of which keep your brain on its toes. Bilateral coordination is the consecutive collaboration between both of your creative hands. The hand holding your scissors cuts in a vertical motion (up, down, open close). Your other hand feeds and manipulates paper or material horizontally. Hand-eye coordination basically means that your brain is busy watching what you are looking at, and how you are using your hands.
I reside in LA now, but I lived and worked in Japan for 37 years. My best friend, my Superhero Scissors, was given to me in Japan 35 years ago. The handles are cracked and taped, the blades are worn, and the screw needs tightening. The company that made them is no longer in business. But I love the feel, the weight, the sound they make when I cut, and the creative journey we continue to share. They are my Superhero because they constantly challenge me to be a better artist and more considerate art educator. As a free-hand scissor artist, I love to cut out shapes from one sheet of origami in front of children. With the pandemic we have had to zoom cut! When I cut shapes, a seahorse, an elephant puppet, a crab, children are mesmerized, and often want to touch my magic scissors. Every time I enter the room, kids ask me to play the cut quiz, then ask if they can cut shapes with me. Talk about inspiration! We inspire each other. For me, cutting with kids is my happy place.
We Think with Our Hands
I imagine you wonder why I chose to talk about scissors first. Remember, we took a necessary detour. I am passionate about my art, but I am even more passionate about scissor awareness, scissor education, sharing cutting techniques and exposing kids and adults to cut-paper origins and cut-paper artists all over the world. Although I find personal satisfaction cutting, I have spent more time teaching free-hand cutting. I am happy as long as I can use my platform to educate people about scissors. In our current digital climate, we cannot assume that kids instinctively know how to use scissors. Art in classrooms is becoming an endangered species. Kids are not using scissors regularly to create or even to tear paper. The lack of fine motor and visual perception activities is seriously affecting children's muscle development and hand-eye coordination.
I am a firm believer of the Japanese philosophy, "We think with our hands". Moving a mouse or touching key pads does not adequately exercise muscles in small hands. The more kids move their hands and fingers, the more flexible and creative their thought processes become; the more they move their minds. Scissors are a remarkable utensil that assist in teaching basic skills, languages, enhance visual perception and pre-writing skills, improve hand/eye coordination and concentration, and support a child's creative intentions. When scissors befriends a child, it possesses the quiet but remarkable power to help sustain a child's ability to focus and remain in a blissful creative state for extended periods of time. I have seen children with concentration challenges completely change after free-hand cutting projects. The simple act of taking a piece of paper, and cutting out a new form is both exhilarating and liberating for children. Sadly, many children don't know how to hold or manipulate scissors. Classroom scissor education is not a priority. Teachers often assume that parents have taught their kids to use scissors. And from my observations in hundreds of schools, the quality of scissors or their availability is insufficient.
The Sounds of Scissors
During my time in Japan, and in the US, one of my happiest platforms is providing scissor-based workshops for children, parents and teachers. I mentioned previously that at the age of 3, I sat on the floor, and cut out paper castles, kings and queens. Ironically, while I lived in Tokyo, I worked in the international department at the National Children's Castle, a 13-story above ground level, 4-story below ground level facility built specifically for children and families. Working in a "Castle" made me feel that I had cut out my future at the tender age of 3! One of the pioneer programs at the Castle was my SOS (Sound of Scissors) free-hand cutting class for parents with 3 year olds. During our time together, we talked about how to use, care for, protect and create with our Superhero friend. Parents had the pleasure of sitting beside their little children, and cutting independently and together. Scissors formed a happy bond between parent and child. I loved watching their facial expressions as they cut together. They were in a world of their own, and smiled as they cut. In all of my workshops, there is nothing more beautiful than the sounds of scissors cutting, imaginations buzzing and smiles radiating from ear to ear.
Superhero Kryptonite
Due to the interest in Japanese art forms, I often present Kirigami workshops for schools, colleges and various organizations. Unfortunately, a form of Kryptonite, a scissor misconception, that limits scissor usage, prevails in homes and classrooms, with parents and teachers. This Kryptonite is the belief that scissors are dangerous! I am finding that because of this misunderstanding, even agents and publishers steer away from books promoting scissor usage. Please cut us some slack! Scissors are a Superhero. They are a friend, not a foe. If we are to encourage more scissor happiness, help me please, by sharing this Danger Test with others. Let's dissolve this Kryptonite belief so kids can happily create!
The Danger Test
It's simple and painless. Take a pair of scissors out of the drawer. Set them gently on the table. Walk away so you are at a safe distance. Call your scissors by name. If you haven't named them yet, hold out your hand and ask them politely to come to you. Did they respond? No? Perhaps you forgot to use the magic word? Nothing yet? Is something lost in translation? Maybe your scissors speak a different language? So, tell me…why don't your scissors move? Adults are generally silent and embarrassed at giving a wrong answer. Children are honest and spontaneous, and blurt out: "it doesn't have legs" or "it can't walk". So if scissors don't have legs, and cannot walk, how can they be dangerous? And here is the clincher. Who in the room has legs? That's right, we do. So who is really dangerous? By our actions and how we move, we decide whether to use scissors safely or not. Scissors have no intentions of hurting anyone.
If we take time to let people experience the Danger Test, and simply explain how to use, care for, and protect scissors safely, we create happy, responsible artists. Scissors are powerful and magical. They will do whatever you ask, and only require your respect and that you use them with loving care. Time spent helping a child to successfully and confidently use scissors will pay off in creative rewards.
The "Right" Hand
The number of both left-handed and cross-dominance/mixed handedness kids is increasing. Cross dominance refers to favoring one hand for some things, and the other hand for other tasks. At school, engaged, enthusiastic, happy learners deserve to have a choice of right or left-handed scissors. Today, thankfully, both ambidextrous L/R handed scissors, and left-handed scissors are available, but due to budget constraints, some schools require kids to bring their own scissors. Time and time again, I have given scissors to kids because theirs were either too small for their hands, they had safety scissors that did not cut, or they needed left-handed scissors. If you are right-handed, have you ever tried using your left hand to cut paper with right-handed scissors? It is not a happy experience, but this happens to kids all the time. Non-observant teachers may assume that kids who have difficulty cutting have poor motor skills. The truth is, a child cannot create confidently if the child lacks proper tools or does not know how to use them. Kids, too, want to create with happiness.
Cut-Paper Traditions
As scissor artists, we never stop learning. Part of the inspiration for my artwork and teaching comes from googling cut-paper techniques, learning about cut-paper artists and cut-paper traditions from all over the world, and making exciting powerpoint presentations to share with adults and kids. These pictorial presentations are not only mind-boggling, but questions and comments following the presentation continue to inspire me to do more research for future participants. Throughout the world, cut-paper tools vary, but generally they include: scissors, knife cutters, punches or other sharp utensils. To expand your scissor revelations, let me introduce a few scissor-based cutting traditions. If you are not familiar with these outstanding art forms, rather than my risking any copyright infringements, I encourage you to google and enjoy at your leisure. You will not be disappointed!
Jianzhi, China
Prior to the invention of paper, carved designs were found on leaves, leather and other materials. After the invention of paper in the Han Dynasty, cut paper art, Jianzhi, emerged in China. The actual dates vary, but this cut-paper art has become one of their most prolific Chinese folk arts. Scissors are used to cut through multiple layers of thin red papers to create intricate decorations used to adorn doors and windows for good luck, good fortune, happiness, and to celebrate weddings, births and festivals. The most popular cuts are the Chinese characters for Double Happiness and Good Luck.
Scherenschnitte, Germany and Switzerland
In the 16th century, artists in Germany and Switzerland, developed Scherenschnitte, (scissors snips). This storytelling cutting style showcases detailed, intricate rotational symmetrical designs for Valentines, folk and fairy tales, love letters and silhouettes that are cut with tiny manicure-like scissors. When German and Swiss immigrants came to Colonial America, they settled in Pennsylvania, where scissor artists today keep the style and traditions alive. Historical side notes teach us that prior to the invention of the camera, scissor cut family portrait silhouettes were popular. Even in the Middle Ages, cut paper silhouettes were a way for people to record family images. History owes a lot to scissors!
Kirigami and Florence Temko
Are you familiar with Kirigami, the Japanese art of paper cutting with scissors? The word, Kirigami comes from the combination of the verb kiru, to cut, and the noun, kami, paper. (The k is changed to g for a softer sound). Kirigami involves over 20 different folding techniques, that when cut, then unfolded, produce symmetrical designs. Believe it or not, the name, Kirigami, did not originate in Japan! London-born Florence Temko, a pioneer in the field of Asian folk arts, was so fascinated by what she learned and experienced, that she published over 50 books. In 1962, in her book, "Kirigami, The Creative Art of Paper Cutting", she coined the name, Kirigami! Since then, Kirigami became the Western term used to describe a specific kind of cut paper art. Because of her efforts to share rich folk art traditions, Kirigami artists worldwide have taken Kirigami to exceptional new levels of artistry.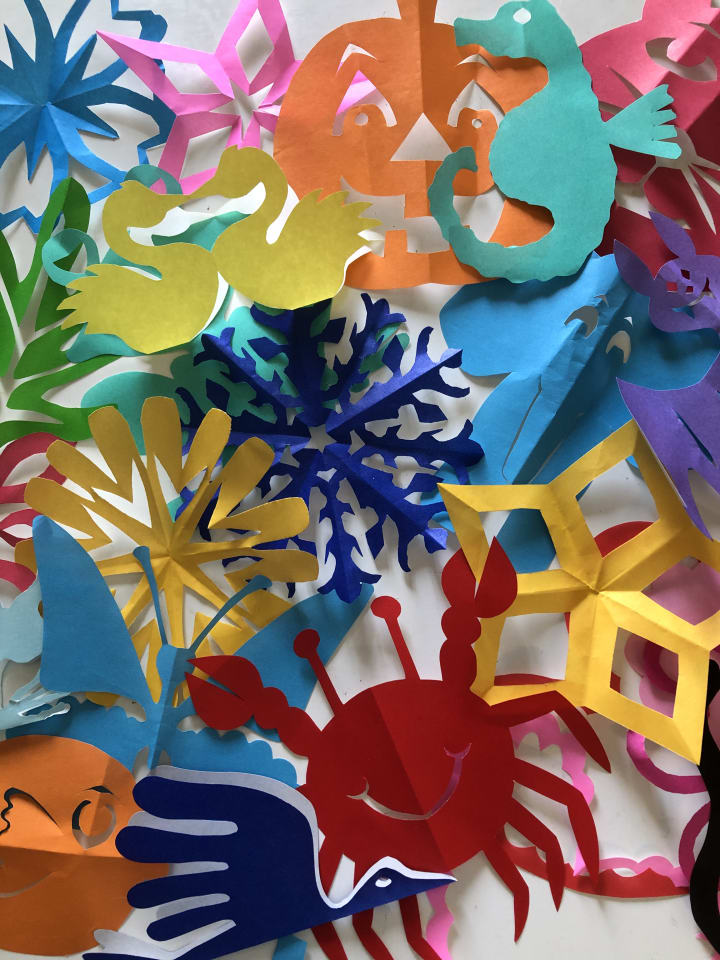 Kiri-e and Jiro Takidaira
Some people confuse the Kiri-e, cut-paper picture, (Kiru for cut, e for picture) with Kirigami, but the cutting methods are radically different. In Kiri-e, cut paper knives are the dominant utensil. Unlike China, in Japan, cut paper art was not a recognized form of artistic expression. Kiri-e was the brainchild of the Japanese painter, Jiro Takidaira, who incorporated cut paper into his illustrations by laying his cuttings over watercolor and India ink. In 1971, excited by the popularity of his new art form, he coined the word, Kiri-e, to describe his original technique. Takidaira's cut-paper art combined with his illustrations triggered a wave of new cut-paper artists, and raised the artistic reputation of cut-paper art.
Worldwide Scissor Artists
The world is brimming over with amazing, talented scissor artists who create unbelievable masterpieces. Hina Aoyama, a renown Japanese cut paper artist residing in France, cuts absolutely stunning and meticulous lace-like paper creations, letters, writings, and nature-themed silhouettes. Karen Bit Vejle from Denmark, who names her cutting style,"psaligraphy, (the art of drawing or painting with scissors), cuts massive, larger than life, poetic masterpieces from gigantic sheets of paper. When Henri Matisse's health declined making it difficult to paint, he turned to cutting energetic images using papers he had painted. During the late 1700's, at the age of 71, Mary Delany, cut out over 985 paper-mosaicks of plants, flora until she was 88 years old. Her cut-outs are so accurate and detailed that from a distance they resemble embroidery. And then there is Kamikiri (paper cuts), which is a performance/storytelling scissor art in Japan. An artisan stands or sits before an audience, and with scissors and one piece of paper in hand, as he tells a story, he cuts out its characters.
The scissor artists I mentioned reflect only a handful. Cut-paper artists who use cutter knives are as prolific as scissor artists, and yet each artist has developed a uniquely individual style. Cut paper art is, I believe, a profound storytelling art. Every scissor artist has a story to tell, and uses their own original cutting techniques, tools and materials to relate their stories. Cut paper art has impacted our lives in so many ways from architecture, to pop-up books, greeting cards, to fashion design, home furnishings, and so much more. Without a doubt, Scissors is the ultimate Superhero.
My True Happiness
About me. Now that our detour is over, you have a better understanding of why I believe Scissors are a Superhero, and understand my mission to inform kids, parents and educators about the potentials of scissors. It's time to talk about my artwork," tericuts". I am happiest when my Scissors and I are in cutting mode. I favor my oldest scissors, but whenever I go into a store, one of my happy places is the scissors section. I am interested in browsing new styles, and because I teach children, I often buy and test out new scissors. I have a huge box of scissors, which includes over 160 scissors, 100 of which are soft-grip Fiskars scissors for kids. This box accompanies me when I teach or give workshops. Have scissors, will travel. My personal collection of scissors includes tiny seamstress and thread scissors for intricate details, and scissors of all shapes and sizes that I have found along the way. Sadly, my Superhero Scissors are in need of repair. I had two pairs, but on one of my travels, it walked away. I hope it found a kind owner.
Since my favorite scissors are aging, I researched the maker, but learned it had gone out of business. I mentioned my dilemma to the owner of my favorite origami store in Tokyo who emailed the name of the company that owned the former maker, but was producing razors and razor blades. I sent a passionate plea and photo of my precious Scissors hoping to find another. The company President responded saying he had found 2 old, used pairs. Someone had painted the handles of the larger scissors, but he had them cleaned, sharpened and simply asked that I pay the postage. I cried happy tears when I opened the parcel. Scissor kindred spirits do exist.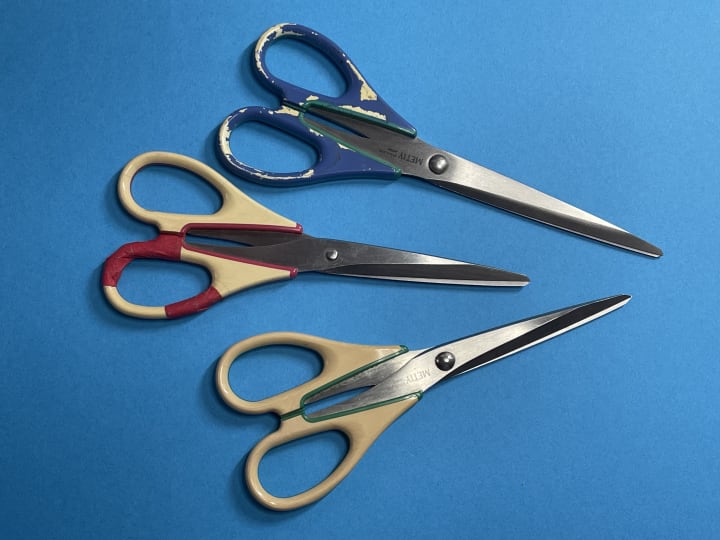 I am in my Happy Zone, and excitement effervesces, during my scissor workshops. Free-hand cutting gives big and little artists freedom to explore their skills, flexibility to imagine and space necessary to change the forms as their ideas expand. As much as I love to cut, a very large part of me feels an even greater satisfaction when what I have taught is shared with others. Sometimes I laugh out loud when I view cut-paper creations made by children or adults. I am not laughing at them, but being a part of a person's creative process is an extremely fulfilling and awe inspiring experience. I never cease to be amazed by what is created and imagined.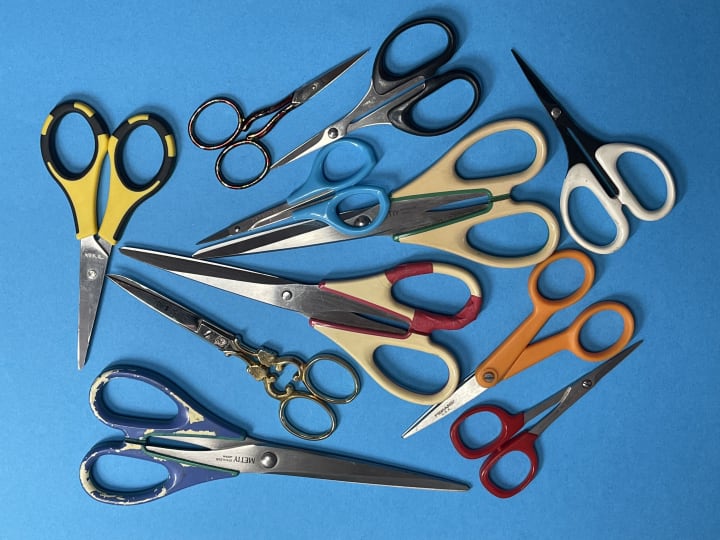 My Work and Artistic Missions
My choice of cutting material is origami and wash papers. I am drawn to the bright, happy tones of solid colored origami, and the exquisite Japanese traditional pattern designs. I can spend hours in paper stores. Washi has a wonderful texture, surface, feel and beautiful color palettes. Elephant dung papers are unique, ecologically kind, and fun to introduce to children. Last year, I spent time researching and teaching Kirigami. It interests me that despite traditional, rigid folding rules, both Kirigami and Origami artists have developed their own distinct folding short-cuts and techniques. I am including a photo of simple Kirigami cuts. In Japan, my illustrations are called Kiri-e because cut-paper parts and images are glued in multiple layers and are not symmetrical. I initially sketch my ideas, but as I cut, my Scissors take my hands on unexpected cutting detours that end up being quite different from my original sketches. I lose track of time when I cut. I can cut all day and never tire. I even laugh out loud at myself when I create a funny character. I like to interject humor into my characters, and hope people smile when they observe my artwork. And because the eyes are the window into the soul, the manner in which I portray eyes on my characters is what defines my artwork.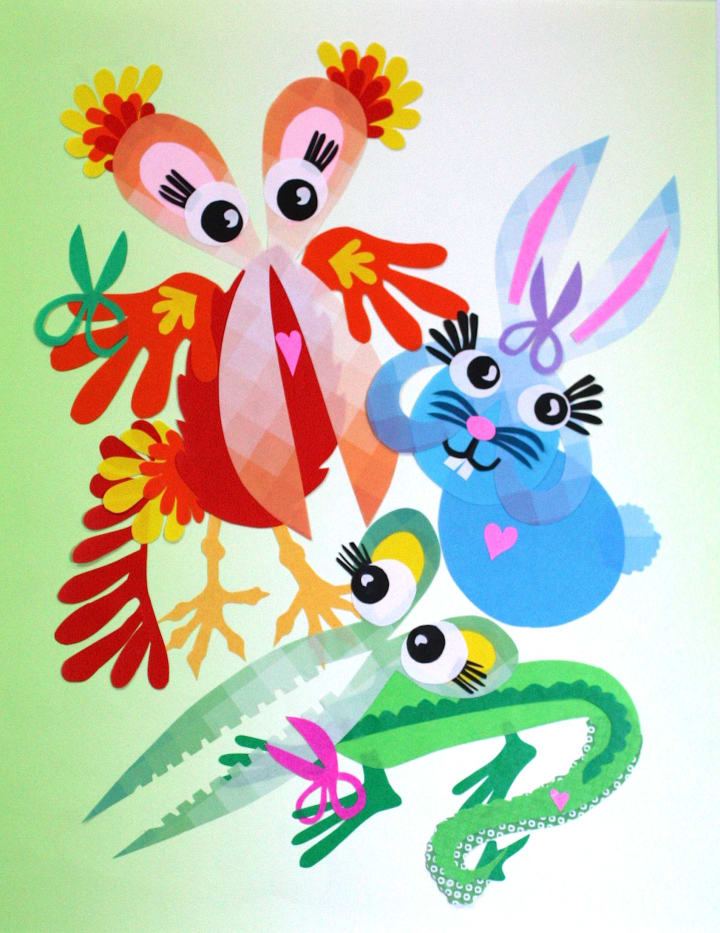 My artistic mission is to erase the stigma that scissors are dangerous, and expand scissor awareness. I believe in scissors so fervently that over the last 30 years, I created free-hand cutting systems, books, alphabet cuts, phonetic alphabet cuts, do-nut cuts, fringe fun, and numerous unpublished cutting stories for kids. I have taught children and educators from all over the world, and marveled at their cut-outs. A three year old child in Japan who loved fish, dinosaurs and was fascinated by Tim Burton's figures, knew the names of every sea creature and dinosaur, and cut a 10 meter wall panel full of his creatures. The panel was larger than he was! Another 4 year old who was keenly interested in beetles, made a beetle panel, and then in first grade, created a miraculous cut-paper booklet of beetles from all over the world. Witnessing the artwork of so many children has been a confirmation that I have given them the tools and confidence to create, and that their creations came from a happy place deep inside them.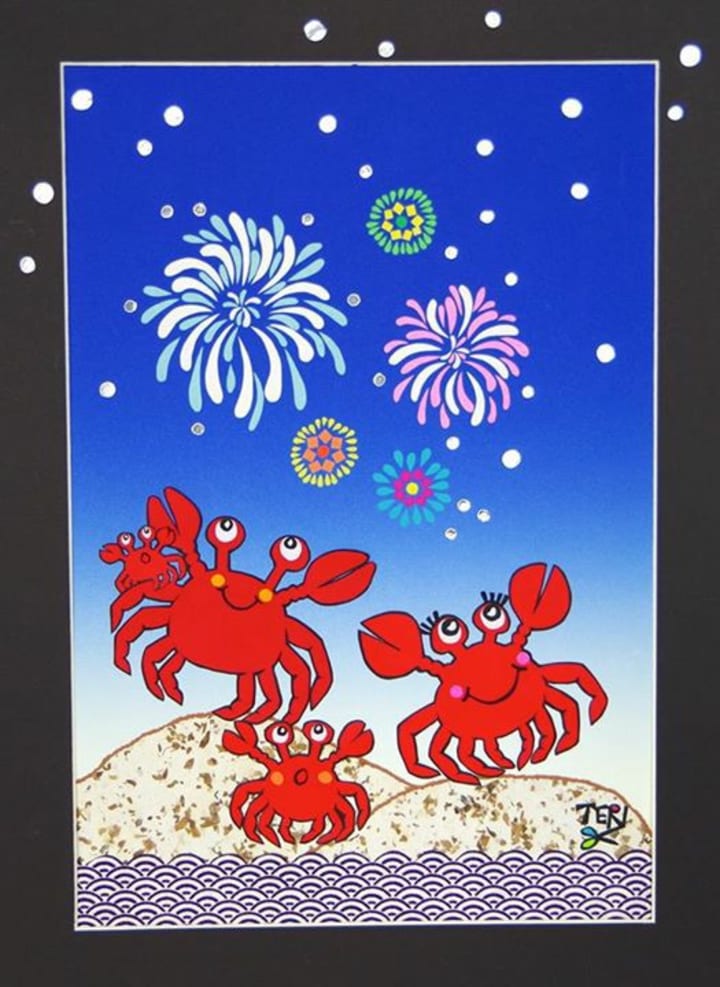 Cutting Out a New Future
I want to end on a positive note. I returned to the US several years ago to be 24/7 caregiver for my mother for 5 years. In Japan, I never realized it, but I had been spoiled by the creative opportunities that continually came my way. Even though I was a single mom, I had worked diligently to achieve a brilliant career. I was a respected art educator, author, speaker and cut-paper artist. A caregiver is a life-altering experience. Reality bites when a beloved parent deteriorates before your eyes. For a time, my creative aspirations came to a sudden halt. Life and death happen. It is all part of the artistry of living.
At 72, I have never considered myself "old", but I am finding that discrimination against "seniors" exists, and it is a tough pill to swallow. I will not surrender! I am beginning my life and career over. Life is and should be a creative adventure. All of us are given opportunities to create our own happiness in whatever forms resonate with our being. We must discover what makes us happy, and find ways to make others happy. My parents believed and supported my art and my dreams. My children have been an integral part of my artistic endeavors, and now, more than ever, they want me to create and to be happy.
The exceptional cut-paper artist, Mary Delany, faced many hardships, but at the age of 71, she took up her scissors, and created 985 breathtaking cut-paper masterpieces. My own 35 year old Scissors Superhero has never let me down. I owe it to the journey we have had together to continue our mission to teach, to inspire others, and to create cut-paper illustrations with joy again. Maybe I can creatively impact the lives of 985,000 people! It's worth a try. Treasure your Scissors. Hone your skills. Share your art and what you have learned along the way with others. Share your creative happiness. To cut is to live!
Cut to create. Cut to think. Cut to focus. Cut to remember. Cut to learn. Cut to smile. And remember, cutting with scissors takes everyone on happy, peaceful, magical adventures.
Happy cutting!
Teri Suzanne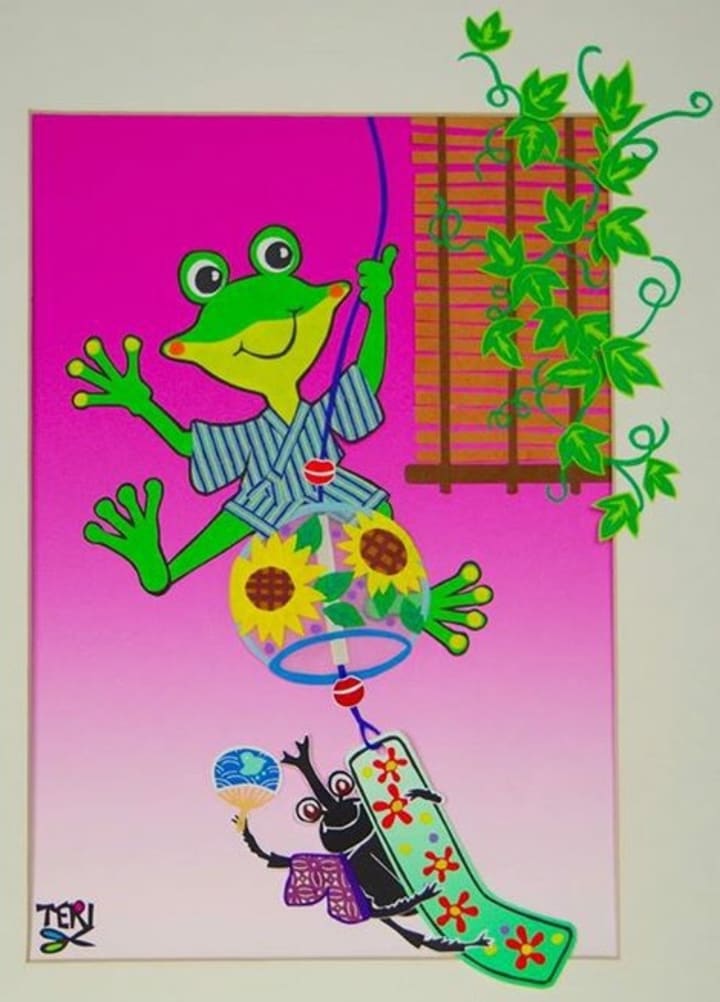 art
About the author
I am a bilingual (English/Japanese) art educator, cut-paper illustrator, author, actor and speaker.
Reader insights
Be the first to share your insights about this piece.
Add your insights