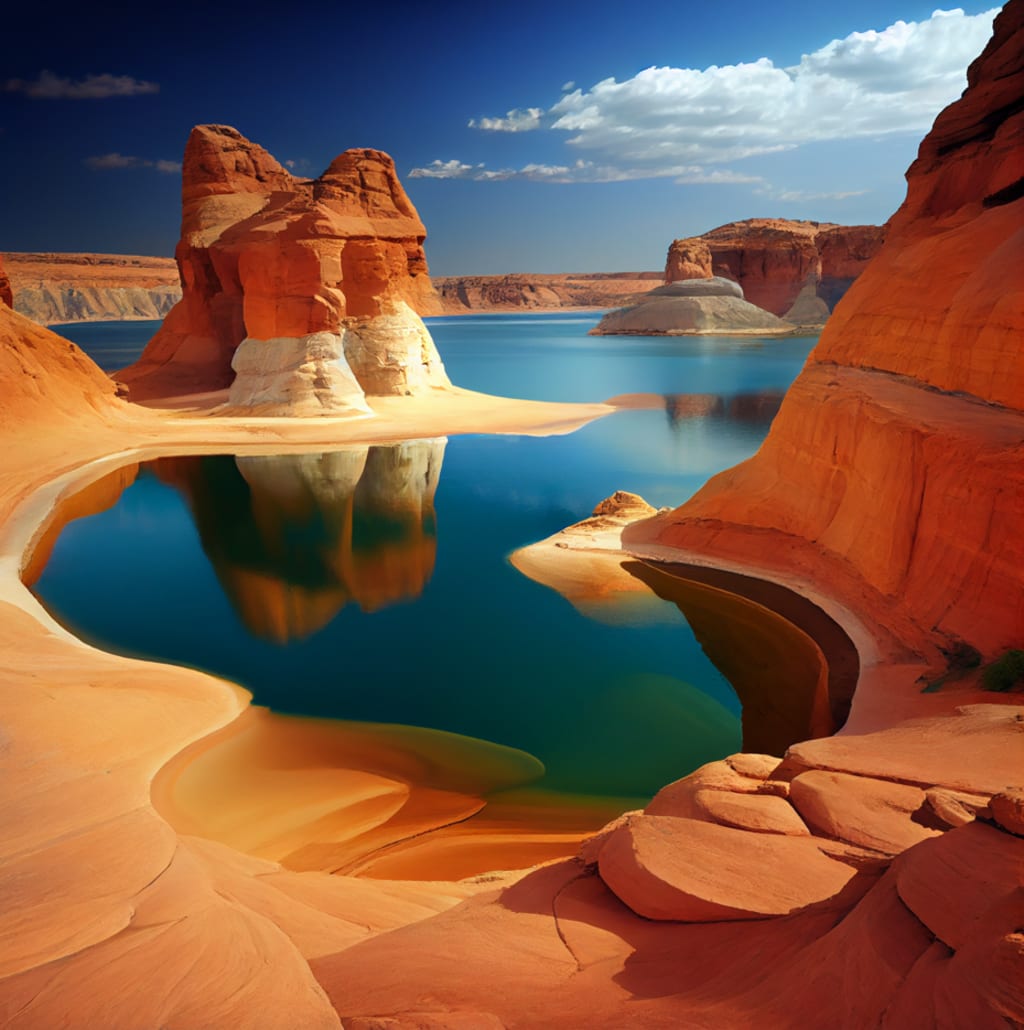 Lake Powell: A Hidden Gem in the Southwest
Nestled in the heart of the Southwest, Lake Powell is a breathtaking oasis that is often overlooked by visitors in favor of its more popular neighbor, the Grand Canyon. However, this magnificent lake, created by the Glen Canyon Dam on the Colorado River, is a destination that truly deserves its own recognition.
Spanning 186 miles, Lake Powell is the second largest man-made lake in the country and is surrounded by towering red rock cliffs, pristine beaches, and crystal-clear waters. With over 2,000 miles of shoreline, it provides a wealth of recreational opportunities for visitors, from fishing and boating to hiking and exploring the many side canyons that lead deep into the heart of the surrounding desert.
One of the unique aspects of Lake Powell is its accessibility. The lake is dotted with marinas and boat ramps, making it easy for visitors to rent a houseboat and spend a few days exploring the many hidden coves and bays that are only accessible by water. The houseboats themselves range from simple and affordable to luxurious and fully equipped with all the amenities you could want for a comfortable stay on the lake.
For those looking for a more active experience, there are plenty of opportunities for hiking and exploring on land. Popular trails like the Antelope Canyon and Horseshoe Bend are a must-visit for anyone visiting the area, offering stunning views of the surrounding landscape and a chance to see some of the incredible rock formations up close.
In addition to its natural beauty, Lake Powell is also a cultural hub with a rich history that dates back thousands of years. Ancient Native American petroglyphs and cliff dwellings can be found throughout the area, offering a fascinating glimpse into the lives of the people who once lived in the region.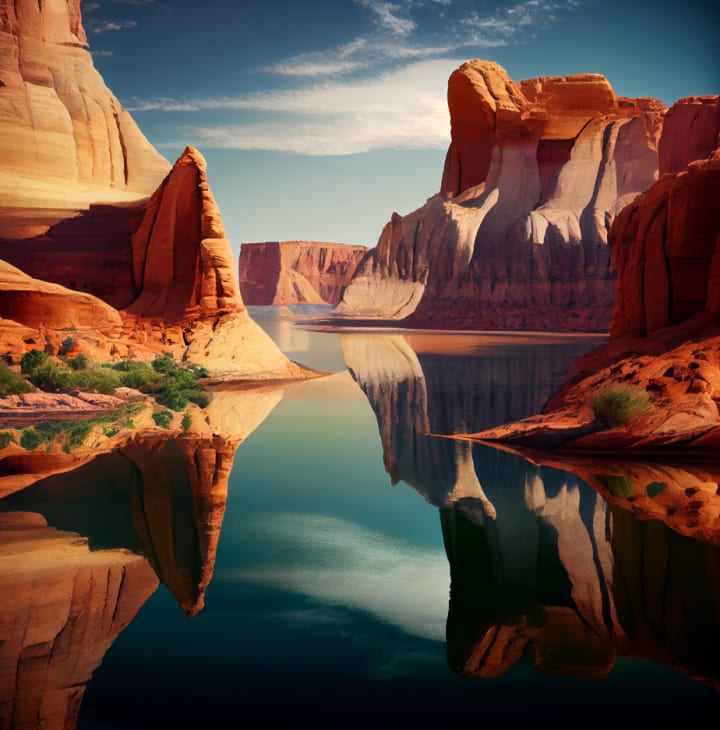 One of the best things about Lake Powell is that it's a year-round destination. In the summer, visitors can enjoy warm, sunny weather and take advantage of the lake's many recreational opportunities. In the winter, the temperatures are cooler but still mild, making it a great destination for hiking and exploring.
In addition to its natural beauty, Lake Powell is also home to a number of man-made attractions that are worth a visit. The Glen Canyon Dam, for example, is an engineering marvel that provides hydroelectric power to the surrounding area and controls the water levels in Lake Powell. Visitors can take a tour of the dam and learn about its history and operation.
Another must-visit attraction is the Rainbow Bridge National Monument, located just a short boat ride from the Glen Canyon Dam. This magnificent natural bridge is one of the largest in the world and is considered sacred by many Native American tribes.
If you're looking to combine your visit to Lake Powell with a trip to the Grand Canyon, you're in luck. Lake Powell is located just a short drive from the Grand Canyon's North Rim, making it easy to visit both destinations in one trip. The North Rim is less crowded than the South Rim and offers a different perspective on the Grand Canyon, so it's definitely worth a visit.
Finally, it's worth mentioning that Lake Powell is surrounded by the Glen Canyon National Recreation Area, which offers visitors a chance to explore the surrounding desert and take in the breathtaking beauty of the Southwest. From scenic drives to backcountry camping, the Glen Canyon National Recreation Area is the perfect place to immerse yourself in the natural beauty of the region.
For those interested in water sports, Lake Powell offers a wealth of opportunities for fun on the water. Whether you're a seasoned boater or a first-timer, you'll find something to enjoy on the lake. Popular activities include fishing, wakeboarding, kayaking, and stand-up paddleboarding. The lake is home to a variety of fish, including largemouth bass, striped bass, and catfish, making it a popular destination for anglers.
If you're looking for a more leisurely way to enjoy the lake, a sunset cruise is a must-do. There are a number of tour operators in the area that offer scenic boat tours of the lake, including sunset and starlight cruises. These tours provide a unique perspective on the surrounding landscape and offer a chance to see the stunning red rock cliffs and clear, star-filled skies in a new light.
For those who prefer to stay on land, there are plenty of opportunities for hiking and exploring in the surrounding area. From easy, family-friendly hikes to more strenuous backcountry excursions, there's something for every level of adventurer. One popular trail is the Coyote Buttes North hike, which leads to the iconic Wave rock formation. This hike requires a permit, which can be obtained through a lottery system, but it's definitely worth the effort.
In addition to its natural beauty, Lake Powell is also a great place to learn about the region's rich cultural history. The Glen Canyon National Recreation Area is home to several visitor centers, including the Carl Hayden Visitor Center and the Wahweap Marina Visitor Center, which offer information and exhibits on the area's history and geology. There are also ranger-led tours and educational programs available, making it a great destination for families and those who love to learn.
Finally, it's worth mentioning that Lake Powell is a popular destination for special events and celebrations. Whether you're planning a family reunion, a wedding, or a corporate retreat, there are plenty of options for event spaces and accommodations on the lake. With its stunning scenery and year-round mild weather, it's a unique and unforgettable destination for any special occasion.
In conclusion, Lake Powell is a destination that offers something for everyone. From its water sports and outdoor adventures to its rich cultural history and special events, it's a place that truly deserves to be explored.
So why not plan your next trip today and discover the hidden gem of the Southwest for yourself?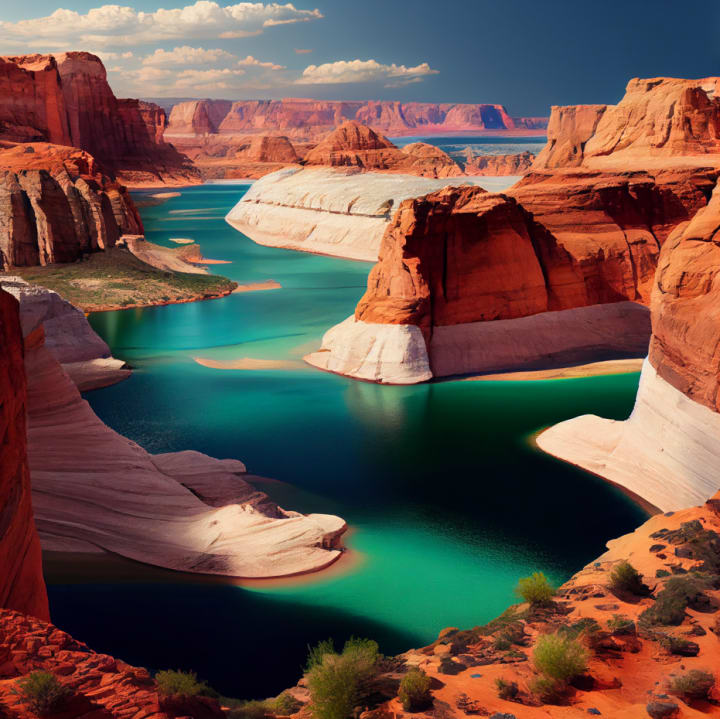 About the Creator
I am a passionate traveler, photographer, and history buff. With a keen eye for detail and a love for adventure,I am explored some of the world's most breathtaking destinations, capturing stunning images and documenting the rich cultural.
Reader insights
Be the first to share your insights about this piece.
Add your insights