Hershey's Chocolate World
Who loves chocolate?!?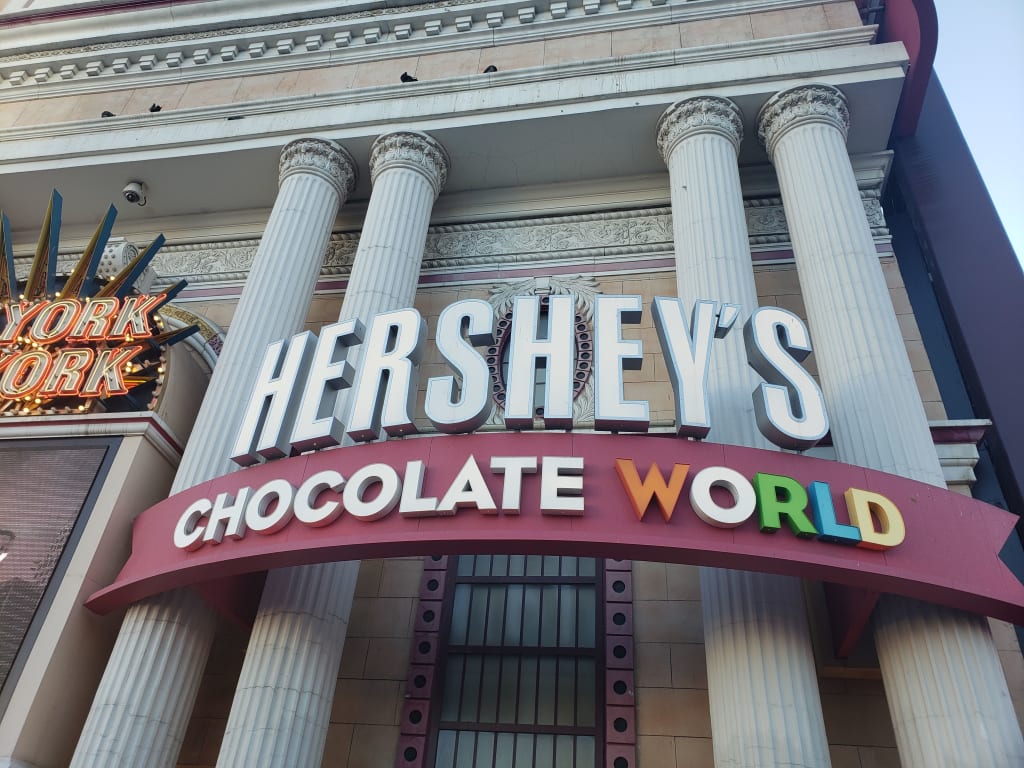 All we need is peace, love, understanding and a chocolate bar.
Do you ever plan to visit Las Vegas, Nevada?
Do you love chocolate just as much as I do? (And I LOVE chocolate!)
If you answered yes to both questions, then you are reading the right story.
If you ever find yourself in Las Vegas for a vacation, business trip, visiting family, or you're just stopping through, and you happen to have a sweet tooth for chocolate, or anything sweet, make sure you put Hershey's Chocolate World on your to-do list. Maybe even add it to your bucket list.
Hershey's Chocolate World is the absolute sweetest store on the Las Vegas Strip. The store has over 800 Hershey's chocolates, candies, and other types of delicious goodies. The experience at this unique store will have you amazed and saying, "Wow," "Oooo," "Yummy!"
Because Las Vegas is a city that literally never sleeps, and is practically a 24/7 city, this store is open seven days a week, and is open late. Las Vegas Hershey's Chocolate World store hours are:
Sunday through Thursday: nine AM to 12 AM
Friday and Saturday: nine AM to one AM
Since Hershey's Chocolate is a worldwide brand, they actually have a few other locations. One in Pennsylvania, Time Square, Niagara Falls, and Singapore. If you are ever in those locations, make sure to add a stop to the chocolate store. Anyways, I'm not very knowledgeable about those locations, but the one in Las Vegas is free to the public, no necessary admission fee. As you walk in from any of the entrances, whether it's from upstairs or downstairs, you are greeted by at least one employee who offers you candy when you walk in. They are very kind, and every employee is always smiling. The vibe of the entire store is amazing!
This unique store is two-stories tall, which spans 13,000 square-feet. Talk about HUGE! The store is filled with a variety of all of Hershey's products, tasty sweets, gifts, toys, and so much more. When you're in here, you really feel the expression, "you're a kid in a candy store."
There is so much to see, do, taste, and buy at this store, so make sure you bring more than enough money... You may end up spending more than you expected.
Hershey's Chocolate World also has some cool iconic features that are worth checking out. What I thought was pretty neat is that this store has two different types of sculptures of the Statue of Liberty. They have one made out of the candy Twizzlers. Which they had to have used pounds of Twizzlers to make it; it was pretty big. The other Statue of Liberty is made out of roughly 800 pounds of Hershey's milk chocolate. That's a lot of chocolate. These statues are great to take a picture with. I mean why not? What's a better way to show off your experience from Hershey's Chocolate World than with a Statue of Liberty made out of candy.
Everyone can really make their experience their own unique one. You can create your own happiness. There are too many options and interactive things to do in there not to have a good experience.
A few other cool things they have are flavor walls. What a flavor wall is, it is basically this section on an entire wall that has a variety of different flavored candy. They have one for Hershey's Kisses, Jolly Ranchers, and Reese's. Each type of candy has it's own little section in the store. In the Reese's section you can be a star in a Reese's Peanut Butter Cup commercial or ad. Another cool thing that they have is that you can customize your own candy bar. That's right! Make your own candy bar the way you want. I think that's the best thing. Where else can you go to customize your own candy bar!? They even have a Hershey's bake shop where you can purchase cake, cupcakes, brownies, milkshakes, and other tasty treats. The options are endless! Hershey's Chocolate World is an imaginative, taste-exploring experience where chocolate lovers from around the world can enjoy unique Hershey's candy experiences, fresh-made Hershey's sweets, and a variety selection of gifts and souvenirs. It will be a fun and unforgettable experience for you, your family, and friends. If you're ever near one, don't miss the opportunity to check it out.
The location for the one in Las Vegas, Nevada is located inside New York-New York Hotel and Casino.
Address: 3790 South Las Vegas Boulevard
Las Vegas, NV 89109
United States
And if you do visit one, I'd like to hear our experience, and what your favorite part of it was. You can send them to [email protected]
See ya around in another story.