Geotagging Crisis - Keeping the Wilderness Wild
Is the social media phenomenon of geotagging nature photos causing overcrowding and misuse of our natural and public spaces?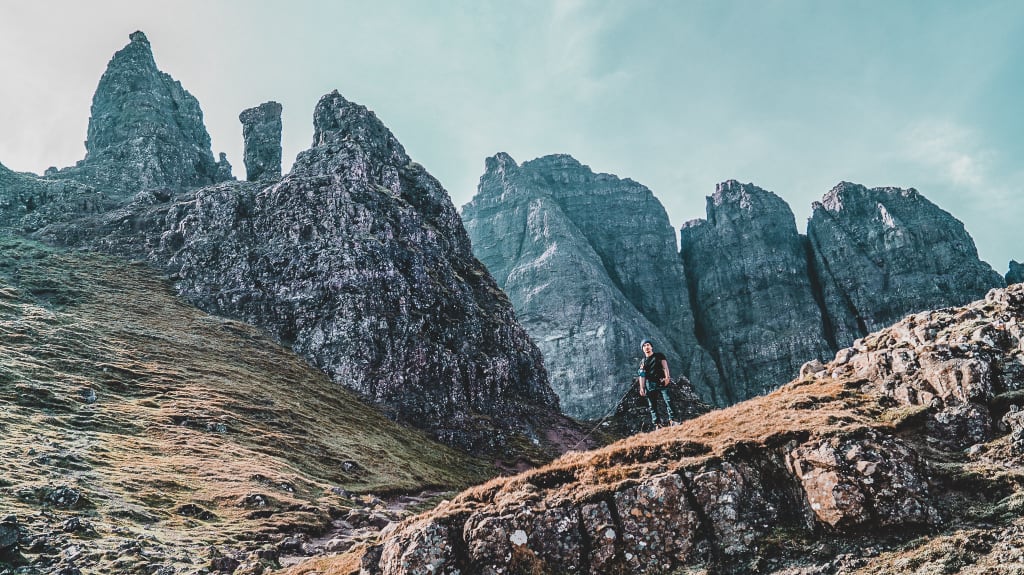 This photo may look wild and remote. But the truth is that we shared a path with hundreds, maybe even thousands of people with selfie sticks, hiking up the steep path to the iconic Storr. The road below was lined with the cars of these eager visitors, causing traffic jams.
The Storr is an Old Man (a large pinnacle of rock) that sits atop a grassy hill on the Trotternish Peninsula on the northern part of the Isle of Skye, overlooking the Sound of Raasay. A short drive from the island's capital of Portree, the trek up to the rocky pinnacle is one of the most popular walks in the area. This jagged ridge line has become one of the most photographed landscapes in the world, featured in films and music videos.
Until very recently, the Isle of Skye was a relatively remote island in the Inner Hebrides, but a sudden surge in tourism has seen its population of 10,000 reach 60,000 over the peak summer months, a surge attributed mostly to tourists. House prices have gone through the roof, with one in ten properties on the island now listed as an Airbnb, a greater proportion than in Scotland's capital city of Edinburgh.
In 2017 the local police warned people not to visit the island if they didn't have accommodation booked in advanced, and pictures often emerge of heavy traffic at the island's most popular tourist spots. The residents have reported strain on health services, waste processing and police forces, and the local council has applied to the government for a toll on crossing the bridge onto the island as a kind of 'tourist tax'.
Wherever we went, there were throngs of people, all following the same trails, and stopping at the roadside tourist spots. But the recent success of the island in drawing in tourists is no accident. Much like the publicity and tourism that many national parks in the US gained from the publishing of photo content online, social media photo sharing is at the heart of this Scottish island's newfound fame.
The Isle of Skye sees a huge influx of visitors every season, a large fraction of whom, no doubt, saw the incredible spot on social media. More visitors mean the need for more infrastructure (a car park, tourist information centre, toilets, metal railings etc.)—not only for environmental reasons, but also from a safety perspective.
As well as taking a toll on local resources—which are ill equipped to deal with the surge in summer visitors—overcrowding and over-tourism cause unintended harm to habitats and wildlife, erode trails, decrease biodiversity, and increase pollution through littering and emissions from visitor's cars.
Europcar conducted a study that analysed 47 million Instagram posts with the hashtag #roadtrip between 2016 and 2017. They found that the Isle of Skye was the most Instagrammed road trip destination attached to the hashtag in Europe, with over 21,000 posts attached to the location. Other hashtags, such as #fairypools, #oldmanofstorr, #portree, and #eileandonancastle, which are all landmark tourist spots on the Isle of Skye, that are featured among the top 50 words associated with road trips.
The Isle of Skye's popularity also surged with geotagged and hash-tagged pictures on Instagram in recent years. Geotagging—the practice of attaching geolocation data to a photo or video—as well as hash-tagging—attaching a searchable tag that categorises and compiles content and tracks topics—only adds fuel to the fire of the island's digital popularity, and puts a strain on tourist boards trying to keep up with the growing crowds.
All you need to do to access this huge database of geotagged and hash-tagged photos of the Isle of Skye, is click on the geotag that sits above a photo on Instagram. If you click on the map that sits above the posts, you will be sent to google maps, which will show you the exact location of the landmark.
JACKSON HOLE, WYOMING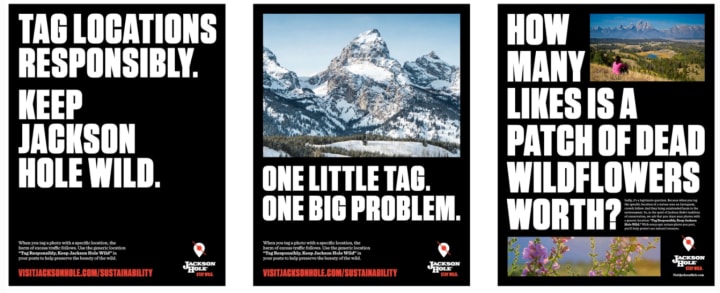 One of the first organisations to try and tackle overcrowding due to geotagging in public natural spaces was Jackson Hole Travel & Tourism Board. The popularity of the national parks in Jackson Hole, Wyoming, has surged in recent years following an explosion in popularity on social media sites such as Instagram. The campaign suggests that when a someone posts a photo of a landscape or landmark, and tags the exact location, the enormous crowds that follow can cause unintended harm to these delicate and wild forests and remote lakes.
In an interview with The New York Times, Brian Modena, a Jackson Hole Tourism Board member said that a remote refuge known as Delta Lake, in the Grand Tetons, has become "a poster child for social media gone awry. Influencers started posting from the top of the lake. Then it started racing through social media." A few years ago, only one or two hikers would make the nine mile long hike, but now as many as 145 a day are trekking up these trails. These little-known trails are heavily trafficked, and eroding in some places, taxing park resources.
"We want people to have a real connection to nature, not just a page with a pin on it," he said.
Similar issues have been seen across the world in places such as the brightly painted, blue, orange, yellow, and red basketball courts of the Choi Hung Estate, a public housing complex in Hong Kong. The throngs of Instagramers that visit the area have irritated residents and driven them out of their public spaces.
These are all examples that show the power of social media photo sharing, and the way that a digital platform can draw people to locations purely for the aesthetic and Instagrammable opportunity.
Following this, Jackson Hole Travel & Tourism Board issued these three posters (pictured above), released alongside a statement saying:
"We needed to offer a solution and help spread the sprit of conservation that is so important to us. We want to share the beauty of Jackson Hole and inspire more people to experience it, but we also want them to join in our efforts to preserve it."
These resources are a part of a wider campaign called Stay Wild, with the tagline:
TAG RESPONSIBLY.
KEEP JACKSON HOLE WILD.
Their way of highlighting conservation and responsible behaviour online to urge visitors to use the application's geotagging features to share the general location, instead of the exact GPS coordinates. Instagram users can use the generic tag, 'Keep Jackson Hole Wild' when posting images or videos to Instagram.
'Leave No Trace' in the digital age
9 OUT OF 10 PEOPLE IN THE OUTDOORS ARE UNINFORMED ABOUT THEIR IMPACTS.
-Leave No Trace
The traction that our wildspaces get on digital platforms should be a good thing. We want to get people outside so that they connect with nature, and thus are more inclined to want to take steps to protect it. However, increased footfall and irresponsible use of digital platforms can cause unintended harm to natural environments.
So how can we be more responsible with our behaviour online as climbers and hikers who use the outdoors for recreational purposes?
A recent article on f-stoppers proposed that every time we take a photo and wish to share it with our online worlds, we must first ask ourselves:
"Will this place be negatively impacted if I share the location on social media?"
If the answer is yes, then maybe go #nogeotag, and ensure that our wild places are kept wild. Another solution is to use a more general hashtag, as suggested by the Jackson Hole Travel & Tourism Board, such as the name of the national park or the country, as opposed to the specific trail or remote natural landmark.
Everyone has the right to visit these stunning locations across the globe, but limiting the number of geotagged and hash-tagged photos will hopefully reduce footfall and keep these places wild for longer.
So keep sharing your photos, get as many people engaged with our natural public scapes, but we need to be more mindful of the impact that a photo we share can have on an area. If you broadcast a photo of a 'secret spot' or 'hidden place', the likelihood is it won't stay secret for long. In light of this new information, a new school of thought has emerged with regards to the 'Leave No Trace' mantra, stating:
"Social media, if used the right way, is a powerful tool that can motivate a nation of outdoor advocates to enthusiastically and collectively take care of the places we share and cherish."
Read the original story on:
social media
Grown in the British Isles, exploring beyond.
Photographer // Journalist // Linguist // Environmentalist