Fun Australia Day Activities in Sydney
Celebrate Australia Day in Sydney with a harbour glass boat cruise, or a BBQ, or the Live Concert at the Opera House.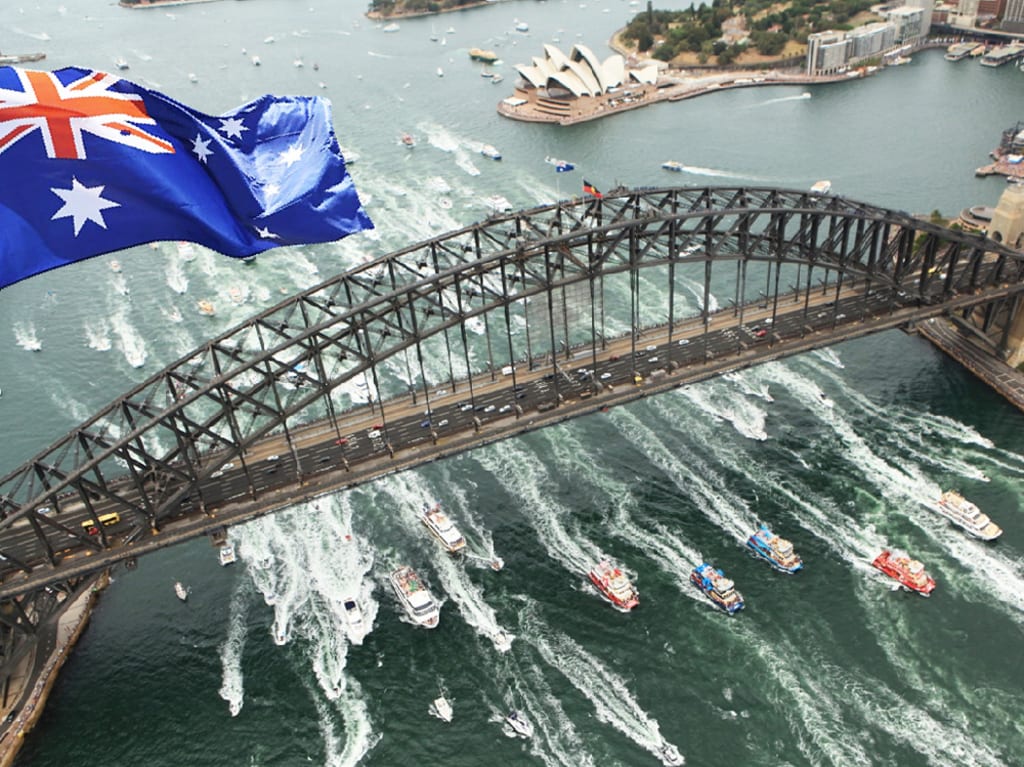 Australia Day is just around the corner (January 26)! The gorgeous city of Sydney is all set to turn heads with a unique spark of fresh patriotic flavours.
Also known as the National Day of Australia, this day is celebrated with pomp in this attractive 'harbour city'. The day celebrates the arrival of the First Fleet at Sydney Cove on January 26, 1788. Like every year, Sydney is ready to glam-up her celebrations in 2023 with a touch of style and elan!
Australia Day is a great occasion to honour the indigenous heritage of the 'Land Down Under'. And, to acknowledge and celebrate the contribution of every citizen towards building a dynamic nation!
Here's a lowdown of the top fun activities to make the most of Australia Day in Sydney.
A Premium Glass Boat Cruise on Sydney Harbour
Sydney Harbour is high on patriotic frenzy on Australia Day. It's filled with the din of excited crowds that throng every nook and corner.
An array of activities are lined up to entertain revellers on the harbourside, such as the Harbour Parade, the 186th Australia Day Regatta, Ferrython, Tall Ships Race and so on! Join in the celebrations onboard Australia Day Clearview cruises with delicious food and drinks. And, gear up for some unforgettable times with your besties.
Treat your eyes to 360° uninterrupted views of the harbour spectacle aboard one of the luxury glass boats. Every seat feels like a window seat on these Australia Day Harbour cruises in Sydney, thanks to floor-to-ceiling glass windows!
Clink your glasses to the spirit of the day, as you witness the thrilling harbour events during the day!
Quality dining with views to die for, onboard a waterfront restaurant – what better way to celebrate the National Day?
Australia Day-Special BBQ, Darling Harbour
Darling Harbour marks the centrestage of Australia Day celebrations in Sydney!
The place transforms into a carnival, with a gigantic barbeque and interesting outdoor games. It is something that local families look forward to, quite eagerly on this signature day!
The joy of basking in a warm January sun, accompanied with tempting platters is unsurpassed. So, invite your best buddies and be ready for a fun outdoor barbecue on the beautiful Darling Harbour. To top it all, famous musicians keep you entertained with live music that's played onstage!
Better skip your breakfast. For, the Australia Day barbecue here will feature Street food stalls serving multicultural food that's impossible to ignore.
The best part: all the fun is for free (no tickets are required).
Australia Day Live Concert, Sydney Opera House
Alongside great food and merriment, good music is an essential ingredient to Australia Day celebrations. So what are you waiting for? Head over to the Sydney Opera House and enjoy the delightful Australia Day Live Concert!
Every year, this concert is hosted on the forecourt of the Opera House and the Sydney Harbour. Needless to say, it is a must-watch event, featuring the best music by gifted Australian musicians and artists. The patriotic fever soars several notches – with popular Aussie hit songs!
The magic of choreographed pyrotechnics is sure to cast a spell. And so is the expert craftsmanship of maritime manoeuvres that feature a flotilla of jet skis, fly boarders and much more!
It is a ticketed event. But then, if you can't manage to acquire a ticket, simply watch it from the decks of a harbour cruise or one of the foreshore locations surrounding Circular Quay.
Unwind with your favourites on a glass boat… or, treat yourself to a barbecue… or, capture all the glory of Australia Day with a Live Concert at the Opera House. The choice is yours!
Reader insights
Be the first to share your insights about this piece.
Add your insights