From the Royal Albert Hall to Russia and Back Again
A Tale of Travel and Music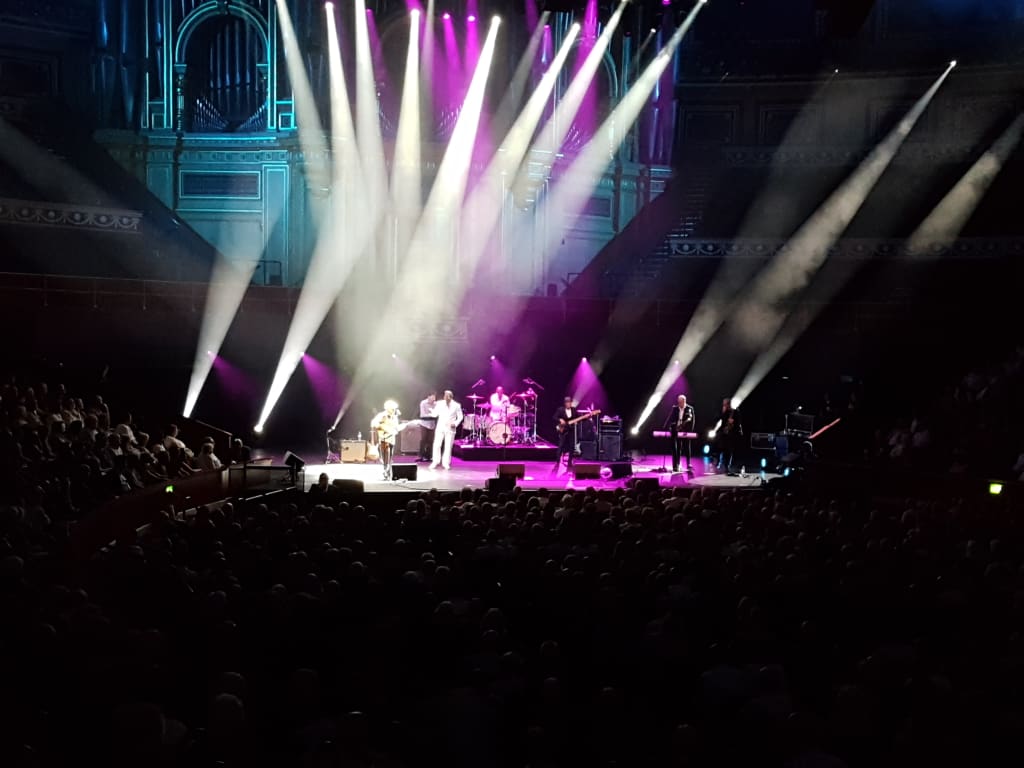 Sometime during February of the year 2005, I was on tour somewhere in Australia with my then-band twentysevens, when I heard that Cream was reforming to play four shows at the Royal Albert Hall in London in early May.
If you just asked, who or what is Cream, you aren't a child of the 60s, or you aren't a true student of music. That's a bit harsh, but I'll admit I'm a bit fanatical when it comes to this band. Cream was a British supergroup, a trio comprised of the three finest players to emerge from the blues explosion of the mid 1960s in London—Eric Clapton on guitar, Jack Bruce on bass, and Ginger Baker on drums. They came together in 1966, took the world by storm, made a handful of extraordinary albums, toured the UK and the USA relentlessly, fought amongst themselves relentlessly (particularly Jack and Ginger), and called it quits, all within less than three years.
I was devastated when they split. I had said to my friends at the height of Cream's success, that I would have given anything to see them live. Now that dream was over. Fast forward to 2005. Eric Clapton decided that it was time to reconcile their differences. He put it to Jack and Ginger that they should consider themselves very lucky that they were all still alive, having survived years of drug and alcohol abuse, when many of their contemporaries had departed this earth. Jack and Ginger agreed, and so the band announced it was reforming to perform only four concerts at the Royal Albert Hall in the first week of May that year, 2005.
By the time I heard about the concerts, they had long completely sold out. I think all four shows sold out in minutes. I was devastated all over again. But there was a solution. As much as it rankled me, tickets started appearing for auction on ebay. I think the average official price for tickets was around 100 pounds (circa $200 AUS at the time). It became very clear, very quickly, that if one wanted to secure tickets via an ebay auction, one needed to be thinking big dollars, many times in excess of the original price. Only a fanatic would go to such lengths. OK yes, I was a fanatic…
My wife Karen, God bless her, knew about my Cream obsession. She just knew that I had to get tickets for one of these shows, no matter what. After about five unsuccessful bids, I finally won one of the ebay auctions. The price I paid for two tickets, on the opening night, was obscene. But I had them. I was finally going to get to see this iconic band in one of the most iconic venues in the world. Having achieved the impossible, we then looked at where else we could travel to after London, to make the journey worthwhile. We decided upon Russia. We both had long wanted to visit St Petersburg in particular, so we locked in a week in the Soviet motherland.
But first to London. We arrived a couple of days before the concert, to find the city in the middle of a heat wave. London is such an incredible place, regardless of the weather, but it was particularly beautiful bathed in glorious sunshine. For the life of me, I cannot remember the name of the hotel we stayed in, but it was on Kensington Gore, only a few minutes' walk to Royal Albert Hall. First thing I tried to do after settling in, was to contact the guy I had bought the tickets off via ebay. By the time I bought the tickets from him at auction, there wasn't enough time for him to send them via post to Australia. So there was a certain amount of trust involved here. I had paid a fortune for tickets, travelled across the globe, all on the basis my man would deliver the tickets upon our arrival.
I made contact the day before the concert. He was still in transit from Wales. We agreed to meet at the British Museum—a pretty fantastic place to visit for a few hours—late that afternoon. We did the museum visit, and waited. No sign of my man. I called him. He still hadn't reached London and wouldn't get in until very late.
"Could we meet at the RAH before the concert…?" he asks.
"Umm, no….?"
Karen raised her eyebrows at me, with that look that meant "I think you are being played here…" I said to my man that I really needed to get the tickets before then. So, we agreed to meet the next morning at Westminster Abbey. No problem, this was another London icon that we were happy to spend some time in, even though we had seen it a couple of times before. We waited. Still no sign of my man at the appointed time—or an hour later.
I call him. He's caught in traffic, he missed the tube connection, he's lost… I can't remember his excuse this time. But I'm starting to panic. I'm beginning to think my dream of seeing this band I had dreamed about for 35 odd years was turning out to be, well, just a dream. Not to mention the small fortune I would lose.
My man says again, "Why don't we just meet at RAH before the concert…?"
Karen shakes her head at me.
"Look," I say, "I really would like to get these tickets, that I paid you the price of a small car for, in my hands well before the gig".
Okay, we try one more meeting place. Early afternoon at the Tate Modern.
Now the Tate is a gallery we are most definitely happy to spend a couple of hours in whenever we are in London. We get there an hour ahead of the re-scheduled meet, and check out the latest exhibition. Apart from buying a t-shirt in the gallery shop, I couldn't tell you what we saw. I was just too frantic wondering whether my man is going to turn up.
At the (new) designated meeting time, I stand at the end of the Millennium Bridge, where it meets the Tate.
Karen says to me, "What does this fellow look like?"
Then it dawns on me—I have no idea. Karen shakes her head and goes back inside the Tate.
I call my man. "Hi, are you here yet…? And, umm, what do you look like?"
"I'm Welsh" he says, "and I have long red hair down to my waist—and yes, I'm here."
I look to my left, and see this mop of flowing red hair, glowing in the sun, walking towards me. My heart stopped thumping, I could have hugged him (I didn't…).
"Sorry about the mix-ups," he says.
"No worries," I say.
He hands me the tickets. Not sure if he thought my smile looked a little crazy, but I didn't care. I was going to see my band of heroes at the Royal Albert Hall.
If you ever have the opportunity to see a concert at RAH, do it. It is one of the greatest venues in the world. Not because it is anything special acoustically (in fact when it opened in 1871, there were all sorts of problems with acoustics), but it is just a beautiful building. Circular in shape with a huge dome, it is quite spectacular, and virtually nowhere in the room do you feel a long way from the stage. It only holds 5,500 people, so it is a truly intimate space. It's a wonderful-looking building externally also, with a mosaic frieze wrapped around it. The frieze depicts "The Triumph of Arts and Sciences," in reference to the Hall's full name of the Royal Albert Hall of Arts and Sciences.
However, not ALL seats are great. Our seats were right up in the Circle section, as high as you can get apart from standing in the gallery. We were virtually side on to the stage, and right up the back. The seats in the gallery are pretty small. With a full house, it was also pretty hot up there. But hey, we were there. To see Clapton, Bruce, and Baker together again, on this night, the first time they played together since disbanding in 1968 (apart from a one-off "Sunshine Of Your Love" in 1993 when they were inducted into the Rock & Roll Hall Of Fame), was incredibly special. And don't let anyone tell you differently, they were in blistering form. They were a little more subdued than when they would jam for twenty, thirty minutes at a time during their heyday, but to me, that just showed them for the superior musicians that they were. The fire was still there, but there was a subtlety to their performance that I guess just comes from experience.
So I was an incredibly happy man. We do some more tourist-y things the next day, like watching the changing of the guards at Buckingham Palace—yes, we'd seen it all before, but I never tire of watching the pomp and ceremony, it is quite spectacular. We visit Abbey Road, checking out the famous studio building, watching people trying to do the zebra crossing walk whilst dodging cars. We visit Covent Garden, check out Big Ben and the Houses of Parliament, do the Tower of London tour, etc etc. Done it all before, but still marvel at the history of this incredible city.
That night we are walking back to our hotel, and I notice it is about 7:45 PM, fifteen minutes before the start of the second Cream concert. As we pass Royal Albert Hall, we notice the scalpers outside trying to sell tickets. The asking price is 600 pounds. I stop and watch for a few minutes. As it gets closer to 8 PM kick-off time, the price drops as the touts try to offload their remaining tickets. Anyway, we move on back to our hotel and head off to dinner somewhere.
After another full day enjoying the English summer, we are walking back to our hotel the next evening. It's around 7:30. Again, we notice the touts peddling their wares. When we get back to the hotel, Karen tells me she is pretty tired, and would be happy just to have a quiet night in.
She says to me "Why don't you go back and see if you can pick up a ticket from one of those awful scalpers, and go to the concert again? We've come all this way, this is something you've dreamed about, why don't you give it a go…?"
"Really?" I say, "after the small fortune we paid for the tickets on opening night?"
"Just give it a go..." she says. So I do.
I head back to RAH, and it's about 7.50 PM. The touts are like Cockney car salesmen, trying to offload their tickets. I see one ticket go for 500 pounds, a few minutes later, I see the price drop to 400 pounds. At three minutes to 8, I see a sale for 250 pounds. Then it's one minute to show time. I step out of the shadows and front one of the touts.
"How much?" I ask.
"600 quid guv'nor, that's the price" he says. I've got nothing to lose, I've already seen the show.
"The show starts in thirty seconds" I say, "and I've already seen it, so I don't really care if I get a ticket or not. But there's no-one else here to buy from you, so… I'll give you the face price of the ticket, 100 quid. Take it or leave it…"
He eyeballs me, I stare straight back at him. I soooo want to see this show again, but I'm thinking to myself, don't budge, don't move a muscle. It's 8 PM.
"Okay" he says, "it's your lucky day old mate…"
I give him 100 quid, I get the ticket, and thirty seconds later I'm sitting in a seat about half way back just off to the side, with a perfect view of the stage. My backside just hits the seat when Eric, Jack, and Ginger walk on stage. Unbelievable…
Just for the record, they played the same show, as in the same set list. I think they were probably even better than opening night, I guess because they had a couple of shows under their belt. But how lucky was I? First of all to be married to this incredible woman who, not only let me indulge my fantasy, but actually encouraged me to go again! And secondly, to witness this historic musical event, in this historic venue—twice…!
And so we head off the next morning for Heathrow, and I'm still so excited, I'm giving Karen all the details of the concert over and over again.
"That's great dear", she says "but do you think we should just concentrate on getting ourselves to Moscow today…?"
Ahh, Russia. Of course, it was time to be thinking about Red Square, the Kremlin, vodka, and most of all, beautiful St Petersburg. But music is still buzzing around my brain, and all I can think of is "Back in The USSR," track 1, side 1 of the Beatles White Album.
Anyway, within a few hours, we are touching down at Sheremetyevo International Airport (well, that's what it's called now, back in 2005 I think it was just Moscow International). We didn't realise this at the time, but an event was taking place at the exact time we were in Moscow, which would completely shape the duration of our stay there. President George W Bush was also about to arrive in town for the 60th Anniversary of VE Day ceremonies, meeting with President Vladimir Putin. (VE stands for Victory in Europe, the May 8, 1945, when the Allied Forces accepted Germany's formal surrender). As a result, security was insanely tight, and much of the city was cut off from "normal" tourists.
Anyway, we land, and clear the very strict immigration process. We are to be met by a driver from the tour company we booked the trip with. Now I am just going to come out and say this upfront. As you will know from my blogs, we love travel. And although some travel experiences are better than others, I am always fascinated by life in other countries. There are very few places I can say I haven't enjoyed visiting, in fact there are none. Some are more challenging than others, but I always find joy in the fact that I am in some country on the other side of the world with different customs, different languages, different philosophies, different whatever, and I revel in those differences.
But what struck me about Moscow was how damn miserable everybody seemed. Nobody, and I mean nobody, smiled. First up was Boris (and yes, it was Boris) our driver. He held a card up with our name on it, we greeted him enthusiastically, he sort of grunted a greeting, and off we went to his vehicle. The first—I guess you would say, unnerving—thing that happened was, when Boris lifted our suitcases into the back of his car, his coat was open, and we saw a hand-gun strapped into a shoulder holster. Karen and I looked at each other wide-eyed.
On the way to our hotel, the second—again, I would say unnerving—thing happened. Our vehicle is pulled over by the police. Boris gets out of the car. A discussion takes place. It is an animated discussion. Eventually money changes hands. The police leave, Boris gets back behind the wheel and we set off again for the hotel. He says nothing, we don't ask.
When we get to the hotel, security is insane, even for guests. There are scanners, x-ray machines, and body searches—all, we are told, because of George W Bush's visit. And everyone is miserable. The hotel reception staff, the porters, the concierge – all miserable. Prompt, efficient, and accommodating—but miserable. At breakfast the next morning, the waiting staff are all miserable.
Anyway, it is what it is. After breakfast, we are met by our guide from the tour company. She was to be our companion for the next two days. I can't remember her name, and let's say she was not as miserable, but she certainly wasn't joyous. The first thing she told us was what we couldn't see because of the George W Bush visit. First and foremost, and incredibly disappointing, was that Red Square was completely cordoned off and out of bounds, as was the area surrounding the Kremlin and St Basil's Cathedral. That's the top three things to see in Moscow, right there, now out of bounds. All the VE Day ceremonies were to take place in Red Square the next day, so we couldn't get within cooee of the place. We were miserable about that.
Regardless, we charged on, and there was still plenty to see. There is so much history, some incredibly unique architecture, some great beauty to be experienced. St Basil's Cathedral we could at least see from the outside, and it is surely one of the most beautiful buildings in the world. We walked to the Bolshoi Theatre, a beautiful six-tier auditorium that is the home of Russia's famous ballet and theatre companies. Our bad luck continued to haunt us though; it was closed for renovations.
We visited the Assumption Cathedral, with its striking gold helmet domes. Then we visited a couple of Moscow's metro stations, Kurskaya and Mayakovskaya. You've never seen train stations anywhere in the world like these. They feature the most beautiful mosaics and artwork – you could seriously easily miss your train becoming engrossed in the surroundings.
We visited markets and museums, parks and restaurants, and despite our disappointment at not being able to visit the big guns, we got a real sense of the Moscow way of life and its history. There still weren't too many people smiling however.
But somewhere in amongst all this, a song was waiting to come out. Something happened later that afternoon that would be the trigger for me. We were driving along with our guide, when we passed this large, architecturally-bankrupt, austere, ugly, formidable looking building.
Our guide announced "this building is the former headquarters of the KGB" (Russia's secret police).
I then asked her what I thought was a pretty fair question… "Oh, what is it now?"
She took a look over her left shoulder, then a look over her right shoulder, leaned in close and whispered "this is still the headquarters of the KGB." I almost fell out of my chair. I wanted to laugh out loud, but thought better of it. She still wasn't smiling….
That little exchange inspired a song I wrote called "Old Whores," which was featured on my first album. The song has nothing to do with prostitutes as such, it's a song about how some things never really change. Suicide bombers still believe they will go to heaven and frolic with multiple virgins if they blow themselves up, together with a whole bunch of innocent people. An African nation recovers from years of drought, only to be torn apart by tribal atrocities. Its neighbour receives aid from the world community, only to plunge, yet again, into civil war. And some people still believe the KGB exists long after the Cold War ended. Great fuel for a songwriter….
It was time to move on, and St Petersburg awaited. We caught a train from Moscow to the city previously known as Petrograd and Leningrad, the former capital of the Russian Empire for two centuries. The train trip was, well, interesting. I think things have changed since we were there, and you can now catch a high-speed train that gets you between the two cities in around four hours. Back in 2005, our train was an antiquated affair that took all night. It was cramped and sort of noisy, but hey, it was nothing that a reasonable bottle of red wine couldn't fix.
And I'm really pleased to be able to tell you this—people in St Petersburg were smiling, they were happy! Maybe because they believe their city is the truly beautiful centre of Russia. We had limited time here, but there was really only one thing we came to see. And if you do visit St Petersburg on a tight timetable, just do this one thing—don't cut it short—the State Heritage Museum. This is simply one of the greatest structures on the planet, incorporating the second largest art museum in the world, founded in the 18th century by Empress Catherine The Great. It is a massive complex of six buildings, the jewel in the crown being the Winter Palace, the former home of many Russian emperors. Just breathtakingly beautiful…
So ended our incredible adventure, from the Royal Albert Hall to Russia. We flew back to Australia feeling very happy with the whole experience. But there's a postscriptand of course it involves music.
Back in the mid 1970s, my then-band, Gentle Art, played the support gig at Brisbane's Festival Hall for the Average White Band (you know, "Pick Up The Pieces"). They were a great band, and a lovely bunch of Scots. Fast forward yet again to earlier this year. My life-long friend and drummer in Gentle Art, Stuart Hoffman, calls me up and says that AWB have announced a special tour through the UK to commemorate the release of their famous "white" album. The first show? At the Royal Albert Hall in London. Stu says, "we should go." So, we do.
With partners by our sides, and good friends coming over from France, we make another trek to London, to this iconic venue, and have another musical experience that will live me forever. Like last time, Karen and I add on some places to visit after London—but that's another story…