Freckles Abroad
There Can Only Be One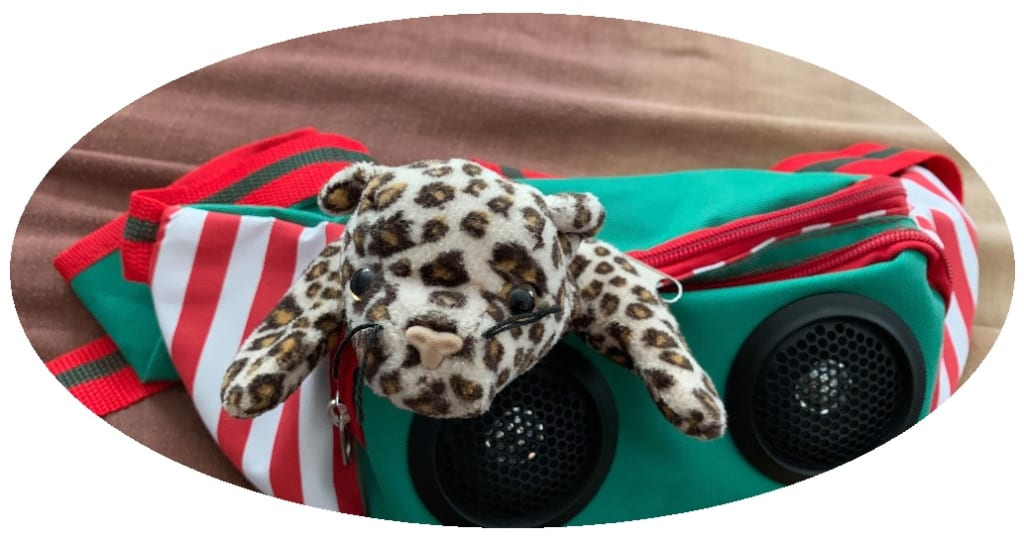 Freckles Abroad Logo
Okay, so not really "can be" but more "was" - as in, I took my week-long trip to Scotland by myself. What a gorgeous country! Scotland and Wales are part of the United Kingdom, so are they considered "countries" or "states"? Either way, it was incredibly lovely.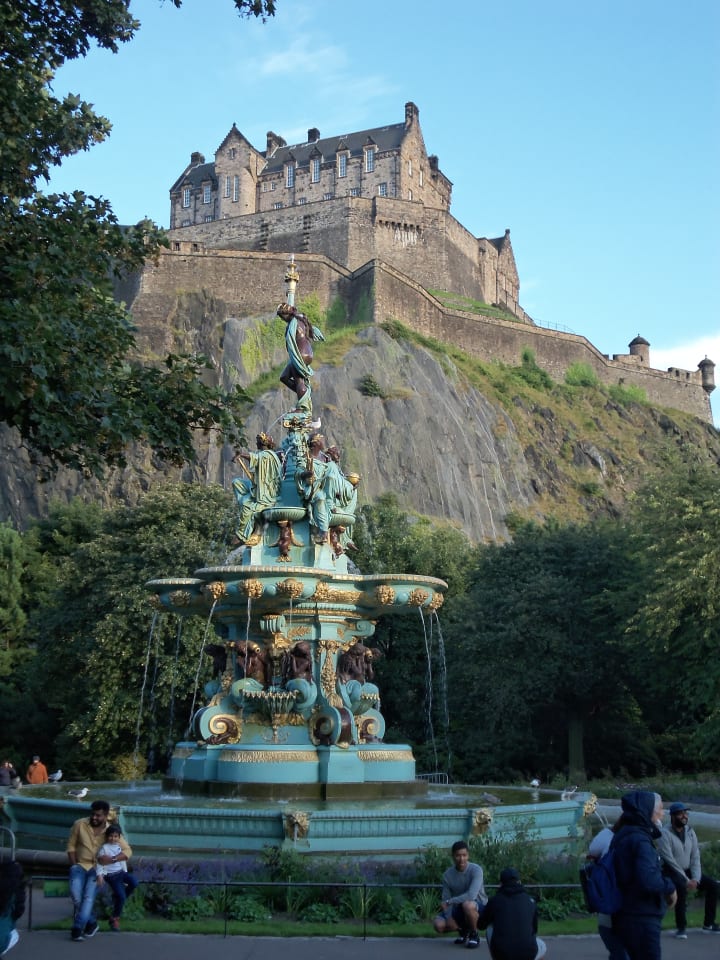 I started in Edinburgh, on a Sunday night and all day Monday, so I was able to catch a few Fringe Festival shows (!) and hike up to Arthur's Seat and Edinburgh Castle. I had a small flight snafu, so I had to miss one of the events I originally scheduled, unfortunately, but I'll just have to come back. It was a long and steep hike, but I made it up and back down in just about 3 hours total! The shows were a lot of fun – one Burlesque show by a local company that teaches dance as a confidence-booster for women – and the other a "stand-up" (more stories than one-liners) comedy performance by a Canadian woman who (I think) now lives in Scotland (Michelle Christine – pretty funny, look her up). I didn't get to go inside Edinburgh Castle because, though it's free, I needed to schedule ahead of time and didn't realize that until after the fact. It's still amazing from the outside, though. Not to mention many lovely gardens and park space throughout Edinburgh (especially the rest of Holyrood Park which includes other smaller hills than just the summit of Arthur's Peak and picnic areas and a few small "lochs" (lakes)) and the garden just below the cliff-side upon which Edinburgh Castle is built. The architecture of Edinburgh was so old and gorgeous (obviously I'm a huge fan of old-fashioned architecture). I had dinner on Monday night at a lovely pub where two young girls struggled to explain Yorkshire pudding to me (for the Toad-in-the-Hole I had) and it was empty enough they gave me a table with a view of the sunlit street. The only issue I had was that I paid for wifi so that I could do work during my trip, but my laptop wouldn't connect. So that was a bit stressful. Overall, though, an absolutely wonderful experience.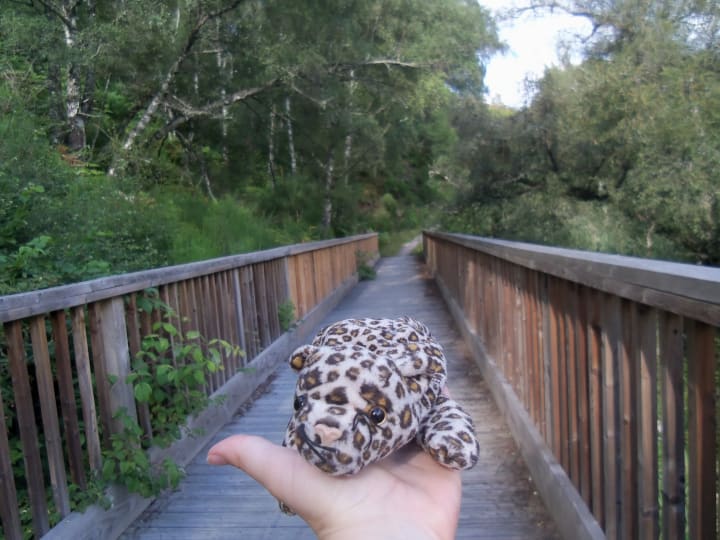 Tuesday, I took a train out of Edinburgh towards Cairngorms National Park (the Cairngorms are mountains, but I didn't actually hike any of these beautiful monstrosities). I stopped at Blair Atholl to visit their castle, which is a lot larger and has much more widespread grounds and gardens than I had expected. I took a lot of photos! Unfortunately, this castle was also closed on the day I visited. The gardens were open for exploration, though, so I spent about an hour doing that. They also had some woods attached that the gardens led into, so I took a "less traveled" path and enjoyed watching the sun filter through the canopy of leaves far above my head. My second stop was Kingussie (Kin-you-see), which I know the pronunciation of due to the train attendant from whom I bought my ticket. He said "it's Kingussie like 'kin you see up my kilt?'" which made me laugh! I wish I'd had more time to explore the parks and shops (especially a lovely little bookshop) in Kingussie, but I had to catch a very specific bus to get to Kincraig (preferably by 2:30pm). I luckily was able to reach the road I needed in Kincraig by 2:40pm – the cafe I intended to stop at was closed – so that I could start my hike along one leg of the Speyside Way (a hiking track on the edge of the Cairngorms National Park) from Kincraig to Aviemore (where the train I needed to catch to Carr-Bridge for my hotel left the station at 5:50pm). Therefore, I had just about three hours to hike the full 5.75-mile (actually more like a full 6 mile)-stretch. It was an exhausting hike, but entirely worth it because the views were extremely incredible. So many wildflowers, gorgeous views of the Cairngorms mountains, pastures full of cows, wooded areas (different types of trees – birches, some that looked like oaks or redwoods), and so much more. People on bikes passed me in both directions, which, along with the nearby railroad track, helped me know that I was still on the correct path. Luckily (and with a lot of hard work), I was able to reach the Aviemore downtown area – near the train station – by 5:36pm, leaving me plenty of time to buy a train ticket and sit down to rest my aching feet and sweaty gross body before the (late) 5:50pm train to Inverness via Carr-Bridge (which is sometimes spelled Carrbridge).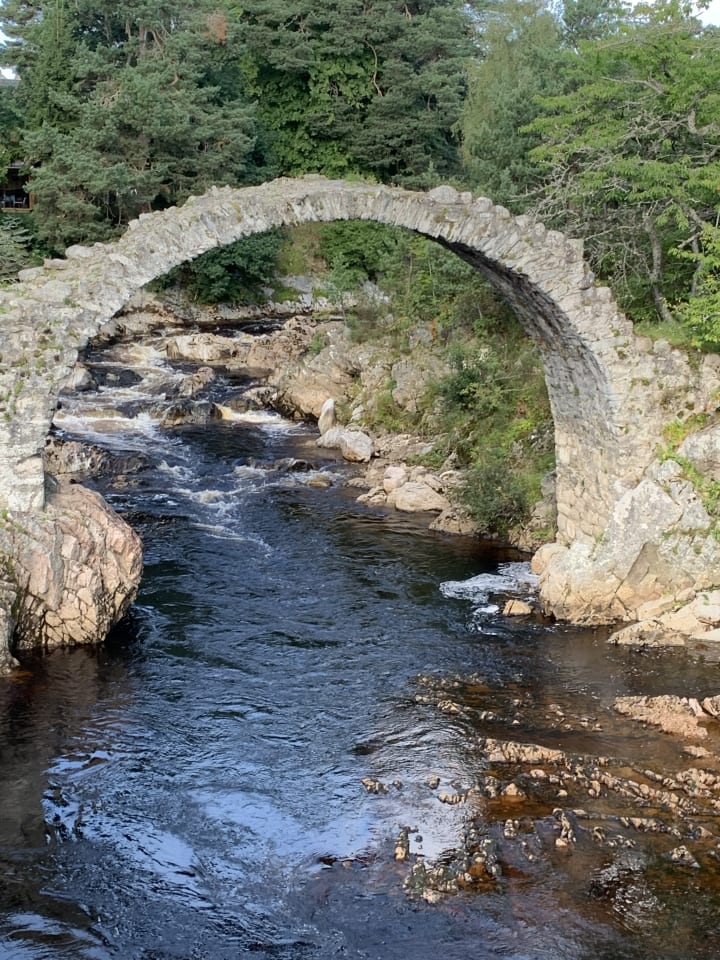 While it was hard to really enjoy it at first, because my feet were killing me as I walked from the station to the "downtown" strip where my hotel was located, Carr-Bridge looked and felt like my "ideal" place (the small-town, historic, cultural and community vibe of a place where I've always dreamed of living). The edges of the town held farmland and farm houses and then these faded into more suburban housing, but the houses were all individual – so more like the "upper class/upper-middle class" houses and yards of most of Stratham, NH. There were maybe one or two small, truly suburban, condominium-style complexes where the buildings were conjoined (a very popular housing style in London and, from what I've seen, most of England). There were paths in the woods (that lead into the rest of the Cairngorms National Park, if I'd had more time and energy to explore), paths along the tree-lined river bank, views of the gorgeous river running over rocks through the town, including under the historic and stunning stone bridge for which the town is named. The edge of the strip of "downtown" stores had a community art studio and a small news shop (on the other side of the river there was also a gas station and a larger hotel, as well as what looked like access to the highway). Then there were a few different types of restaurants (a "bakery" that was more of a breakfast/lunch restaurant, a Lebanese restaurant (I think), another Asian (or maybe Italian?) restaurant, and then the restaurant that went with my hotel – The Cairn & Craigellachie (I may have spelled that incorrectly) Hotel (these are two buildings that actually belong to the same hotel company, my room was in the Craigellachie, but the restaurant and reception is in The Cairn). It was a much nicer room than I had expected for the reasonable price I paid and it had amazing views of the farmland across/farther up the street. I ate at the hotel restaurant (after cleaning up a bit, so as not to scare off the other customers by my sweaty smell!) and the food was really good (and Scottish) – also apparently "cheese" is a dessert in Scotland, which was odd to me – and they let me put it on my bill to pay in the morning, which made me feel like a rich person in an Audrey Hepburn movie (or maybe more like Jessica Fletcher). My laptop refused to connect to this wifi, as well, so I spent the night watching Midsomer Murders on the room's cable television (and letting my feet start to heal).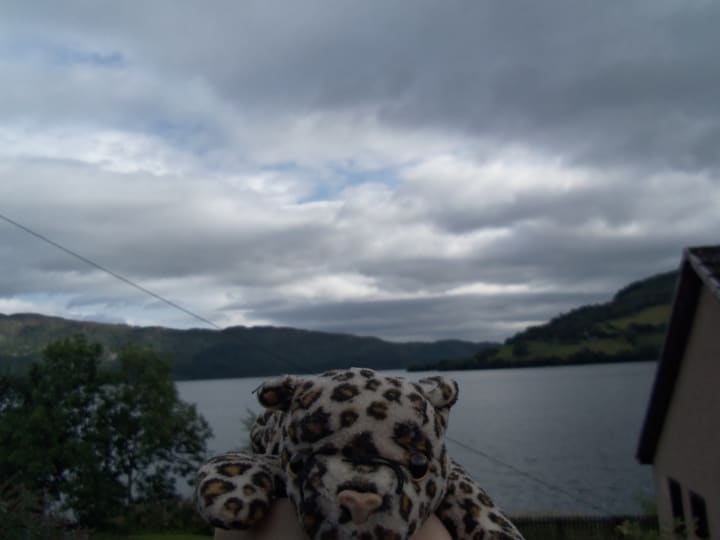 On Wednesday, I reluctantly left the stunning and peaceful town of Carr-Bridge by train for Inverness. I didn't spend much time in Inverness, either, but it was long enough to thoroughly explore the public library (they let me see the Reference Room in the back, too) and to sit at a cafe and figure out the wifi issue with my laptop, so I was able to get 45 minutes of work done before I caught a bus to Drumnadrochit – a small-ish town (bigger than Carr-Bridge, but still mostly agricultural and residential) near Loch Ness, which also holds the Loch Ness Exhibition Centre and Museum. Before seeking out this tourist attraction, though, I found my hostel. It was only at 40% capacity, due to Covid concerns, so I had a whole 4-6 person room to myself! It was a cozy little room which even had a little tea-set, and I only had to share the bathroom with one small family (I didn't see anyone around until the next morning). I had great conversations with the owner, Patrick, who is originally from North Carolina! It was a really great experience staying there. My only difficulty was the only wifi spot was in the main house/communal space, so I sat and worked later that night for a few hours in the cute-but-chilly living room. In the meantime, though, I put my backpack down and headed off to see the Museum and catch a glimpse of the Loch Ness itself up close (ish). It was about a half hour walk/hike back to the downtown area of Drumnadrochit where the Museum was located. Honestly, the presentation was simple and cute (mostly videos about the history of the Loch Ness monster sightings and the science put in to figuring out if Nessie exists or not), but not as interactive as I'd expected. There was a large gift shop attached, and a small outdoor gelato shop. I got some souvenirs and gelato before starting my 20 minute walk along the sidewalk out of town to get a view of Loch Ness. I really only caught a glimpse of the vast lake even when I did find a good spot for a photo shoot. No luck spotting Nessie, though (not through the bus windows the next day on my way out of town, either).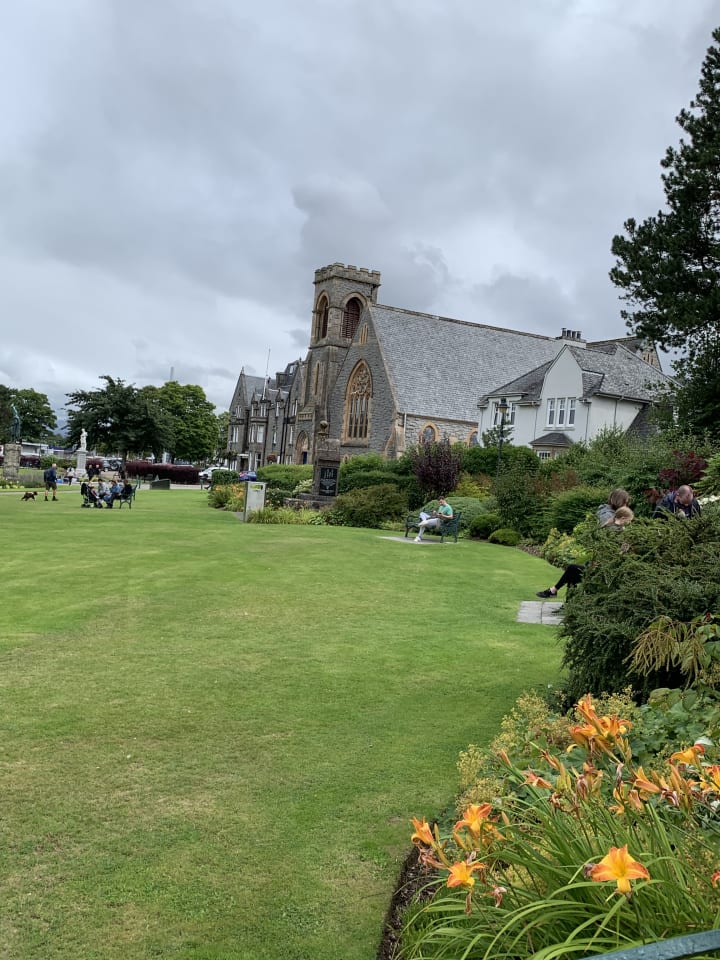 I traveled to Glasgow by bus and train via Fort William on Thursday. Fort William was a gorgeous little port city/town. It was probably about the same size of Portsmouth, NH, but tilted, because it was built into the side of a hill/mountain. I visited a war museum there that focused on the training of the Green Berets (I think?) in the nearby mountains and training of troupes for both of the World Wars. I explored a local bookshop and the local library, where I chatted with one of the staff about my writing degree and she gave me a newspaper that holds an annual writing contest. I also sat and enjoyed the view of the sea for a while and got dinner at a small pub that was nearly empty before catching my train to Glasgow.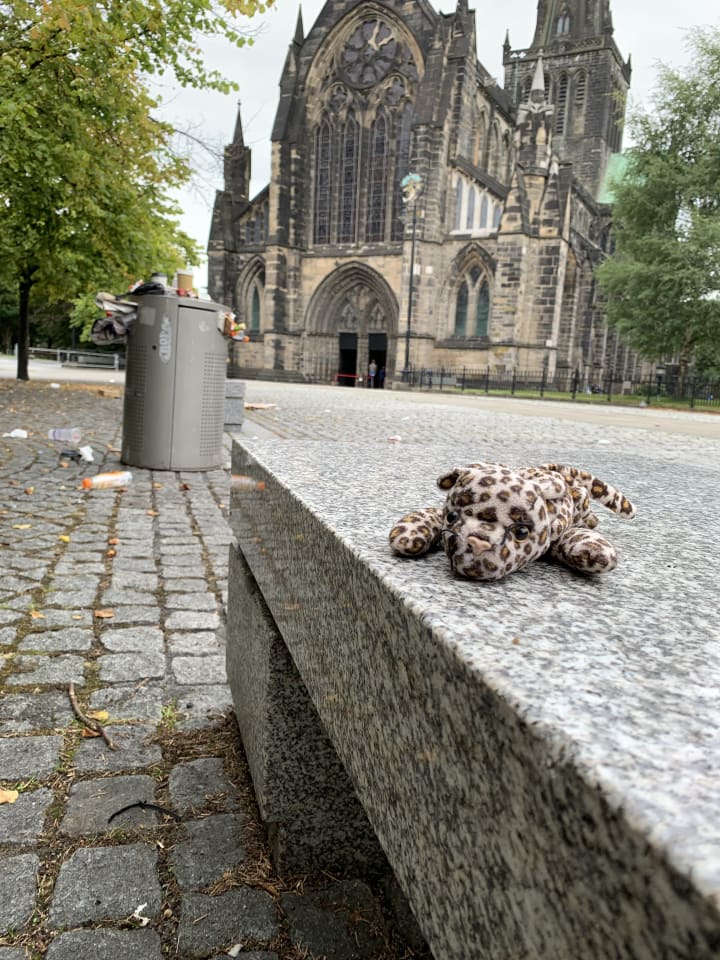 It was supposed to be about an hour and a half train ride. It ended up being closer to five hours, because we were delayed at one stop for almost two hours (or over two hours?). I didn't mind having more time to enjoy the countryside views or read or write during the journey, but it was frustrating that I would be getting to Glasgow after dark (and very late), because I knew it was a bigger city than Edinburgh and I had a half hour walk to get to my hostel. I was right to be nervous, but luckily the walk itself I was safe (or at least nothing bad happened to me, but it is a big city and I was definitely a little nervous walking down empty streets in the dark – almost entirely steeply uphill, I might add). No, I was right to be nervous about the city because of my experience with the hostel itself. It seemed small and safe from the outside – a lovely small brick "castle turret" looking building called the Tartan Lodge. However, the manager was frustrated because it was late and the card machine wasn't working (they had sorted it out by morning when I checked out). I was originally scheduled to stay there for two nights in a row (it was SUPER cheap, which was awesome and it had a luggage locker where I could safely store my backpack). There were many issues I had (listed in the review I wrote the next day on the booking site) that night, which involved getting very little sleep and a lot of work done (might as well do something productive if I wasn't going to sleep), so the next morning I booked a new place to stay for the night and checked out. I would tell the story here, but it's pretty creepy, and I'm safe now, so I feel like I'll save the burden of that stress for my memories and not lay it on the rest of my friends and family (aside from those who already know from communications directly thereafter).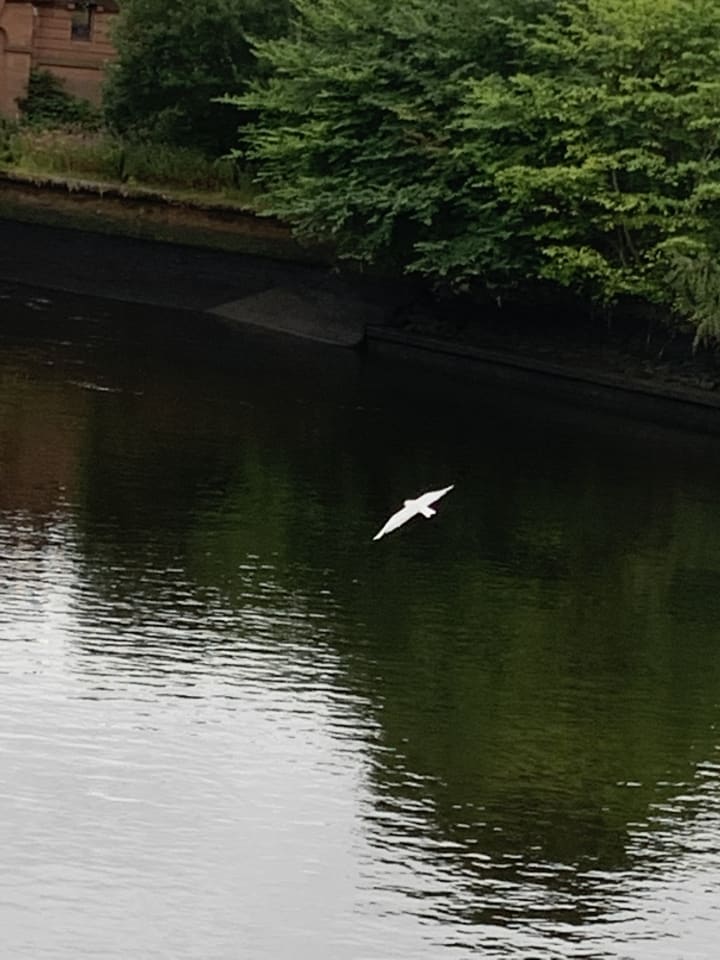 On Friday, exhausted as I was, I did enjoy my explorations of Glasgow, though I was also burdened with my backpack which was originally unintended. I saw a few historical sites from the outside such as The Lighthouse, The Old Market Place (it might have a different name, but that's how I remember it, though it's now an indoor shopping mall), The People's Palace (in the large park by the river, which was also lovely), and a few others. There were also several murals all throughout the city, so I made it a little scavenger hunt for myself (like with the cows in Cambridge). I stopped for lunch and work at an iCafe in the heart of the city. I was falling asleep while I worked, so I ate some sugary items, but they didn't help for long. I spent about an hour and a half there (I had to kill some time before I could check into my new hotel room). Then I enjoyed the park and Palace. There's a fountain outside the Palace and a couple there was getting their wedding photos taken. The photographer let me help with one of the shots! That was pretty awesome. Then I headed across the bridge (took some nice shots of the river) and to my hotel. I got there right at 4pm for check-in time (which was good, because I needed to rest after such an eventful and active week). As I was walking in (and the 5 or so minutes before I reached the property) it began to lightly rain, which was the first time it had rained while I was outside (or at all noticeably) since I'd been in Scotland. Surprising, since all of the UK is known for being a very rainy location! I spent my last evening in Scotland relaxing (and napping) in my hotel room (and maybe I did a little work?) and packing aptly again for my flight back to London the following morning.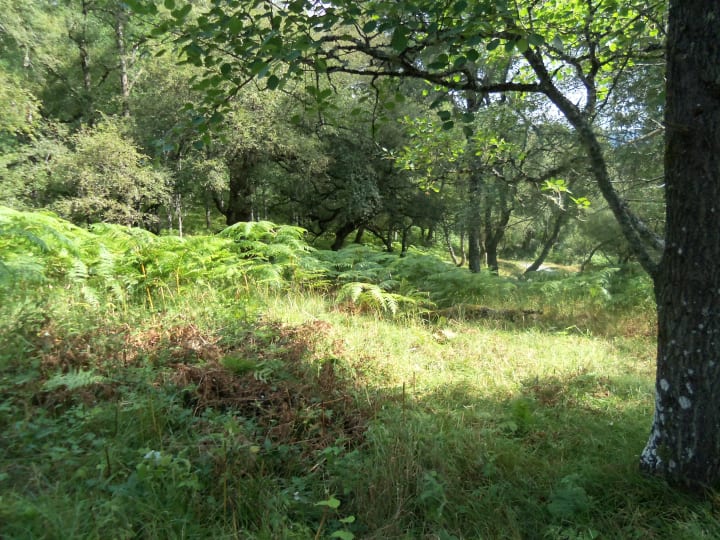 What a crazy, beautiful, weird adventure!
solo travel
About the author
I love to write and share my opinions and life experiences. Hope you find my insights amusing and useful!
Reader insights
Be the first to share your insights about this piece.
Add your insights