Fine Dining Here in Costa Rica
Nothing better than enjoying dinner by the beach!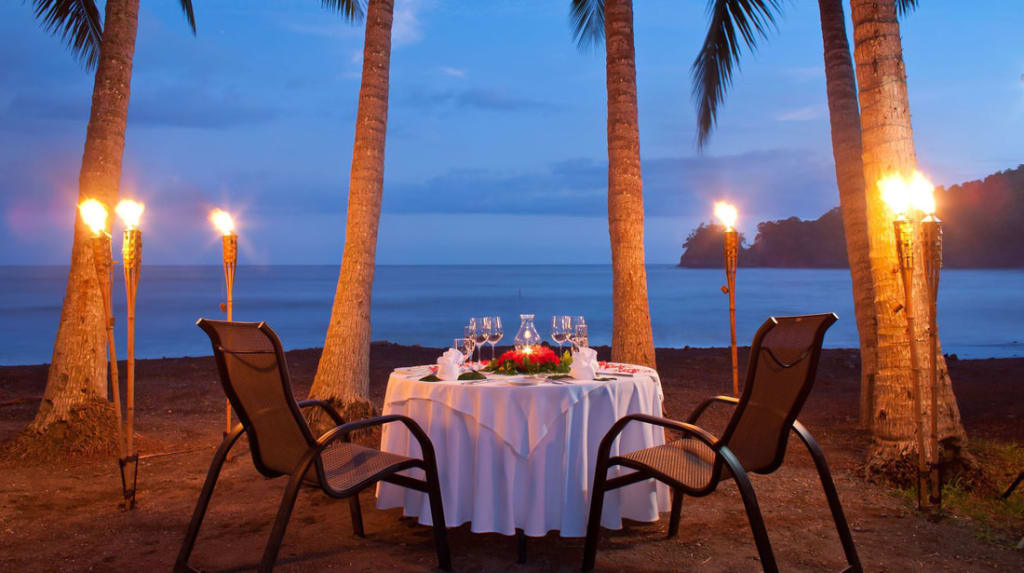 Costa Rica is home to so many wonderful restaurants. . Buen Provecho!
When we all talk about Costa Rica, we think of biodiversity, national parks, toucans, volcanoes, sloths. . amazing beaches, majestic mountains. sea turtles, gallo pinto. . the list goes on and on. One wouldn't think that Costa Rica would be known for its wonderful, upscale restaurants as well. But we do offer so many unique venues that will entice you to visit us just for the food, the experience and of course, the views! By the beach, close to a volcano, on top of a mountain or in the middle of a rainforest, fine-dining flourishes here in one of the happiest countries on the planet!
The only thing any better than enjoying a tasty and well-presented meal in Costa Rica is having this experience with a stunning view. . perhaps of the mountains, the ocean, a volcano. . the bright lights of the city below! There are quite a few restaurants throughout the country that offer all of us breathtaking vistas. These are a few that stand out above the rest.
In Costa Rica, the variety of restaurants has become increasingly cosmopolitan - from fast-food chains found throughout the United States and Europe, to typical Costa Rican food restaurants, to fine international cuisine. Any menu found in New York City, San Francisco or Chicago can certainly be found here in San Jose or at some of our luxury, all-inclusive resorts scattered around the country.
Fine dining in Costa Rica has grown and flourished in the past ten years, thanks to an inrush of international chefs who open restaurants and share their creations with those of us who search for them. From restored mansions in San Jose, open-air gazebos in the rainforest along the Caribbean coast and of course, beachside dining, fine dining takes some unconventional forms in Costa Rica. For example, at the inner patio of the Hotel Grano de Oro in San Jose, just west of downtown, French cuisine is complemented by candlelight and a view of the stars in the sky. Nearby in Santa Ana, Doris Metropolitan partners with a local cattle farm that feeds its free-range cows grass and pineapples, so they live healthy and happy lives before gracing our plates at this fine-dining restaurant. Macchu Picchu, just off of the Paseo Colon area of San Jose, offers authentic Peruvian food, including lemon-flavored mashed potatoes and sopa de pollo! It has a bar serving Peruvian specialty drinks. In Puerto Viejo de Limon, fine dining is done in cozy, casual open-air cafes that invite a view of the rainforest while feasting on organic, farm-fresh fare from the region's melting pot of cuisines. La Pecora Nera is just hard enough to find to keep it from ever being crowded, but the Italian cuisine and candlelit ambience combine for a consummate experience. I'm leaving out dozens of gems, but simply Google, "fine dining in Costa Rica" and your screen will be full of new places to visit the next time you're here! Bring your appetite and your best manners!
A great number of restaurants can be found in the Central Valley, including rustic mountain lodges and extraordinary diners in the mountains of Escazú. When dining in San José, you will find everything from French cuisine to Japanese food. Seafood is another great option, as there are many fine restaurants offering delicious fresh seafood from the coast. Of course, the freshest of the fresh seafood can be found in the eating establishments close to the ocean....in Manuel Antonio, Quepos, Jaco Beach, Playas del Coco, Tamarindo & the Nosara Peninsula, just to mention a few!
If you're looking to get your fill of traditional Costa Rican food, around nearly every corner you will find a typical restaurant or local 'soda', where you can eat like the Ticos do. Costa Rican food specialties include gallo pinto (rice and beans), casados (rice, beans, fried plantains, salad, cheese, and fish or meat), arroz con pollo (chicken with rice), ensalada de palmito (heart-of-palm salad) and sopa negra (black-bean soup), among many other typical dishes.
Definitely, the most well-known drink in Costa Rica is coffee, the country's leading export product along with bananas, pineapples & sugar. Costa Rica's coffee is one of the traditional drinks and it's usually served with milk. I always seem to notice that many Costa Ricans really use a lot of sugar. I saw this one gentleman add seven packs of sugar to a typical cup of coffee at the soda I go to. . wow, that's sweet!
In the Central Valley, wherever you eat, be it a small café or a sophisticated restaurant, dress is casual. I don't think there's a necktie in the entire country when it comes to eating out! Note that 23% is added to all menu prices - 13% for tax and 10% for service. Because a 10% gratuity is included, there is no need to tip. However, if you receive outstanding service, it's nice to add a little something extra. It's always appreciated!
We welcome you to search out our scarlet macaws, our zipline canopy tours & our animal sanctuaries, but don't forget to enjoy our many international cuisines that are offered here in paradise! We'll see you tableside!
You're invited to visit our websites at www.costaricagoodnewsreport.com & www.costaricaimmigrationandmovingexperts.com
Also, please enjoy our over 800 episodes of our "Costa Rica Pura Vida Lifestyle Podcast Series". We are found on all major podcast venues, including iHeartRADIO, Spotify, Apple Podcasts, Google Podcasts, Radio FM, Anchor and many more. Here's our link: www.anchor.fm/costa-rica-pura-vida
About the Creator
Costa Rica is a magical place. Since November, 2002, when I first visited this country, I have been in love with the people, the culture, its biodiversity, the food. . everything about it makes me happy! Now I share my excitement with you!
Reader insights
Be the first to share your insights about this piece.
Add your insights