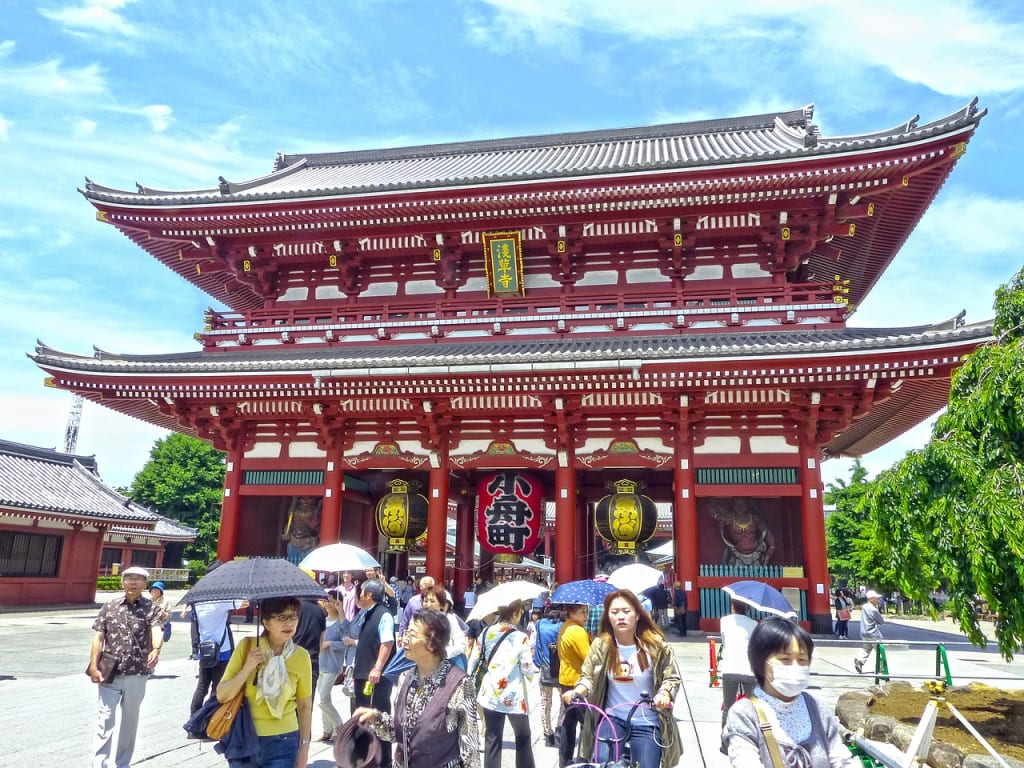 Sensoji Temple - Tokyo
Tokyo is a city that truly never sleeps. With a population of over 13 million, it is one of the largest and most vibrant cities in the world. Tokyo has a unique blend of traditional and modern, with ancient temples and shrines standing side by side with towering skyscrapers and neon-lit streets. In this article, we will explore some of the most popular areas and attractions in Tokyo, as well as some of the unique cultural experiences that can be found in this bustling city.
Travel Areas:
Asakusa
Asakusa is a historic district located in Tokyo's Taito Ward. It is best known for its iconic Sensoji Temple, which is the oldest temple in Tokyo. The temple is a must-visit for anyone traveling to Tokyo, as it offers a glimpse into Japan's rich cultural heritage. Visitors can explore the temple grounds and admire the stunning architecture, as well as the numerous souvenir shops and food stalls in the area. The Asakusa district is also home to the Nakamise Shopping Street, which is a popular shopping destination for tourists looking to purchase traditional Japanese souvenirs and snacks.
Shibuya
Shibuya is one of Tokyo's most famous districts and is known for its trendy fashion boutiques, restaurants, and nightlife. The district is home to the famous Shibuya Crossing, which is the busiest pedestrian crossing in the world. Visitors can also explore the fashionable streets of Harajuku and Omotesando, which are known for their trendy clothing stores and quirky cafes. One of the most popular attractions in Shibuya is the Hachiko Statue, which commemorates the loyal Akita dog that waited for his owner at the Shibuya Station every day for nearly ten years, even after his owner had passed away.
Shinjuku
Shinjuku is another bustling district that is home to some of Tokyo's most iconic landmarks. Visitors can take in the views from the top of the Tokyo Metropolitan Government Building, which offers stunning views of the city. The district is also known for its vibrant nightlife scene, with numerous bars and clubs open late into the night. For those looking for a more serene experience, the Shinjuku Gyoen National Garden offers a peaceful oasis in the heart of the city.
Odaiba
Odaiba is a man-made island in Tokyo Bay and is a popular destination for families and tourists. Visitors can enjoy a wide range of attractions, including the Fuji Television Building, the Odaiba Seaside Park, and the Oedo Onsen Monogatari hot springs. Odaiba also offers stunning views of the Rainbow Bridge and Tokyo Tower, making it a popular spot for photographers.
Cultural Experiences:
Tea Ceremony
The tea ceremony, also known as chado or sado, is a traditional Japanese ritual that involves the preparation and presentation of green tea. The ceremony is a way of celebrating the beauty of simplicity and appreciating the moment. Visitors can experience a tea ceremony at one of Tokyo's many tea houses, which range from traditional tatami rooms to modern cafes.
Sumo Wrestling
Sumo wrestling is a traditional Japanese sport that dates back over 1,500 years. Visitors can watch live sumo matches at the Ryogoku Kokugikan, which is the national stadium for sumo wrestling. The stadium hosts several tournaments throughout the year, and visitors can also tour the sumo stables to see the wrestlers' daily training routines.
Kabuki Theater
Kabuki is a traditional Japanese form of theater that combines drama, music, and dance. Visitors can experience a kabuki performance at the Kabuki-za Theater in Tokyo's Ginza district. The theater offers English audio guides, making it accessible for non-Japanese speakers.
Some famous products in Tokyo:
Kit Kats: In Japan, Kit Kats come in a variety of unique flavors, such as green tea, wasabi, and strawberry cheesecake. Tokyo is home to many specialty Kit Kat stores, where visitors can purchase these unique flavors as souvenirs.
Japanese tea sets: Traditional Japanese tea sets can be found in many souvenir shops in Tokyo. These sets often include a teapot, cups, and a tray, and are perfect for those looking to bring a piece of Japanese culture into their homes.
Japanese knives: Japan is famous for its high-quality knives, and Tokyo is home to many knife shops selling handmade blades. These knives are a great gift for any cooking enthusiast.
Electronics: Tokyo is known for its cutting-edge technology, and visitors can find a wide range of electronics in the city. From high-end cameras to unique gadgets, Tokyo is the perfect destination for tech lovers.
Anime merchandise: Anime and manga are an integral part of Japanese culture, and Tokyo is home to many stores selling anime merchandise, such as figurines, plushies, and posters.
Japanese ceramics: Japan is famous for its beautiful ceramics, and Tokyo is home to many stores selling handmade pottery. Visitors can purchase traditional tea cups, bowls, and plates, or even take a pottery-making class.
Matcha powder: Matcha is a powdered green tea that is a staple of Japanese cuisine. Visitors to Tokyo can purchase high-quality matcha powder as a souvenir, along with traditional tea sets to prepare it in.
Japanese stationery: Japanese stationery is known for its high quality and unique designs. Tokyo is home to many stores selling washi tape, decorative paper, and pens, making it the perfect destination for those who love to journal or scrapbook.
Kimono: The traditional Japanese garment known as a kimono can be found in many stores in Tokyo. Visitors can purchase a beautiful silk kimono as a souvenir, or even rent one for the day to experience Japanese culture firsthand.
Reader insights
Be the first to share your insights about this piece.
Add your insights