Discovering the Indonesian Island of Bali
Vibrant local culture, spectacular food, and tropical weather combines to make Bali an ideal vacation destination.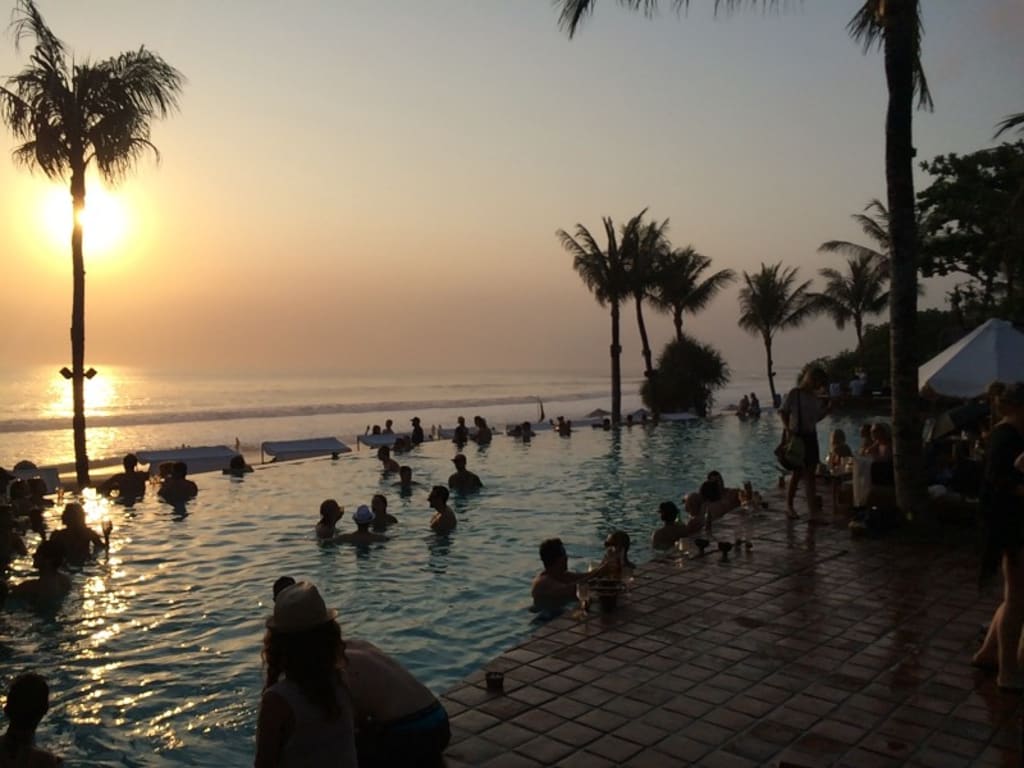 Potato Head Beach Club, Bali. Photo: Gareth Johnson
The Indonesian island of Bali is a favourite destination for Australian holiday-makers, and it's easy to see why.
Here's a quick guide on how to get the most out of your visit to this beguiling tropical paradise.
When to go
If possible, it's best to avoid the Australian school holidays as this is generally peak time in Bali. My most recent visit was in early October, and the weather was perfect — warm and humid so the suggestion of a swim in the pool was always welcomed, but cooler at night so that sleeping wasn't a problem and it was never too oppressive.
Getting there
There are direct flights into Bali's Denpasar international airport from all major cities in Australia and across Asia.
When you emerge into the arrivals hall of the airport, there is a huge range of taxis and drivers eager to get your attention and secure your business. Your best bet is to organise an airport pick-up through your accommodation. Alternatively, the Bluebird taxi company has a desk in the main arrivals hall and this is a reliable and inexpensive operator who can get you to where you need to be.
What to do
Once you leave your accommodation you'll find that Bali is a busy, bustling place with everyone riding motorcycles to get where they want to go. Spend some time exploring Seminyak village, or simply head to Potato Head Beach Bar to spend the day drinking cocktails and positioning yourself to watch the spectacular sunset.
If you're interested in exploring the island a bit further, then a day-trip to the Ubud region can be easily arranged. This is the temple and rice-growing district up in the highlands of the island.
Where to eat
You really are spoiled for choice when it comes to food in Bali. There are plenty of local restaurants serving up simple and tasty Indonesian favourites, but there are also some really exciting restaurants elevating the traditional flavours to create contemporary and exciting cuisine.
Bambu — Seminyak: This is a restaurant that is spectacular in every respect. Entry is across a fish-filled pond, crossing via floating stepping stones. There was a cooling breeze blowing through the open-air dining spaces, gently lit to create a serene sense of tropical luxury. The service was friendly and professional, and the prices surprisingly reasonable. However, the most spectacular aspect was the food. We chose a range of dishes to share and they were all great — soft shell crab; lemongrass chicken; sticky pork ribs; slow-cooked duck; coconut prawns — we re-ordered a few of our favourites simply because we enjoyed them so much.
Warung Eny — Seminyak: I was looking for simple local cooking and so opted for a relaxed looking cafe called Warung Eny. What caught my attention was the smoke billowing from the outdoor charcoal grill, where they were cooking chicken over dried coconut husks. Friendly and welcoming, I was soon tucking into a plate of nasi goreng with chicken — washed down with a large bottle of Bintang beer. Nasi goreng is one of my favourite Indonesian dishes — it always seems to taste better when you're eating it in an open-air cafe somewhere tropical and warm.
Grocer & Grind — Seminyak: There are a lot of great breakfast, brunch and coffee places opening up in the Seminyak neighbourhood of Bali, but Grocer & Grind is one of the first and still one of the best. Friendly service, good coffee, and a selection of simple but tasty food. The streets of Seminyak are busy with the hustle and bustle of daily life in Bali, but Grocer & Grind is the perfect quiet corner to refuel and refresh before diving back out into your Bali experience.
Mama San — Seminyak: Dark and sleek, this is a dining experience designed to evoke colonial-era Shanghai. We had a selection of dishes to share. I think my favourite was the pot-sticker dumplings, but you really couldn't fault anything.
Potato Head Beach Bar — Seminyak: Potato Head Beach Bar is one of the must-do things while you are visiting the Indonesian holiday island of Bali. To describe it as a beach bar is definitely selling it short. It's a spectacular place — not really comparable to anywhere that I've been before. As you approach the entrance, the exterior is an imposing coliseum constructed of wooden window shutters. It faces out onto a beach, and there are day-beds surrounding a central pool where you can spend the day drinking cocktails, enjoying the music, and soaking up the atmosphere. Sunset is a magical time here, but you're going to need to arrive early in order to secure a day-bed as your base. We also ate dinner in the restaurant and the food was really good — contemporary Indonesian cuisine at its best, an informal atmosphere but this is a class act. It's a big call, but they are serving possibly the best pork ribs that I've ever tasted. If you make it to Bali make sure you put at least one day aside for the Potato Head experience.
La Favela — Seminyak: La Favela is an impressive looking bar in the heart of Seminyak on the Indonesian holiday island of Bali. Unashamedly inspired by Rio, this is a big space with a joyously over-the-top interior.
Ultimo — Seminyak: Ultimo is a large, modern Italian restaurant. Hugely popular with visitors to Bali who are looking for a change from Indonesian food, you'll need to book to secure a table.
Sea Circus — Seminyak: Sea Circus is the perfect laid-back vacation-vibe cafe. In the heart of the bustling Seminyak district of Bali, the cuisine draws its inspiration from Mexico — tacos, tortillas, quesadillas are all on the menu and perfect for the warm tropical weather of Indonesia's holiday island.
Merahputih — Seminyak: An unimposing entrance from the busy street, reveals an enormous cathedral-like interior. Service was friendly and professional, but it was the food that was clearly the star of the show. The style here is Indonesian classics with a contemporary flair. Our dishes included: Cured tuna; Rendang lamb in steamed buns; Sweet potato and corn fritters; Fried chicken; Surabayan Duck; Slow roast pork; Reef Bream; and Gado Gado. My favourites were probably the duck and the lamb, but it was all delicious. Even the Gado Gado (the classic Indonesian salad that is right up there on my list of least interesting dishes in the world) was good.
Where to stay
There are a huge range of accommodation options in Bali — from high-end luxury, to simple and basic. The first step is to decide which part of the island that you are going to base yourself. I would recommend the Seminyak district — about 45 minutes from the airport. Here you will be within walking distance of the beach and a lot of the bars and restaurants that you'll want to experience.
Spartacvs Hotel — Seminyak: The entrance is discrete, but once inside the grounds are immediately attractive, the rooms surrounding a central pool. The rooms are spacious — simple and modern without being luxurious. Spartacvs is a men-only kind of place, but there wasn't anything sleazy or overtly sexual about it. Other guests seemed generally friendly, but if you weren't looking for conversation then you could easily just mind your own business. All rooms were fully booked during my stay and it was a mixed crowd — some couples, groups of friends on holidays — most people seemed to be in the 30–50 age bracket. The service was friendly and professional, and the wifi worked in the rooms and around the pool. Breakfast was a choice of western-style or Indonesian-style — I opted for the nasi goreng, one of my favourites. It was an easy walk to the bars and restaurants of Seminyak, and taxis were readily available for exploring the island.
Peppers Resort — Seminyak: Peppers is a large complex but consisting completely of self-contained villa compounds. Our private compound had five bungalow bedrooms and a large open kitchen and living space surrounding a central pool. This style of accommodation works particularly well when you're travelling as a large group. We hung-out and relaxed around the pool, making excursions into the neighbourhood and around the island for meals, massages, and exploring. It's hard to imagine a better way to vacation with your family.