Digesting Culture
Travel Writing piece from my trip to Tanzania 2019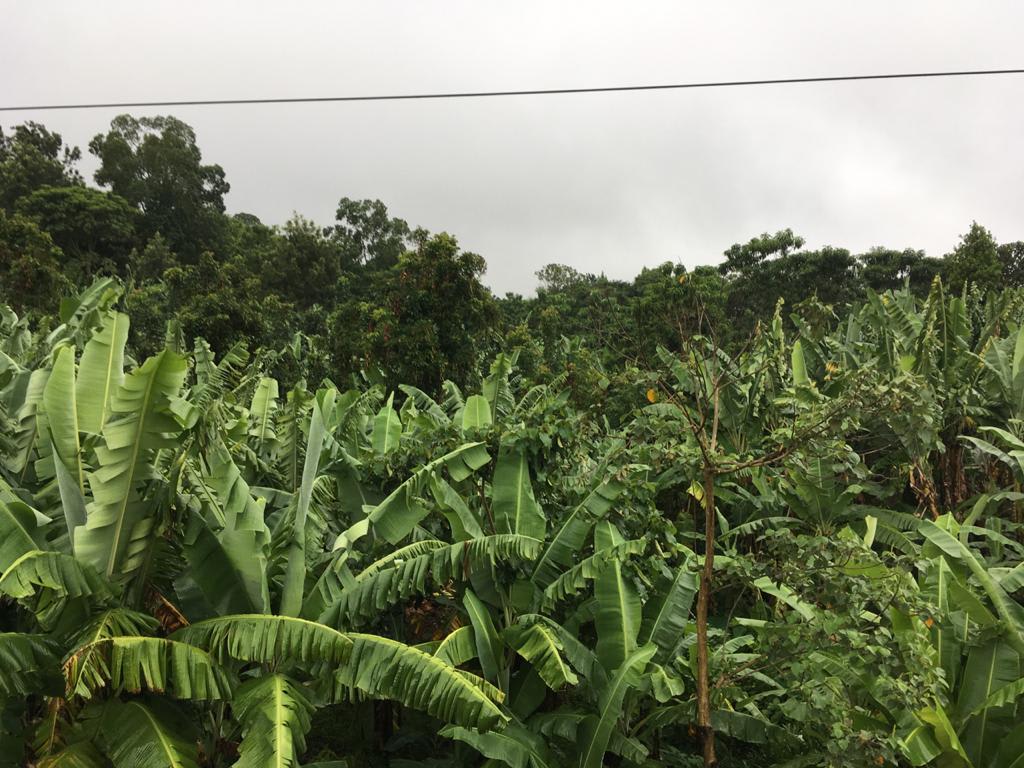 Banana Plantation in Arusha outskirts
All that Willa wants to do after she climbs Mount Meru is to treat herself at Pizza Hut. I was not very surprised to find a local in the area around Shoppers Supermarket, the Plaza. Around the area one could see parked Land Rovers, unusually clean and seemingly out of place, lacking the African Savannah in the background. Arusha Town is quite a different landscape to explore. It is bustling with cars and its walls remain peeled by unforgiving humidity. The windows oxidized by the tropical rains. It is an urban area that grew despite the biome that surrounds it. This part of nature did not expect to be paved over or built on top.
Land Rovers are your staple Safari vehicles, especially associated with tourism in the African continent. Selby and I (while on Safari) shared and commented about the different names these Safari/ Exploring/ Tourist companies had displayed on their vehicles. The names and the logos always included animals, Lion King references, and connotated to the 'wild', the 'expedition', the 'adventure'. The cars seemed out of place in the parking lot of the supermarket, but for various light-skinned humans who rid their back seats. Like ants they jumped off the vehicles and followed a trace. Like Westerners, most came to the Pizza Hut, attracted by the familiar smell of greasy cheese and an internal yearn for pepperoni.
Shoppers Plaza was surrounded by locals, by ATMs, by restaurants like A taste of Mexico, nice-looking coffee shops like Kahawa Cafe and others organized inside the borders of the space. The area near the Pizza Hut consisted of locals around the parking lot. This was a landscape, one could tell, imported from elsewhere. I recognized a Woolworths shop and a Stanbic ATM (Stanford in South Africa) from my stay in the Cape Town area of South Africa, four years ago already. Today, however, I was in Tanzania on a Go Global Seminar, and I was even further away from home.
Instead of spending three months living with a family in the area, this time I was staying for a month in Tanzania with a group of other thirteen students and our university professor Jo, who was eager to teach her young students about the truly trascendental power of traveling, questioning, reflecting, and writing. Staying at a lodge just outside of urban Arusha, our headquarters consisted of our rooms and three favorite common areas: the pool, the bar, and the dining area. The two acres were our little Tanzanian corner, where we slowly met each other and began our learning journey.
We only came to Arusha when necessary, but on a free day, our plan was to venture into town and strap on the most touristy sandals in the closet. We had been subject to the schedule for the first two weeks, and in this five-day gap, it was time to make some choices, read some insights and write some words (may the wi-fi permit). The day we planned to come to town it was me and the Vancouver campus girls sitting in a dining table, surrounded by computers, cables, and books. We are here to explore, we thought, and hence we decided to do what we all knew how to do in a foreign country, tourist around.
Some of the other students joined the plan and we discussed a tentative schedule. We agreed it would be nice to pass by the Maasai Market again. We still needed souvenirs, icons and images to prove to ourselves and others back home that we had been to Africa. Being not too expensive and thanks to our very basic knowledge and now quasi-fluent articulation of Swahili words, we were confident that a simple bei gani followed by a punguza bei tafadhali will turn the products into sales. The shop owners would be glad we came by too.
We had been once before to the market, with clumsy Swahili and still in that stage where taking-everything-in is in itself a full-day mood. The first two shops I entered I spent. I surrendered to the sellers' swift tongue, and despite my honest attempt at the art of regateo (as we say in Colombian spanish, to bargain), a defeated asante sana provided me two spare soapstone elephants that I had no initial intention of buying. In one of the stores the seller woman stroked my hair. She was kind but as she insisted on her merchandize, she leaned so close to my face it made my hand quickly dive into my bag for money. Hopefully the shillings will provide me with some personal space.
* * *
The Maasai Market was happening, but the group had a different central idea, "let's have lunch at Pizza Hut!"
The first time our group spotted the Pizza Hut was during a pit stop at the Plaza, on our way to Tarangire National Park. We stopped at the supermarket for goodies and snacks to keep us company as we ventured through the African savannah. Some of the white sheep of the herd deviated from the supermarket, attracted by ATM machines and the smell of coffee drinks. Most of them also widened their eyes and raised their voices at the sight of the pizza place, so predictable, so red and iconic, in the corner of the lot.
While nobody entered the franchise on this day, our trip included some quiet pleas every so often, for a food more familiar to home. "I cannot wait to eat a burger", one said; "Cactus Club, the best you'll ever find", said another; "I cannot wait to go back and pay that Pizza Hut a visit". I always listened attentively to these comments. I have personally always disliked fast food. I was the kid who turned down the hot dog in a kindergarten party, who would skip the burger and waited for dinner, and who's pizza experience lacked tat of Pizza Hut. "Can't relate, dude".
I for sure missed the foods from back home, Colombia. As a matter of fact, I had been missing these flavors for over five months already, given that I had not been home since New Years. I had spent most of these months living in Vancouver, cooking basic quinoa and vegetables, accompanied by tuna, chicken, or salmon occasionally. Food-making was strictly for survival reasons, daily sustenance. It was healthy enough to keep me going, but being new to the skill, my engagement with food was far from a craft guided by taste or talent. My first year living alone as a student abroad meant I also recurred my lunches on campus, and by the end of April I could not bare the taste of five-dollar sushi. It slowly felt as if my stomach was retreating into itself, looking for a taste I could not cook, and my mouth was watery to taste.
I find it very intriguing how food is an essential element of place. With this I mean food as culture of a place, of course, but when travelling, food is also the basic fuel for your body to be up and going in a new place. You cannot move around without it, you are dependent on it to explore, and hence you must ingest some of Tanzania as a ritual but also as a test. It is your first cultural immersion; and whether you can adapt will have a decisive outcome in your further exploration.
My friend Alejandro enjoys cooking a lot, and so last year I suggested he take an anthropology elective named Eating Culture. He always says the stomach is somehow deeply connected to land and culture, and he is always fascinated at the ingredients of a plate. "It is so difficult to replicate a plate where no raw ingredients are found". Tell me about it. This statement is why in Vancouver I lack my daily morning orange juice, nor can I eat or make my mother's pandeyucas. In Vancouver I wish I could drink aguapanela when I feel sick, platanitos for lunch, ajiaco in a cold day, together with mazorca, arepa con queso, my grandmother's avenita, buñuelo and bizcochuelo and my family's traditional chocolate caliente…
* * *
Arriving in Tanzania had an intense impact on me, including the workings of my biological organism. Beyond the jet lag and other physical conditions throughout my stay, it was my stomach the one who had the biggest struggle acclimatising. Ugali, chapati, beef and vegetable stews, and beans of every color splashed my acids very often, and my pepsin had no chance to catch up. While my tumbo certainly has a sweet spot for Vijiji pancakes at breakfast (aromatized with citrus zest), not a week had gone by after our arrival when it started growling. I did not understand it at the time: but I am eating homemade food! This is all I wanted! Apparently, fresh green beans and banana stews were not home-y enough for my stomach.
First, I blamed it on the meat. Maybe it was the sauce in the stew. Perhaps I am just sensitive to acid fruits? I had not drunk a glass of maracuyà (passion fruit juice) for at least a year. I found some old sachets that claimed to contain a powder that stabilized my intestinal fluids. I was puzzled at my stomach's rejective attitude, especially given my welcoming attitude towards Tanzania. I was here to learn and experience (food included). Flavors have always been part of my adventures, and food had never been a barrier to my exploring or cultural immersion before. The day we came back from Safari I got a fever. I felt chills and had low energy during the entire next day of activities. The day after that, the only distances I could walk were from my bed to the bathroom, and food insisted to fall straight through me.
I started to feel progressively better as I started taking some antibiotics for ehem "traveler's belly". Still, I had confined my sensory exploration to potatoes and spinach, and basically any bland food I could find. Avoiding pepper and ginger spices, Theo from the kitchen staff kept asking "how is your tumbo doing?" and then responded "pole" (sorry) when I kept making unpleasant faces and uncertain hand shaking. Now the group wanted to voluntarily go to Pizza Hut, and I had no idea if it would be a good idea. In the end, I was convinced. The whole group wanted to go, and we were a herd of young white humans, too vulnerable to leave the pack. I had to stick to it, and hence we went together. Funnily enough, we were dropped off by the lodge's safari vehicle.
I was taken aback at the smell of cheese grease, and I was certain the pizza will lack enough tomato sauce. However, I was willing to be the small peperoni pizza's acquaintance, the beloved of my fellow group mates. In the line I keep thinking to myself, "I guess I am a muzungu after all". We sat in the red long sofas beside the window. The view: bright grey cement and Land Rovers. I wondered if this is the impression wild animals get when they first encountered roads and vehicles. I wonder if they think we display for them as much as we think they do for us on Safari.
After lunch we headed to our first journey through the concrete jungle of Arusha. As we left the gated Plaza area noise emitted from car horns and bounced on buildings. Most of the people minded their own businesses. Slowly, I could see the progressive darkening of skins as we kept getting further away from the Plaza. In our walk we stayed in group, and like children we watched out for our buddies. It is very interesting how an unknown environment can sometimes make us feel like children again, curious and shy, but eager to explore. I held Arielle's hand as I told her about Matias and the milestones of managing two languages to express romantic love. However, as we approached the Maasai Market, we kept being interrupted by young men selling art. Canvases of colourful savannah skies featured little stick figured people. The Maasai people had become an image themselves. I was a little sad to notice their depictions were usually faceless.
When we arrived at the Market we ventured into its "roads", the passages where sellers sat and greeted us at each side. The colours were intriguing, and the objects varied. However, there was not much difference from one store to the next. Jo had said earlier, "this is an example of mass-produced tourist goods. You can see what people think you want to see from Africa". I remember our first time entering the roads. I instantly understood, as every store owned soapstone animals, printed t-shirts, and bracelets. I even saw the same engraved plate I had bought for my grandmother in Cape Town four years ago in more than one shelf. Suddenly, my gift seemed un-special. As I walked, I kept looking for a t-shirt for my brother. Being a loyal fan of The Lion King, I knew what legend the shirt I had to buy must have: a Hakuna Matata.
Deep in one of the maket's intersection, probably crossing from Serengeti to Ngorongoro (as we actually did on Safari) Arielle and I were in a woman's shop where she, like all other sellers, greeted us insistently. "Hello my friends, my rafiki. Please go into my shop. One look, lady. Where are you from? Come here dada, karibu sana". We were trying to articulate our Swahili when my tumbo felt fire inside. My body started to sweat in alarm. "Arielle, come with me to the bathroom, please."
Some of us were shook at the first sight of squat toilets. Still made of ceramic, still (some) flushing, the hole in the floor was a little disorienting, and it was a learned skill to aim at its center, manage the splashing, and avoid getting a leg cramp with your pants down to your ankles. I thought they were funny and took a picture the first time I had to use one. I had no problem with their layout, however. When Arielle and I saw the little girl- figure sign and an arrow pointing left, I felt like falling. She willfully held my things as I prepared myself to squat. That is how my body confirmed Pizza Hut was not my food, and just like with pilau, my stomach refused to process a culture that was not mine.