Camino de Santiago, Day -7
My journey begins soon | Thoughts and stuff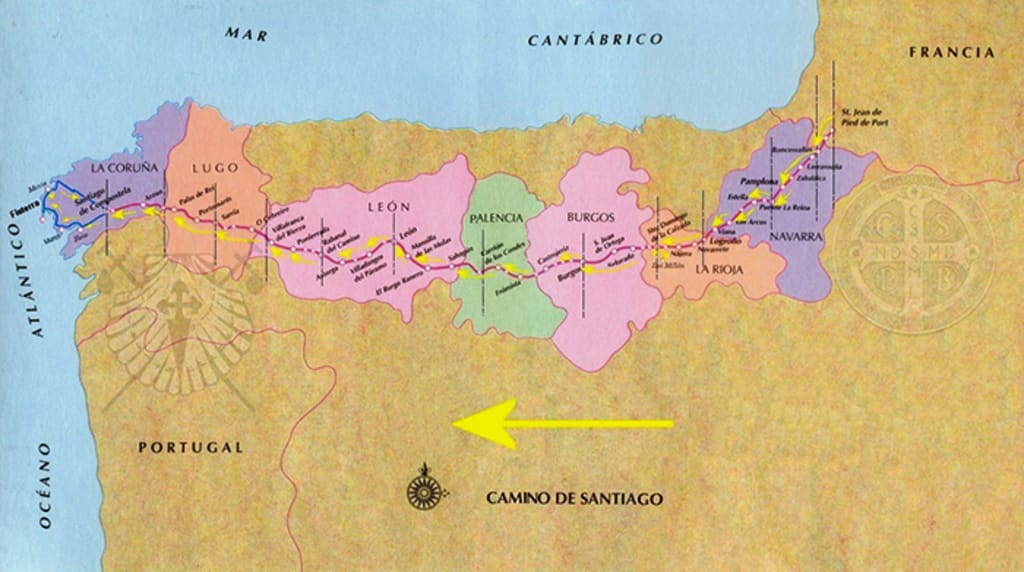 Route of the Camino
The final countdown begins...
One week left before my biggest adventure ever—well… so far. Yeah, pretty soon I will sit on a plane with the one-way ticket that will take me away from Manchester. Take me away from everything and everyone I know, away from friends, and my daily routine, away from work and the hamster run. So you wanna hear about thoughts and stuff now, right? Well, here you go—there are moments when I'm still not 100 percent sure if I reeeally realized what am I actually about to do. But it's okay.
If you remember—if not, then click and read, please—in my review of 2018—and plans for 2019 post I told you I'm working my ass off, and saving every penny I can to be able to do something very special this year. Well, the title of this post is not a Click Bait…
So…
Everything happened as it was planned—everything was falling into place to make it happen, let's say this way. So it's official guys…
I will do the El Camino de Santiago.
All in—from Saint Jean Pied de Port to Fisterra. It's gonna be 800+ km—yeah, that's one of the bits I haven't realized just quite yet I guess…
First solo trip, first real hiking experience. Kind of jumping in the deep water, right?
Twenty to 25 km/day in who knows what kind of weather conditions. The hostel life by night with who knows what kind of roommates. Yeah… 30 something days—I don't have a very strict time limit, and also I don't really wanna "just" follow the path. To be honest, my motive is not too spiritual—although I will definitely have some time to think too.
… I just wanna get lost in Spain, explore each town and city a bit, know all about the gastronomy. I wanna taste the foods and get to know the locals and experience as much as possible. With all this, hopefully, I can give you guys a bit of a different point of view of all this adventure.
So stay tuned… cuz I believe this is going to be the best five to six weeks of my life, and it's really gonna be a lifetime experience, and an achievement I will still remember in 30 years from now.
The first thought about the El Camino crossed my mind around September. Of course, it was sitting on my bucket list since forever, but always felt like something unreachable and super far. I mean, how could I leave everything behind and basically disappear for like one and a half month. What about my job, the rent, the bills, and all these real-life grown-up things. As I said before everything was falling into place to make it happen. I got fed up with the full-time job I have for two years. So I made my final decision and put my two-week notice—today was my last day actually, yay. I had to move out of my old apartment last week. Also, there's the tiny fact that I will be 30 next week… it just made me think about my life and how everything is going, if it's a good direction or not. What I really want… Stay realistic, but also try to make my dreams come true. Everything happened in my life at one point was like a big flashing red light saying:
DO IT.
A friend told me that, 'Oh my god with all that money, why don't you go to Thailand for 14 nights with all-inclusive to a luxury resort? Or why don't you redeem a bigger amount of your student loan? Why don't you just save it? Put it in bitcoins.'
Cuz I don't want that. I want to achieve something. Something meaningful and something real. I want something special.
Buen Camino (Good way)
solo travel
Hungarian travel writer based in Manchester, England
Infatuated with Spain and Latin America
Currently walking the Camino de Santiago