Brian Ghannam on Respecting Other Cultures When Traveling Abroad | Atlanta, Georgia
Travel enthusiast Brian Ghannam shares tips on how to respect different cultures when traveling internationally.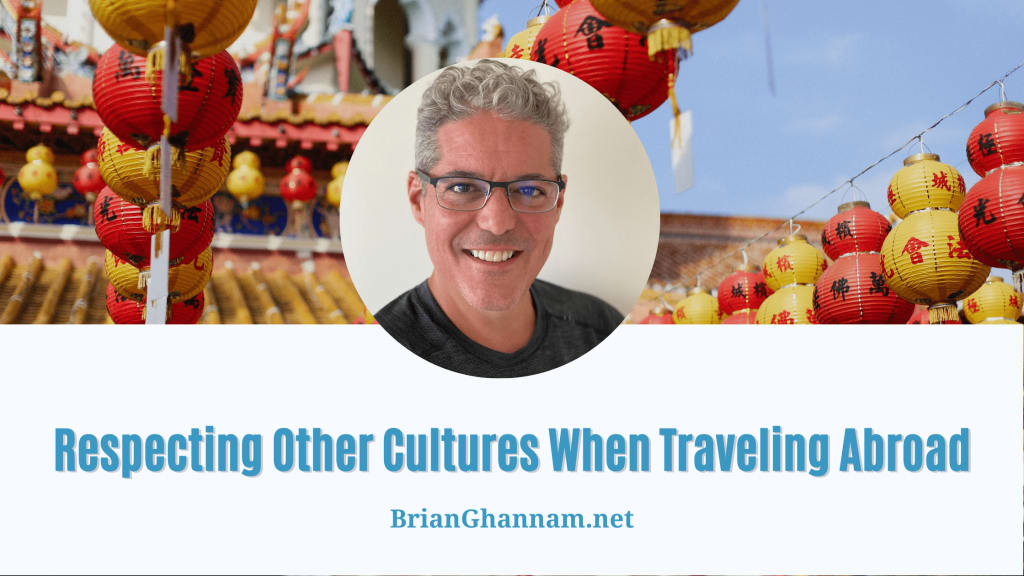 https://brianghannam.net/respecting-other-cultures-when-traveling-abroad/
It can be hard to tell what to say or how you should act when interacting with people from different backgrounds or cultures, especially when traveling. Some people find it challenging to adapt to new surroundings. To help ease the transition, here are a few suggestions for respecting other cultures when traveling.
Educate Yourself
Before you leave home, research the places you're visiting and try to open your mind to new experiences. Ask local guides or staff members for help and speak with others from the area to learn more about the culture. While visiting a specific worship site, be aware of the practices and body language of the locals. It can be hard to understand other cultures' nuances, especially regarding the small details of their customs. Nevertheless, respecting the people in another country can go a long way.
Environmentally Conscious
We want to make a difference in the world and often sacrifice our comfort to do so. Before you leave, ask yourself whether or not the destination can be in better shape than when you arrived. You can help the environment by avoiding litter and using a reusable water bottle. Also, turn off the lights and use a shopping bag to avoid using unnecessary energy.
Self-Awareness and Sensibility
When taking photos at specific cultural sites, such as art galleries, be mindful of the rules when using flash. Also, ensure that your pictures or videos are appropriate and won't cause offense. If you're planning on taking a photo of someone, ask them if they're willing to let you take the picture.
Support Local Businesses
You can support local businesses by shopping at restaurants and small shops instead of international chains. You can also buy local products from street vendors and artisans. If you're unsure where to find the best local businesses, ask a local. If you plan on traveling over the weekend, consider staying in a local hotel. To boost the reputation of the establishments you're visiting, leave kind reviews on social media so that other travelers can find them.
Be Mindful
When interacting with the locals, be aware of how they feel. If you're studying in a country where English isn't the main language, you should practice speaking it before you travel. Also, introduce yourself to the locals in their own language. When you're in a local area, try to be active in the traditions of the place. Also, be kind to the locals and ask questions whenever you encounter them.
About Brian Ghannam
Brian Ghannam earned a bachelor's degree in Packaging Engineering from Michigan State University. Brian was a member of the Michigan State Golf Team throughout his college years. His love of golf has persisted with him throughout his life, and he can still be found spotted on the occasional fairway.
Brian's first job after graduating was at Berlin Packaging. Brian exceeded his sales goal as a sales representative for the Chicago and Atlanta sectors, closing over $2 million in sales. Following this position, Brian Ghannam became the National Account Manager of Enterprise Solutions for MASTECH Digital, a staff enhancement firm. Brian consistently showed his expertise by exceeding sales targets by 40% while working.
Brian Ghannam spent many years as an Account Executive for J.D. Edwards, learning the ins and outs of ERP and SAP, combining inventory management, business analytics, human resources, customer relationship management, supply chain management, and financials. Brian closed over $500K in professional services, exceeding his sales objectives by 50%. Brian was also in charge of J.D. Edwards' Southeast launch. Brian went on to work as an experienced SAP ERP reseller at Plaut Sigma Solutions, where he closed millions of dollars in sales and surpassed sales targets. Brian Ghannam also improved his talents in designing software for new clients, collaborating with C-level executives from discovery to launch.
About the Creator
Brian Ghannam attended Michigan State University and received his bachelor's degree in Packaging Engineering. During his time at college, Brian was actively involved in golf & fraternal organizations. He immediately began a career in sales.
Reader insights
Be the first to share your insights about this piece.
Add your insights