Book These Now! Top Sydney NYE 2022 Events
Looking for ways to spend NYE in Sydney? Check out these highly-anticipated attractions to welcome 2023 in style.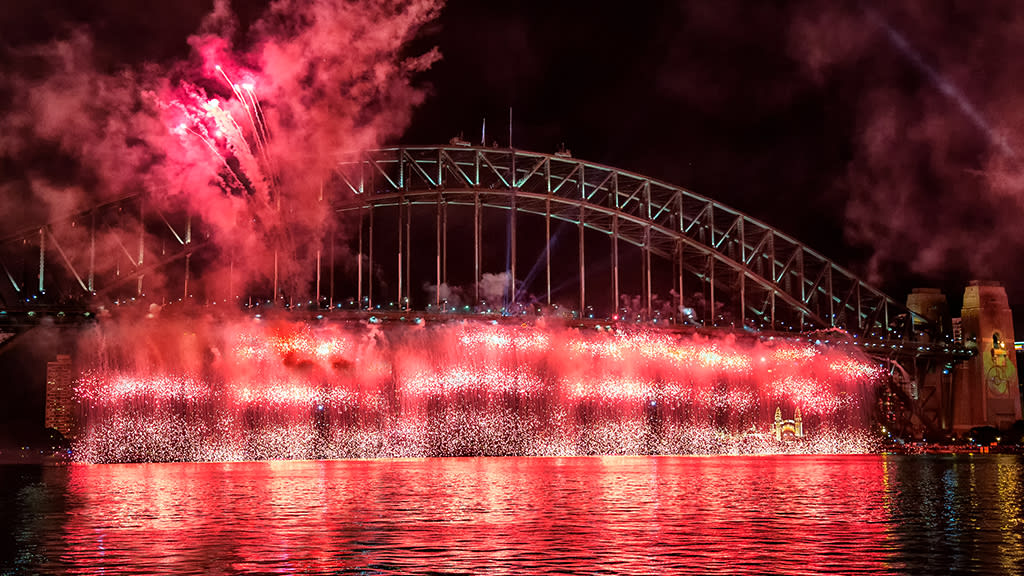 The hype is real! Sydney is buzzing with energy and excitement to welcome the biggest night of the year, New Year's Eve. Less than hundred days remain to say ''adieu'' to the old and welcome the new. So if you haven't already, it's high time you lock in on a plan, enough with the dilly-dallying. We all have that New Year where we ended up on the rooftop of our friends house because we were too busy to plan anything ahead. Not dissing anyone but it's been a harsh couple of years and you deserve to celebrate with the highest colours.
So lineup your possy and celebrate the last day of the year at any of these much-anticipated attractions!
A core-memory moment on the New Year Cruises
On the final day of the year, all eyes will be set on the harbour for the legendary Family and Midnight Fireworks show. Imagine yourself on a cruise with a lavish spread of dinner, free flowing alcohol, entertainment and unrivalled views of one of the biggest fireworks shows in the world. Well that's exactly what you get on an NYE cruise! Cruise on a multi-million dollar catamaran and make the most of its spacious outer decks by clicking some epic angles of the Opera House and Harbour Bridge, that are guaranteed to set your socials on fire! Treat your friends and family to a fine dining experience featuring a deluxe seafood buffet, premium drinks, and more! These New Year's Eve Dinner Cruises will be located in pre-designated exclusion zones, to ensure you enjoy nothing short of the best views! So don't even think twice, book a cruise now!
Get "Wild" at Taronga
Taronga has always been one of the must-see destinations in Sydney, especially for families. But did you know that the zoo has been hosting incredible NYE events throughout the many years? This year they're going all out and are putting more than one experience on the cards. If you're looking for a laid-back joint to spend the last day of the year with your closest ones, then this is it. An experience like no other - you'll meet some of the natve wildlife of the zoo, enjoy some live entertainment, purchase food and beverages on site, a free entry to the zoo, and exclusive views of the fireworks! Sounds like a plan right?
A plethora of events at RBG
Usually, you can easily put together a picnic hamper and head out to the garden for a relaxing evening. The RBG, or Royal Botanic Gardens, this year, offers several ticketed and non-ticketed events that will feature night long concerts, events and other celebrations. Though Mrs. Macquairies Chair is a free public-viewing joint within the garden, this year the NSW Government has designated certain ends of the region to frontline workers for their incredible service. But if you're keen on spending your NYE inside the garden, you can check out the many diners and cafes within the garden and look for early reservations for the 31st. Either way, you're guaranteed to have a ball!
Everything luxury at the Opera House
Sydney is known to step up its game when it comes to NYE celebrations every year, and this year is no different. Ring in 2023 with the explosive and highly-entertaining Amadeus production at the Opera House, which is part of the 50 year anniversary celebration which is already underway! The premium experience is nothing short of extraordinary - you'll be sipping on some of the finest champagne while enjoying unbeatable views of the 9 PM Fireworks! That's not all you'll also enjoy a pre-show dinner, premium show tickets, and even a complimentary program! Although this one's a bit exxy it sure is worth every buck!
Reader insights
Be the first to share your insights about this piece.
Add your insights