Blake McCoy on Hidden Gems to See When Traveling to Italy
Blake McCoy | Chicago, IL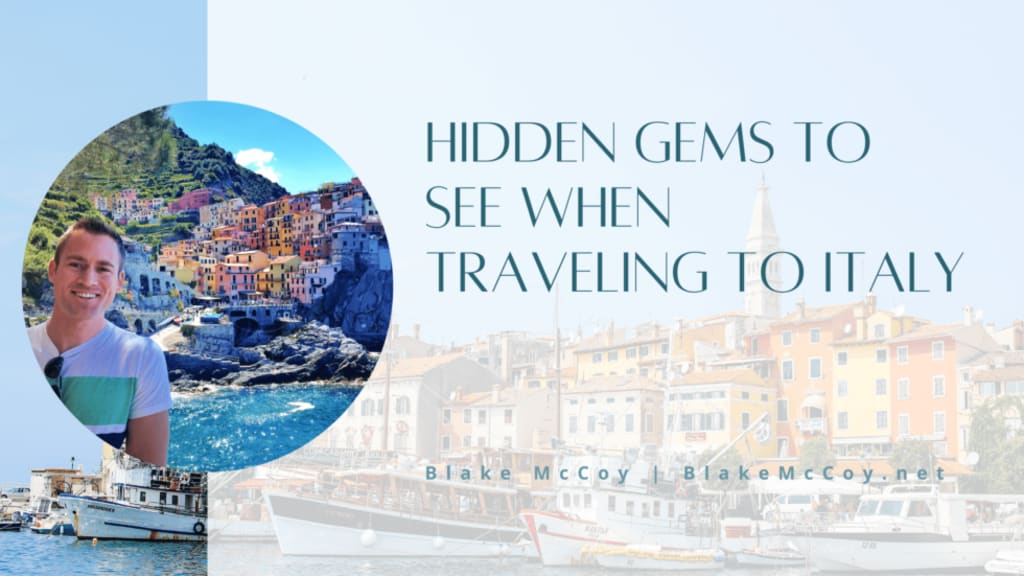 https://blakemccoy.net/hidden-gems-to-see-when-traveling-to-italy/
Italy offers a wide variety of cultural and historical attractions. There's a well-worn path to some of the country's most popular areas, such as Florence, Venice, and Rome. However, if you're looking for something different, try exploring some overlooked regions.
There are many hidden gems in Italy that will allow you to experience its rich history and culture. From exploring the southern coastal towns to learning more about Italian history, these are some of the best places to visit in the country.
Lake Orta
Situated close to the Swiss border, Lake Orta is a beautiful lake in the Alps foothills. This region is known for its historic town of Orta San Giulio, which features medieval and Baroque architecture. Other highlights of this area include Lake Orta's sparkling waters and the surrounding forest.
Treviso
Despite being one of the least visited areas in the region, the city of Treviso is full of Italian charm. This place is known for its beautiful canals and narrow streets. You can spend a few days exploring its various attractions, such as its medieval city walls and Venetian waterway. If you're craving aperitivo, this area is a great choice.
Gubbio
One of the best-hidden places in Italy is the medieval town of Gubbio. This area is known for its beautiful medieval architecture. It's also a maze of stone buildings and cobbled streets that leads to the summit of Monte Ingino. One of the most exciting things about this area is the remains of Sant'Ubaldo, who has been resting here for over a thousand years.
Porto Ercole
Located in the Argentario Promontory of Tuscany, Porto Ercole is a small seaside town known for its fishing village and resort. This area is also known for its beautiful Spanish fortress. The port here has historical significance due to the presence of various relics, such as Roman, Byzantine, and medieval art. It's believed that the artist Carravaggio lived in the village during the 17th century.
Maratea
The city of Maratea is located in the Basilicata region and is known for its magnificent views of the Gulf of Policastro and the Tyrrhenian Sea. This area's most famous statue is the Christ the Redeemer, over 70 feet tall and stands on a platform over 2,000 feet high. Other highlights of this area include its 44 historic churches and the beautiful beaches of Maratea.
About Blake McCoy
Forever curious — Blake McCoy has built a successful career as a broadcast journalist by traveling to new places, seeking out new people and questioning everything. Even the biggest news stories start with a tip or hunch. A journalist explores it from all angles until a story takes shape. That boundless curiosity is what makes travel Blake McCoy's favorite pastime.
Blake McCoy's career often takes him to exciting new locations covering events as they happen. Journalism rewards curiosity. In his off-time, Blake McCoy channels that innate curiosity into travel with assignments he gets to choose himself.
A California native, Blake McCoy grew up outside Los Angeles. His first travels were to explore new beaches, attend summer camp in the mountains of Big Bear and on weekend trips to places like Santa Barbara, Palm Springs and Catalina Island. As a teenager, Blake McCoy relocated with his family to Nevada and a small town outside Las Vegas rich in history. Founded by the federal government in the Great Depression, Boulder City was built to house workers constructing the Hoover Dam. Today, that dam creates Lake Mead, the largest man-made reservoir in the United States, responsible for generating power and allocating water for three states — Nevada, Arizona and California.
activities
travel tips
travel advice
About the author
Blake McCoy is a dynamic, engaging broadcast journalist with a depth of experience. As a network news correspondent, Blake has traveled the country sharing stories of human triumph and tragedy, struggle and perseverance.
Reader insights
Be the first to share your insights about this piece.
Add your insights