Blackman In Shanghai
"Last night I lived."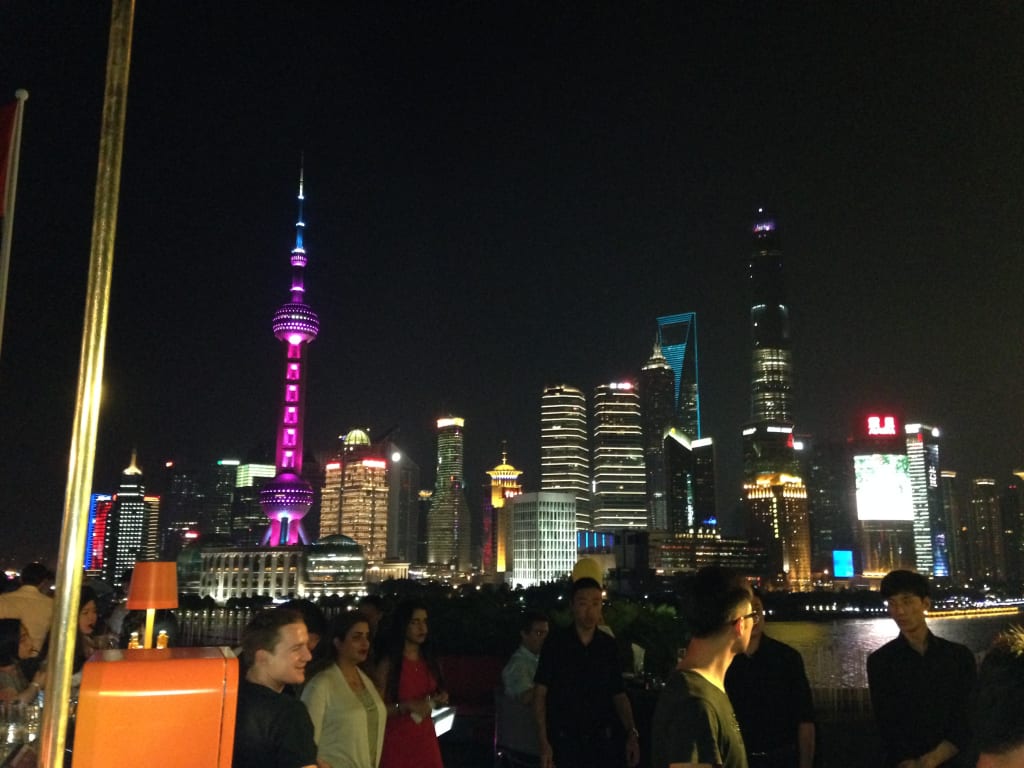 It's been three years since my first trip to Shanghai. I am 23 now, and in the wake of the new year, I am a prey to nostalgic thoughts. So let me take you back to one of my fondest memories of the first time I left the UK since arriving over a decade ago. And if there's a hint of naivety in my tone— that's because I absolutely was and loved every bit of it. It went something like this:
"It's my last night in Shanghai and I am so sad. I don't want to leave. I am not ready. This city is amazing and good god if I ever get the chance to visit again I would sprint to the nearest airport (spoiler alert: I did exactly that a year later). I'm dead serious.
My flight back to London was at 6 AM, so obviously I had time to party one last time. I mean, it was a Friday night. I gathered up some friends and we hit up a rooftop bar called Bar Rouge, where we kicked the night off with basic spirit and mixers. I first visited this bar on my first night in Shanghai, so being there that night was poetry. Bar Rouge is located in a luxurious hotel in the heart of the city, and faces the famous Bund. That night there were no pole dancers so we enjoyed the breathtaking view of Shanghai's skyline with wonderful strangers.
We were running out of money and weren't quite wasted enough so we decided to take it down a notch and head to a different bar/night clubs, which until now I have no clue what it's called, but it was ridiculously good. Situated in the third floor of some hotel, the venue was down to earth with amazing music. Drinks were as cheap as £1.50 and Beyoncé was on blast so obviously I lost my mind and got completely hammered. On my attempt to secure my Nth drink I met an American girl who lived in China, and when I told her it was my last night she legit choked, and said "You cannot leave China without trying one of the deadliest drinks. It tastes awful, gets you drunk as fuck, and gives you the worst hangover." You've guessed it, after "deadliest" I was already waiting for her at the door.
We rushed out of the club to find a place that sold it. We asked for direction from native-dwellers, and each and every one of them with as much English as they could master told us to stay away from it, but gave us directions anyway. At this point I didn't know whether to run as far away from this girl as possible or… So we're now back at the bar, I gathered all my friends and introduced her and the drink to the group. With a bit of peer pressure I convinced everyone to have a shot with me, and we each had just over a thumbs width. It tasted liked a rough ride to hell, but I downed a shot of coke drink and all was seemingly well.
It's 2 AM and we moved on to another club called MAYA conveniently located at the MAYA hotel across the road. This place was out of this world; I could feel my heart on the soles of my feet, and all I wanted to do was dance my life away. We found a dance space right in the middle, and I absolutely wrecked it. I destroyed this club with all my dance moves single-handedly. I had Chinese girls rounding up around me, and a group of boys grinding on me. Completely engulfed, I lost all sort of care and just danced with them; like, it was the hottest moment. They were dancing with me, I was dancing with them; curious hands were wandering on tight skin and heated bodies. Mildly erotic, but still PG. I grabbed a number of my friends and got them involved and together we took the place down, and lived. Being foreigners, everyone loved us. We danced until they started closing, and even then the DJ was still throwing out killer sets. You hate me now, but I wasn't going anywhere!
Before I knew it, I was in a taxi with my luggage in the boot while sad Chinese music blew out the open window into the night. I found my self fighting the urge to cry. Still drunk, my head sank onto the window glass, and the next time I opened my eyes I was at the airport... still drunk.
Later that morning as the plane took flight and I lie back on my seat, peering down on this great city, I couldn't help but think about all those euphoric moments and how I could capture it again before is faded. I quietly smirking to myself thinking, if only the lady next to me knew what a legend I was this last night."