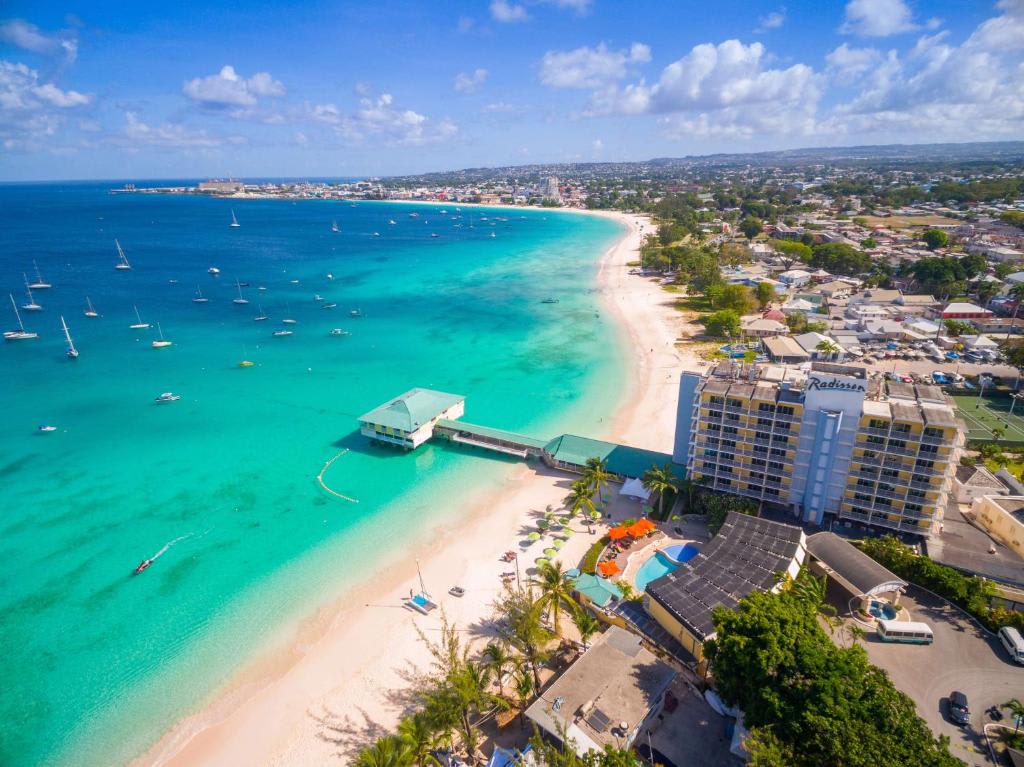 Barbados is a coral island, pushed out of sea by volcanic activity in a far away time. On the West Coast, beaches of fine white sand stretch along a blue-green sea. Coral reefs fringe coast providing excellent snorkeling and Scuba Diving. Along the East Coast a lively surf is blown briskly by the strong and constant trade winds and the waves pound against a rocky shore. The constant breeze of the trade winds gives the island a mild and pleasant tropical climate.
When you visit, you will see it is mostly a flat coral island with excellent beaches, but there are also rolling hills and many deep ridges and gullies, with an interesting distribution of flora and fauna. Within the coral core there is a vast array of caves and underground lakes which provide an excellent supply of drinking water that is amongst the purest in the world. Geologically Barbados is unique, being actually two land masses that merged together over the years. This and other anomalies make this Caribbean island quite phenomenal, and there are geological structures that you will find only here.
OUR BEACHES ARE A MUST SEE!!
As a tropical island Barbados is home to many beautiful beaches. Beaches in Bim (AKA BARBADOS) are as diverse as the island and everyone has their favourite.
On the calmer west coast, palms sway on white sandy shores while the azure waters lap gently at the shore. Relax onshore soaking up the rays or take a dip in the clear waters. Jet Skiing, kayaking, catamaran cruises, swimming and snorkeling all await you.
Heading south you'll continue to find flawless sandy beaches protected by coral reefs. The more lively surf in the south and south-east are ideal for a host of watersports such as windsurfing, kitesurfing and boogie boarding. If you've never tried these before Barbados is the perfect place to start, hey you're on vacation after all!
Along the east coast the beaches are wide and wind-blown. Here the shore is pounded by the Atlantic making it a delight for the surfers who come from all over the world.
In the north, coral and sandstone cliffs rise straight out of the sea reaching up to a hundred feet in height. But even here, you'll find the occasional sheltered cove.
All along the Barbados shores large and small beaches are dotted with coral formations, the soft coral rocks weathered by the ocean surf, forming abstract sculptures pleasing to an artist's eye.
Barbados has some of the truly most beautiful beaches in the Caribbean, in fact the beach at The Crane was rated "one of the ten best beaches in the world" by Lifestyles of the Rich and Famous.
Barbados is a coral island and its beaches are made from finely ground coral forming a clean fine grain. There are few beaches that are not fine sand. Natural sand dunes are not common but some exist in Long Bay on the south-west coast.
You will find breathtaking views that will blow you away, especially at low tide when its small cove reveals itself in all its glory.
Don't forget to bring your camera as you'll want to snap loads of photos for your social feeds.
Many of the beaches offer water sports, with a wide range of equipment available to hire right on the sand, including kayaks and paddleboards. When the hunger pangs hit, there are food vans on the fringes of the beach that dish up delicious barbecued treats and fish cutters.
Our beaches are only one from amongst the seven wonders of barbados.
Do leave a comment if you have been to this beautiful island and share with us how was your stay in barbados.
Reader insights
Be the first to share your insights about this piece.
Add your insights