A New Year. . A New Attitude. . A 'Pura Vida Lifestyle' Getaway Could be Just What You Need Right About Now!
"Out with the old. . in with the new". . couldn't be any more appropriate at this point in time! This is a CALL TO ACTION. . Let me explain. .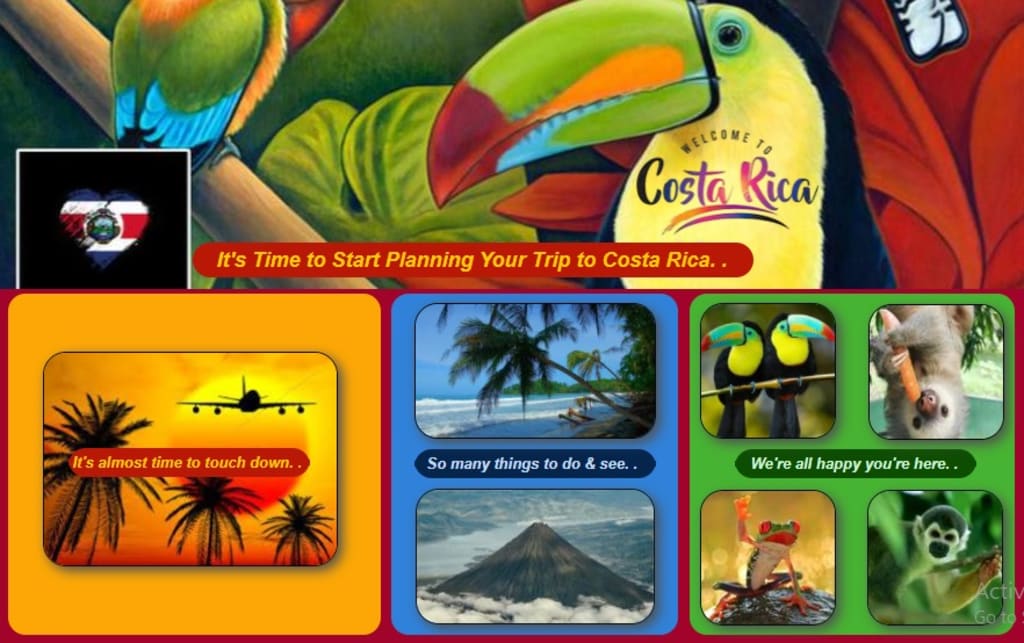 Life keeps chugging along! Let's make this coming new year THE BEST YEAR of our lives. .
It all starts with the simple, yet EXCITING process of planning your trip to one of the happiest countries on the planet! Heck, one can argue that even if you don't end up visiting Costa Rica, just looking at all the photos of our wildlife, our volcanoes, our beaches, our colorful fruits, our people. . THAT ALONE will put you in a great mood! It's a win-win situation with absolutely no downside. So let's get started.
I would suggest to you that, and I am certain you will agree with me. . being around positive, happy people and putting yourself in feel-good situations are both ways to live a happy, long and fulfilling life. With the strong hope that better times are only a short time away (we HAVE to keep this attitude), we must understand first that we all deserve some quality time spent in another place, far, far away from our current status. Next, just the anticipation alone of having a specific date in the future that redirects you to paradise, will put a 24/7 smile on your face! My father always told me that the secret to a happy life is to always have something to look forward to! No argument here with that philosophy!
Picture for a moment. . you're on that last leg of your flight, only about 15 minutes from touchdown either at the Juan Santamaria International Airport close to San Jose, or the Daniel Oduber Quirós International Airport close to Liberia in the Northwestern area of the country. Your heart is pumping and your eyes are open wide! So excited to finally pick up your rental car and get settled into your hotel room. There's probably a mango margarita or a cold Imperial beer waiting for you sometime in the near future! Go ahead, have a couple. . you deserve it! Your entire vacation is ahead of you and it couldn't have come at a more opportune and deserving time.
You're here for 10 glorious, adventurous days. Even though you've devoted hours and hours to researching 'things to do and places to go', you have no set plans for each day. You're going with the flow. With that new attitude of yours, perhaps a morning needs to be put aside to climb a volcano! If you're here in the San Jose area, my suggestion would be to take the 30-minute drive to Cartago, just east of San Jose. You can stop for breakfast when you get there. Cartago was founded in 1563 and became the first capital of Costa Rica in 1823. It's a historic town with beautiful views of rolling hills, mountains and of course, the Irazu Volcano. After breakfast, you can drive all the way to the top and explore the moon-like terrain. It's very cold up there. . just over 11,000 feet in altitude! Bring a coat. My suggestion would be to start your day early before the clouds roll in. It you catch a morning with a clear sky, you can see both the Pacific Ocean to the west and the Caribbean Sea to the east at the same time! You'll build some lasting memories here!
Another idea to keep your 'new attitude' going strong is to take a tour of a coffee plantation. Again, if you're staying in the San Jose area, there are at least a dozen tours within an hour of your hotel! My suggestion would be to take a short drive to the old town of Heredia, just about 20 minutes north of downtown San Jose. Lots of friendly people here and so many things to do. The Cafe Britt Coffee Plantation tour is close by, less than a mile away from the center of town! You'll be able to see how coffee is planted, picked, dried, roasted and ground for consumption. And the good news is that you'll enjoy a cup of this freshly-ground coffee after your tour. It takes about 90 minutes and is very informative and enjoyable!
While you're in the neighborhood, the Poas Volcano is very close by, about 25 miles by car, bus or taxi! Check online for information and to make sure it is open when you're planning on going. It's another life-changing experience to throw on to the pile!
The beaches are beautiful here in Costa Rica. A day or two at one of our beaches will melt all of your stress and maybe even add another 10 years to your life! It's THAT rewarding! Again, if you're staying in the San Jose area, Manuel Antonio National Park and beach area is only about a 2 1/2-hour drive. Plan on a couple of days in this area. . the National Park is beautiful and the beaches are so inviting. There are many places to stay in the area and so many things to enjoy with your family. Jaco Beach is close by. Lots of canopy zip line tours and hikes in the mountains. And, LOTS OF MONKEYS, toucans and scarlet macaws!
If you're in the Liberia area, Playas del Coco comes to mind. Playa Tamarindo, Playa Flamingo, Playa Conchal. . dozens more beaches around this area as well! Lots of beachside resorts. . from luxurious, all-inclusive to cozy B & B's!
In this part of the country, you'll also find many National Parks and protected reserves with abundant wildlife. . colorful toucans, sea turtles, monkeys, beautiful butterflies. You may even see some colorful poison dart frogs! They're tiny, but their vibrant colors make them stand out!
About 30 minutes online, searching for 'things to do' in the area you're staying in will open up so many choices for you. Your days will be filled with adventure and you'll certainly sleep good that night! You'll be worn out from the busy day and you'll be feeling like a million dollars!
Costa Rica offers you & your family so much. A visit here will turn your life around. Your time spent in one of the happiest and most beautiful countries on the planet will reinforce what is good in life. Many of us have forgotten how precious life is. We've been dragged down this year into the bowels of woe and despair with a situation that we cannot control. All of this happened through no fault of our own.
The good news is that there are better times ahead. Why not celebrate your life and all of its glory with a trip to paradise. You'll be able to reset, recharge and celebrate all of the beauty of our world in a span of perhap 10 days or even 2 weeks! You'll create long-lasting memories that you can pull from at any time in the future! Pura Vida. . see you here in Costa Rica!
You're invited to visit our websites at: www.costaricagoodnewsreport.com & www.costaricaimmigrationandmovingexperts.com
Also, please enjoy our over 1,800 episodes of our "Costa Rica Minute / Costa Rica Pura Vida Lifestyle Podcast Series". We are found on all major podcast venues, including iHeartRADIO, Spotify, Apple Podcasts, Google Podcasts, Radio FM, Anchor & many more. Here's our link: www.anchor.fm/costa-rica-pura-vida
central america
About the author
Costa Rica is a magical place. Since November, 2002, when I first visited this country, I have been in love with the people, the culture, its biodiversity, the food. . everything about it makes me happy! Now I share my excitement with you!
Reader insights
Be the first to share your insights about this piece.
Add your insights