Wandering Around with No Particular Place to Go. .
An easy morning stroll. . no time frame. . embedding yourself in the slow lane of life here in Costa Rica!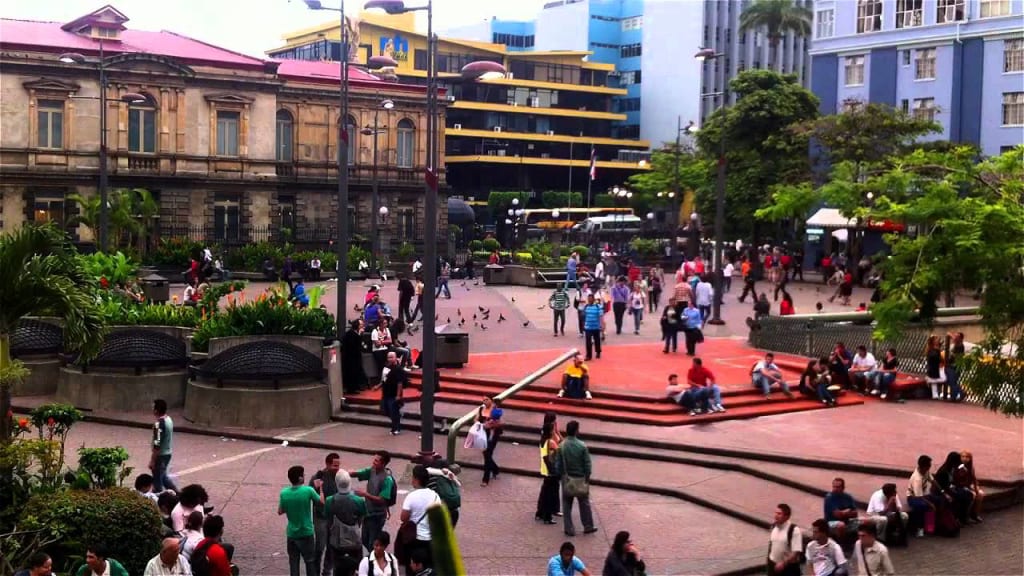 The park in front of the "Teatro Nacional" is a popular gathering place for many here in San Jose. .
I love walking around here in Costa Rica. It can be any town. . San Jose or Heredia. . Grecia or Atenas. . doesn't matter, big town or small. . it's a fun way to spend a few hours. Very rewarding in its own way.
Setting out, any early morning, not knowing where I'm headed, where I'm going to end up or what I'm going to do, I'm excited about being here, wherever I am. It's fascinating at times when you wander aimlessly! It's not the same as being lost, because you're doing it on purpose. You don't need a map. You only need a some colones in your pocket and a desire to learn something new today and to meet a lot of new friends. Most important, the day always seems to end with a good feeling!
This, "I'm Not Lost, but I Don't Know Where I'm Going" game that I play a few times a week doesn't really have a trophy, blue ribbon, plaque or award for your efforts. . no jackpot to win. There's no grand prize. . because there is no winner or loser. I could call it, "The Wandering Game" or the "Should I Turn Left or Should I Turn Right?" contest. No rules whatsoever. . no restrictions or penalties!
This game has no time limit, nor does it have any quarters as do basketball and football. . no half time, either. It does have a lot of 'time outs'. You can stop and relax anytime you want. . take a break, eat. . it's up to you.
It's really fun to play because you get to meet so many people, eat so much good food and drink a lot of freshly-squeezed orange juice and pipa fria, which as you probably know, is fresh coconut water! In Costa Rica, you find a lot of vendors who are pushing carts around with juicers and coolers. They're everywhere. And on a hot day, they're a welcome sight! I love that older lady in the downtown San Jose area. . her name is Maria. She always squeezes the oranges for me every morning and presents the juice to me in a little plastic cup! She's so proud of her work and I always reward her with a smile, a "que rico el jugo" and a few hundred colones as a tip, or "una propina", as they call it here in paradise! "Hasta manana, Maria", I yell out as I continue my morning jaunt! Feeling energized, I search out another little adventure down the road.
"Pipa fria" is simply coconut water served either in a little plastic bag, chilled and fresh, or served in its original container. . a young, green coconut. The vendor has a huge machete. . he picks up the green coconut with his left hand and slices a hole in the top, forcefully and CAREFULLY, with his machete. He must have been doing this for a long while because I noticed he only has three fingers on his left hand! I guess it took him a few weeks to learn the art of cutting open a coconut! He keeps his straws in a little cup taped on to the side of his push cart, pulls one out, places it in the hole on top of the coconut and serves this refreshing drink to you. . again, with so much pride! Nothing like a couple sips of "pipa fria" in the early morning hours!
Now that I'm hydrated, I feel so good! I step up my pace and continue on down the road! Where to next?
I stop in a book store to buy a little paperback called, "Costa Rican Spanish". Be sure to have one of these in your pocket before you visit. You can buy it through Amazon! It comes in handy. Even though I am somewhat fluent, I try to learn new words and phrases every day! I figure that by the time I turn 90 or so, my Spanish will be perfect!
I love to find a park bench in the middle of town and people watch! You can learn so much about a country's culture when doing this. Lots of families in San Jose Central. . the kids, the mama and the abuela, or "grandmother", as well! One of the reasons I fell in love with Costa Rica was because, like many other Latin cultures, the family unit is overseen by the grandmother. She is the queen of the family. . the matriarch. In the USA, it seems as though many families ship off the older parents to a nursing home and maybe visit them twice a year, if they're lucky. Here in Costa Rica, it's the exact opposite! Family is everything and it makes for a strong heritage.
Today's little excursion has been fun. I also stopped at the Central Market (Mercado Central). Bought some fresh fruit and veggies for the rest of the week. I did a lot of people watching, ate lunch at a local soda and met a lot of new friends. It was a good day here in paradise.
One thing that I love is returning to some of these places that I visit and seeing many of the people who I met on my last walk earlier in the week. After a while, they know who you are and recognize you as a friend. Bonds are formed and it gives me so much pleasure knowing the locals and being thought of as their friend.
Wandering around with no particular place to go has many rewards. Even though Costa Rica is known for its biodiversity, its butterflies and tropical birds, its volcanoes and beaches, its beautiful views of countryside and mountains, you don't have to go very far to enjoy the Pura Vida lifestyle. It's everywhere. .
You're invited to visit our websites at: www.costaricagoodnewsreport.com & www.costaricaimmigrationandmovingexperts.com
Also, please enjoy our over 2,000 episodes of our "Costa Rica Pura Vida Lifestyle Podcast Series". We are found on all major podcast venues, including iHeartRADIO, Spotify, Apple Podcasts, Google Podcasts, Radio FM, Anchor & many more. Here's our link: www.anchor.fm/costa-rica-pura-vida
culture
About the author
Costa Rica is a magical place. Since November, 2002, when I first visited this country, I have been in love with the people, the culture, its biodiversity, the food. . everything about it makes me happy! Now I share my excitement with you!
Reader insights
Be the first to share your insights about this piece.
Add your insights