5 reasons why Netherlands is a good place to settle down
The Netherlands is economically one of the important countries in Europe. We will see why settling down in Netherlands is a good idea.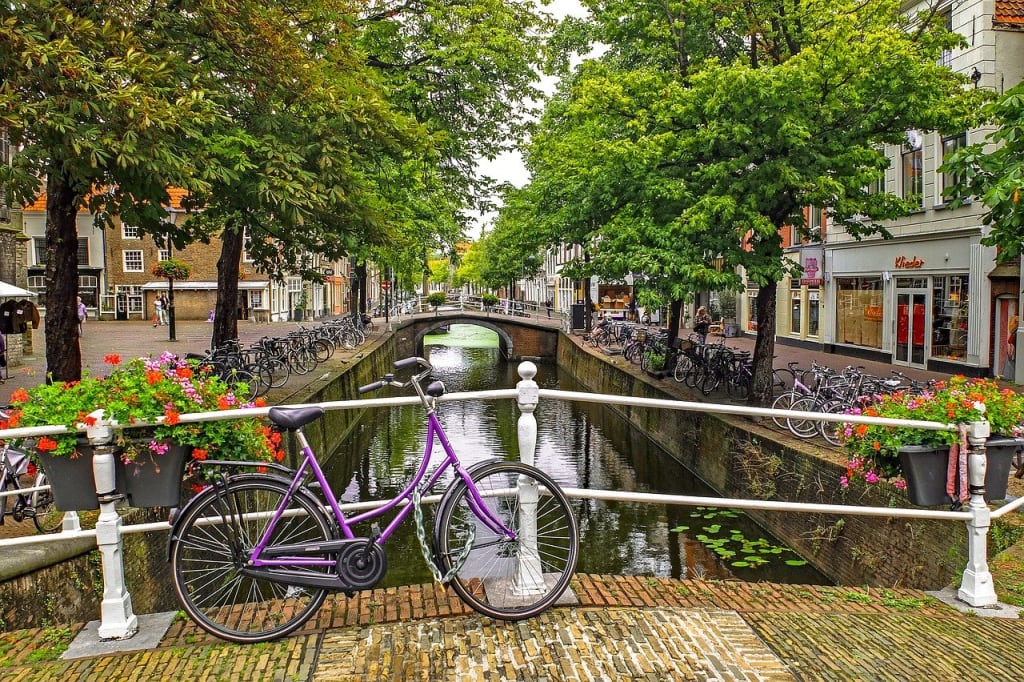 Image Source - Pixabay
Netherlands is seriously underrated when considering settling down in another country. Most people only think of it a plain Dutch country that might have a language barrier and not be comfortable enough to live in. But let us tell you that this is such a farce. Netherlands is one of the best places you can move to in order to settle down either by yourself or with a family. You can speak English anywhere in the country, but Dutch is also a beautiful and fairly easy language to learn. Here, we present to you 5 significantly important reasons why you should consider settling down in Netherlands.
1. Stunning outdoors
Netherlands is a beautiful place to live in. A literal treat to the eyes. With its abundance of scenic beauty and picturesque landscapes, this place is sure to steal your heart. There are wonderful places to hike and if you are a nature lover, this is going to be like candy land for you. Vast tulip fields engulf you in their lush greenery and the canals of Amsterdam will take your breath away. It gives you a chance to enjoy the country life while enjoying the city one being busy with work.
2. Friendly people
The biggest worry about being in a new place is getting along with the people there. Well, in Netherlands this comes as a very pleasant surprise. Dutch people are very friendly and approachable. As an expat, you're don't have to worry about being alienated or feel out of place. This country and the people here make everyone feel at home with their welcoming lifestyle and inclusive nature. You could easily strike a conversation with a stranger you meet at the bus stop or someone at the local grocery shop. They are willing to help and always smiling.
3. Make way for a healthy lifestyle
You might have shifted to Netherlands for study or work, but you sure are going to be in for a very healthy way of life. Cycling is the norm in Netherlands, with literally everyone from young to old pedalling away their way on the streets. It is such a common mode of transport for shorter routes that there are separate cycling lanes almost everywhere in the country. So if you're living here, you got to have a bike. Soon enough you'll get into the habit as well and make way for a healthier lifestyle.
4. Amazing work-life balance
Netherlands is famous globally for the low-stress work schedules and an amazing work-life balance. Along with physical health, this country focuses on the mental well-being of its people as well. It has been seen that working hours in Netherlands are far less than usual and they prefer giving ample time to their personal life. The fun part doesn't end here, they also get paid more than usual so that increases the standard of living too. A lot of workers opt for the work from home option for a couple of days in the week. Dutch people prefer to start and end their day early so they have the night to themselves to go out and enjoy or spend time with loved ones. Now who wouldn't want that sort of peace in life? One can always make use of the QuickVerhuizing services for smooth relocation services in Netherlands.
5. Low crime rate
Netherlands is a peaceful country. The crime rate has been ranked as the lowest among other major countries. Since the people here are naturally friendly and welcoming, events of mishaps in terms of crime are fairly less. You can feel safe in Netherlands even as a newbie expat. The rules are strict and people take them very seriously. Everyone strives together in order to maintain peace and harmony in the country. Netherlands being so welcoming, there are hardly any tiffs of issues over cultural differences or races or any such alienation issues. They have a very neutral 'live and let live' policy that lets you enjoy life there just as much as a native Dutch person would.
As you learn in detail about this beautiful country, you'll find more and more reasons to fall in love with it enough to settle down there. With the endearing Dutch culture and a comfortable lifestyle, Netherlands is ready to be your next home.
travel advice
About the author
I enjoy writing on various niches like business, travel, dating and issues related to women.
Reader insights
Be the first to share your insights about this piece.
Add your insights