11 Great Gifts for People Who Want to Visit Japan
If your friend can't afford to travel to Tokyo, these gifts for people who want to visit Japan will bring the magic of Ginza to them.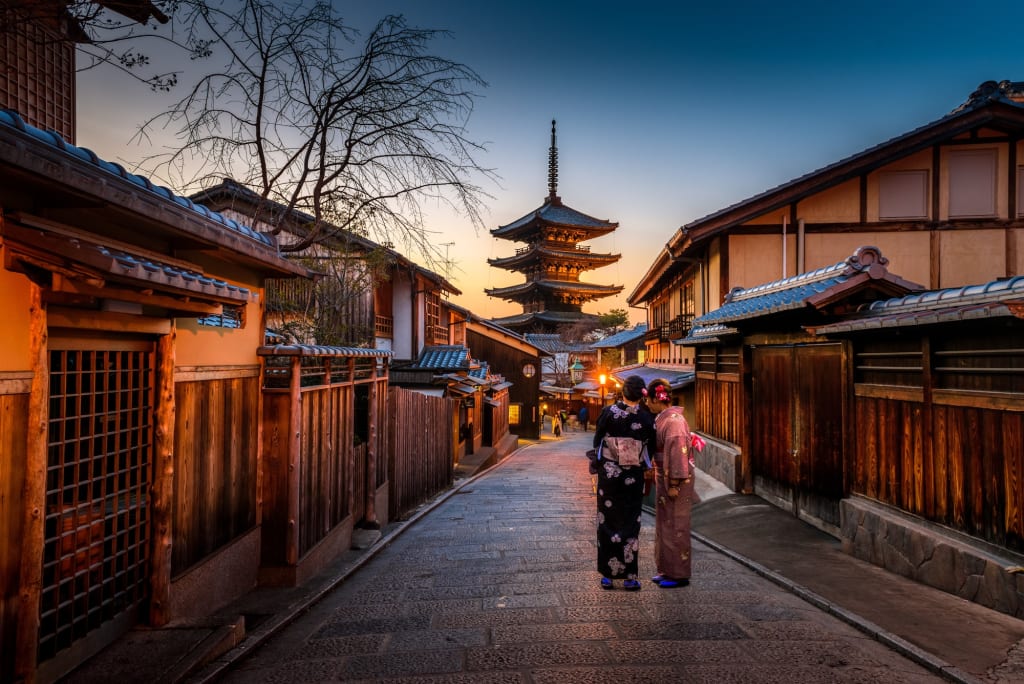 I'll admit it. One of my personal dreams is to visit Japan. I want to tour the streets of Tokyo, visit Shinto shrines, check out authentic yakisoba (translates from Japanese to: fried buckwheat), and shop with the cool kids of Shibuya. If I ever get the chance to do so, I absolutely will.
That being said, I am like a lot of Japan culture fans out there. Though I love the culture, I do not have the money nor the time to actually go out and visit Japan. It's sad, but there is some good news.
If you want to make a friend who loves Japan happy, it's fairly easy to bring the magic of Japanese culture home to them. Speaking as a fan myself, these picks are great gifts for people who want to visit Japan—or just want a taste of the culture at home.
If your friend is a fan of sushi and loves to see stylized gifts, they may appreciate this adorable gift idea. It's a pair of three cotton socks, each of which comes in its own stylized "roll."
The box looks amazing, is decorated with standard Japanese sushi box gifts like grass and wasabi, and will make anyone who loves Japanese cuisine smile. It's not the most traditional as far as gifts go, but it's definitely one of the better presents for people who want to visit Japan.
In Japan, the cure-all for health and beauty problems is bathing in one of the many hot springs in the countryside. These hot springs, known as onsen, are clothing optional and each hold a specific combination of natural salts that are meant to revitalize tired bodies.
Though we can't just create our own hot springs, these bath salts can bring similar health-boosting traits to life. Each pack will make your bath tub burst with a refreshing scent, soothe tired muscles, and give you a taste of Japan's spa life.
As far as traditional Japanese gift ideas go, you really can't get a better choice than a Kokeshi doll. Kokeshi dolls are a popular gift around Japan, often inscribed with special messages and wishes of good luck.
This cute, little ceramic doll is a great way to get your Japan-loving friend to crack a smile. It remains one of the cutest gift ideas for people who want to visit Japan on this list.
For the longest time, FRUiTS magazine was considered to be the pinnacle of Japanese street fashion. It was the place to see Harajuku's most stylish people, and became a main source of inspiration among fashion designers because of its excellent photojournalism.
Sadly, Shoichi Aoki ceased production of the magazine recently, citing a gross decline in Japanese street fashion. That being said, anyone who loves seeing amazing takes on streetwear from Shibuya, Harajuku, and other Japanese travel destinations will be happy to receive a copy of this famous magazine.
In Japan, you don't have a typical Western lunch box; you get a bento box. Bento boxes are meant to divide up food and keep them visually appealing, as well as fresh.
Mothers who have children that attend school will often create bento box meals that feature cute designs. It's said that children won't eat unless their food looks cute, and to a point, it's true.
This traditional Japanese bento box has usagi (rabbits), hanatsuki (moon and flower) and sakura (cherry blossoms) on it as decorations. It comes with a carrying pouch, an onigiri holder, a pair of chopsticks, and a rubber band to hold it all together.
It's no secret that Japan has a thriving sweets industry; just take a look at how Pocky has been turning up in stores across America. If you want to impress your friend, just grabbing some Japanese Kit Kats won't be enough. You're better off trying a "deep cut."
What many Westerners don't know is that Japan has a serious thing for gummies. This grape gummy candy from Kabaya is incredibly sweet and authentic in taste. They even use real grape juice to make them. Once you try these Japanese sweets, you'll be begging for more.
Though we often assume that Japanese teas are served in fine ceramic, this wasn't always the case. Cast iron teapots are much more authentic—not to mention durable!
This elegantly simple iron teapot is a great choice for people who want to host their own Japanese tea ceremony at home. All things considered, it's also one of the better gifts for people who want to visit Japan and bring back some sakura tea, too.
Very few things are as popularly associated with Japanese culture as anime (especially when you consider how anime is influencing Japanese tourism), so it's only fair that we have at least one entry on this list that adds some anime flair to the mix. Personally, I'm a huge fan of Manga University's work.
Manga University created one of the best cookbooks for anime fans out there, and it remains one of the most popular books on the subject of Japanese cooking. This beautifully-illustrated cookbook shows you how to make traditional treats from the land of Nippon.
The recipes are super-easy to do, and have ingredients that can be found in any standard Asian grocery store.
When it comes to comfort drinks, nothing appeals to the majority of Japanese people more than green tea—especially matcha. Green tea is such a common treat in Japan, people actually turned tea into a powder that can be added to desserts, baked goods, smoothies, and coffee.
This culinary-grade green tea will let you experiment with one of the most popular flavors of Japan. Needless to say, you might want to give your friend more than one bag!
There's no article of clothing more heavily tied to Japanese culture than a kimono. These beautiful silken robes are famous for their elegance and the way geishas make them look so effortlessly perfect.
Finding traditional kimonos isn't actually that hard. This beautiful satiny kimono is perfect for women who want to get a wonderful, display-worthy keepsake they can enjoy at home—or who just want a super elegant way to lounge around at home.
Do you have a friend who's saving up for a trip to Japan and needs a guide? Then you better get them one of the most practical gifts for people who want to visit Japan—a book to help them navigate the culture.
In Japan, manners are notoriously important and can make or break how people see you. Kami Akahige's Japan Etiquette is a complete guidebook that will help you better understand the culture, prep you for your trip, and give you insight into Japan's unique way of life.
list
Ossiana Tepfenhart is a writer based out of New Jersey. This is her work account. She loves gifts and tips, so if you like something, tip her!
Receive stories by Ossiana Tepfenhart in

your feed