A Trip to Japan: A Guide for the First Timer
It's always better to come prepared.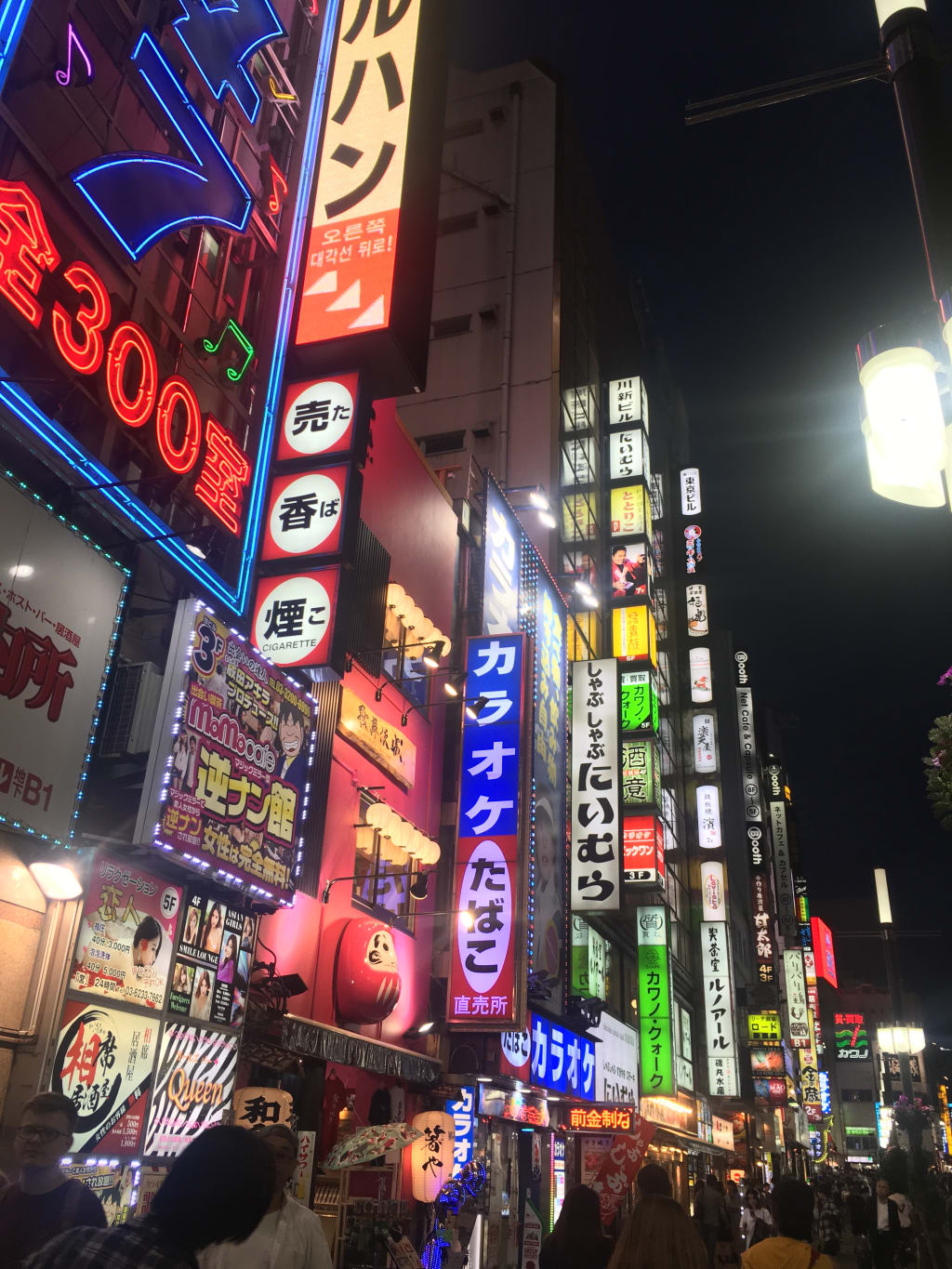 Shinjuku Ward By Night.
I came to the conclusion that I wanted to make a guide for navigating the fast-paced, exuberant, and often times peculiar world of Japan after my visit in May of 2018. It was not my first time stepping foot in the country, but it was the first time I visited Honshu, the most populous island. I traveled to Tokyo, Osaka, and Kyoto with four of my friends, with only one of us being fluent in Japanese. For anyone who's thinking about visiting Japan, has previously been, or is just plain curious, here's my take on the trip.
Tokyo
We stayed in Tokyo for a total of four days, in the ward of Shinjuku, a bustling district known for its nightlife scene and towering metropolitan skyscrapers. To keep this post concise, I will highlight some of my favourite spots in Japan's capital.
Memory Lane
A winding and secretive back alley in the middle of Shinjuku lies Omoide Yokocho—"Memory Lane." A collection of miniature food stalls and bars line this narrow lane, with locals and tourists alike squeezing through the dimly lit alleyway for some yakitori—Japanese kebabs. The lane comes alive at night, with the smell of charcoal and grilled meat hitting your nose as soon as you find the small entrance. We found it difficult to get a seat in one of the little stalls but managed to squeeze in with some locals and have our taste of grilled beef, chicken, and veggie yakitori that was oh so delicious.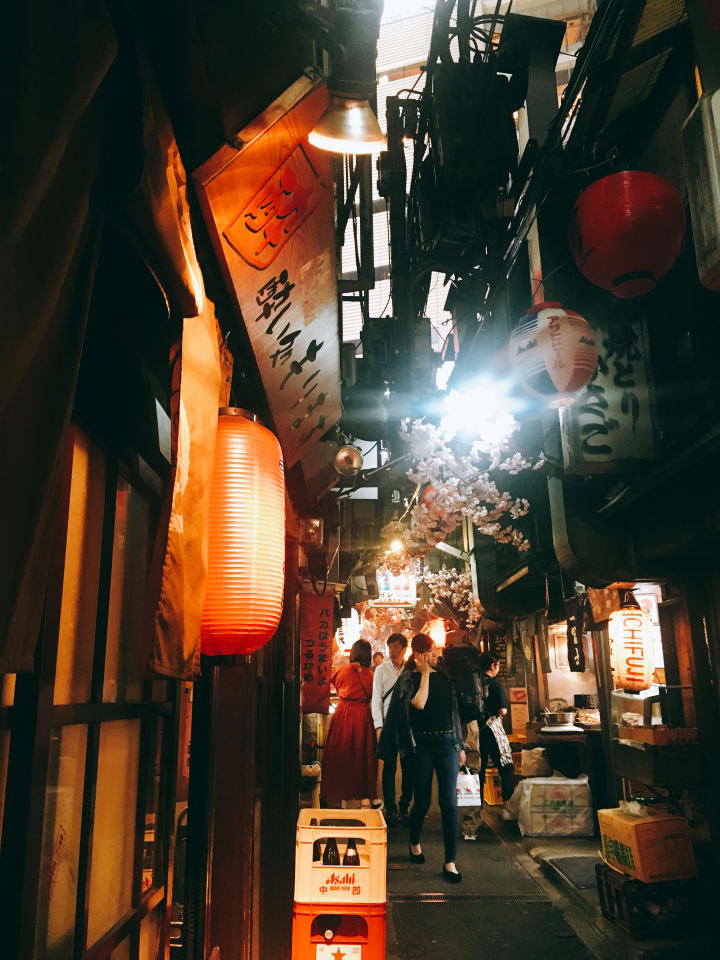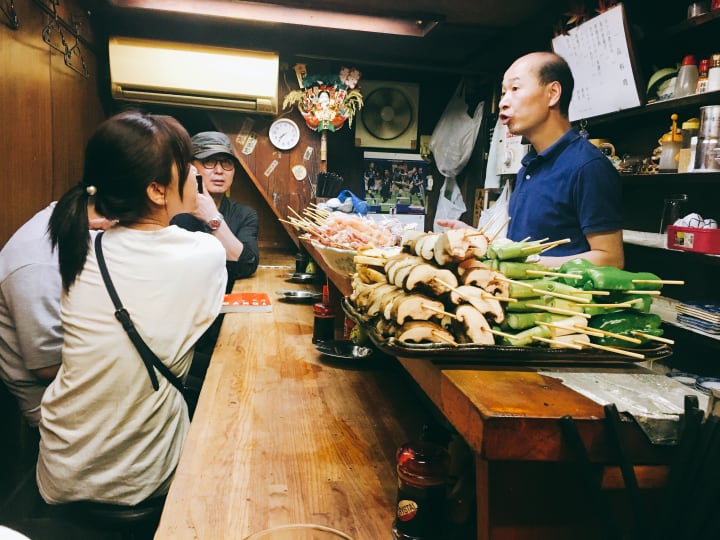 Akihabara
A neighbourhood in Tokyo that is otherwise known as Electronic Town, Akihabara is the playground for Japan's comic book, anime, and cosplay world. A friend wanted a certain figurine from a famous anime, so we stopped by many manga shops, many of which were five floors up, to find what we were looking for. A must visit for any fans of Japanese manga or anime culture.
On our way out of Akihabara, we were waved into a maid cafe by a cutesy girl dressed in full maid cosplay, and after ordering some bear and cat-themed ice cream parfaits, given a dance performance complete with cheering and singing. This part of Tokyo is famous for its maid cafe culture, and some new quirky ones such as hedgehog cafes, that are definitely worth the experience.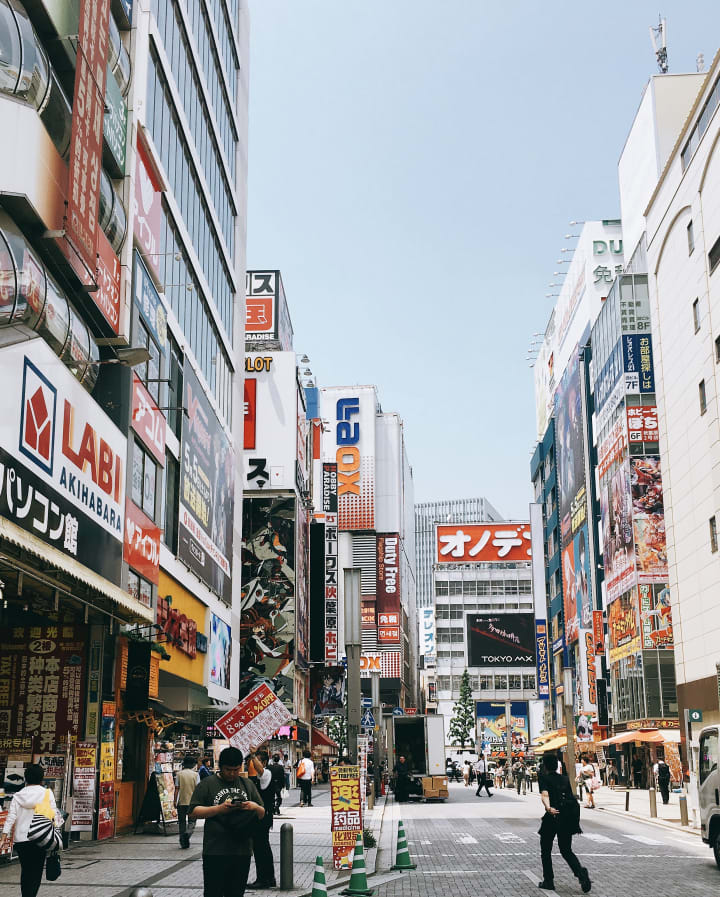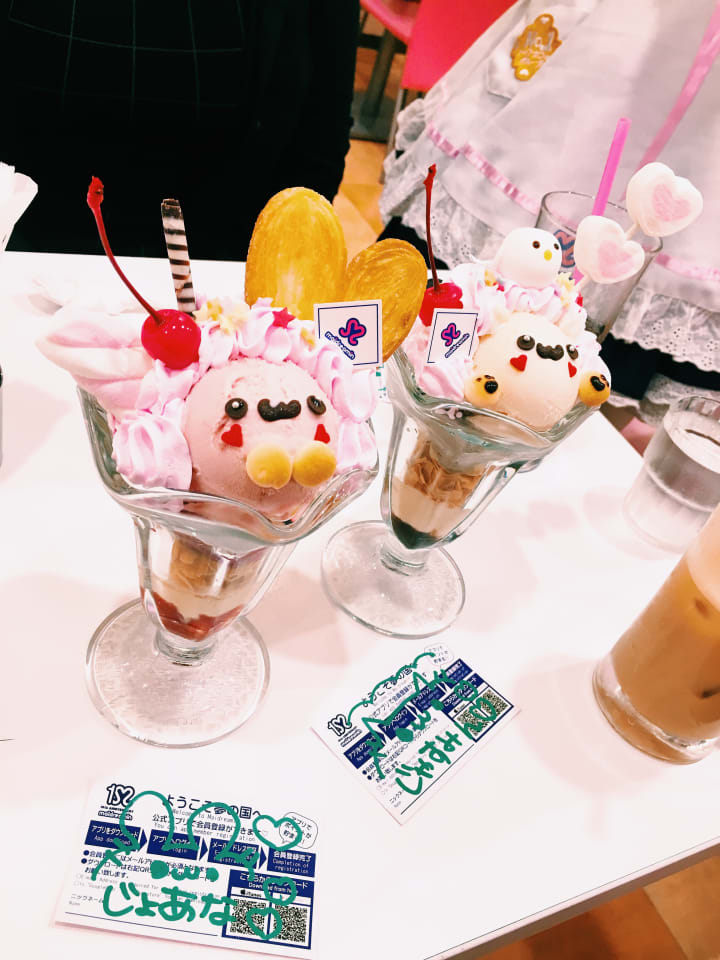 Harajuku and Omotesando
Although these are two locations, they are located in close proximity to each other, so I thought I'd write about them together. We started our day in Harajuku, a buzzing neighbourhood that is famous for its wacky and colourful street fashion. We toured Takeshita Street, a pedestrian shopping street that was lined with teen fashion stores and crepe carts, a major feast for the eyes.
Takeshita Street opens out into Omotesando, a tree-lined avenue that is dubbed the "Champs-Elysees" of Tokyo, that has higher-end shopping malls and cafes. Although we personally didn't visit Meiji Shrine due to a lack of time, Omotesando does lead to the shrine and serves as the main approach to it.
While there is plenty to see on the main streets of Omotesando and Harajuku, the charming back streets of Harajuku are only a short walk away. I personally found this area to be my favourite in Tokyo, as it felt secluded while still being incredibly pedestrian, friendly, and lively. The area was filled with vintage eclectic stores and indie designer shops, as well as some recognizable labels that were rising in the Japanese and international fashion scene.
Harajuku and Omotesando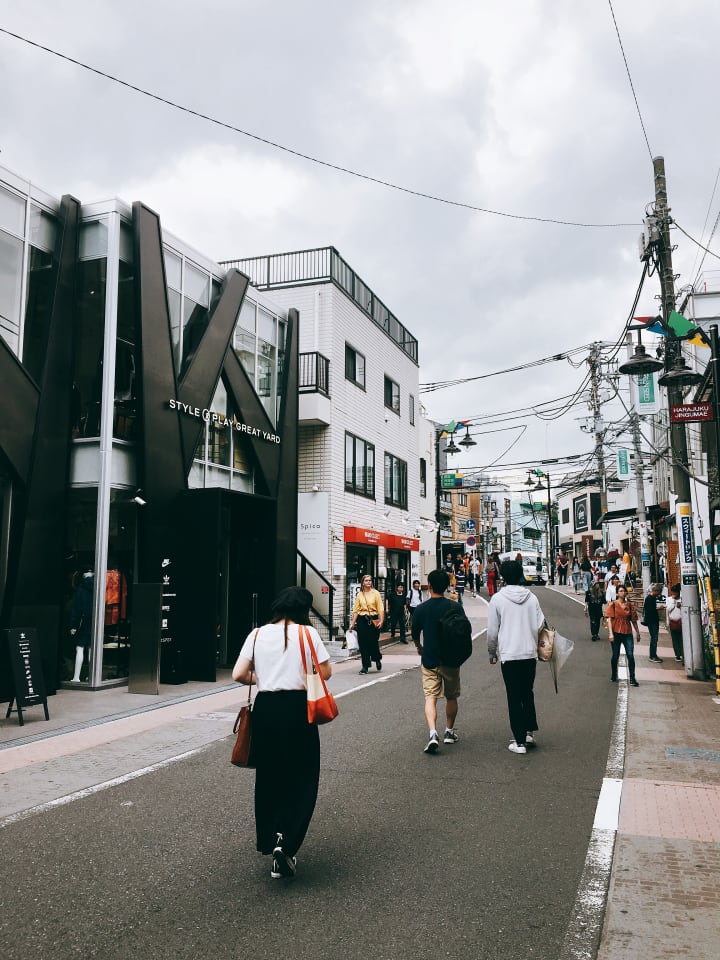 Osaka
We left Tokyo for Osaka early in the morning and took various forms of transport to reach our destination—a Ryokan ( traditional hotel with tatami beds and hot springs) hotel in the Osaka Mountains. Here are some of my top picks for Osaka.
Dotombori
A major tourist spot that is actually worth a visit, Dotombori has rows upon rows of restaurants that show off their selections through large, cartoonish statues of food on the outsides of the venues. Large crabs and gyoza (dumplings) line the streets, making a photo opportunity a necessity. The large signs by the Dotombori Canal are also worth a picture.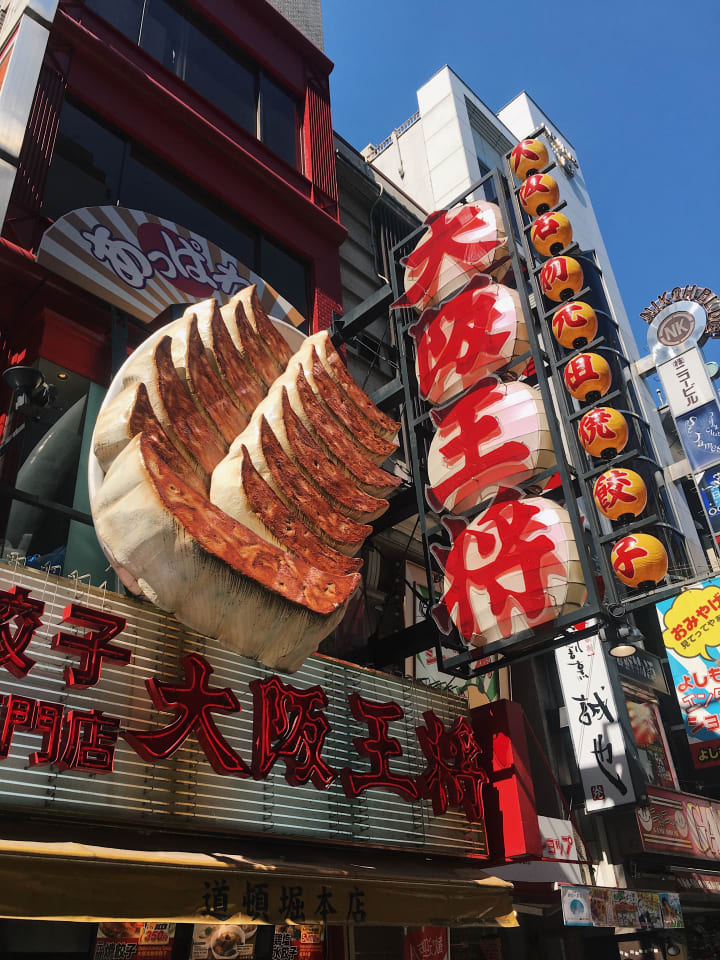 Osaka Castle
A beautiful castle that glimmers with turquoise and gold, this castle has an important historical presence in Osaka, playing a major role in the unification of Japan during the sixteenth century of the Azuchi-Momoyama period. The castle is situated in Osaka Castle Park, and you'll need to hike up the grassy hills to reach the castle. A beautiful hike, however, as the park has blooming sakura blossoms in the spring and has excellent views once you reach the top.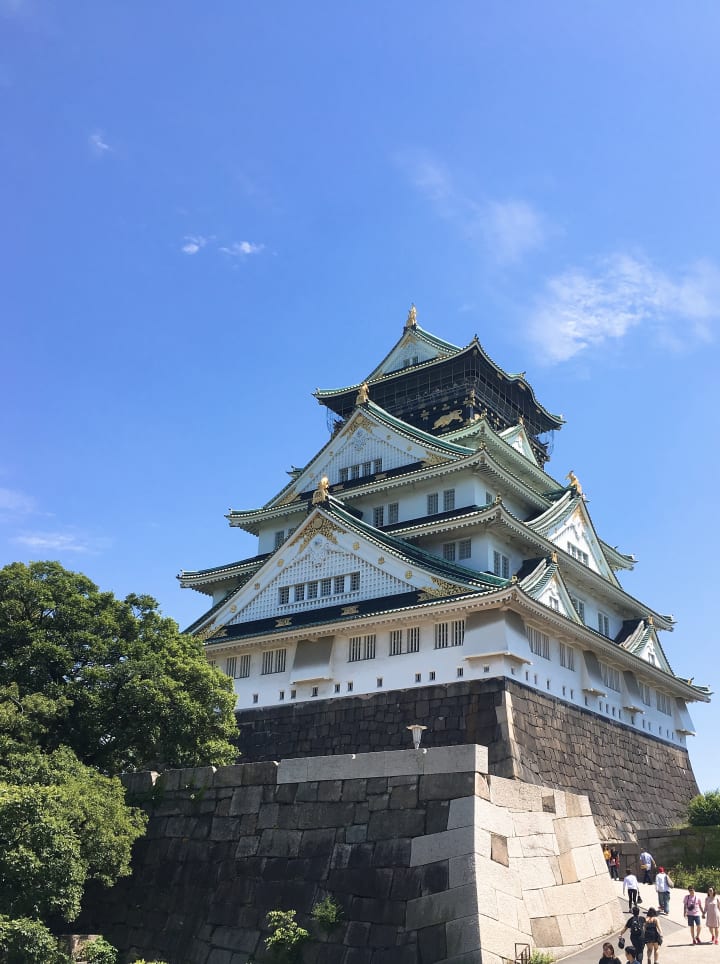 Kyoto
Our last day in Japan was spent in Kyoto, the former capital of Japan that is known as the "city of a thousand shrines." We regret not spending more time here, as it was the most beautiful city that was so culturally rich and steeped in tradition. If we had more time, I definitely would've loved to visit Kinkaku-ji and Kiyomizu-dera.
Fushimi-Inari Taisha
Fushimi Inari Taisha is the head shrine of the god Inari, situated at the bottom of a mountain that has thousands of crimson gates leading up to the shrine. The walk up does require some effort but the views are absolutely gorgeous.
Fushimi-Inari Taisha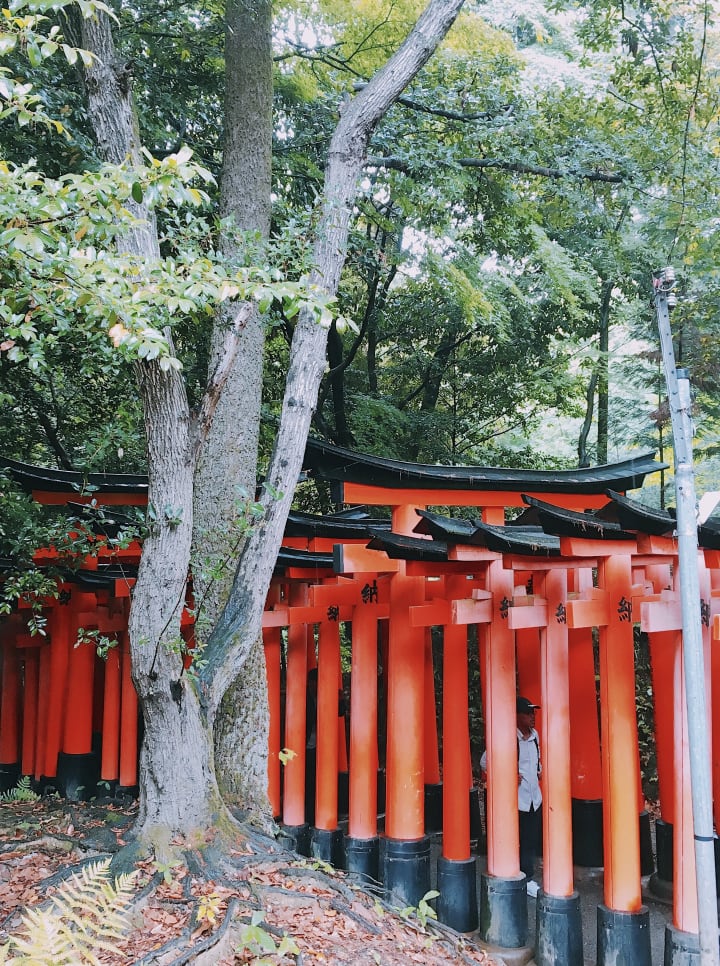 Arashiyama
Arashiyama is a bamboo forest park that's serene in every sense of the word, with winding paths and bamboo that was so tall it blocked out the sunlight above. We found many hidden shrines in the midst of the forest and discovered a monkey park that was open most hours of the day.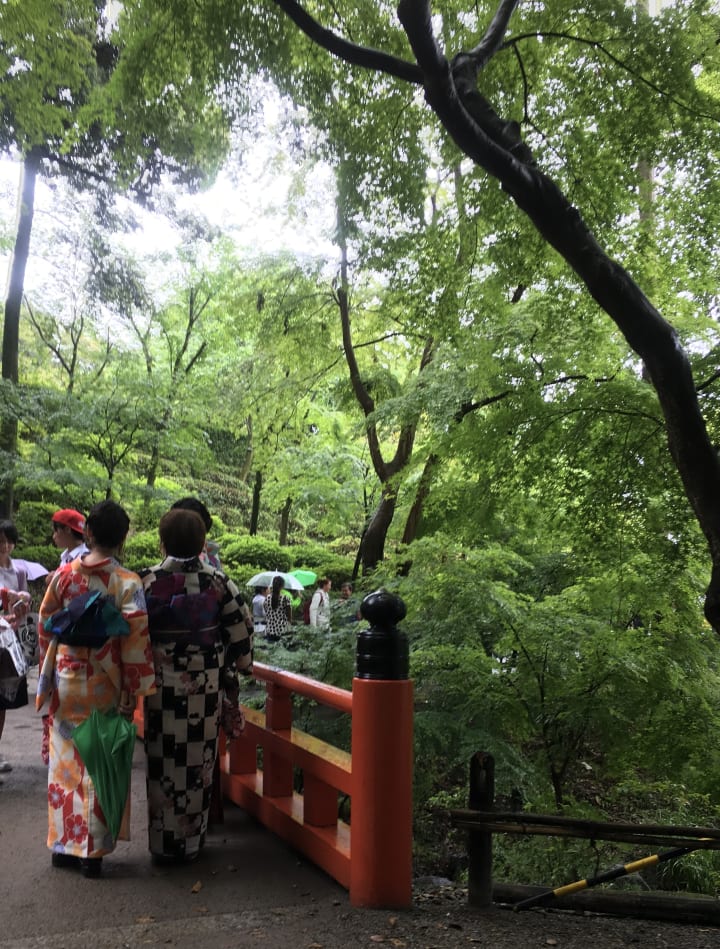 Conclusion
This was a condensed version of my trip to Japan. While I would've liked to visit spots like Meiji Temple or Universal Studios in Osaka, I'm very content with the locations that I was lucky enough to discover, and hope that this guide can be helpful or fun to those interested in discovering Japan. I can see myself returning in the near future, as the culture and beauty of the country is simply unparalleled.