10 Strangest Roadside Attractions on Route 66
Looking to do a weird and wacky trip? These roadside attractions on Route 66 will definitely add some quirk to your cross country road trip.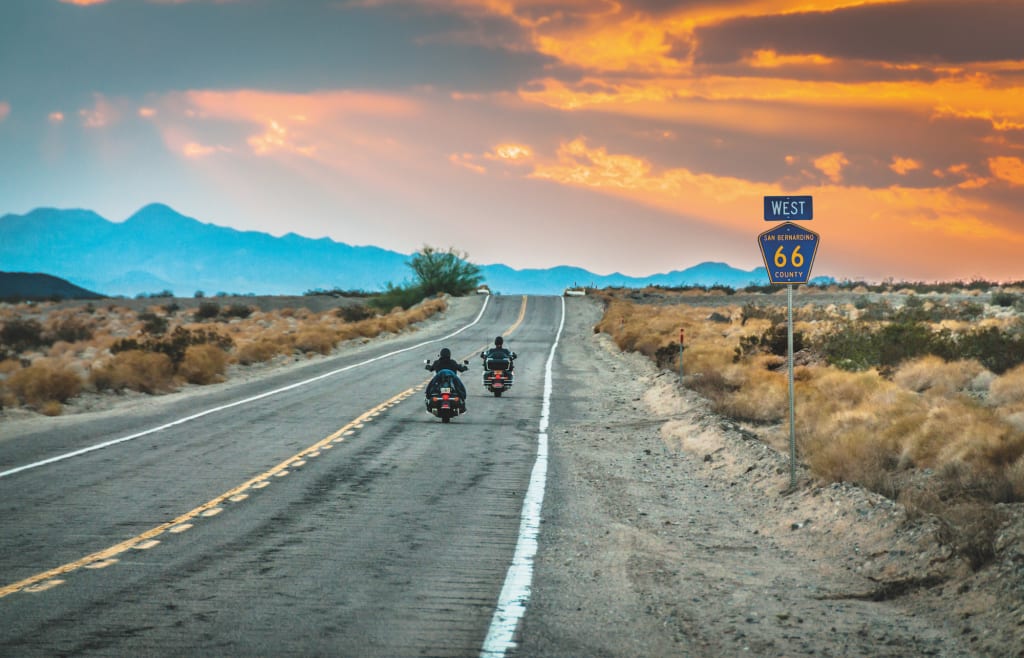 When it was first created, Route 66 was a groundbreaking concept. It was a staple of American culture, a perfect road for cross country travel, and a historic site in its own right. Though many parts of Route 66 are now falling into disrepair, it's still an incredibly popular stretch of road to traverse.
One of the reasons for Route 66's staying power is the sheer number of attractions that are on its path. If you choose to make this famous road trip from Illinois to California, it's a good idea to stop and smell the proverbial roses.
Plenty of roadside attractions on Route 66 exist—and these oddballs below will definitely make for some exceptionally fun and funky Instagram photos in case you were looking into driving cross country for dummies guides.
Muffler Man Statue—Atlanta, IL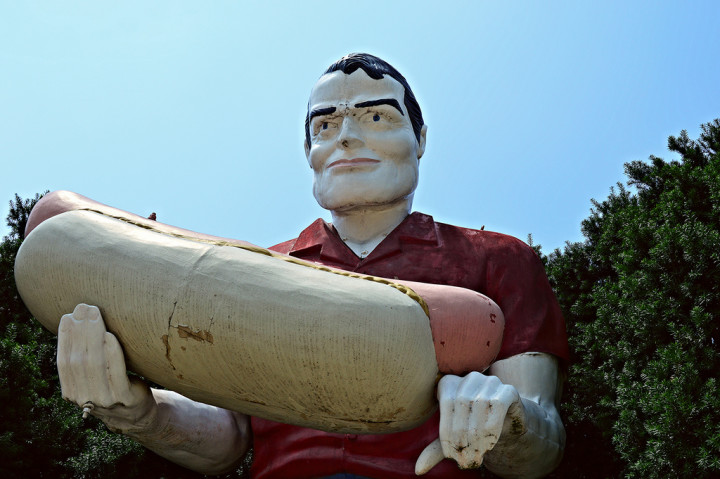 Route 66 is the most famous highway in the United States, and not just because of its history. Its the crazy kitsch that you get to see along your journey that makes it so popular and recognizable. The Muffler Man is one of the best examples of it on the map.
This massive statue once "lived" 150 miles away as a massive advertisement for a hot dog restaurant. When the restaurant closed, the Muffler Man showed up on Route 66, where he's stayed as a major landmark for decades.
The Blue Whale of Catoosa—Catoosa, OK
Oklahoma is, for the most part, a state that isn't really known for many interesting attractions; however, the Blue Whale of Catoosa is a little bit of an exception to this rule. This massive structure is shaped like a giant pastel-blue whale.
The Blue Whale was originally intended to be a surprise anniversary gift from Hugh Davis to his wife. Instead, it quickly turned into a major tourist attraction and a cultural icon.
This whale is surrounded by waters on a man-made lake that hosts fishing, picnics, and other nice ways to spend a day. You can swim, check out the whale, and visit a really neat little gift shop nearby.
Though this isn't found directly on Route 66, it's still a major roadside attraction that's a hop, skip, and jump away. This is an important site for anyone who is a fan of fast food, primarily because it's where McDonald's first got its start.
The original restaurant is no longer there, but a massive museum dedicated to all things McD's can be found in its stead. You get to see old school fast food memorabilia, learn about the history of the world's most successful fast food chain, and also just enjoy the kitsch.
66 Drive-In—Carthage, MO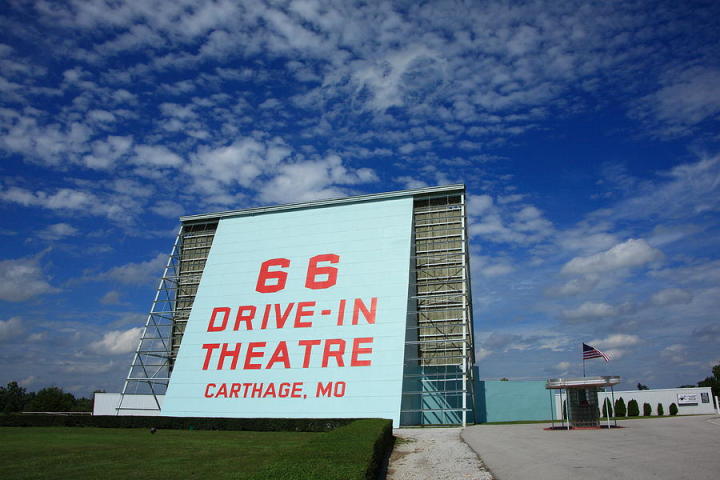 Some roadside attractions on Route 66 are strange, if only because they are so archaic in today's age. The 66 Drive-In theater is a good example of this concept in action.
When the drive-in opened in the 1940s, it was once one of the most modern and novel ways to enjoy media in Missouri. It is older than the local television stations!
Nowadays, it's a major blast from the past that offers up movie viewings the old fashioned way. If you're into retro kitsch, this stop is a must-see.
Cucamonga Service Station—Rancho Cucamonga, CA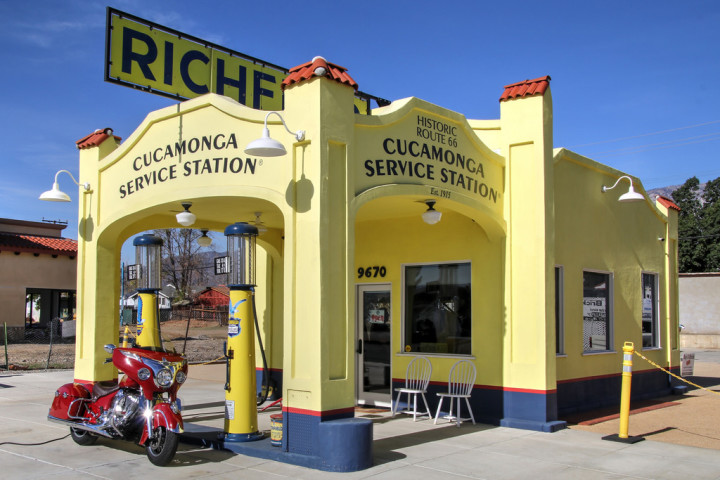 A gas station wouldn't seem to be worth pointing out on any other road, but when you're talking about historic Route 66, things are a bit different. This fanciful gas station is one of the last buildings to keep the classic architecture popular in the 20s, 30s, and 40s.
If you've ever wanted to see how people fueled up during the beginnings of America's "Mother Road," this is an awesome stop. It's now a museum and photo stop for many tourists.
In what just might be one of the most "meta" entry on this list, the Route 66 Museum found in Oklahoma is a pretty strange attraction in its own right. This museum is dedicated to all the strange roadside attractions on Route 66, the highway's history, plus the strange goings-on that it's seen.
The museum also has a diner replica, tons of vintage cars, and a slice of Americana for everyone. It could even be considered one of the most bizarre museums in America.
The Wigwam Motel—Holbrook, AZ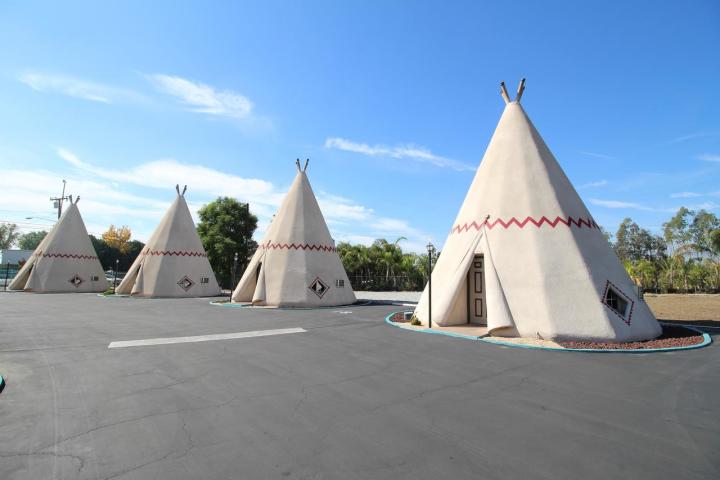 The kitsch is real in certain parts of this famous United States road, and that's definitely the case with the Wigwam Motel. This motel isn't just famous for its bright green neon sign; it's a hotel chain from the 30s that would let you sleep in buildings that are made to look like wigwams.
Admittedly, the wigwams themselves aren't exactly luxurious. However, people who go here have plenty of fun and also get to enjoy the retro goodness that is Route 66 tourism.
Without a doubt, the Cadillac Ranch is one of the most charming Route 66 tourist attractions worth seeing. This art installation has a total of 10 retro Cadillacs, buried nose first at an angle in a row. The Caddies were then covered in graffiti.
The art installation was created by a group known as Ant Farm, and now remains one of the most heavily-visited sites by fans of music. Several music videos, including James Brown's "Living in America" and Cage the Elephant's "No Rest for the Wicked" were shot there.
Blue Swallow Motel—Tucumcari, NM
During the 40s and 50s, Route 66 was not just a tourist attraction; it was the tourist attraction. The stretch of road saw massive amounts of commerce and tourist visits. This, in turn, meant that tons of motels cropped up throughout the highway.
The number of motels began to shrink by the 60s, but once in a while, you'll see a motel that has the old world glitz and glamour of yore. The Blue Swallow Motel is a good example of this.
Once considered to be swanky, the Blue Swallow is now a pure example of roadside kitsch and trucker culture come to life.
Considering how the modern incarceration system is, it's hard to imagine what jail used to be like in the times of the Wild West. One of the more obscure roadside attractions on Route 66, in Illinois, might give you a good idea of what things were like in a "country jail."
This super-tiny two celled jail was where law enforcement would lock up criminals. Wild, right? It was built in 1906 and welcomes shutterbugs with open arms.
activities