10 Best Portable Solar Powered Battery Chargers for Camping
Never be without a charge again. Pick up one of the portable solar powered battery chargers from the list below to power up your next camping trip.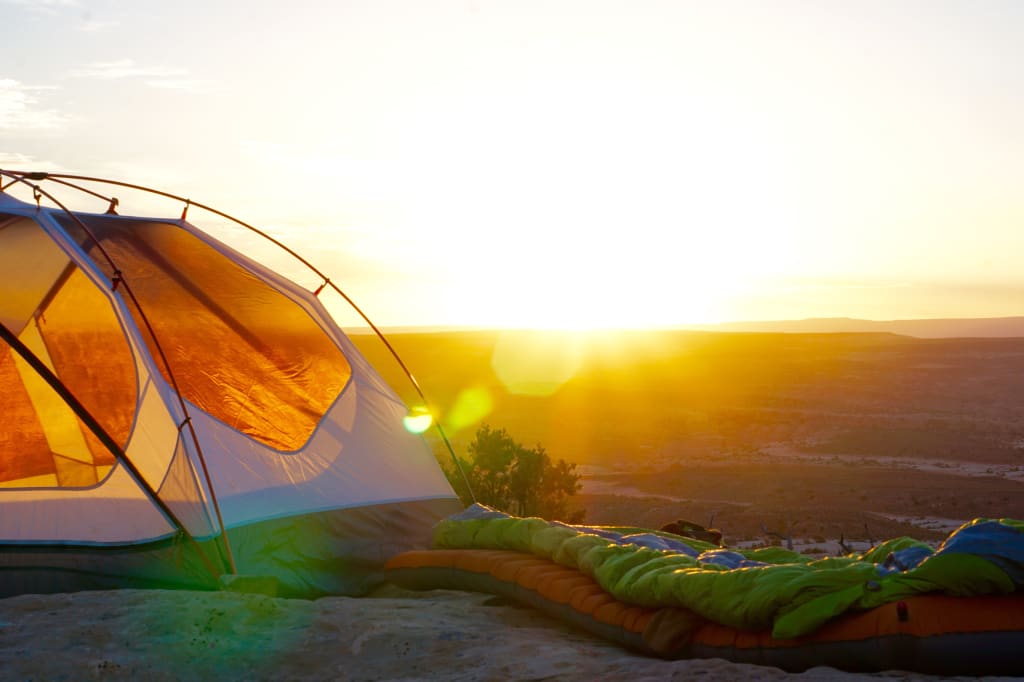 Photo by Jake Sloop on Unsplash
Even as we escape to the wilderness, we can't leave the reality of our fully connected lives behind. This means the cellphone is coming, whether mother nature likes it or not. If you're out in the elements and you need to send a text, respond to an email, or get driving directions home, these portable solar powered battery chargers will give you the boost you need.
Have no fear of being stuck at 1%. Just place these paneled chargers in direct sunlight for a quick boost, and you'll be powered up in no time at all.
These solar powered battery packs come in a variety of styles and with number of different features to meet the need of every outdoor enthusiast. They are certainly one of the products that make camping easier.
A quick tip for any solar charging device: power it conventionally first.
Most manufacturers recommend this, but this advice is typically ignored by those leaving negative reviews. Portable solar power is great for when you're off the grid and have enough sun to get a good charge, but it shouldn't be relied upon for your only source of energy.
That said, here is a list of the of the best portable powered battery chargers for camping.
The BERNET Solar Charger is perfectly suited for either a family or mutli-device having adventurer. I'm picturing the Dad leading a group of kids in effort to get them to stop staring down at their mobile devices or the photographer with her cameras, gear and cellphone.
Boasting high efficiency charging abilities with 3 usb outputs, the BERNET Solar Charger can get multiple usb devices fully charged in about an hour.
You'll want to make sure you leave the house with this solar power bank charged, as the solar panel isn't very large. However, according to the manufacturer, you can charge your iPhone 8 up to 8 times and your Samsung S7 6 times. Not a bad power output, especially if you consider its emergency charging abilities via solar power.
As an added bonus, you'll receive a USB fan to help you cool down during a hot, sweaty hike.
The PLOCHY Solar Charger is near identical in features compared to the BERNET Solar Charger listed above. So what makes both these among the best portable solar powered battery chargers? Sometimes the reviews say it all. And the PLOCHY has 6x the reviews and maintains a similar 4 star rating.
While there's no fan included, you'll find 3 usb ports for high efficiency and quick charge capabilities. Both chargers boast an impressive 2.4A output.
Beyond that, you have the ability to choose orange, black, or white to match your outdoor accessories.
The Dizaul 5000mAh Portable Solar Power Bank is perfect for the go-anywhere camper. From the desert to the lake front, the Dizual is both waterproof and dustproof. Its small profile and integrated loop in its design make it ideal for clipping to any of your camping gear without adding a lot of additional weight.
With dual usb ports, you can use the Dizaul Portable Solar Power Bank to charge two usb devices simultaneously. Like most chargers on this list, it features a 2.1A usb output to quickly charge your cell phone. Bring it along to your trip to the best places to camp in Yosemite.
The Anker 21W Dual USB Solar Charger offers the largest solar charging area of any of the best portable solar powered battery chargers on this list
As a multi-paneled charger, it's a great addition to your camping gear. You can take advantage of its large surface area by spreading it out on a rock, picnic table or even your backpack while you hike.
It's lightweight and compact too. The Anker 21W Dual USB Solar Charger weighs just 14.7 ounces and folds to 11.1 × 6.3 × 1.1in, which means it can fit anywhere.
If you need a reliable solar charging solution without a power supply, this is one of the best options available. Not sure if this counts as some of the most luxurious glamping gear, but it's up there.
The Teryei Solar Charger 15000mAh is a solid entry-level usb solar charger. It has many of the features in more advanced models like 2.1A usb output, dual usb ports and waterproof design.
But like most chargers of this size, the solar charging area isn't large enough to get a reliable, full charge on solar power alone.
For beginning outdoorswomen and men looking for peace of mind, the Teryei Solar Charger is a fine place to start when buying a portable solar powered battery charger.
The Urwill Solar Charger is the perfect "in-case-of-emergency" portable solar powered battery charger. It's armed with an impressive 52 LED lights which can benefit you in a variety of scenarios. From emergency situations to providing additional light around the campfire, the Urwill has you covered.
Like many other usb solar chargers, there's dual usb ports and a 2A power output for quick charging. It's also waterproof, dustproof, and shockproof, making it perfect for more rugged applications.
The Hobest Solar Charger 10000mAh is wonderful companion to your camping backpack. Its looped and compact design can clip to your bag for hassle-free access anytime.
With a 2.1A power output, this usb solar charger will be a companion to hikes, and maybe even soccer games or backyard BBQs. It's not the biggest charger, but if you're doing any of the above activities, it's probably all you need.
When you're packing light for an overnight camp, the Hobest Solar Charger is all you need for a quick charge during your getaway.
The Hiluckey Solar Power Bank is the perfect hybrid of solar power bank and traditional flashlight. Typically, LED flashlights are found on the side opposite of the charging panel. If you're used to packing both, especially if find it easier to hold a flashlight, you should consider the Hiluckey Solar Power Bank.
Beyond the flashlight ability, it contains all the features you typically find in the best portable solar powered battery chargers: all-weather design, slim profile, and dual usb ports.
Another rugged, orange portable dual USB charger? Yes, but the Soluser Portable Dual USB Solar Battery is scaled back even further. With a single micro usb port for charging, this is a perfect choice for campers looking for a no frills model.
Its slim design also includes a 6LED flashlight. If you believe less is more, then this is a portable, solar power usb charger that is perfect for you.
The Errbbic 20000mAh Solar Power Bank features a built in compass alongside many typical features like waterproof design, dual USB output and full charging solar panel.
An affordable, simple entry-level option, this is the perfect addition to your backup camping survival kit. It might not be your go to, but a good camper is always prepared.
Place the Errbbic 20000mAh Solar Power Bank along with your Cliff Bars and list of of important contacts, should the worst happen.
Final Thoughts on the Best Portable Solar Powered Battery Chargers for Camping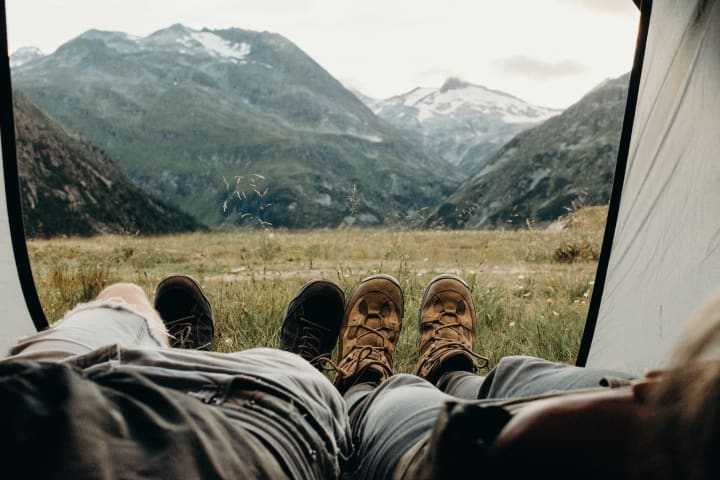 As someone who loves to camp, you're probably familiar with the phrase: "There are no bad days, just bad gear."
And while you've probably researched everything from your boots to your backpack, you should give the same consideration to finding the best portable solar powered battery chargers.
To determine which is best for you, think about:
What are you willing to spend?
How often do you need to charge your device?
What kind of conditions will you be camping in?
Answering those questions can help you narrow down the items on this list and find the best portable solar powered battery charger to meet your specific camping needs.
product review
Tim Ferriss junkie that's also addicted to wine and professional wrestling.