10 Products to Make Camping Easier
These camping accessories will afford you more time to focus on enjoying nature.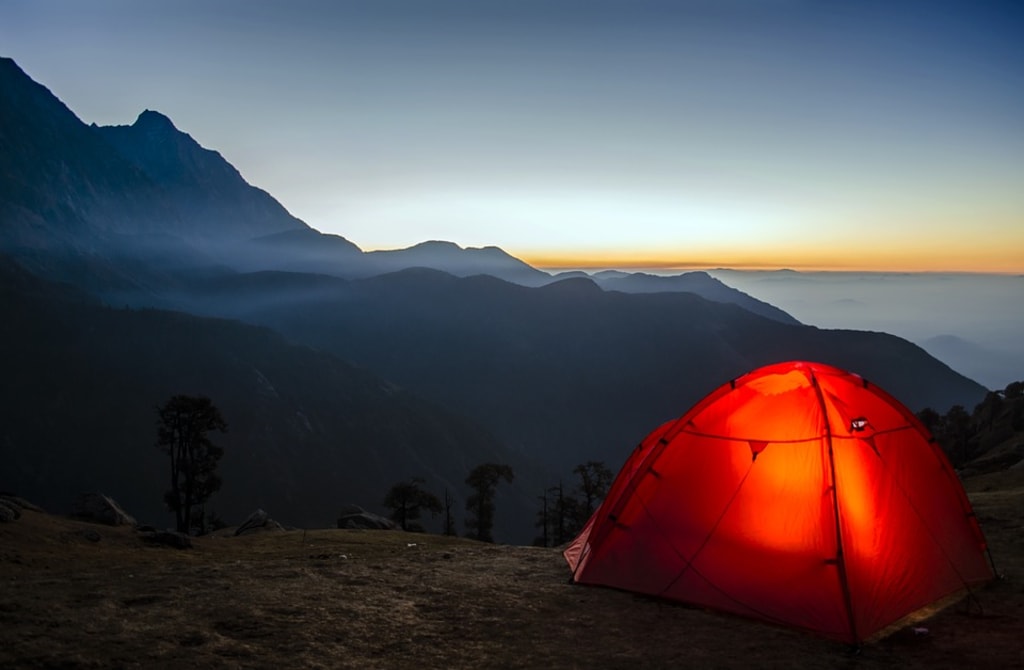 Once upon a time, roughing it in the great outdoors meant just that, roughing it. A tent, sleeping bag, and a pan to cook with over the fire were all you really needed to go camping, and while keeping it simple is still a good idea when packing for your next camping trip, it doesn't hurt to bring along some of these modern gadgets to make the trip more convenient and enjoyable. If you plan on camping for more than a night or two, these camping accessories will afford you more time to focus on enjoying nature instead of wrangling with erecting a tent for an hour or wishing and hoping your evening bonfire will ignite.
1. Sea to Summit Pocket Shower
One of the most off-putting concepts about camping is a lack of bathing options. Problem solved with the Pocket Shower, which provides an 8-minute shower wherever you are (includes 20-foot cord for hanging + adjustable water flow). The waterproof fabric attracts heat, which creates warm water, so you don't have to worry about a freezing cold shower. $25
2. Selk'bag Original Sleeping Bag
Bring the warmth and coziness of your sleeping back outside of the tent, and anywhere you please, in a sleeping bag suit! The Selk'bag is perfect for a variety of adventures. It's used by outdoor enthusiasts the world over for camping in a tent, under the stars, at the lake, at the beach, or even in the cabin. $99
3. Biolite Basecamp
With the Biolite Basecamp, you can cook your food and simultaneously charge your devices, all while being eco-friendly. Using only fallen branches or small pieces of firewood, it's a smart alternative to fossil-fueled stoves, creating an elevated cooking fire that burns smarter than any campfire you're used to. $299.95
4. Victorinox Swiss Champ Knife
A toolbox for your pocket, the 3 1/2" SwissChamp packs an impressive 33 implements, but is still compact enough to fit in your pocket or purse and can be used anywhere from the great outdoors to anywhere in the home. $102
5. Sea to Summit Kitchen Sink
The Kitchen Sink from Sea to Summit has everything including the kitchen sink! It's a great tool for collection and carrying of water for purification, cooking, washing dishes, or personal bathing. It's available in three sizes, 5, 10, or 20 Liters. $19.95-$29.95
6. Nightlighter Flashlight
Play it safe with the Nightlighter Flashlight, which lights the way ahead and the path at your feet using 4 ultra bright LEDs, while being lightweight and easy to carry. $19.95
7. Bugaboo Camper Cookset
The compact design of the Bugaboo Camper Cookset is fully equipped for the gourmet needs of campers and is reconfigurable for everything from 2-person backpacking to 4-person car camping. The rugged stuff sack holds set and doubles as a sink or wash basin. $99.95
8. Hanging Cupboard
Keep food off the ground and away from animals, with the Creek Company Hanging Camp Cupboard. It extends to 30", yet collapses to less than 2" high for easy packing. Lightweight, water-resistant 400-denier nylon shell features three 22"L x 10"D shelves for food, camp equipment, or other gear. Six divided outer pockets provide quick access to utensils or other necessities. $69.99
9. Inflatable Tent
If you're tired of messing around with poles, the three sizes of inflatable tents by Heimplanet are a perfect time-saving solution. Just unpack and inflate! Starting at $580.
10. Solar Fire Starter
Need to start a fire? Just add sun! Point the Solar Fire Starter at the sun and it lights in seconds; no fuel required. It doesn't get much easier than that! $14.95