Your Favorite Feminists Were Trash
Happy #WomensEqualityDay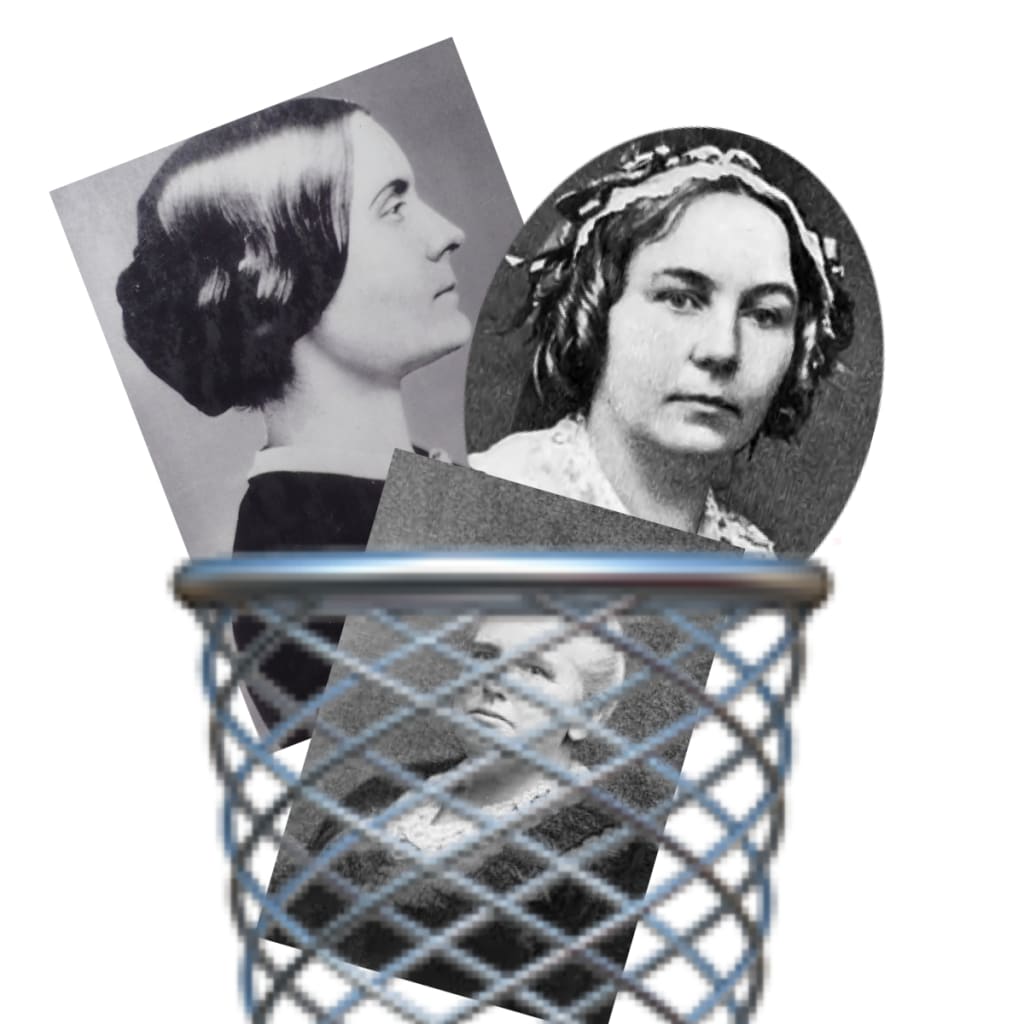 Your favorite feminist "founders" are trash.
That's right. I said it.
On #WomensEqualityDay, the day the nation celebrates the 171st anniversary of the first major convention for women's rights at Seneca Falls, and the 99th anniversary of the 19th Amendment to the Constitution, I say that Susan B. Anthony and her crew were trash.
About that Seneca Falls Convention: When suffragists gathered in Seneca Falls, New York, in July 1848, they were not advocating for the right of all women to vote. Nope, just white women. The participants in that convention were middle and upper-class white women, so no poor women.
Interestingly enough, also present at the convention were a cadre of white, male supporters, and one sole African American male, Frederick Douglass, the esteemed abolitionist who also forged strong working relationships with these white women suffragists, including Elizabeth Cady Stanton and Susan B. Anthony.
However, not one Black woman attended the convention. None were even invited.
It is quite interesting that Douglass would support these women. The same women he supported in the right to vote would never raise their own voices to ensure his own.
Back to Anthony. She is venerated as one of the core founding women fighting for the equity of women. And, today is Women's Equality Day, so all the good feminists have since posted their pieces on her.
But, did you know she was a glaring racist?
Yep, your favorite suffragette, like most of America's founding whatever's, was a definite bigot.
About the vote: Susan had a lot to say when it came to people of color being allowed to vote, none of which are worth quoting on your Instagram for likes:
The bad
"I will cut off this right arm of mine before I will ever work or demand the ballot for the Negro and not the woman."
The worse
"What words can express her (the white woman's) humiliation when, at the close of this long conflict, the government which she had served so faithfully held her unworthy of a voice in its councils, while it recognized as the political superiors of all the noble women of the nation the negro men just emerged from slavery, and not only totally illiterate, but also densely ignorant of every public question."
The ugly
"The old anti-slavery school says women must stand back and wait until the negroes shall be recognized. But we say, if you will not give the whole loaf of suffrage to the entire people, give it to the most intelligent first. If intelligence, justice, and morality are to have precedence in the government, let the question of the woman be brought up first and that of the negro last."
But, Anthony is not alone in her racist suffrage ways.
Elizabeth Cady Stanton, another feminist hero, insisted upon the despotic nature Black men could grow to have when they achieved the right to vote, saying, "It's better to be the slave of an educated white man than of a degraded black one..."
Yikes.
But we cannot talk about problematic White suffragettes without talking about Anna Howard Shaw, a president of the National Women Suffrage Association. When Martha Gruening, a Philadelphia born civil rights activist, asked the NAWSA to denounce white supremacy at the 1911 National Conference, Anna Howard Shaw refused (unsurprisingly), asserting that while she was "in favor of colored people voting," she did not want to anger other members of the movement.
Anna Howard Shaw also famously said, "You have put the ballot in the hands of your Black men, thus making them political superiors of White women. Never before in the history of the world have men made former slaves the political masters of their former mistresses!"
When Shaw claimed in 1911 that "all Negroes were opposed to woman suffrage," W.E.B. Du Bois himself stood to oppose what he called a "barefaced falsehood," criticizing the organization for its poor outreach to Black communities, and in particular, to Black women. When Shaw responded, claiming that Blacks were not discriminated against in NAWSA, Du Bois quickly countered with instances of discrimination. Instances like the 1901 Atlanta Convention, and 1903 New Orleans convention, barring African Americans from even attending, or attempts by Black women to bring issues impacting their communities to NAWSA's attention that were regularly met with continual rejection.
Du Bois, however, continued to encourage his community to support the suffrage movement, despite its blatant racism, saying, "We tend to oppose the principle [of women's suffrage] because we do not like the reactionary attitude of most white women toward our problems. We must remember, however, that we are facing a great question of right in which personal hatreds have no place..."
Nevertheless, Black suffragists rallied. Activists like Mary Church Terrell and Adella Hunt Logan and encouraged Black women's clubs across the country to participate in a suffrage parade to be held in 1913. Meanwhile, activist Alice Paul told Black women of the parade that "the participation of negroes would have a most disastrous effect" upon their suffrage cause, because it would be upsetting Southern voters to see both Black and White women marching together for the same cause. The Parade organizers decided to "say nothing whatever about the [negro] question, to keep it out of the papers, [and] to try to make this a purely Suffrage demonstration entirely uncomplicated by any other problems," despite many Black women's clubs and organizations reaching out to participate.
Black women would march in that parade of 1913, Ida. B. Wells being one of them, as well as my beautiful sorority of Delta Sigma Theta, Inc., but they would be segregated to the back of that parade, a last-minute decision becoming symbolic for how Black Women have been treated since in the feminist movement.
We don't need that type of feminism, a feminism that only sees well-off or middle-class white women as worthy to champion, especially now. We need inclusive feminism. We need intersectional feminism. Intersectionality is huge in understanding the complex systems of oppression and understanding where you have privilege is huge when fighting for equality.
Meaning, if your feminism isn't intersectional, it is trash, just like your feminist faves.
You cannot "smash the patriarchy" while still upholding white supremacy. That makes you no better than those unjust power structures that hold you back, simply for your womanhood.
Unfortunately, Susan and most of her crew missed the mark on this one, choosing the all too familiar stance of whiteness over rightness.
Sorry for bursting your feminist hero bubble. However, may I suggest new heroes, like Phillis Wheatley, Harriet Tubman, Mary Church Terrell, Adella Hunt Logan, and/or Naomi Anderson?
activism
Writer. Blogger. Podcaster. A stylish goofball with social justice leanings.
Receive stories by Whitney Alese in

your feed