Women Won Big at 2019 Grammys
Here's our breakdown of the most badass...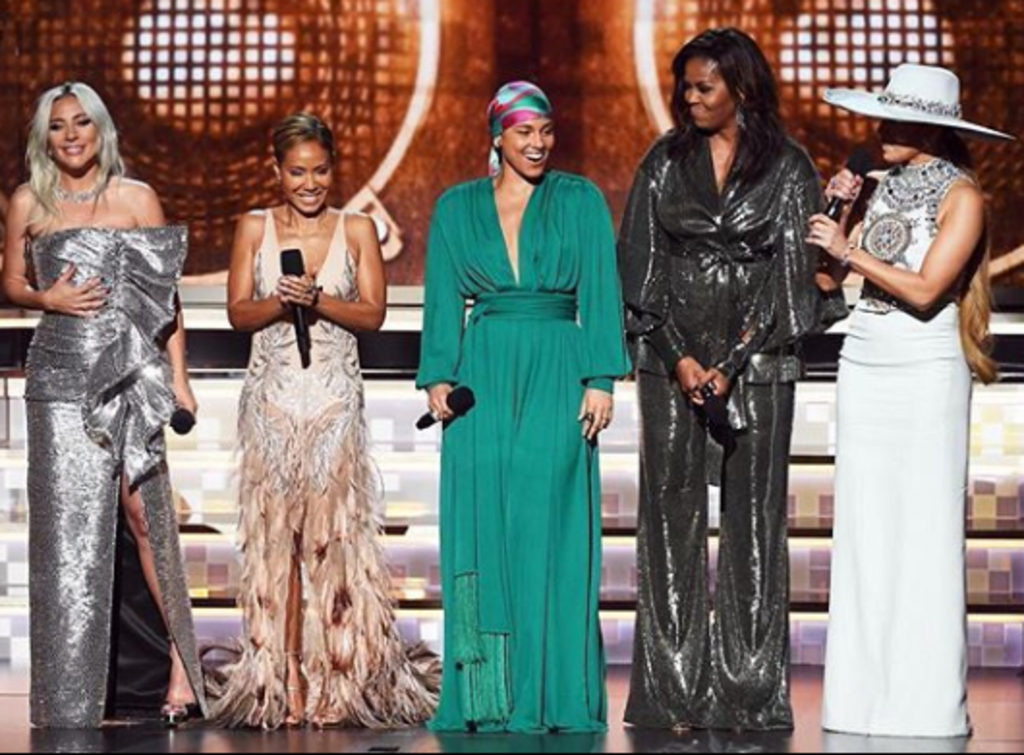 The 61st annual Grammy Awards took place on Sunday night, an evening that seemed to be themed around all things woman.
Female songwriters, rappers, producers, singers, and engineers racked up awards left and right, with a grand total of 31 women taking home awards.
With only 17 awards going to female-led bands at last year's awards, the staggering number marks a massive change.
Needless to say, we're pretty hyped.
Our #reigning ladies pulled awards in 38 categories, 15 of which were vested in the primary categories—album of the year, song of the year, record of the year, and best new artist.
Among our winners were the Lady Gaga, Cardi B, Dua Lipa, and H.E.R Music, to name only a few.
Our Lady Gaga led the charge of the night by claiming the first award for best pop duo/group performance for "Shallow," an award that she ended up sharing with the absent Bradley Cooper.
Kacey Musgraves ended up taking home a whopping four awards on the night for her work with "Butterflies" and her album Golden Hour.
The highlight of the evening though was vested in Dua Lipa's words following her collection of "Best New Artist" and "Dance Recording," which her deliberately aimed at Recording Academy president Neil Portnow.
Following the 2018 award show, Portnow faced severe criticism for a comment aimed at female artists who felt that the number of nominations for women was pretty sparse.
Portnow spoke to the concern by stating that female artists "really need to step up if they want to be nominated."
Lipa called out the president for his comment, which received substantial backlash, during her acceptance speech with a simple closing remark, "I guess we really stepped it up this year."
And to this? We #STAN.
Perhaps one of the most remarkable moments of the night was Cardi B's reception of "Best Rap Album," making her the first female ever to win the award, yas #kween!
H.E.R, a now household name and Spotify powerhouse, claimed awards for Best R&B Album and Best R&B Performance for "Best Part," and had some meaningful words backstage on the staggering number for female-received awards.
"It's very empowering. First of all, so many women were nominated alongside each other, I love that camaraderie. We need women to support each other...We all represent different types of women, different shapes and sizes."
Musgraves also had some words to share, commenting on the creative integrity of women in the industry.
"I think that women have a necessary perspective to art, to music and it's really nice to see that getting a chance to be included." Musgraves also commented on the nature of women putting art out into the world that might not necessarily be "liked by everyone" in stating,
"I think it takes two to tango and I think it takes women having the balls to put out art that might not always be liked by everyone, but it also takes people on the other side of that to reach out and give those things a chance to be heard or seen."
With no surprise, Ariana Grande locked in Best Pop Vocal Album for Sweetener, an album that certainly defied the odds for both her career and women in music. The pop artist has made significant waves with her work this year, accepting a Woman of the Year Billboard Award earlier in 2019.
The Queen B, Beyonce herself claimed best urban contemporary album, ya know, between motherhood and being, ya know, Beyonce. Ella Mai claimed Best R&B Song Award for "Boo'd Up," bolstering the already impressive list.
These women are only what you'd argue as the most recognizable, with so many other artists, engineers, producers, and more receiving recognition.
Our closing thoughts?
We couldn't be more thrilled. It seems that award shows have become a pivotal place for women and others with important things to say to speak their mind and make an impact.
To us, it also couldn't be more strategic. The age of social media infuses major events in mainstream media with a bit of "umph," allowing consumers to weigh in on their own thoughts and further highlight the importance of what our idolized celebrities are saying.
Basically, we love that these women who are at the peak of our society have an opportunity to not only be honored but to speak their minds and share their insights on being women in an all-too male-dominated industry.
Their words, because of the influx of social media posts that follow them, truly make a dent not only in the female world, but the recognition of women making waves on a global perspective.