Women Need Women
Can you make it without your female friends?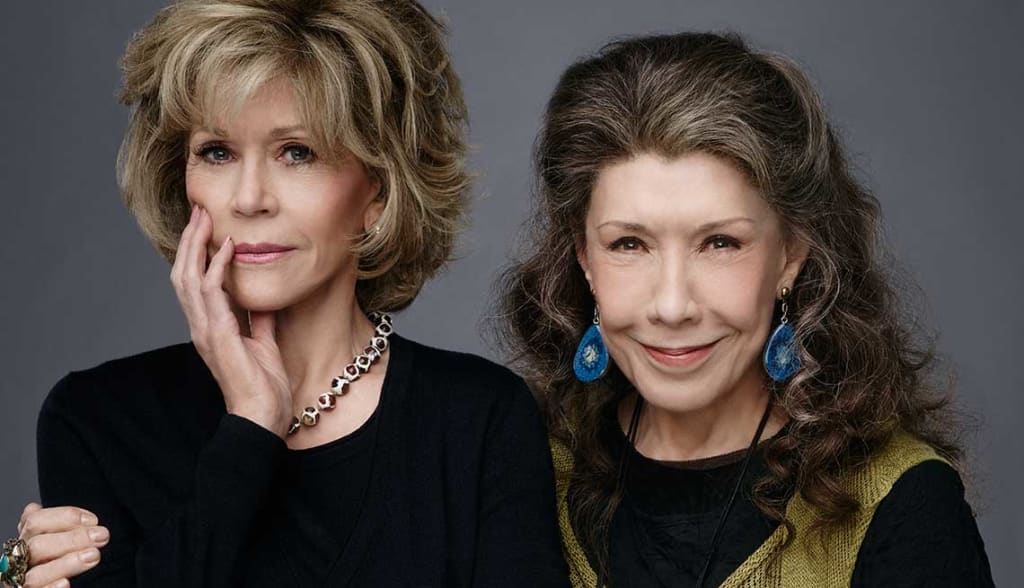 Source
In my travels throughout the internet the other day, I came across a TED Talk featuring Hollywood legends Lily Tomlin and Jane Fonda. These are two women whom I've seen throughout most of my life; my mom was a fan of their film with Dolly Parton, 9 to 5, and I have many memories of seeing Tomlin's phone operator Ernestine or her little girl Edith Ann. Many of my contemporaries watch Grace & Frankie on Netflix, and the lifelong friends have struck me as women who are probably just as funny offscreen as they are onscreen.
Anyways, Fonda and Tomlin were being interviewed by another friend of theirs, Pat Mitchell, and the topic was female friendship. I've heard multiple stories of the friendships that exist between men and just how vital those relationships are, but this was probably one of the few interviews I've seen about female relationships. It's interesting that Fonda and Tomlin were the subjects of this interview; it seems as though those who study topics like interpersonal relationships generally tend to focus on "civilians"—those who do not really have some sort of notoriety (good or bad) with the press or social media.
Fonda is now 81 and Tomlin is 79. They've been friends for nearly 40 years, having met on the set of 9 to 5, and are close to this day. Who better to comment about the importance of female friendships than women who have certainly lived life and who have enjoyed friendships for so long?
"I exist because I have my women friends," Fonda said in the TED Talk.
Tomlin seemed to piggyback on this idea, adding that Harvard Medical School had done a study that said that women who had friendships with other women were less likely to develop what she called "impairments" later in life. In fact, the study suggested that if women didn't have such relationships, their health could be impacted as seriously as though they were obese or if they smoked.
Fonda also suggested that women get more from their relationships with other women and enjoy greater benefits than the relationships men share with each other because of the greater level of intimacy that women can share in their relationships.
"I have a lot of compassion for men, because women, no kidding, we—women's relationships, our friendships are full disclosure, we go deep," she said. "They're revelatory. We risk vulnerability—this is something men don't do."
Hearing all of this, I would like any woman reading this right now to consider what life would be like without their female friends.
The idea shakes me a little. Sure, there's something to be said for the importance of having supportive spouses and someone to have your back while raising a family, but what if we women did not have the women we do in our lives? I think of the ladies I share an office with, and I feel that relationship is so special because we have the opportunity to "go deep," as Fonda said, if we need to. There are days when we laugh almost to the point we're wiping tears away, and there are days when we're so frustrated about one issue or another that we want to—and sometimes do—cry.
These female friendships that we create throughout our lives allow us the freedom to be accepted for being strong, sensitive, and empowered women. Don't get me wrong—being a parent is one of the most wonderful (and challenging) jobs out there, and so is being a spouse. I'm not trying to take anything away from either of those two roles.
However, when you're a woman and know there's a core group of women in your life, whether they are your work friends or more than that, that is probably one of the greatest gifts any woman could experience.
relationships
About the author
I'm a high school English and French teacher who trains in the martial arts and works towards continuous self-improvement.
Reader insights
Be the first to share your insights about this piece.
Add your insights