WOMEN IN HISTORY
ELIZABETH I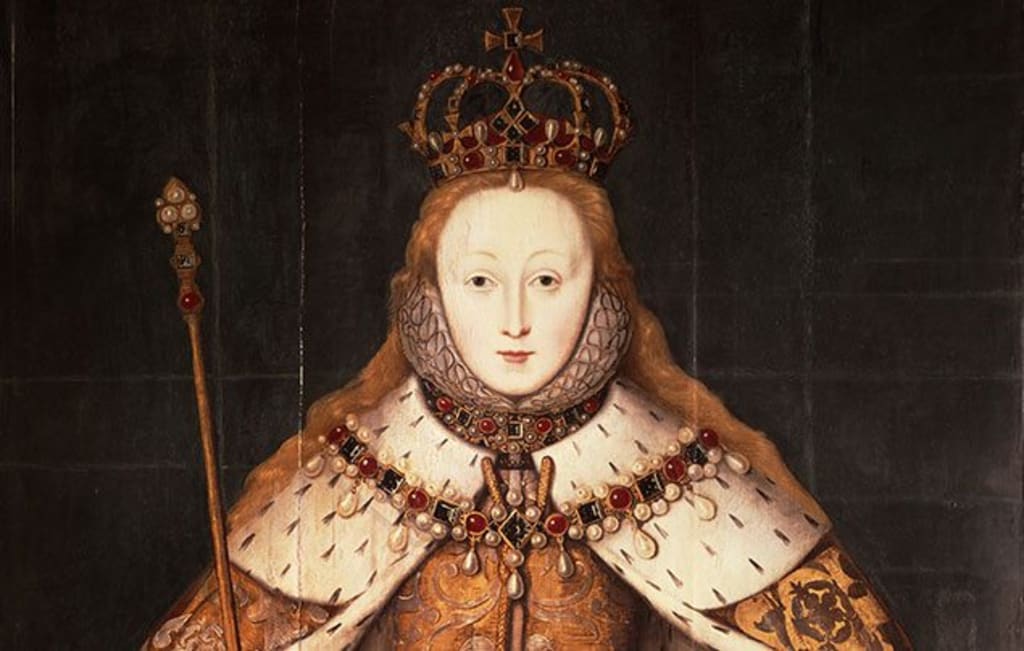 One of the English Queens I personally take Inspiration from, Elizabeth I showed us just how a single woman CAN rule, successfully, England !
Elizabeth I was Queen of England and Ireland from 17th November 1558 until her death on 24th March 1603. Sometimes called the Virgin Queen, Gloriana or Good Queen Bess. Elizabeth was the last of the five monarchs of the House of Tudor.
Elizabeth was the daughter of King Henry VIII and Anne Boleyn, his 2nd wife, who was executed two and a half years after Elizabeth was born. Anne's marriage to Henry was annulled, and Elizabeth was declared illegitimate.
EARLY LIFE
Elizabeth was born at Greenwich Palace and was named after her grandmothers, Elizabeth of York and Elizabeth Howard. She was the 2nd child of King Henry VIII born in wedlock. Her mother was Anne Boleyn. At birth, Elizabeth was heir presumptive to the throne. Her older half-sister, Mary, had lost her position as a legitimate heir when Henry annulled his marriage to Mary's mother, Catherine of Aragon, to marry Anne, with intent to sire a male heir and ensure the Tudor succession. Elizabeth was baptized on 10th September 1533.
Elizabeth was 2 years and 8 months old when her mother was beheaded on 19th May 1536. Elizabeth was now declared illegitimate and deprived of her place in the Royal succession. Henry married Jane Seymour, who died shortly after the birth of their son, the Prince Edward, in 1537. Edward was now the heir to the throne. Elizabeth was placed in his household.
Elizabeth's first governess, Margaret Bryan, wrote that she was "as toward a child and as gentle of conditions as I ever knew any in my life." Catherine Champernowne, better known by her married name of Catherine "Kat" Ashley, was appointed as Elizabeth's governess in 1537, and she remained Elizabeth's friend until her death in 1565. She taught Elizabeth 4 languages: French, Flemish, Italian and Spanish. By the time William Grindel became her tutor in 1544, Elizabeth could write English, Latin and Italian. Under Grindel, she progressed in French and Greek. After Grindel died in 1548, Elizabeth received her education under Roger Ascham.
By the time her formal education ended in 1550, Elizabeth was one of the best educated women of her generation. At the end of her life, Elizabeth was also believed to speak Welsh, Cornish, Scottish and Irish as well. The Venetian ambassador stated in 1603 that Elizabeth "possessed these languages so thoroughly that each appeared to be her native tongue."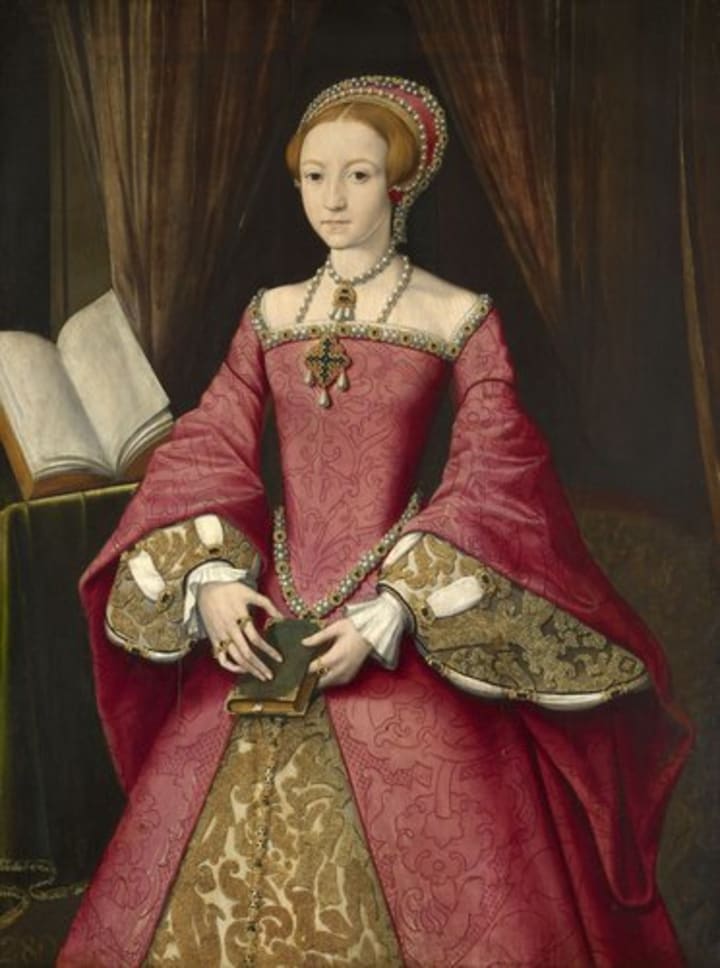 THOMAS SEYMOUR
Henry VIII dies in 1547 and Elizabeth's half-brother, Edward VI, became King at 9 years of age. Catherine Parr, Henry's widow, married Thomas Seymour, Edward's uncle and the brother of the Lord Protector, Edward Seymour. The couple took Elizabeth into their household at Chelsea. There Elizabeth experienced an emotional crisis that some historians believe affected her for the rest of her life. Thomas Seymour, approaching the age of 40 but having charm and "a powerful sex appeal," engaged in romps and horseplay with the 14 year old Princess Elizabeth. These included entering her bedroom in his nightgown, tickling her and slapping her on the buttocks. Parr, rather than confront her husband over his inappropriate activities, joined in. Twice she accompanied him in tickling Elizabeth, and once held her while he cut her black gown "into a thousand pieces." However, after Parr discovered the pair in an embrace, she ended this state of affairs. In May 1548, Elizabeth was sent away.
When Parr died after childbirth on 5th September 1548, Thomas renewed his attentions towards Elizabeth, intent on marrying her. The details of his former behaviour emerged and he was arrested in 1949, in suspicion of plotting to marry Elizabeth and over-throw the Lord Protector. Elizabeth, who was now living at Hatfield House, would admit nothing. Thomas Seymour was beheaded on 20th March 1549.
MARY I Reign
Edward VI died on 6th July 1553 at 15 years of age. His will ignored the Succession to the Crown Act 1543, excluded both of his half-sisters, Mary and Elizabeth, and declared as his heir Lady Jane Grey. She was proclaimed Queen but support for her quickly crumbled, and Lady Jane was deposed after 9 days. On 3rd August 1553, Mary rode triumphantly into London, with Elizabeth at her side.
The show of solidarity between the two sisters did not last long. Mary was a devout Catholic and she was determined to crush the Protestant faith. Elizabeth had been educated within the Protestant faith. Mary ordered that everyone attend Catholic mass. Elizabeth outwardly conformed. Mary lost popularity when she decided to marry Philip of Spain who was also an active Catholic. Discontent spread rapidly through the country, and many looked to Elizabeth as a focus for their opposition to Mary's religious policies.
In January and February 1554, Wyatt's Rebellion broke out but was quickly suppressed. Elizabeth was sent to Court, and interrogated regarding her role, and on 18th March, she was imprisoned in the Tower of London, where she fervently protested her innocence. Mary was convinced to spare her sister in the absence of hard evidence against her. Elizabeth was moved to Woodstock where she spent almost a year under house arrest. Crowds cheered Elizabeth all along the way.
Elizabeth was recalled to Court on 17th April 1555, to attend the final stages of Mary's "apparent" pregnancy. If Mary and the child died, Elizabeth would become Queen. If Mary gave birth to a healthy child, Elizabeth's chances of becoming Queen would recede. When it became clear that Mary was not pregnant, no one believed that she could have a child. Elizabeth's position seemed assured.
When Mary fell ill, her husband, now King Philip of Spain, sent the Count of Feria to consult with Elizabeth. The interview was conducted at Hatfield House, where she had returned to live in October 1555. By October 1558, Elizabeth was already making plans for her government. On 6th November, Mary recognised Elizabeth as her heir. On 17th November 1558, Mary died and Elizabeth succeeded to the throne.
ACCESSION
Elizabeth became Queen at the age of 25, and declared her intentions to her Council and peers who had come to Hatfield to swear allegiance. As her triumphal progress wound through the city on the eve of the Coronation ceremony, Elizabeth was welcomed wholeheartedly by the citizens and greeted by orations and pageants, most with a strong Protestant flavour. Elizabeth's open and gracious responses endeared her to the spectators, who were "wonderfully ravished." The following day, 15th January 1559, Elizabeth was crowned and anointed in Westminster Abbey. She was then presented for the people's acceptance, amidst a deafening noise of organs, fifes, trumpets, drums and bells. Elizabeth was welcomed as Queen of England, but the country was still in a state of anxiety over the perceived Catholic threat at home and overseas, as well as the choice of whom Elizabeth would marry.
THE CHURCH SETTLEMENT
Elizabeth's personal religious convictions have been much debated by scholars. She was a Protestant, but kept Catholic symbols (the crucifix), and downplayed the role of sermons in defiance of a key Protestant belief.
Elizabeth and her advisors perceived the threat of a Catholic crusade against heretical England. Elizabeth therefore sought a Protestant solution that would not offend Catholics too greatly while addressing the desire of English Protestants, she would not tolerate the more radical Puritans though, who were pushing for far-reaching reforms. As a result, the Parliament of 1559 started to legislate for a church based on the Protestant Settlement of Edward VI, with the monarch as its head, but with many Catholic elements, such as vestments. The new Act of Supremacy became law on 8th May 1559. At the same time, a new Act of Uniformity was passed, which made attendance at church and the use of an adapted version of the 1552 Book of Common Prayer compulsory, though the penalties for recusancy, or failure to attend and conform, were not extreme.
THE MARRIAGE QUESTION
From the start of Elizabeth's reign, it was expected that she would marry and the question arose to whom. Although she received many offers for her hand, she never married and was childless; the reasons for this are not clear. Historians have speculated that Thomas Seymour had put her off sexual relationships. Elizabeth considered several suitors until she was about 50 years of age. Her last courtship was with Francis, Duke of Anjou, 22 years her junior. While risking possible loss of power (like Mary, her half-sister), marriage offered the chance of an heir. The choice of husband might also provoke political instability or even insurrection.
ROBERT DUDLEY
In the spring of 1559, it became evident that Elizabeth was in love with her childhood friend Robert Dudley. It was said that Amy Robsart, his wife, was suffering from a 'malady of one of her breasts' and that the Queen would like to marry Dudley if his wife should die. Amy Dudley died in September 1560, from a fall from a flight of stairs and, despite the coroner's inquest finding it an accident, many people suspected Dudley of having arranged her death so that he could marry the Queen. Elizabeth seriously considered marrying Dudley for some time. However, some conservative peers made their disapproval clear.
There were even rumours that the nobility would rise if the marriage took place.
Among other marriage candidates being considered for Elizabeth, Robert Dudley continued to be regarded as a possible candidate for nearly another decade. Elizabeth was extremely jealous of his affections, even when she no longer meant to marry him herself. Robert Dudley finally remarried in 1578, to which the Queen reacted with repeated scenes of displeasure and a lifelong hatred towards his new wife, Lettice Knollys. He died shortly after the defeat of the Armada. After Elizabeth's own death, a note from Robert Dudley was found among her personal belongings, marked "his last letter" in her hand-writing.
FOREIGN CANDIDATES
Marriage negotiations constituted a key element in Elizabeth's foreign policy. She turned down Philip's own hand early in 1559 but for several years entertained the proposal of King Eric XIV of Sweden. For several years she also seriously negotiated to marry Philip's cousin Archduke Charles of Austria. By 1569, relations with the Habsburgs had deteriorated, and Elizabeth considered marriage to two French Valois Princes in turn, first Henry, Duke of Anjou, and later, from 1575 to 1581, his brother Francis, Duke of Anjou, formerly Duke of Alencon. This last proposal was tied to a planned alliance against Spanish control of the Southern Netherlands. Elizabeth seems to have taken the courtship seriously for a time, and wore a frog-shaped earring that Anjou had sent her.
In 1563, Elizabeth told an imperial envoy: "If I follow the inclination of my nature, it is this: beggar-woman and single, far rather than Queen and married." Later in the year, following Elizabeth's illness with small pox, the succession question became a heated issue in Parliament. They urged the Queen to marry or nominate an heir, to prevent a civil war upon her death. She refused to do either. Having promised to marry previously, the Queen told an unruly House: "I will never break the word of a Prince spoken in public place, for my honour's sake. And therefore I say again, I will marry as soon as I can conveniently, if God take not him away with whom I mind to marry, or myself, or else some other great let happen."
By 1570, senior figures in the government privately accepted that Elizabeth would never marry or name a successor. For her failure to marry, Elizabeth was often accused of irresponsibility. Her silence strengthened her own political security: she knew that if she named an heir, her throne would be vulnerable to a coup; Elizabeth remembered that the way "a second person, as I have been" had been used as the focus of plots against her predecessor.
Elizabeth's unmarried status inspired a cult of virginity. In poetry and portraiture, she was depicted as a virgin or a goddess or both, not as a normal woman. At first, only Elizabeth made a virtue of her virginity: in 1559, she told the commons, "And, in the end, this shall be for me sufficient, that a marble stone shall declare that a Queen, having reigned such a time, lived and died a virgin." Ultimately, Elizabeth would insist she was married to her kingdom and subjects, under Divine protection. In 1599, she spoke of "all my husbands, my good people."
MARY, QUEEN OF SCOTS
Elizabeth's first policy towards Scotland was to oppose the French presence there. She feared that the French planned to invade England and put her Catholic cousin, Mary, Queen of Scots, on the throne. Mary was considered by many to be the heir to the English Crown, being the granddaughter of Henry VIII's elder sister, Margaret. Mary boasted being "the nearest kinswoman she hath."
In 1565, Mary married Henry Stuart, Lord Darnley, who carried his own claim to the English throne. Darnley quickly became unpopular and was murdered in 1567 by conspirators almost certainly led by James Hepburn, 4th Earl of Bothwell. Shortly afterwards, Mary married Bothwell, arousing suspicions that she had been party to the murder of Darnley. Elizabeth confronted Mary about the marriage, writing to her: "How could a worse choice be made for your honour than in such haste to marry a subject, who besides other and notorious lacks, public fame has charged with the murder of your late husband, besides the touching of yourself also in some part, though we trust in that behalf falsely."
These events led to Mary's defeat and imprisonment in Lock Leven Castle. The Scottish lords forced Mary to abdicate in favour of her son James VI, who had been born in June 1566. James was taken to Stirling Castle to be raised as a Protestant. Mary escaped from Loch Leven in 1568 but after another defeat fled across the border into England, where she had once been assured support from Elizabeth. Elizabeth wanted to restore her fellow monarch, but with her Council, Elizabeth chose to play safe. Rather than risk returning Mary to Scotland with an English army or sending her to France, Mary was detained in England, where she was imprisoned for the next 19 years.
Mary may not have been told of every Catholic plot to put her on the English throne, but from the Ridolfi Plot of 1571 to the Babington Plot of 1586, Elizabeth's spymaster Sir Francis Walsingham and the Royal Council keenly assembled a case against her. At first, Elizabeth resisted calls for Mary's death. By late 1586, she had been persuaded to sanction her trial and execution on the evidence of letters written during the Babington Plot. On 8th February 1587, Mary was beheaded at Fotheringhay Castle.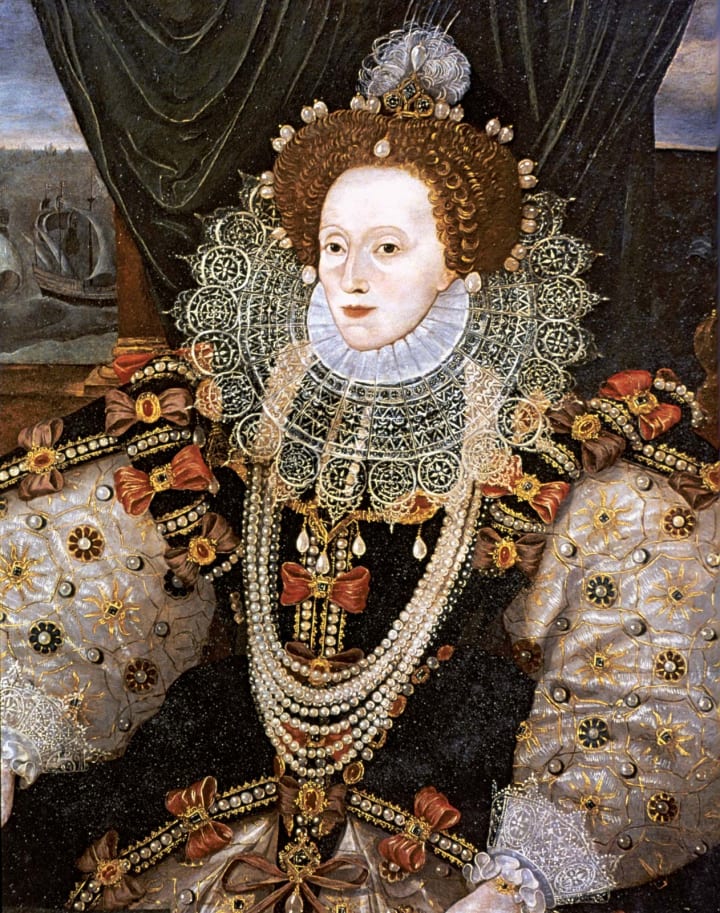 THE SPANISH ARMADA
Sir Francis Drake had undertaken a major voyage against Spanish ports and ships in the Caribbean in 1585 and 1586. In 1587 he made a successful raid on Cadiz, destroying the Spanish fleet of war ships intended for the Enterprise of England, as Philip II had decided to take the war to England.
On 12th July 1588, the Spanish Armada, a great fleet of ships, set sail for the Channel, planning to ferry a Spanish invasion force under the Duke of Parma to the coast of southeast England from the Netherlands. A combination of miscalculation, misfortune, and an attack of English "fire ships" on 29th July off Gravelines, which dispersed the Spanish ships to the northeast, defeated the Armada. The Armada straggled home to Spain in shattered remnants, after disastrous losses on the coast of Ireland. Un-aware of the Armada's fate, English militias mustered to defend the country under the Earl of Leicester's command. He invited the Queen to inspect her troops at Tilbury in Essex on 8th August. Wearing a silver breastplate over a white velvet dress, she addressed them in one of her most famous speeches:
"My loving people, we have been persuaded by some that are careful of our safety, to take heed how we commit our self to armed multitudes for fear of treachery; but I assure you, I do not desire to live to distrust my faithful and loving people --- I know I have the body of a weak and feeble woman, but I have the heart and stomach of a King, and of a King of England too, and think foul scorn that Parma or Spain, or any Prince of Europe should dare to invade the borders of my realm."
When no invasion came, the nation rejoiced. Elizabeth's procession to a thanksgiving service at St. Paul's Cathedral rivalled that of her Coronation as a spectacle. The defeat of the Armada was a potent propaganda victory, both for Elizabeth and for Protestant England. The English took their delivery as a symbol of God's favour and of the nation's inviolability under a Virgin Queen.
In 1589, the year after the Spanish Armada, Elizabeth sent the English Armada or Counter Armada with 23,375 men and 150 ships, led by Sir Francis Drake s admiral and Sir John Norreys as general. The English fleet suffered a catastrophic defeat with 11,000-15,000 killed, wounded or died of disease and 40 ships sunk or captured. The advantage England had won upon the destruction of the Spanish Armada was lost, and the Spanish victory marked a revival of Philip II's naval power through the next decade.
LATER YEARS
The period after the defeat of the Spanish Armada in 1588 brought new difficulties for Elizabeth which lasted until the end of her reign. The conflicts with Spain and Ireland dragged on, the tax burden grew heavier, and the economy was hit by poor harvests and the cost of war. Prices rose and the standard of living dell. In her last years, mounting criticism reflected a decline in the public's affection for her.
One of the causes for this "second reign" of Elizabeth was the changed character of Elizabeth's governing body, the "Privy Council" in the 1590s. A new generation was in power. With the exception of Lord Burghley, the most important politicians had died around 1590. The Queen's personal authority was lessoning, as is shown in the 1594 affair of Dr. Lopez, her trusted physician. When he was wrongly accused by the Earl of Essex of treason out of personal "pique" (anger or annoyance), the Queen could not prevent his execution, although she had been angry about his arrest and seems not to have believed in his guilt.
This same period of economic and political uncertainty, however, produced an unsurpassed literary flowering in England. During this period and into the Jacobean period that followed, the English theatre reached its highest peaks. The notion of a great Elizabethan Era depends largely on the builders, dramatists, poets and musicians who were active during Elizabeth's reign.
The more Elizabeth's beauty faded, the more her courtiers praised it. The Queen was happy to play the part, but it is possible that in the last decade of her life she began to believe her own performance. Elizabeth knew that her own misjudgements were partly to blame for this turn of events. An observer wrote in 1620: "Her delight is to sit in the dark, and sometimes with shedding tears to bewail Essex."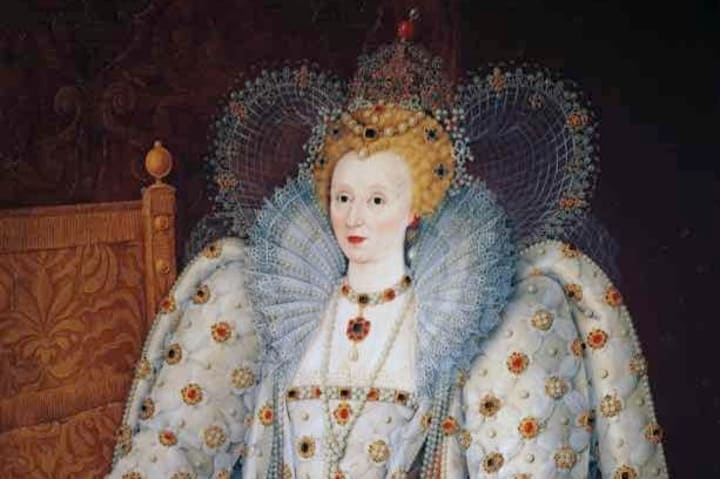 DEATH
Robert Cecil became the leader of the government. One task he addressed was to prepare the way for a smooth succession. Since the Queen would never name her successor, Cecil was obliged to proceed in secret. He entered into a coded negotiation with James VI of Scotland, who had a strong but unrecognised claim. Cecil coached the impatient James to humour Elizabeth. The advice worked and James's tone delighter Elizabeth. She may not have declared her wishes openly to James, but she made them known with "unmistakable if veiled phrases."
The Queen's health remained fair until the autumn of 1602, when a series of deaths among her friends plunged her into a severe depression. In March, Elizabeth fell sick and remained in a "settled and unmovable melancholy," and sat motionless on a cushion for hours on end. Queen Elizabeth I died on 24th March 1603 at Richmond Palace, between 2 and 3 in the morning.
Elizabeth was interred in Westminster Abbey, in a tomb shared with her half-sister, Mary I. The Latin inscription on their tomb translate to "Consorts in realm and tomb, here we sleep, Elizabeth and Mary, sisters, in hope of resurrection."
LEGACY
Elizabeth was praised as a heroine of the Protestant cause and the ruler of a golden age. Her reign became idealised as a time when Crown, church and parliament had worked in constitutional balance. The picture of Elizabeth painted by her Protestant admirers of the early 17th Century has proved lasting and influential. She established an English Church that helped shape a national identity and remains in place today. Elizabeth believed that faith was personal and did not wish to "make windows into men's hearts and secret thoughts." Priding herself on being "mere English," Elizabeth trusted in God, honest advice, and the love of her subjects for the succession of her rule.
This Queen must have had a difficult start in life, especially when she finally found out that her father had her mother killed. This affected how Elizabeth would think and act for the rest of her life. She was determined not to make the same mistakes as her father or mother. Yet, Elizabeth stayed unmarried --- was it the fear of sex ? the fear of dying in childbirth ? Or did she just not want to get married ? We'll probably never know but this Queen stands out as an example in history for all women to follow. In Elizabeth's own words: "I know I have the body of a weak and feeble woman, but I have the heart and stomach of a king, and of a king of England !"
An Inspiration for all women.
Look out for more articles on Women In History.