We're No Angels
An Honest Man's Guide to What Some of us Really Think About Sexual Harassment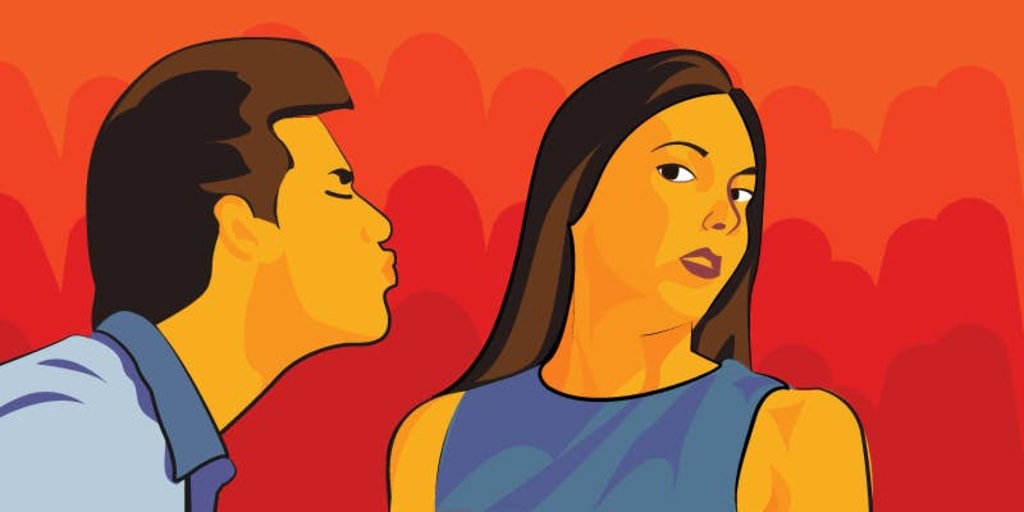 Last I checked I have a penis.
My name is Joel Eisenberg. I am a writer and television producer based in Los Angeles. I have no record of sexual harassment and, everything being fair, that status will remain unchanged. I was raised well by my parents, I'm happily married, and I respect women.
And so, to my male cohorts who consider sexual harassment a new phenomenon, or an issue exclusive to the rich and famous… you are all out of your damn fool minds or utterly disingenuous.
Our day of reckoning has arrived and it's an opportunity. Not a loss.
When I elected to write this article, I promised myself I would do so under two conditions: 1) I will attempt to make a difference and 2) I'd be honest, warts and all.
Over 20 years ago, when I was in my early-thirties and single, I attended a Christmas party with a male friend. He asked me to follow him upon approaching a female co-worker. In front of me, he drunkenly addressed her with this: "Mind putting your mouth where my money is?"
Thing is, minutes later they disappeared together. He seemed as surprised as I was when she seemed to comply. They left and returned to the party about thirty minutes later, she looking quite angry. At the time I laughed, thinking he made a jackass of himself yet again. Quite the contrary. He said he got what he asked for and went on and on about his "score." I awkwardly congratulated my friend on his self-proclaimed "win"… and then I ran into the woman on the way to the restroom. "Tell your friend," she told me, "it really wasn't worth it."
Turns out she was a new hire whom I had not yet met and my friend was recently promoted as a company supervisor. He interviewed her two weeks prior to the party and hired her for a telemarketing job. Shortly after the New Year, he was dismissed from the company, which a month later led to a much-discussed "sexual harassment seminar."
My friend lied, but he was unrelenting and she finally called him on his b.s.
He was not exceptional. I privately gave the woman credit at the time for speaking out, having been embarrassed by my initial reaction. But that's the rub: Why have we pretended for so long that this sort of behavior in the workplace was ever okay? This incident took place in the 90s, but the cancer that is sexual misconduct only became a flashpoint over 20 years later.
The #MeToo movement that led to the so-called "Silence Breakers" — Time's "Person of the Year" — well-deserves the recognition and the plaudits for said cultural flashpoint. It was well past time.
But a question remains. What exactly is "sexual misconduct," which, speaking only for myself, sounds a smidge more nefarious than "sexual harassment?" What are the definitions? Here's the disconnect: "Sexual misconduct" as a term is not wholly understood. When speaking to my male friends, many consider the term to be nothing more than public victimization on the part of those who are speaking out: women. Of course, however, it's not just women who are talking. Tell that to Terry Crews or the young male actor who accused Kevin Spacey… and so on. But for the purpose of this article only, let's keep it simple:
Male misconduct against women.
As to my friends, here are other attitudes (and I've posted about all this with some frequency on Facebook): "Is kissing under the mistletoe now considered sexual harassment?" "Does 'no' truly mean 'no' when a woman is propositioned or does it mean she is playing 'hard to get' to determine the reality of the interest?" "Whatever happened to innocent banter or flirting, neither of which is rape?" "This is all so ridiculous, all a woman has to do is walk away."
You get it.
Here's some more truth, though: When I had my former production office housed at Paramount Studios some five years ago, women decades younger than me (I'm presently 53) would stop by — the door was usually open — sometimes in provocative outfits and begin asking what I'm working on. "Do you need any extras for your next project?" and so on. Yes, I'm sure more than a few of these impromptu visits were innocent. But certainly not all. Many of these young women I used to see again at Hollywood parties, either arm-in-arm with senior citizens (er, Hollywood execs) with jet-black hair, or otherwise sniffing coke with promises they'd "loosen up," or otherwise hitting on some of the men (or women) present. There is indeed an element of a two-way street in some of these circumstances. That doesn't make right aggressive moves on the part of the men who feel entitled when approached with the possibility of sometimes barely legal sex — several of whom I've seen in the grotto at the Playboy Mansion undertaking whatever such acts of which they were so inclined. They were not all necessarily consensual, either.
You hear things.
Whether in the workplace in general, or within a business built of power and image like the movie industry, those in power have been harassing and abusing and violating those in their crosshairs since the beginning of time. The old movie tycoons (the casting couch was — and still is — real), those who had influence over promotions… Books have been written about it. Movies have been made about it.
And only when the matter recently barged into the public consciousness, following the debacle that is Harvey Weinstein, those in influence came out aghast! Horrified! Shocked!
Bullshit.
It's high time for men and women to engage in a frank and honest dialog about boundaries. It's high time for men and women to have an ongoing, mutual conversation about sex. I don't believe that every male who has been recently accused is guilty. I believe some don't think they're doing anything wrong by speaking provocatively to a member of the opposite sex. Guess what? I personally don't believe that's a crime by definition either. Circumstances differ. However, again, we all need to understand boundaries. For this present culture shift to become permanent, issues related to sexual misconduct must not become just another fad. Men need to listen and women must keep speaking out. But without talking, without communicating… we may as well sweep it all under the carpet once again.
Consider that a caution.
activism
Joel is a writer-producer, and partner in TV development group Council Tree Productions. He has developed projects for Ovation TV, TNT, Decades TV and FOX Studios, among others.