Victoria's Secret Gets a "Feminist" Makeover, and Straight Men Are Not Having It
These are desperate times for the lingerie giant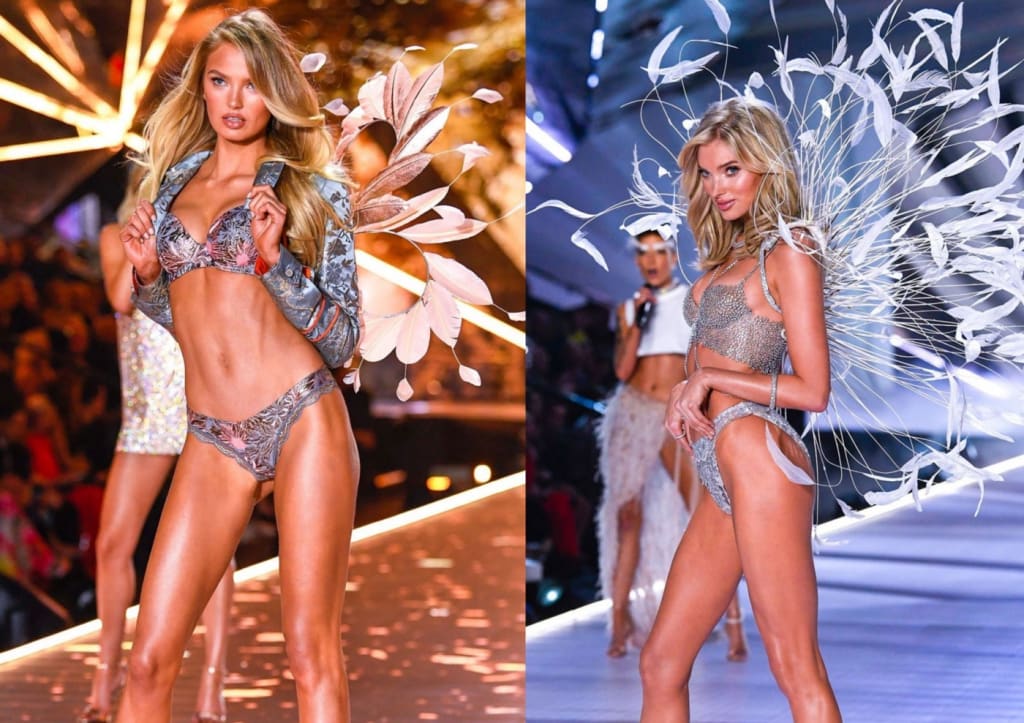 Romee Strijd & Elsa Hosk in 2018 Victoria's Secret Show, photo credit: Yannis Vlamos / INDIGITAL.TV
For several years now, Victoria's Secret has struggled to stay relevant. And to be honest, no one should find that surprising.
The brand's hyper-sexualized, ultra-glamorous imagery featuring only thin supermodels is not something female consumers want to see. Not anymore, at least. And the Jeffrey Epstein scandal didn't exactly help its image either.
In a bid to regain lost popularity, Victoria's Secret has recently announced a drastic rebranding, and it has pledged to become 'the world's leading advocate for women.'
Even though it does seem like a big step and certainly a step in the right direction, I can't help but feel it's not going to do wonders for the brand.
Isn't it too little, too late?
Goodbye angels, hello activists
So how exactly will this failing underwear brand get back into women's good graces? Well, to start with, it has announced the retirement of all of its Angels.
In its place, Victoria's Secret has retained a group of seven athletes, activists and actors called the VS Collective. These include soccer player Megan Rapinoe, transgender model Valentina Sampaio, and Indian actress Priyanka Chopra Jones.
In its recent press release, the company has described the newly appointed VS Collective brand ambassadors as ' accomplished women who share a common passion to drive positive change.'
Like the Angels, the VS Collective will appear in ads and promote Victoria's Secret's products. In addition to that, they will also be involved in advising on product and messaging and sharing their stories on female empowerment.
So often I felt myself on the outside looking in with brands in the beauty and fashion industry, and I'm thrilled to be creating a space that sees the true spectrum of ALL women. - said Megan Rapinoe in the company's press release.
I have to say I'm a bit surprised about their decision to include Priyanka Chopra in that group of women. In the past, she has been accused of racism, internalized misogyny, and even encouraging nuclear war against Pakistan.
But hey, I'm guessing Victoria's Secret wanted to score some diversity points, and they didn't bother to find anyone else that might have been a better, and probably less problematic, fit.
It's a bit late to the game, isn't it?
I hope VS Collective will use its platform to actually empower women and not only push the company's new image and generate more sales for them. But why did they wait such a long time to rebrand?
For several years, feminists have been calling out Victoria's Secret blatant sexism and lack of diversity. Their whole brand identity revolved around using conventionally attractive women as physical representations of sex to sell bras. Even in the post-MeToo era, they continued to throw annual fashion shows catered primarily to the male gaze.
Are we supposed to forget all about it and pretend the company didn't stay tone-deaf for years?
While Victoria's Secret took its time to understand the importance of inclusivity, diversity and listen to its female consumers, many other actually feminist underwear brands popped up on the market. Aerie, Savage x Fenty, ThirdLove, Saalt, to name a few. And all of these brands have been proudly embracing body positivity since they were created.
Meanwhile, Victoria's Secret still hasn't expanded its limited size range. In the latest announcement, its marketing officer said that this process is 'underway' although there was no set date for when consumers will see larger sizes in stores. Seeing how slow they are to react to these things, we can probably expect it to be 2030.
Straight men are upset, again
It seems I'm not the only one having a skeptical reaction to Victoria's Secret's drastic shift, although for entirely different reasons.
Right-wing straight men are very, very upset about this change. And they blame the 'woke culture' for the direction the company has decided to take. Oh yes. Once again, men have needlessly inserted themselves into the discussion that doesn't concern them at all.
Sure, I imagine it must be very 'upsetting' to discover that not every single female brand on this planet caters to men's fantasies rather than women's needs.
Shocking, I know.
In addition to being outraged about how 'woke' Victoria's Secret has decided to be, many men are also slamming VS Collective representatives, particularly Megan Rapinoe - the soccer champion and Olympic gold medalist. To quote one of the enraged Twitter users:
Megan Rapinoe?? Nobody likes feminists. Nobody. Even other feminists hate feminists. They're the least appealing people on the planet.
Sorry to burst your bubble, Mr. Upset Man; there are quite a few people who like us and understand that we still need feminism. You'd know that if you ever read anything besides Tweets of other angry men who only reassure you in your twisted, hateful worldview.
And Megan Rapinoe is a talented, driven, and gorgeous woman who has been using her platform to fight for equality for a number of years. If anything, she is probably one of the most inspiring women out of that VS Collective bunch.
Final thoughts
Victoria's Secret was making a nice profit off a plasticized and fundamentally inauthentic female sexuality for far too long. I hope this rebranding will bring much-needed change to their identity, even if it's just a desperate attempt to cash in on whatever a #GirlBoss thing of the moment is.
And maybe while they are at it, they will also try to raise awareness and advocate for other women's issues - like economic inequality and violence against women and girls.
But perhaps that's just wishful thinking on my part. After all, should I really expect much from a brand that puts cheesy captions on the back of a pair of panties?
This story was originally published on Medium.
fashion
About the author
Sometimes serious, sometimes funny, always stirring the pot. Social sciences nerd based in London. Check out my other social media: www.linktr.ee/katiejgln
Reader insights
Be the first to share your insights about this piece.
Add your insights