The Ten Most Successful & Famous Plus Size Models
A Must-Read Guide on Famous Plus Size Models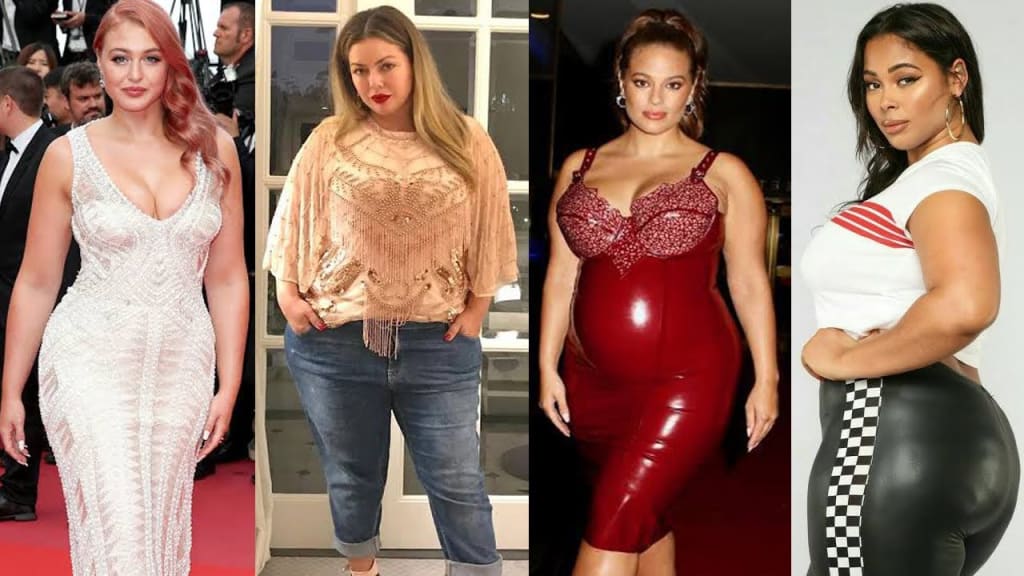 Embracing our bodies for the way they are is now more essential than ever. The old construct of having a skinny body type as being the most ideal form of the physique for a woman has been crumbling for the better. It is not a trend but a greater step towards accepting beauty in all forms instead of holding it to rigid standards which ultimately led people to insecurities and other mental illnesses.
Women with size 8 and beyond are considered to be plus-sized. While this was previously a cause of limitations in the fashion industry, presently it's not so with famous plus size models leading the industry with great valor and grace. They're achieving new heights of their career by being appreciated and valued for the type of body they have instead of them having to accommodate to the society's expectations.
These women have not only earned a celebrity status but have also been featured prominently in various magazine covers, advertisements, brand promotions, and much more. Let's acquaint ourselves with them and their various achievements.
Ashley Graham
Tabria Majors
Robyn Lawley
Crystal Renn
Danika Brysha
Chloe Marshall
Georgia Pratt
Jordyn Woods
Yasmin Geurts
Denise Bidot
Ashley Graham
Featured in Vogue's list of '30 under 30', Ashley's been a body activist and is an American supermodel who gained the deal for three covers right after getting the first cover deal of Sports Illustrated.
She's the first plus-sized woman to have done so in history and has also been named in the list of Vogue's '25 most influential people in 2016. During this time, she's been associated with giant names in the fashion industry such as Vogue, Cosmopolitan, British Vogue, and so on, which further led her to pen her own book titled 'What Confidence, Beauty, And Power Really Looks Like'. She's one of the topmost famous plus size models in the fashion industry for her spectacular achievements.
Tabria Majors
A resident of Tennessee, Tabria firmly believes that curvaceous girls look equally appealing as the typical models. Before becoming one of the famous plus size models, she began pursuing modeling after quitting her stable 9-5 job which is when she was approached by a modeling agency. After those gigs and many more, she's not only been on the cover of Sports Illustrated magazine but is even presently breaking the age-old beliefs of modeling while also simultaneously running a famed podcast called 'The Thick'. Talk about strong beliefs!
Robyn Lawley
After being initially growing weary of modeling in the size 8 concept at a mere 18 years, Robyn signed a contract with a plus-size modeling agency in Australia called Bella mannequin management. She's featured in several Australian fashion magazines and has also appeared in an editorial for the Australian Vogue.
Robyn's early recognition of having a body the way she desires has gained her massive popularity in not just Australia but also internationally thereby establishing her name in the list of famous plus size models.
Crystal Renn
Although Crystal began her career earlier than most models, she's been on the cover page of multiple prestigious fashion magazines such as The Times Magazine, Tush, and more. These appearances along with several endorsements over the years have provided her with immense popularity which makes it safe to say she's among the famous plus size models. She also happens to frequently do yoga and other exercises to achieve peace and better awareness of her body.
Danika Brysha
Having a turbulent relationship with food in her early years which saw her both lose and gain weight, she runs a 'Model Meals' manufacturing company that offers healthy food. But this is after she secured several deals with notable fashion industry giants such as Kohl, Forever 21, etc which catapulted her to becoming the next highest-paid supermodel after the likes of Gigi Hadid, etc. A worthy name in the list of deliberately famous plus size models, she does endorsements, events, and does other important appearances.
Chloe Marshall
A finalist in The Miss England pageant, Chloe is an English supermodel who took modeling assignments and campaigns after moving to New York. Primed for endorsing campaigns of brands that promote plus-size clothing- Torrid, Macy's, etc Chloe Marshall has made herself a name in the fashion industry of famous plus size models.
Georgia Pratt
Having featured in Elle, Dazed, Vogue, etc this New Zealander beauty has been an inspiration to numerous women. Presently she's signed with IMG but she is proud of one of the past decisions which either had her sign a contract but lose 20 pounds or stay a plus-sized model. As a line in a fine Robert Frost poem says, 'It has made all the difference' and she'd totally agree too for she's modeled for several big-budget campaigns which have contributed to her becoming one of the famous plus size models of all time.
Jordyn Woods
Her looks and her brains have gotten her great recognition beyond the fact that she's a collaborator to Addition Elle and The Chromat Babe and is also best friends with Kylie Jenner. But aside from this, she has influenced a unique line of clothing that is globally applauded for it's fresh style.
Yasmin Geurts
The resident of Minneapolis, Yasmin had her sight on becoming a model and so she did the self-submission of her photos to agencies which gained her land a contract with Muse. Post this, she did shoots for various magazines namely the Office, Allure and Dazed, etc followed by modeling for FOrever 21 and other fashion brands. Such an impressive portfolio is a sign of emphasizing that it's not too ardently necessary to have a specific body size to make it big in the modeling industry.
Denise Bidot
Shining unedited on the cover of Sports Illustrated magazine's swimsuit issue of 2017 despite being a plus-sized woman, Denise has certainly gained not just fame but also recognition. This can be marked to her starry campaigns for Forever 21, Target, Levis, and more along with being cast for Bidot and doing ads that celebrate the plus-sized body of women.
fashion
Hello, my fashion fam! How you guys doin'? Well, I love fashion, and I love writing! So, I have been combining these two things to create amazing content for The Fashion Fantasy website.