The Six Wives of Henry VIII
Which One Did He Really Love?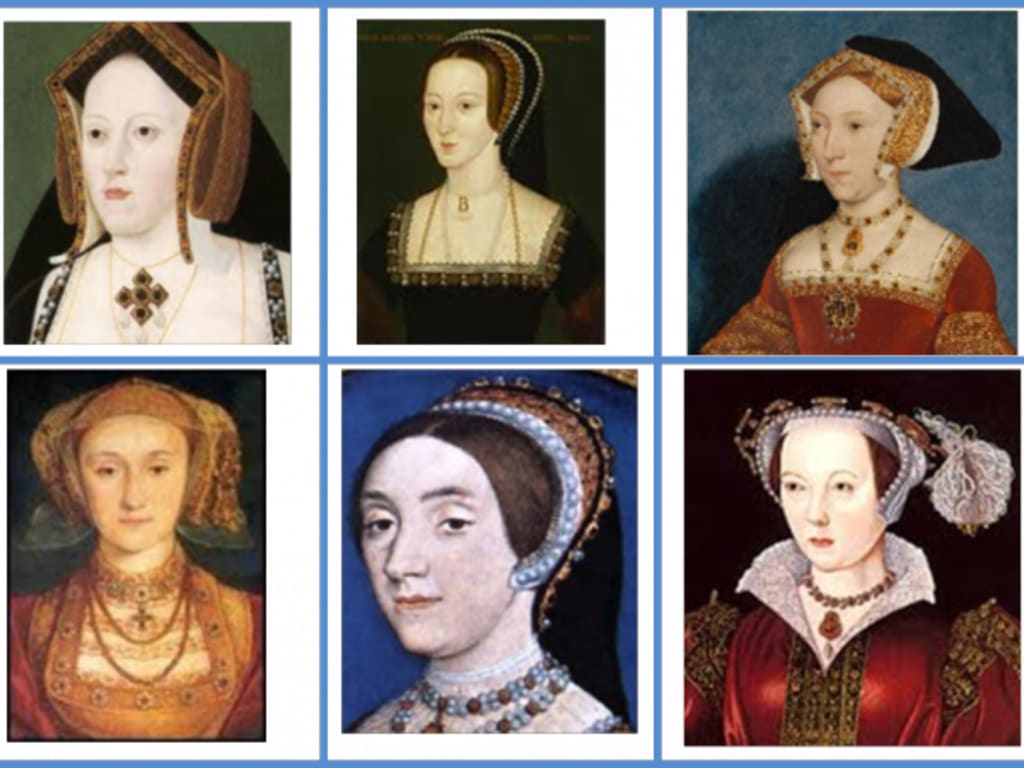 CATHERINE OF ARAGON "Humble and Loyal"
Born 16th December 1483 in Spain / Married to Prince Arthur 14th November in London / Married to King Henry VIII 11th June 1509 at Greenwich / Marriage to Henry VIII dissolved 1533 / Died 7th January 1536 at Kimbolton Castle / Buried 29th January 1536 at Peterborough Abbey.
ANNE BOLEYN "The Most Happy"
Born between 1500 and 1509 probably at Blickling Hall / Married to King Henry VIII 15th January 1533 probably at the Palace of Whitehall / Executed 19th May 1536 The Tower of London / Buried 19th May 1536 chapel of St.Peter ad Vincula at the Tower of London.
JANE SEYMOUR "Bound To Obey And Serve"
Born 1508 or 1509 possibly at Wolf Hall Wiltshire / Married to King Henry VIII 30th May 1536 Queen's Closet Whitehall palace / Died 24th October 1537 Hampton Court Palace / Buried 13th November 1537 St. George's Chapel Windsor Castle.
ANNE OF CLEVES "God Send Me Well To Keep"
Born 22nd September 1515 / married to King Henry VIII 6th January 1540 Greenwich / Marriage to Henry VIII dissolved July 1540 / Died 16th July 1557 Chelsea Manor London / Buried 4th August 1557 Westminster Abbey.
KATHRYN HOWARD "No Other Will Than His"
Born c.1521 / Married to King Henry VIII 28th July 1540 Oatlands Palace / Executed 13th February 1542 The Tower Of London / Buried 13th February 1542 chapel of St.Peter ad Vincula at the Tower Of London.
KATHERINE PARR "To Be Useful In All That I Do"
Born 1512 / Married to King Henry VIII 12th July 1543 Queen's Closet Hampton Court Palace / Widowed 28th January 1547 / Died 5th September 1548 Sudeley Castle / Buried 5th September 1548 St.Mary's Chapel Sudeley Castle.
CATHERINE of ARAGON was the youngest surviving child of Ferdinand and Isabella, joint rulers of Spain, and (as was common for Princesses) her parents immediately began looking for a political "match" for her. When Catherine was 3 years old, she was betrothed to Arthur, the son of Henry VII. Arthur was not quite 2 years old. When she was 16 years of age (in 1501) Catherine made the journey to England. It took her 3 months, but arrived safely at Plymouth. Catherine and Arthur were married in November 1501 in London. Catherine was escorted by the young Henry (younger brother to Arthur). After the wedding and celebrations, the young couple moved to Ludlow Castle on the Welsh border. Less than 6 months later, Arthur died (possibly from the "sweating sickness"). Catherine was now a widow and still young enough to marry again. Henry VII (Arthur's father) wanted to keep Catherine's dowry so now Catherine was betrothed to Henry VII's younger son, the future Henry VIII. In 1509, after Henry VII died, one of the first things the new King did was to marry Catherine, who was finally crowned Queen of England in a joint Coronation ceremony with (her husband) Henry VIII on June 24th, 1509 (eight years after Catherine arrived in England). Catherine suffered many miscarriages but finally gave birth to a surviving daughter, the Princess Mary, who was born in 1516. Henry wanted (and needed) a male heir. By 1526, he had fallen in love with Anne Boleyn. When Catherine was 42 years of age and could no longer have children, Henry found a way of dissolving this marriage. Henry had married his brother's widow and believed he had sinned against God. The fact that the couple had a living daughter did not count in Henry VIII's mind, he wanted a son. Henry appealed to the Pope who would not entertain this action. Six years went by and Anne Boleyn became pregnant. Henry had to act "quickly", so he rejected the power of the Pope and the English Archbishop of Canterbury, annulled the marriage. Catherine refused to accept this and believed herself still the Queen of England right up until her death. The funeral ceremony was for a Princess Dowager, not a Queen of England.
ANNE BOLEYN Very little is known about Anne Boleyn's early years. She spent part of her childhood at the Court of the Archduchess Margaret. From there, Anne was transferred to the household of Mary (Henry VIII's sister) who was married to Louis XII of France. Anne's sister Mary was already in "the French Queen's attendance." When Louis XII died, Mary Boleyn returned to England with Mary Tudor, while Anne remained in France to attend the new French Queen Claude, where she remained for 6 or 7 years. Anne may have been at the Field of Cloth of Gold, the famous meeting between Henry VIII and the French King, Francis I. During her stay in France, Anne learned to speak French fluently and developed a taste for French clothes, poetry and music. It is legend that says that Anne Boleyn had a "sixth" finger and a large mole in her neck. The Venetian Ambassador said of Anne that she was "not one of the handsomest women in the world," but Anne was considered moderately pretty. She had dark, olive-coloured skin, thick dark brown hair and dark brown eyes, and was of average height, had small breasts and a long, elegant neck. Returning to England in 1521, details of her marriage were being worked out. Anne attended Queen Catherine at the Royal Court. Her first recorded appearance at Court was in 1522 at a masque. The marriage fell through and Anne began an affair with Henry Percy, a rich heir. Cardinal Wolsey put a stop to the affair which is why Anne hated him, even in later life. Henry sought to make Anne his mistress (even as her sister Mary had been) but Anne refused and denied the sexual favours. She wanted to be Queen and wife and refused to be the King's mistress. In 1527, Henry began to seek an annulment to his marriage to Catherine, the Queen. He wanted to be free to marry again. Henry had a real passion for Anne and 17 love letters remain and are preserved today. Henry hated writing letters! In 1528, Anne's emergence at Court began. She showed an interest in religious reform and may have introduced these "new ideas" to the King. Some members of Court already hated Anne. Through frustration, Anne's temper quickly showed itself and (already) arguments started between Henry and Anne, in front of the Court. Had Anne wasted her time? When she could have been arranging an advantageous marriage. The people of England loved Catherine and did not love Anne. Henry VIII began to spend more and more on Anne, buying her clothes, jewellery, etc., etc. In 1532, Anne was created Marquess of Pembroke. In October, she held "a position of honour" at meetings between Henry and the French King in Calais. Towards the end of 1532, Anne gave in to Henry and became pregnant. Henry's hand was now forced into action and secretly married Anne in January 1533. In May 1533, the Archbishop officially proclaimed the marriage between Henry and Catherine as invalid. Plans for Anne's Coronation began. In preparation, she had been brought by water from Greenwich to the Tower of London dressed in cloth of gold. On the 1st June, Anne left the Tower in procession to Westminster Abbey, where she became a crowned and anointed Queen in a ceremony led by Thomas Cranmer, the Archbishop of Canterbury. By August, preparations were being made for the birth of Anne's child, which they believed to be a boy. Preparations were made for the birth of a Prince. As was the custom, Anne took to her chamber and on 7th September 1533 at about 3pm, the Princess Elizabeth was born. Although Henry wanted a son, Elizabeth's christening was still a "pleasant affair." Anne knew that she had to have a son, her life was involved! After several miscarriages, Anne realized her time was short. The King had taken a fancy to one of her ladies-in-waiting, Jane Seymour. Anne Boleyn's enemies took advantage of the situation to bring her down. An investigation started and Anne was accused of treason. The Queen, her brother and others were put on trial. Anne was accused of adultery and, whether guilty or innocent, the evidence was against Anne Boleyn. On May 19th 1536, Anne was beheaded.
JANE SEYMOUR may have first come to Court in the service of Queen Catherine, but then was moved to wait on Anne Boleyn as Anne rose in the King's favour and eventually became his second wife. In 1536, there is evidence of Henry's new love for Jane. His waning interest in Anne was obvious and Jane was likely "pegged" to be her replacement as Queen. How Jane felt about this we can only guess but it was clear how Henry VIII felt. Within 24 hours of Anne's execution, Jane Seymour and King Henry VIII were formally betrothed. On 30th May, they were married at Whitehall Palace. Jane never had a Coronation. Jane became pregnant in early 1537 and Henry indulged her every whim. Henry felt Jane to be his first "true wife." Jane gave birth to the Prince Edward at Hampton Court Palace who was christened on 15th October. Jane became very ill on 23rd October and died on 24th October, two weeks after giving birth. Jane was the only wife to have been buried alongside Henry VIII.
ANNE OF CLEVES King Henry VIII remained single for over two years after Jane's death, possibly proving that Henry genuinely mourned for her. Following his first marriage, the King now married for "diplomatic" reasons. England was seeking alliances with countries who had been supporting the reformation of the church. The famous Tudor Court painter, Hans Holbein, painted the sisters of the Duke of Cleves and Henry decided to have a "contract" drawn up for his marriage to Anne of Cleves. Henry proceeded with the match and married Anne on 6th January 1540. Even at this early stage, Henry wanted to get out of this marriage. Anne of Cleves was ill-suited for life at the English Court. Anne's upbringing in Cleves had concentrated on domestic skills and not music or literature which was so popular at King Henry VIII's Court. Henry did not find Anne attractive, calling her a "Flanders Mare." For political reasons also. Henry wanted to get out of his fourth marriage. There was tension between the Duke of Cleves and the Empire which was heading towards was and Henry did not want to get involved. Plus, Henry was now attracted to the very young Kathryn Howard. Anne realized that to raise any obstacles to Henry's plans would cause trouble for herself. Anne of Cleves testified that the marriage had not been consummated and that the previous engagement to the son of the Duke of Lorraine had not been properly broken. After the marriage had been dissolved, Anne accepted the honoury title of the "King's Sister." She was given property, including the former home of Anne Boleyn, Hever Castle. Anne was very sensible, making no trouble at all and lived away from the Court quietly in the countryside until 1557 and attended the Coronation of Mary I, her former step-daughter.
KATHRYN HOWARD was the first cousin to Anne Boleyn. Kathryn was brought up in the household of the Dowager Duchess of Norfolk. She came to Court at around the age of 19 years of age as a lady-in-waiting to Anne of Cleves. Being such a young age and high spirited, Kathryn caught the King's attention. 16 days after he was free of Anne of Cleves, Henry married Kathryn Howard, his fifth wife, on 28th July 1540. Henry was 49 years old, Kathryn was no older than 19 years of age. The King gained a lot of weight and was dealing with his painful ulcerated leg. His new bride managed to "lift his spirits" and brought back some of Henry's zest for life. King Henry VIII lavished gifts on Kathryn Howard and called her his "rose without a thorn" and the "very jewel of womanhood." Less than a year into this marriage, the rumours of Kathryn's infidelity began. Wanting the company of young men her own age was understandable, but as the Queen, very dangerous. She didn't help herself by appointing one of her admirers as her personal secretary. By November 1541, her enemies found enough evidence against Kathryn to inform the King, who did not, at first, believe them but allowed the investigations to go ahead. Enough evidence was gathered against Kathryn (the Queen) who was executed on the Tower Green in 1542. Kathryn Howard is laid to rest near her cousin Anne Boleyn in the chapel of St.Peter ad Vincular at the Tower of London.
KATHERINE PARR was the eldest daughter of Sir Thomas Parr and was named after Catherine of Aragon. Thomas Parr died in 1517, leaving his widow, Maud Green, to look after the 3 children, William, Katherine and Anne. Maud managed the children's education and the family estates. This left an impression on Katherine as she watched her mother take up her role as an independent woman in society. This ignited a life-long passion for learning in Katherine, who became fluent in French, Latin and Italian and began learning Spanish when she became Queen. Katherine Parr married twice and was widowed both times before Henry VIII noticed her. Thomas Seymour also notice Katherine, who would have wed him accept that the King asked for her hand in marriage first, which Katherine now felt it was her duty to accept the King. King Henry VIII and Katherine Parr married 12th July at Hampton Court Palace. The new bride was 31 years of age. Katherine was interested in the reformed faith. Her enemies at Court tried to have the new Queen arrested as she and some of her ladies-in waiting had been reading some "banned books." Some-one loyal to Katherine warned her, and Katherine and her ladies managed to avoid being arrested. The new bride took an interest in her step-children and became personally involved in the educational program of the younger two, Edward and Elizabeth. Katherine was also a patron of the arts and music. In 1545, her book "Prayers or Meditations" became the first work published by an English Queen under her own name. King Henry VIII died in 1547. Only a few months later, Katherine secretly married Thomas Seymour. She died in childbirth in 1548. Katherine Parr's tomb can still be visited today at the chapel at Sudeley Castle.
Look out for more articles on The Tudor Era.
history
I love all things Earthy and Self-Help
History is one of my favourite subjects and I love to write short fiction
Research is so interesting for me too
Receive stories by Ruth Elizabeth Stiff in

your feed