WOMEN IN HISTORY
Georgiana Cavendish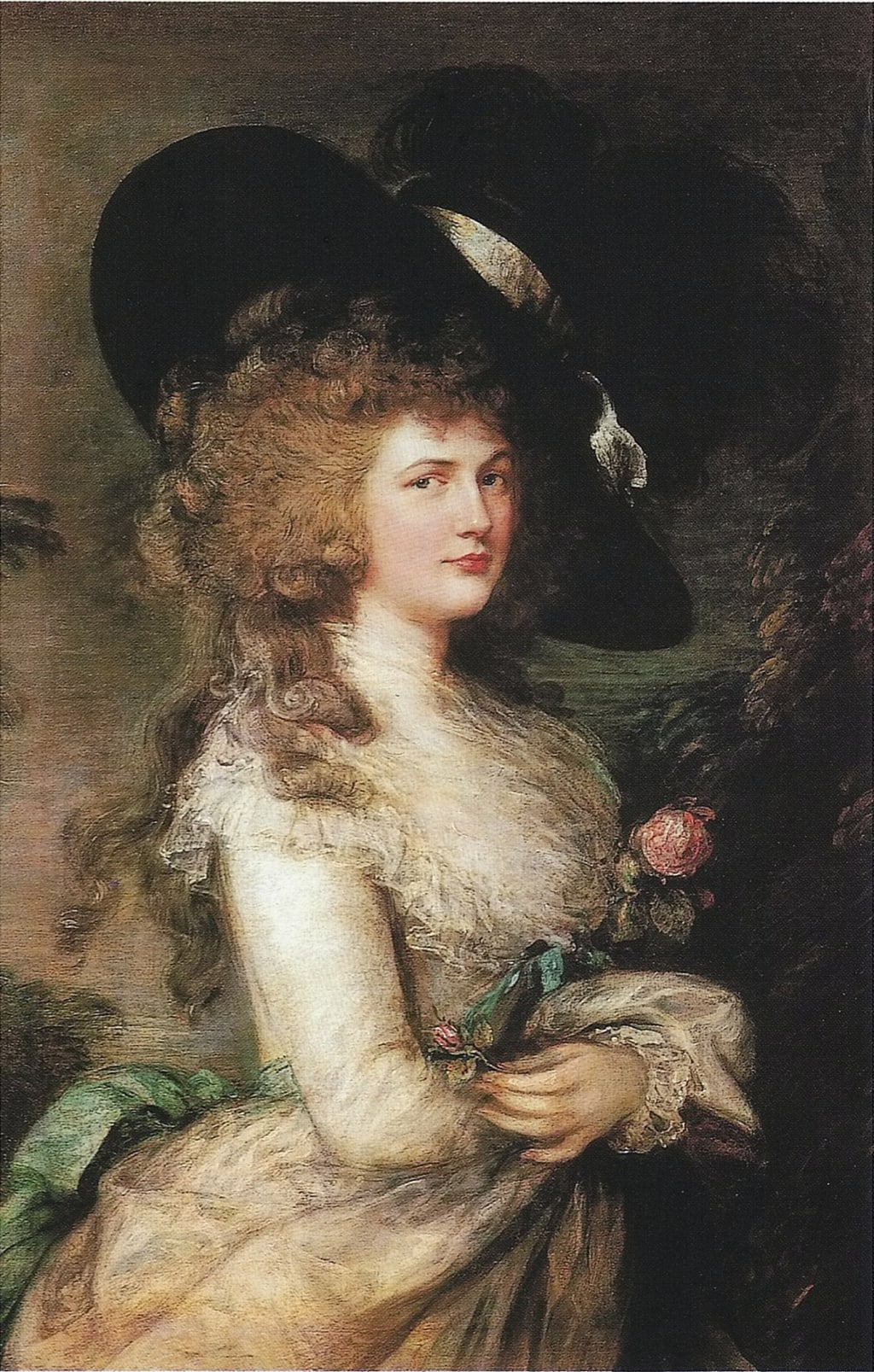 Georgiana Cavendish, The Duchess of Devonshire was the great-great-great-grand-aunt to the late Diana, Princess of Wales.
Georgiana was born into the Spencer family on 7th June, 1757, and was the first daughter to John, the Earl of Spencer and his wife, Georgiana, the Countess of Spencer. The Countess said of her daughter: "I will own I feel so partial to my Dear little Gee, that I think I never shall love another so well." She was born at the Spencer family home in Althorp. The Spencer family were wealthy and her parents enjoyed a happy marriage. Georgiana knew only comfort and love whilst growing up.
With her long auburn hair, fair skin, and almond-shaped eyes (as well as being the daughter of an Earl), Georgiana was a great 'catch' for any of the eligible bachelors. William Cavendish, the fifth Duke of Devonshire (at 25 years of age) became interested in Georgiana (now 17 years of age). For him, Georgiana was an appropriate wife with the right title. For her, Georgiana fell in love with the Duke.
The couple married at Wimbledon Parish Church in 1774. It was a small ceremony. Her parents were reluctant to let their daughter marry so young, but it was such a good match financially that when they saw that Georgiana loved the Duke, they gave in. After the wedding, her father wrote: "My Dearest Georgiana, I did not know till lately how much I loved you, I miss you more every day and every hour." Georgiana and her mother continued to correspond throughout their lives, many of these letters still survive today.
From the very beginning of being married, Georgiana realized that the Duke was an emotionally reserved person, completely opposite to her own father in character, and who carried on adulterous affairs during their married life. The several miscarriages and giving birth to only daughters at this time, did not help the marriage. The Duke wanted a male heir!
An illegitimate daughter, fathered by the Duke, came to live with the couple, when the child's mother died. Georgiana grew fond of the little girl and said of Charlotte: "she is the best humoured little thing you ever saw."
Georgiana, the Duchess, finding little comfort in her husband, became a "Fashion Icon" in England. Her outrageous fashion trends sent the women of society tripping over themselves to follow the Duchess of Devonshire. It is true that some of these ladies would sit on the floors of their carriages in order to accommodate the extra-ordinarily high hair fashions. The Duchess would wear enormous ostrich feathers with three-foot-tall hair dos.
This Duchess kept herself busy writing poetry and publishing "scandalous" novels. Georgiana was also interested in politics, supporting the "Whig" political party, by visiting houses, talking with commoners and attending speeches and rallies.
In 1782, Georgiana met the Lady Elizabeth Foster. They met in the City of Bath. Lady Foster had become destitute after separating from her husband and three sons. A close bond developed between the two ladies and the Duke allowed the Lady Elizabeth to live with them. A sexual relationship began between the Duke and the Lady Elizabeth (Known as "Bess") and a "ménage a trois" was established. This was an irregular arrangement for such a high-profile marriage.
The Duke could have numerous affairs, but it was not acceptable or permitted for the Duchess, Georgiana, to take a lover, until she had given birth to a male living heir.
After giving birth to two daughters, the Duchess finally gave birth to a male son in 1790, he became the heir to the dukedom: William George Spencer Cavendish, who had the title Marquis of Hartington at birth. This little boy was called "Hart."
Now the Duchess could take a lover, Charles Grey, and had an illegitimate daughter by him. The daughter, Eliza Courtney, was given to the Greys family, but Georgiana was secretly able to visit her daughter many times during her life.
Caught up in an unhappy marriage, the Duchess had wild parties at home, often gambling and drinking. In her mistaken mind, this eased the pain of her unhappiness. Georgiana would have these wild parties, then see no-one for days, starve herself and then binge-eat. She'd also have "hysterical fits."
After her banishment to France, the Duchess returned to England in 1793, having changed her way of living. No more partying. She stayed involved in politics but behind the scenes. She also 'dabbled' in the sciences, collecting crystals, wrote novels and poems, and spent time with her beloved children. When The Duke was ill with gout, she cared for him.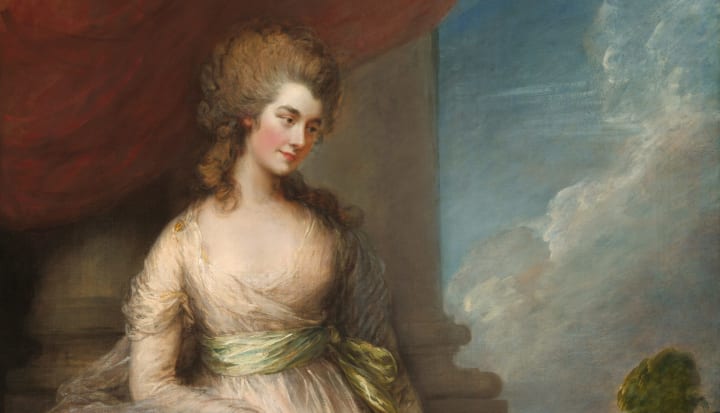 In her late 30's, the Duchess became half-blind from an eye infection and was plagued with facial scars. Her 'beauty' seemed to be over, Georgiana was no longer "Fashion Icon." She became ill in her 40's and in 1806, the Duchess of Devonshire died of an abscess on her liver. Georgiana was 48 years of age. Surprisingly, the Duke seemed genuinely sad at the death if his wife.
The similarity between Georgiana and her great-great-great-grandniece, the late Princess of Wales, is well documented. Both loved their children though, their motherly instincts coming through any adversity.
"I feel I've done some things in life too late and others too early" --- Georgiana, Duchess of Devonshire.
(Some information is from Wikipedia / some from "Factinate")
Look out for more articles about "Women in History."