Statues of Real Women
Statues here in the US of real women from 20 different countries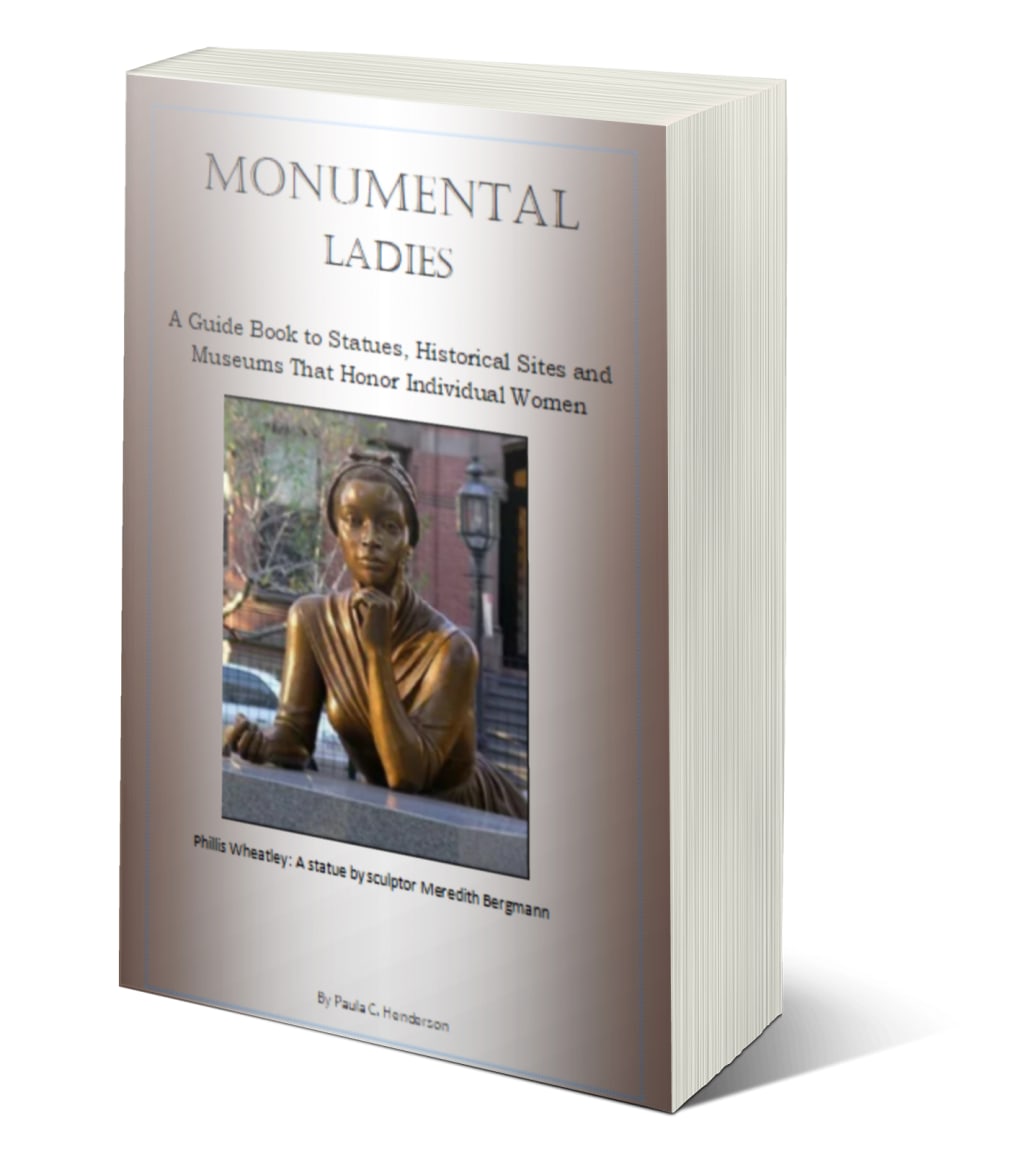 ISBN: 9781696087896
A few years ago it came to our attention that female statues of actual, real women who lived (have a name and birth date) were underrepresented compared to the men. The media coverage seem to be focused on New York City. I started researching the entire United States to see how many I could actually find.
I found 267 statues of real women in the United States, 62 museums and countless other historical markers that honor individual, real women who lived.
The women honored across the United States were born in 20 different countries.
About 284 of the women were born in the United States.
Nine were born in the United Kingdom.
Six born in Canada.
Four ladies were born in Italy.
Three from Germany.
Three from Ireland.
Two from Mexico.
One from Africa.
One from France.
One from Chile.
One from China.
One from Egypt.
One from The Netherlands.
One from Lithuania.
One from Ukraine.
One from the Roman Empire.
One born in Russia.
One born in Poland.
One was born in Luxembourg and one was born in North Macedonia.
The women with the most statues:
Sacagawea has a total of nine statues in the United States.
Mother Teresa comes in second with seven statues.
Harriet Tubman comes in at a respectable third place with a total of six statues.
I included the date of birth for each of the women I profiled. We have statues, museums and historical markers here in the United States honoring women born as early as 69 BC during the Roman Empire to the most recent born in 1978.
There is, of course, the location of statues, museums, and historical sites that honor some familiar names such as recording artist Selena, equal rights activist Susan B. Anthony, 12 First Ladies, holocaust victim Anne Frank, Israeli Prime Minister Golda Meir, Oprah Winfrey, astronaut Sally Ride, actress Lucille Ball, Rosa Parks, Harriet Tubman, and many more.
I hope this book will also introduce you to lesser known women who have shaped our history, like the first woman to get her pilot mechanics license, the first woman to pass the Virginia State Medical examination way back in 1893, the woman who was jailed for teaching black children during the 1800s, the first woman to drive across the country before paved roads, queens, saints, Pulitzer Prize winners, Nobel Prize winners, writers, scientists, teachers, entrepreneurs, athletes, and newspaper publishers. Just to mention a few.
One of my favorites is the story of the woman credited with starting the first mega church who disappeared for five weeks and was believed dead from drowning only to reappear claiming she had been kidnapped. Another is the woman behind the beautiful quotes along the margin of your passport, which were written by a slave.
How about Profile 65, Barbara Capitman, who stood in front of bulldozers to save the Art Deco buildings in Miami, Florida.
A Jewish journalist from Ohio is remembered for her dedication. She interviewed every US President from 1947 through 1984 and took great pride in her interview with Adolf Hitler who had no idea she was Jewish.
Profile 127 is the personal story behind how L. Frank Baum, author of The Wizard of Oz, came up with the name Dorothy as the main character.
Elise Traut, Profile 141, is credited with not only starting the tradition of the annual Central Park Christmas Tree, but she left her estate to fund it in hopes it would continue.
I ran across an article in a newspaper from 1904 about First Lady Mary Todd Lincoln's dressmaker, who was a former slave, and in my research, found she was honored with a statue in Richmond, Virginia and a historical marker in North Carolina.
Profile 315 tells of the woman who began the tradition of selling poppies to raise money for veterans.
Profile 351 shares the location of the statue of the only woman killed by enemy fire during the Vietnam War.
Profile 357 gives tribute to the founder of the National Women Suffrage Association.
Profile 360 honors the first Asian American female to win a Gold Olympic Medal.
Profile 361 is Viola Liuzzo, a 40-year-old mother of five who was murdered by the KKK.
I hope you will also check out the 62 museums across the country honoring First Ladies, scientists, athletes, pioneers, actresses, recording artists, and women veterans, not to mention cowgirls, female pilots and astronauts that I included in the book.
There are 363 profiles total of historic, courageous, intelligent and beloved women. You can read these profiles and find out what is in your own state in the back of the book. The book is available in eBook and paperback editions. I hope you enjoy reading about these women as much as I did.
Monumental Ladies can be purchased on Amazon: https://amzn.to/2VeMR8G. If you purchase the paperback, you can then buy the eBook for just 99 cents. The eBook has links to referenced materials like pictures of sites and biographies about the ladies profiled. The paperback makes a wonderful gift.