Lets Talk About That: Body Image
A personal speech about perception of our own body image.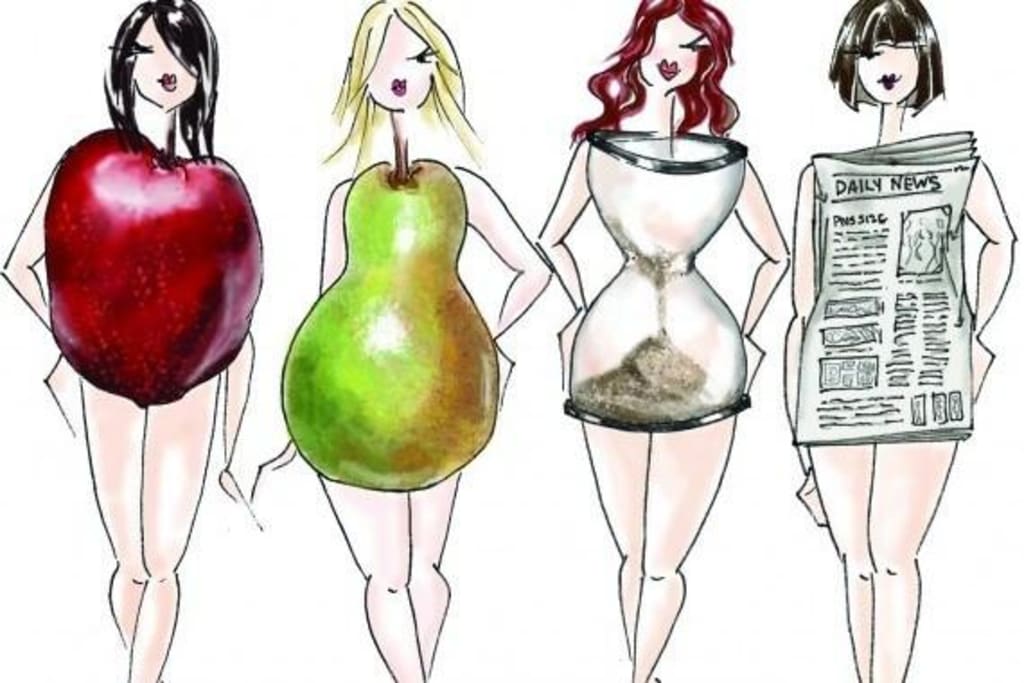 There was a girl name Sheryl and she was the brightest in her class. She was reading books and solving problems like no other student had. The only problem was her brother. Her parents weren't around much, so they never really influenced her in a important way but her brother was always around. What he would do is just make little comments about her that would hurt her feelings. He would say stuff about how ugly she was and how fat she was, even though she was not obese at all. One day, Sheryl's brother once again called her ugly and fat, but this time Sheryl did one thing that will follow her though the years. Sheryl looked in the mirror, checking her appearance.
What is body image?
The term "body image" refers to the way we perceive our own bodies and the way we assume other people perceive us. Because of the way we perceive the way others look, we begin to judge ourselves and want to look as good as the person we see in that magazine, movie, or in a book if your a very visual person. I worry for people who try to look a specific way, because they want others to accept them. The following three are the problems that are involved with body image.
Body image is a problem.
The first reason why body image is such a problem is because of child beauty pageants. Don't get me wrong, I don't see beauty pageants dangerous. I actually believe beauty pageants boost self-esteem for woman, but I see that sometimes some people could do it for the wrong reason. As I stated before, pageants are suppose to be fun, according to Christa Brown in the article "I Used To Love Competing In Beauty Pageants Until I Saw First-Hand What They Were Really All About." The judges would say "be yourself" to her, but she says "nothing they showed me made me feel that way." She felt like that she had to change her whole appearance so that she could just win. I mean, I get it. If you wanna win, you might go all the way even though you know you might lose. What just kind of ticked me off is when Christa Brown said, "in the end, it was girls who fit the Miss USA mold that came out on top, which was made clear when the top fifteen were chosen, there were very few women of color represented even though there were plenty of impressive contestants of color — ones getting their law degrees at Cornell and Harvard, one's, who, when I heard them speaking, made me think to myself, 'they must have killed their interview'. But these women didn't win anything substantial — just consolation prizes like Miss Congeniality or Miss Style." I do not see that right at all. Like Christa Brown, many women enter beauty pageants to challenge themselves and to do something new which is great! But beauty pageants shouldn't be about unrealistic standards of beauty, they should be about women who are beautiful inside and out. No wonder people are so afraid to show their true selves, it's because people judge there image without look at the bigger picture.
The second reason why body image is a problem is because of the media. Everyone these days watches television and has a phone, even most children have there own phone and/or tablets. What do all of these devices have in common? They all have a form of media. Media tells us what we should look like, gives us tips of how we should look like, or plain out shows us how we should look like in a form of commercials. According to www.mirror-mirror.org, "The National Eating Disorders Association reports that one in every 3.8 televisions commercials conveys on 'attractiveness message' telling viewers what is considered attractive." These messages create the idea that being thin is more attractive than having a normal and healthy weight. Overall, media influences us to worry about how other people perceives us, that it blinds us how we should look. To look how we want to look, not how others want us to look.
My final reason why body image is such a problem is what it does to a person's health. If you see yourself as too ugly, skinny, obese, too small, or even too tall, it could cause some symptoms according to mentalhealthexcellence.org. Symptoms, like anxiety, depression, over eating, lack of appetite, and obsessing over a single flaw in appearance. These symptoms could cause one's body image to become worse than how they first perceived it. Like mentalhealthexcellence.org states, "it's possible that physical abnormalities can cause body [deformity]." People these days are so worried about how they look, they don't think about their own health. What's worse is what people do to make sure they reach that physical appearance. One common thing people are willing to do to reach that physical appearance is making themselves throw up. According to newhealthadvisor.com, making yourself throw up as a regime is bad. Making yourself throw up commonly will cause damage to your digestive system, causes dehydration, and causes your stomach acid to erode your teeth and mouth. A person's health is very important to an individual, nothing can be more important than that. More important than one's body image.
Is there a solution?
What do beauty pageants, media, and health all have in common when it comes to body image? What they have in common is that children are involved in each of these problems. Children are the future, they are our future. If we influence children to not worry about how others look at them, these problems will be solved.
According to most contestants, Beauty Pageants are suppose to be fun but just imagine this. A mother making her little girl enter into these pageants, controlling every little aspect of that little girls life, making her eat less than she needs and telling her how she should look like. As that child grows up, she will want that attention as she did when she was up on that stage during that pageant. One day, if you want your child to be in a pageant, make sure it's for the right reason. One should not condition a child to believe the only way to look beautiful is through others, teach them it's all about what's in the inside that counts.
The media is a common thing to talk about these days and today is no different when I speak about how media is controlling how children should think. These commercials giving false body image through photoshopped images. Can you stop your children from seeing these false representations of body image? No, because media is difficult to avoid today unless you want to become a pilgrim and move away from the big city. Just keep a eye out for that child, whether if that child is your little brother, little sister, son, or daughter. Make sure you reassure them that how people perceives them should't matter, what matters is how they think about their own boy. The more you tell a child that, the more they'll believe it.
Ones health is important to an individual person. It's more important that children have good health. If children have a good regime of eating healthy and getting the right amount of exercise, they will grow up to worry less about their body image. If a child grows up with the right regime of taking care of there own health, then hopefully that'll condition them into accepting their own body image.
Objections
Even though body image is a serious problem to deal with, there are people who would disagree. One thing someone might say would be that there are more important things we need to worry about a child's growth. I disagree! I remember growing up thinking I was not worth it, because I didn't look like a specific person I saw on television. Let me tell you, I always wonder if my life was worth it and as I grew up into high school I kept thinking the same thing. And I pretty sure a lot of other children growing into young adulthood thought the same thing. Children's future are our future and to make sure we have the right future, we have to make sure children are taken care of and watched over.
Another disagreement one might also say is that looking a specific way could be in result of a parents gene and I admit, there could be a result of obesity because of parent's genes. But what I'm trying to say is that one should be comfortable with there body, not change it. That is why I stated before to make sure you reassure children that it's what they think about their body, not others people's unrealistic ideals of what a body should look like.
A Better World
We live in a world today where teenagers commit suicide because they were worry about what others say about their body image. We live in a world where people are worried about how they should look like to please other people. I want to live in a world where people could live with their body whether if other people like it or not. I want the people of tomorrow to take comfort of their own body and not worry of what others think.
How can we reach this world where people are taking comfort with their body? We reach there with the children that are with us today. We teach children to take care of their own body for the right reasons. We explain to them that what they see on television is a false representation of body image. We must reassure them that how other perceive their body image does not matter. What matter is how they perceive it.
Sheryl's Story
If you remember, I've told the story of Sheryl and what she had been through. But, I didn't mention what happened to her after she looked in the mirror. You see, after Sheryl looked in the mirror she fell into a deep depression, she ate less, and when she did eat, she would go to the bathroom to force herself throw up. As she grew up, she would always make fun of her weight or how she looked. For some reason, she always thought making fun of herself was a way to make her feel better. Little did she know, it was making it worse. Years later, Sheryl is 34 years old with children of her own. She remembered how her brother treated her calling her names that made her worry about her body image. Sheryl will not let history repeat itself. So Sheryl was sure that she teaches her children to be comfortable with their body and not to worry what other think. As I close off here, I just want you to know that we all can forge what the future holds, just like Sheryl. And remember, there is a Sheryl inside us all.