Awesome Feminist Gifts that Donate to Planned Parenthood
Love feminism? Love birth control? Buy these feminist gifts that donate to Planned Parenthood for a gift that keeps on giving.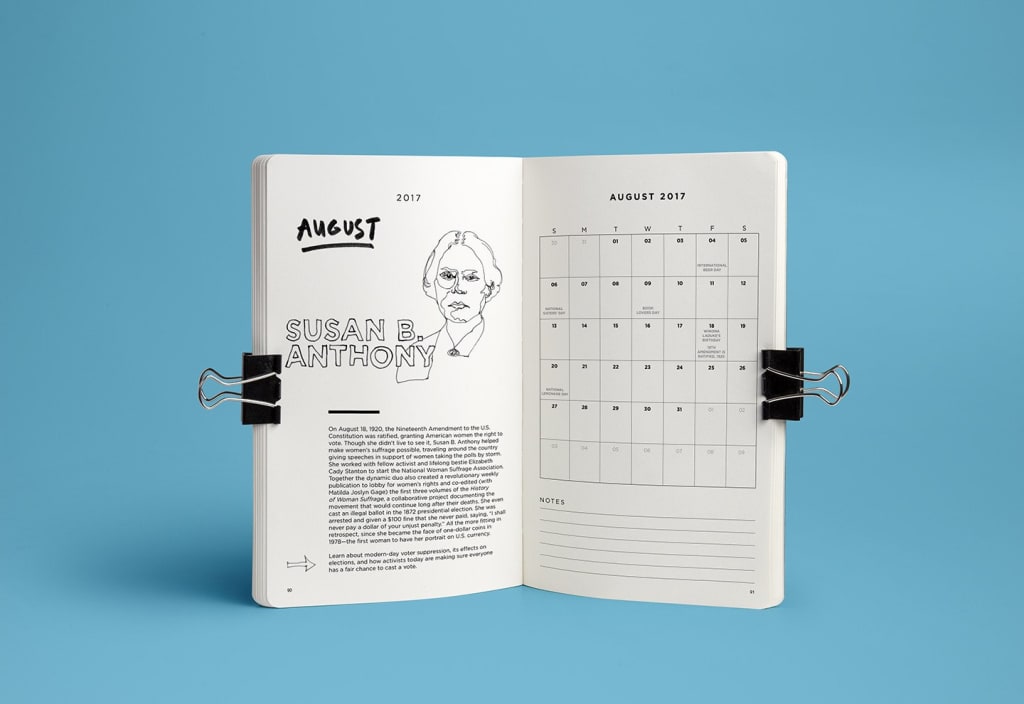 If there's one thing we can all agree on, it's the fact that women's body autonomy is under attack. With Planned Parenthood being defunded by the GOP, and abortion rights continually being dialed back into the 1950s, it's our duty to fight back as hard as we can.
Obviously, there is a commerce side to this. Organizations like Planned Parenthood can't exist without funding. If you want to help keep it alive, you're going to need to donate.
This upcoming holiday season, give the gifts that keep on giving, by using this guide of awesomely feminist gifts that donate to Planned Parenthood, for that special feminist in your life.
Show your support for the resistance and unleash your inner Nasty Girl with this exceptionally stylish Lariat Necklace. All Adornia necklaces are feminists gifts that donate to Planned Parenthood and other empowerment organizations. So, you really can't go wrong with anything you get from them.
This is one of the coolest planners ever, and not only because it's one of the many feminist gifts that donate to Planned Parenthood. Buying this planner will show you amazing facts about powerful women and the fight for your bodily autonomy.
The Shrill Society donates 50 percent of the profits to PP. And they give you an amazing planner. What's not to love?
You'd be surprised to find out how many of your favorite artists have banded together to create feminists gifts that donate to Planned Parenthood. 7-Inches for Planned Parenthood is an album you can buy to support the cause alongside them.
It's an album project that had some of the biggest names in music, comedy, and women's rights who came together for the cause. Some of the names you might know include Common, Mary J. Blige, Margaret Cho, the Foo Fighters, and Margaret Atwood.
Impressive? Absolutely. And, it's emotional, too.
If you're looking for feminist gifts that donate to Planned Parenthood, why not buy something that was literally their work? Hear Me Out is a book released by Toronto's chapter of Planned Parenthood, and shows the memoirs of gay teens who decided to come out.
Heartwrenching, educational, and absolutely stunning, it's a tour de force gift that will definitely be welcomed by both feminist and LGBTQ activists alike.
Yes, a lot of the feminist gifts that donate to Planned Parenthood will be coming in the form of music albums, books, and similar stuff. This particular punk rock album has just about everything that you could possibly want in a #Resist gift.
It has Trump looking like the jackass he is on the cover. It has a portion of the proceeds going to Planned Parenthood. And it has cool punk rock tracks. What more can we say?
If you're looking for feminist gifts that donate to Planned Parenthood, you can't get any better than checking out The Outrage. This is an organization that has the main goal of donating up to $1 million to organizations currently under attack by the right wing.
Your favorite feminist poker fan will love this deck of playing cards, featuring 14 of the coolest female role models out there. Women commemorated in this deck include Hillary Clinton, Betty White, and Ellen DeGeneres.
Babeland is a sex toy company that's chock-full of feminist gifts that donate to Planned Parenthood, and that's thanks to their "Come for a Cause" line. For male feminists, we found this uniquely stylish, limited edition Tenga Egg masturbator.
As you know, Tenga makes some of the best sex toys for men, so, quality is not an issue here. These masturbator sleeves feel great and also have artwork by 80s pop art legend Keith Haring. And, a portion of the proceeds go to Planned Parenthood. If you've been looking for a sex-positive guy gift, this is it.
Looking for a way to "Come for a Cause" while female? Ladies ought to know that Babeland actually has a small line of sex-positive, low-key sex toy jewelry inspired by 60s fashion icon, Twiggy.
This massage ring looks hypermodern, and has two balls that are perfect for kneeding, that work-related tension away. When pressed against certain body parts, they can allow you to get rid of sexual tension, too. (Get my drift?)
If you remember the Women's March, then you're gonna soon understand why this is one of the best feminist gits that donate to Planned Parenthood. Why We March is a book that shares women's voices and why they decided to march against the patriarchy.
This is a book that highlights women's rights in the best way possible, and also shows where the history of feminism will be in 20 years. With hope, we will not have to continue marching by that point.
Yes, they donate to Planned Parenthood, and yes, this tote is savage AF. That's why it's one of the best gifts for feminists who are tired of seeing all the sexual assault stories on the news.
Last but not least, let's talk about giving the gift of birth control.
Lovability is a company that has long been producing sex-positive, feminist gifts that donate to Planned Parenthood and promote sexual wellness. Lovability is all about letting women empower themselves through the use of condoms.
This season, give the gift of birth control with a handy pack of condoms. These vegan, latex condoms come with a stylist carrying tin that will make you proud to insist on a condom every time.
About the Creator
Ossiana Tepfenhart is a writer based out of New Jersey. This is her work account. She loves gifts and tips, so if you like something, tip her!
Reader insights
Be the first to share your insights about this piece.
Add your insights