3 New and Underrated GIRL POWER Shows!
For those days when you want to feed your inner feminist.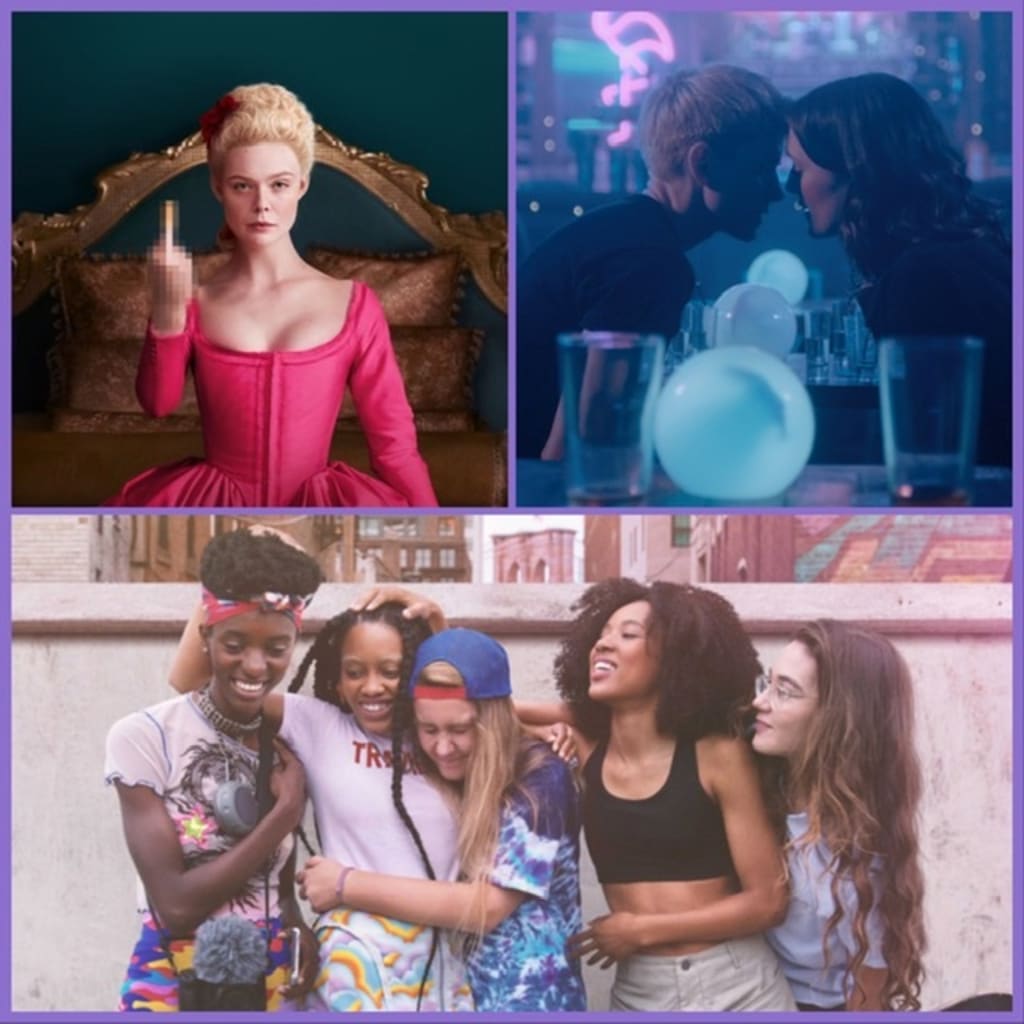 I spent May and July watching over a dozen new comedy shows. While I recently wrote a piece about which shows I found the funniest, there were many programs I wholeheartedly enjoyed and wished I could recommend. Unfortunately, not all of them fit the criteria for the article. Maybe the episodes were too long in length or there was a performance in another show that was funnier. Maybe they were dramedies rather than comedies. That doesn't mean the shows I rejected were bad. In fact, there were three shows in particular I couldn't get out of my head, even though I couldn't include them in my original ICYMI piece.
Fortunately, those three shows are about some pretty cool, caring, and badass female characters.
They say the future is female. In 2020, I think I've seen more TV shows with female protagonists than I've ever seen in the last 22 years of my life. As a woman, it makes me so happy to know the industry is being more inclusive to our stories. Even more, they're telling our stories in fresh new ways - breaking down the patriarchy one killer episode at a time.
Here are three new and underrated shows that'll make you want to hug your gal pals and tell them you love 'em.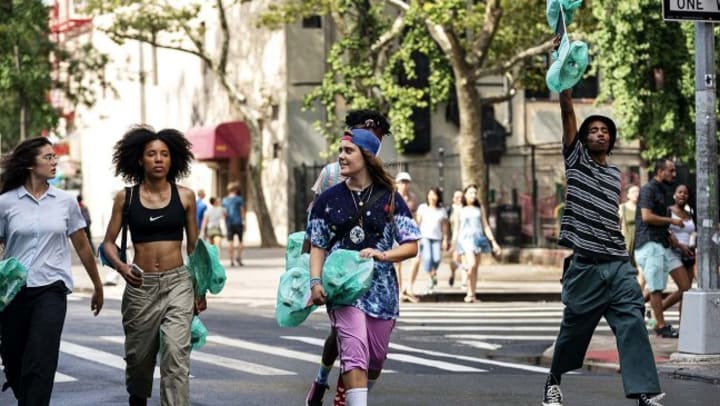 CREATED BY: Crystal Moselle (Skate Kitchen, The Wolfpack, Frida)
STARRING: Dede Lovelace, Kabrina Adams, Nina Moran, Ajani Russell, and Rachelle Vinburg.
We need to talk about Betty. I remember last summer, when casting calls were released looking for female skateboarders for a new HBO show. I was so mad at myself for giving up trying to learn how to skateboard the summer before, because the premise sounded awesome. After watching the show, I'd really like to take a crack at skating again.
Betty is about a diverse gang of girls as they go on adventures and navigate the male-oriented world of skateboarding in NYC. There's Janay (Dede Lovelace), the strong-willed matriarch type who tries to figure out if her brother is lying to her after he's accused of sexual assault. Honeybear (Kabrina Adams) is the shy-yet-perceptive filmmaker of the group. There's the talented Camille (Rachelle Vinburg) who's sort of a frenemy for the girls, but still works hard to try and gain respect from their male counterparts. Indigo (Ajani Russell) is the new skater chick with a rich upbringing and iconic bleached-blonde eyebrows. And then there's my favorite, Kirt (Nina Moran), the hilarious, burly wild card who's got a reputation for picking fights, but has the most heart.
With more authentic young adult shows like Euphoria gaining popularity, Betty is going to be a mainstay for HBO's teen and college-aged audience. The problem is that it doesn't get as much buzz. And it really should, given how well its predecessor, the indie film Skate Kitchen, did during its festival run. And I mean, who doesn't want to watch girls kicking ass and taking names while shredding on skateboards?
Also, if you're into movies or shows with more realistic acting and an NYC setting (Such as the 1995 film Kids or anything the Safdie Brothers have ever made), this is the show for you. The acting and dialogue is so natural, it almost feels like you're watching a documentary. Which is no surprise, given the show's creator, Crystelle Moselle, is the director behind the award-winning documentary, The Wolfpack. (2015)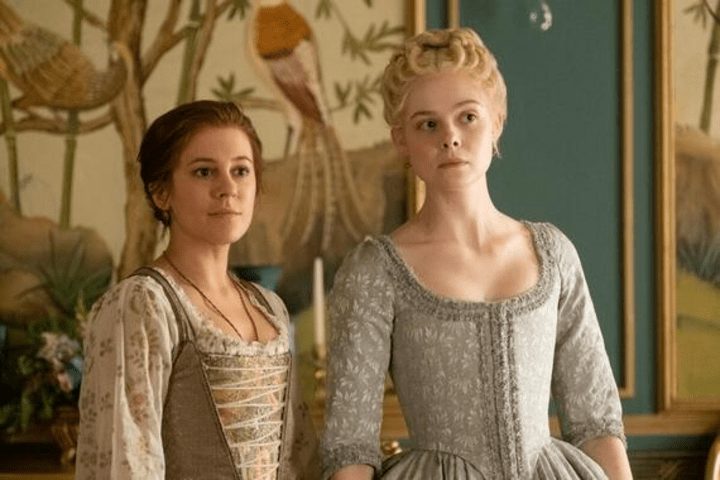 CREATED BY: Tony McNamara (The Favourite, Cruella)
STARRING: Elle Fanning, Nicholas Hoult, Phoebe Fox and Sacha Dhawan.
Y'know how people weren't aware of how awesome Alexander Hamilton was until Lin-Manuel Miranda turned his life into a Tony Award-winning musical? That's kind of what this show is doing, but for the legendary Catherine The Great of Russia.
A satirical take on the empress's life, The Great tells the story of a young Catherine (Elle Fanning) trying to overcome the struggles of royal life after she's married off to the hateable-yet-hilarious Russian emperor, Peter III. (Nicholas Hoult at his best!) Catherine is distraught by the cruelty of her husband until her chambermaid, Marial, suggests Russia would be better off if Peter were dead. (Marial is played by the wonderful Phoebe Fox: a criminally underrated actress I've been following for years and am SO HAPPY has a leading role in this big-budget show!) If Peter were to die, Russia would go to Catherine. With this new idea, Catherine turns to court intellectuals like Orlov (Sacha Dhawan) to help form a secret coup and overthrow Peter.
The atmosphere of The Great is so posh and exquisite, but the people who live in it are far from that. If you loved The Favourite, this is a good companion piece from the same writer, Tony McNamara. One minute, people are dancing gracefully and giving a toast to the health of the empress. The next, they're screaming, "HUZZAH!!!" and pelting their wine glasses down to the ground.
You'll fall in love with Catherine. During the real empress's reign, she expanded trade for Russia, allowed education for women, helped to overthrow the Ottoman Empire and even kept in touch with Voltaire. Her genius led to a golden age for Russia from 1762-1800. Elle Fanning manages to balance the woman's innate idealism, ambition, and dark side beautifully within her performance.
While I knew a few people who have already binged season 1 of The Great (Hulu did a stellar job advertising the hell out of this show), I don't think it gets enough credit from the press. I've been checking recent lists for top-rated Hulu shows. Despite The Great's good critical acclaim, it's been mish-mashed between shows that have been on the streaming service for far longer, or just completely forgotten about, like in this list. I have a feeling it's going to end up in the same situation as Fleabag, where it will slip under people's radar until awards season rolls around next year. Only time will tell for this great show. HUZZAH!!!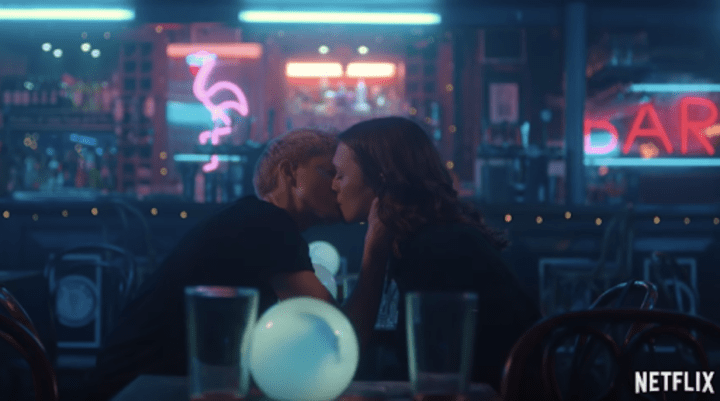 CREATED BY: Mae Martin (Baroness Von Sketch Show) and Joe Hampson.
STARRING: Mae Martin, Charlotte Ritchie, Sophie Thompson and Lisa Kudrow.
I'll admit, I didn't get the time to watch as much of Feel Good as I wanted to before writing this article, but from the few episodes I've seen so far, I can confidently say it is one of the most unique shows I've ever seen.
Take Euphoria, give it a slightly lighter edge, set it in the UK and replace the teens with distressed 30-year-olds, and you get Feel Good. I feel horrible comparing it to Euphoria, because the two are like apples and oranges, but that is the closest I can come to describing how entrancing and honest this show is. It's an autobiographical comedy/romance/drama about an aspiring Canadian comic, Mae (played by Martin herself), struggling to overcome her drug addiction while trying to build a new life with her girlfriend, George. (Charlotte Ritchie) Mae is befriended by the zany Maggie (Sophie Thompson), an older woman from their support group struggling to fight her own battles. Additionally, Lisa Kudrow makes appearances as Mae's witty yet insufferable mother.
Martin is a bright star waiting to be discovered. She has this soulful quality in her eyes and voice, and possesses the rare gift to make herself an open wound on camera. You can't help but empathize with her from the moment you see her shuffling into a comedy club with a harsh audience - predominantly male competition waiting to tear her act to shreds. She is magnetic, and you feel the same anxiety she feels whenever she's thrust into an unexpected situation. (Which seems to happen a lot.) Also, without Martin's sharp writing and real experiences, the plot of this show would not work nearly as well if it were written by anyone else.
I remember when my creative writing professor, an ex-alcoholic, opened up to my class about the hypocrisy support groups for addicts try to hide. "They're just trying to get you to trade one addiction for another," he said, "for AA specifically, that addiction is religion. No one will say it, but it's the truth."
So when Martin said the same words, "we're just trading one addiction for another," during a support group scene in the second episode, I stood up and clapped.
It is the first show I've seen to talk honestly about addiction in this way. Whereas drug recovery shows like Euphoria scratch the surface when it comes to the root of addiction and how it relates to obsession, Feel Good has the guts to sit down and have an uncomfortable discussion about it. This show also has other themes prevalent in drug recovery memoirs, such as having your true identity rejected by those you love, and the craziness we inherit from our parents.
I haven't finished the first season of Feel Good yet, but I really hope Mae makes it. She is a wonderful underdog to root for, and I can't wait to see Martin's future creative work.
That's it for this list! Hope you enjoyed the feminist picks, and thanks for reading. :) <3
____________________________________________________
AUTHOR'S NOTE
Any tips left on this story and others will be going to BLM to fund the movement. For every individual contribution, I'm also donating a dollar into the fund. (So if ten people donate, that's $10 from me.) If you'd like to learn more, click here! Don't forget to keep signing petitions and sending emails. If you're looking for something to do, here's a masterlist of ways you can help out!
For this challenge article, I'm recommending A Bit of British by Savvy Dalmia. "Flowers" is DEFINITELY an underrated British show and has a great Olivia Colman performance many people have overlooked. I'm excited to watch the two other recommendations on the list.
*Whew* I wrote three articles in a week and now need a very long break to play Animal Crossing. Toodles. :D
-Katy