These 3 Shows Will Make Your Gut Hurt From Laughter In 30 Minutes Or Less
In case you missed them, here are three fresh TV comedies that are short, sweet, and oh so silly.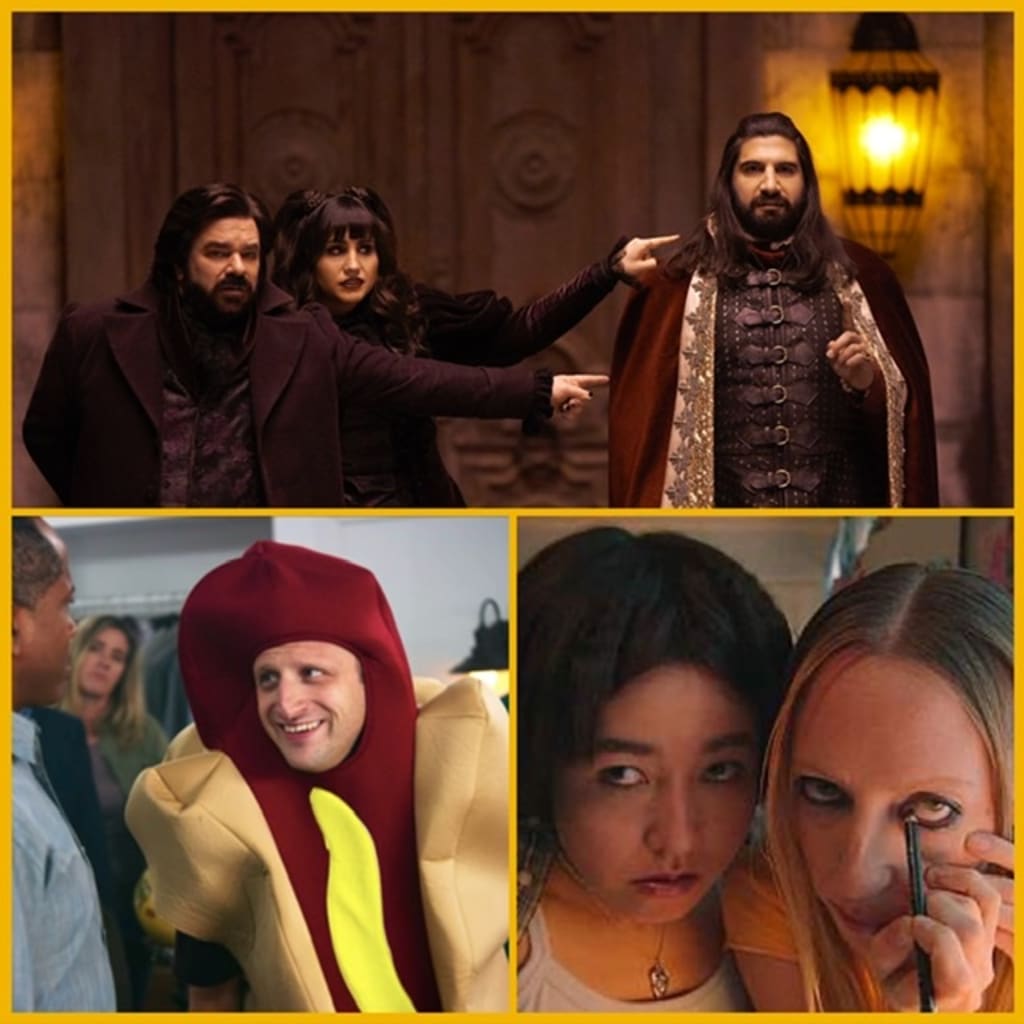 It is a truth universally acknowledged - by TV junkies, at least - that the 30 Minute Episodic Comedy format is the greatest gift given to mankind. When I was a humble intern grading new screenplays for the Nantucket Film Festival, I would jump for joy when the submissions manager assigned me the TV 30's. 30 Minute Episodic Comedies are short, sweet, and forced to be smart due to their defining time constraint. No wonder cult classics like The Office, Veep, Fleabag, Atlanta, Seinfeld, and Friends all fit into this golden category.
I spent May binging over a dozen new TV comedies I kept hearing about through the "Film Twitter" grapevine, acting classes, and recommendations from friends and the web. It was hard to pick my three favorites for this list. I'll be leaving some honorable mentions below, because I'm that kind of softy who likes to give medals of participation. You've been through a hard year, dear readers, and you deserve all the happy TV shows you can get.
Anyways, here are three of my new favorite shows (with two seasons or less), that will give you some needed laughter during this apocalyptically rough year.
1. What We Do in the Shadows (FX)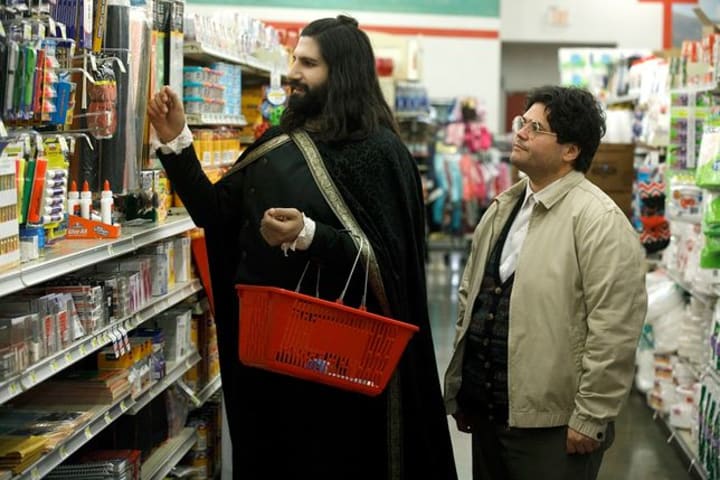 CREATED BY: Jemaine Clement (Flight of the Conchords, What We Do in the Shadows, Moana)
STARRING: Kayvan Novak, Matt Berry, Natasia Demetriou, Harvey Guillén, and Mark Prosch.
With people creating cult fandoms around mockumentary hits such as The Office or Parks and Recreation, I'm surprised this gem hasn't risen to the status of its predecessors. A spin-off of the 2014 indie film with the same name, What We Do in the Shadows is a show about the nightly lives of three vampires living together in Staten Island.
There's Lazlo and Nadja - the kooky vampire couple that loves to sing together and get frisky behind the scenes. (They're charmingly portrayed by British legend Matt Berry and small screen queen Natasia Demetriou.) Then there's Nandor: a former warlord who looks scary but acts more like a naive puppy. (Kayvan Novak) He's accompanied by his servant, or "familiar," Guillermo (brilliantly played by Harvey Guillén), who wants nothing more than to be turned into a vampire himself. Additionally, there's Colin Robinson (scene-stealer Mark Prosch), a so-called "energy vampire" who feeds off of peoples' sheer boredom to his presence.
I remember seeing advertisements for this new show a year ago and worrying it wouldn't live up to the hilarity of the film. (Which stars Jemaine Clement, Jonny Brugh, and the now Oscar-winning screenwriter, Taika Waititi.) I wasn't the only person who shared this fear: a lot of my college peers stated they wouldn't be watching the show's premiere because they didn't want to get their hopes crushed. I was one of the brave few who decided to watch it, and was totally surprised. Not only does the show match the movie's sense of humor - with more time to delve into the vampires' routines and personalities, it's actually far better than the movie.
I had the privilege of meeting Bernadette McBrinn at an acting class over Zoom last month. Bernadette is a casting associate for the show, and told me what it was like during the early days of pre-production.
"There was a lot of improvisation in the audition room," she said. "A lot of the show is based on improvisation, just like in the movie. Jemaine and Taika are two of the sweetest guys you'll ever meet. They were really open to everyone contributing their own creative process into the show. I think that's why it works so well."
What We Do in the Shadows isn't funny because it's about vampires: it's funny because it's about vampires who struggle to adapt to normal human life. You'll love this show if you like other mockumentaries, as well as vampire lore and mythology. You can sink your teeth into What We Do in the Shadows on Wednesday nights (10 pm EST, 7 pm PST) on FX. (If I get this article in on time, the season 2 finale is tonight!)
2. PEN15 (Hulu)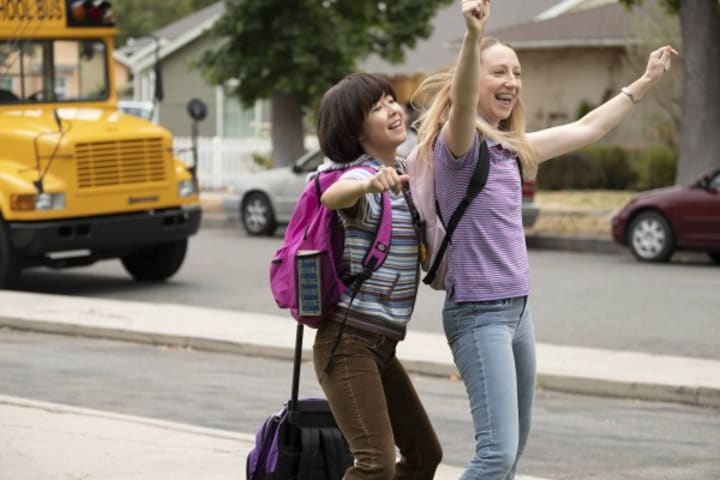 CREATED BY: Maya Erskine (Wine Country, BoJack Horseman, Bob's Burgers), Anna Konkle (Ramy, Rosewood, Project Reality), and Sam Zvibleman.
STARRING: Maya Erskine, Anna Konkle, Melora Walters, and Dylan Gage.
Comedians Maya Erskine and Anna Konkle didn't go to middle school together, but when they met their junior year of college during an experimental theater workshop abroad in Amsterdam, the two instantly bonded over their IBS issues and performance anxiety.
The besties tried to make it in the theater world, but eventually found themselves in LA. After creating a web series together, new inspiration struck. The duo were at a party that was attended by many of Erskine's former middle school classmates. Just by being there, Erskine felt herself reverting back to a seventh-grader. She couldn't understand why she hadn't moved on from her traumatic teen experiences as an adult.
And that's how the idea for PEN15 was born. In this cringe comedy set in the year 2000, Erskine and Konkle play 13-year-old versions of themselves while every actor around them is portrayed by actual teenagers.
Maya is the class clown of her peers, while Anna is the musically-inclined friend with an obsession for B*Witched. Both are far from being popular. The show is great at exploiting its central joke regarding Erskine's and Konkle's real ages, and isn't afraid to shy away from touchy subjects and situations. (Don't worry - doubles are used for the REALLY touchy stuff, if you know what I mean...)
If you're looking for something like Bo Burnham's Eighth Grade but with the punchy, irreverent comedy of Booksmart or Lady Bird, this is the show for your next binging session. It's crazy how Erskine and Konkle can brilliantly play such awkward, clingy younger versions of themselves when in real life, the pair are probably the most badass, confident women to strut this planet.
3. I Think You Should Leave with Tim Robinson (Netflix)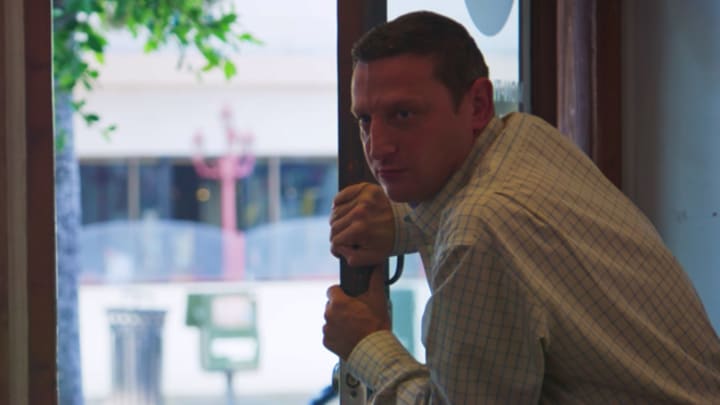 CREATED BY: Tim Robinson and Zach Kanin (Saturday Night Live, Documentary Now!, Detroiters)
STARRING: Tim Robinson, Matt Knudsen, Sam Richardson, Vanessa Bayer, Steven Yeun, Andy Samberg and Cecily Strong.
You know who John Mulaney is: he's a former SNL writer who was catapulted into the public eye after launching a solo career. But do you know about Tim Robinson? After making his debut as a featured player on the beloved sketch show, Robinson was transferred to SNL's writing department, where he stayed from 2012-2014. He was also a cast member, known for his Ben Bailey and Bill Cowher impressions. Additionally, he's appeared on Late Night with Seth Meyers twice as Seth's "emergency sidekick."
His new sketch show, I Think You Should Leave, is extremely bingeable. The six episodes of the first season are only fifteen minutes long. Each episode contains four absurdist sketches - some of them reject sketches from Robinson's time on SNL. In fact, the whole series feels like watching a compilation of SNL digital shorts. (Or even Adult Swim sketches.) And to top it all off, there are some guest appearances from SNL stars: including Vanessa Bayer, Cecily Strong, and Andy Samberg. (Samberg's company, The Lonely Island, also produces the show.)
I'll be honest: not all of the absurdist sketches hit home for me. There are times when things can feel too over-the-top, or the humor is reliant on cheap poop and fart jokes.
But when this show gets funny...oh my god is it f*cking funny.
If you're in any way skeptical, I dare you to watch the clip below, completely out of context, and try not to laugh. No, seriously. Stop scrolling through this article, turn on your sound, and watch the damn clip. If you so much as chuckle, you owe me a tip or like on this article.
Okay, I don't know WHAT was the funniest part of that clip...the hotdog costume, Tim "discreetly" stealing suits in front of many watchful eyes, the piano music, the porn speech, or the way he pronounces "bare butt, balls and back."
Fortunately, Netflix has just renewed I Think You Should Leave with Tim Robinson for another season. Watch it now before it goes mainstream. I'm hoping the hotdog burglar makes a return.
And that's it for my top three picks! Go forth and enjoy them. :) But first...
SOME HONORABLE MENTIONS...
Los Espookys (HBO) - If What We Do in the Shadows wasn't on this list, I guarantee you this would be number one. It's about four friends working in the "horror business," and set in an unnamed Latin American country. Fred Armisen's in it, too. Please do yourself a favor and watch it. It deserves much more love.
Trigger Warning with Killer Mike (Netflix) - A nonfiction comedy series where Run the Jewels rapper, Killer Mike, conducts a crazy social experiment every episode. Informative, brave, and a necessary watch during these times of fighting racial injustice.
The Midnight Gospel (Netflix) - This was going to be on the list, until I saw it on other people's recommendations. This is like if podcast episodes, psychedelic animation and dark comedy got mixed together in a blender. Like drinking a milkshake, it goes down sweet and smooth.
High Fidelity (Hulu) - Fun fact: I got to be an extra during the scene where Robin and Simon first meet at the club! (Zoe Kravitz came to my workplace a few months later and I DIED.) Based on the book and movie, High Fidelity is both hilarious and heartbreaking. Also this article proves the mixtape rules Robin talks about work. This show is like Fleabag, but more hipster-y and chill.
RUN (HBO) - Speaking of Fleabag, if you're suffering from Phoebe Waller-Bridge withdrawal, look no further than Vicky Jones's miniseries. (Jones is a frequent collaborator of Phoebe's and directed the stage play of Fleabag.) RUN is about two ex-lovers leaving their comfy lives behind after one of them texts the other "RUN." It's a wild train ride of a story. It's not a perfect series, but the chemistry between Merritt Wever and Domnhall Gleeson is SWELTERING hot. Also, Phoebe Waller-Bridge plays a lesbian taxidermist and has the funniest Whitney Houston karaoke scene I've ever had the pleasure of watching.
As someone who partly works in the entertainment industry, I know how important it is to support fellow artists. We may have been hit the hardest from the pandemic. So go out, give these series a try, and have yourself a good ol' laugh.
_______________________________________________
AUTHOR'S NOTE
Any tips left on this story and others will be going to BLM to fund the movement. For every individual contribution, I'm also donating a dollar into the fund. (So if ten people donate, that's $10 from me.) If you'd like to learn more, click here! Don't forget to keep signing petitions and sending emails. If you're looking for something to do, here's a masterlist of ways you can help out!
For this challenge article, I'd like to recommend Ghezal Amiri's piece, "3 Underrated TV Shows made for a Perfect Afternoon Binge." I wholeheartedly agree with all three of the picks.
Maybe I'll give another three recommendations if I have time. Stay tuned, and thanks for reading. :)
-Katy