WWE NXT Review: Edge Puts NXT Champion Finn Balor & Pete Dunne On Notice!
The 2021 Royal Rumble Edge didn't waste time appearing on NXT to put both NXT Champion Finn Balor & Pete Dunne on notice. Plus, Edge's epic confrontation with Karrin Kross backstage!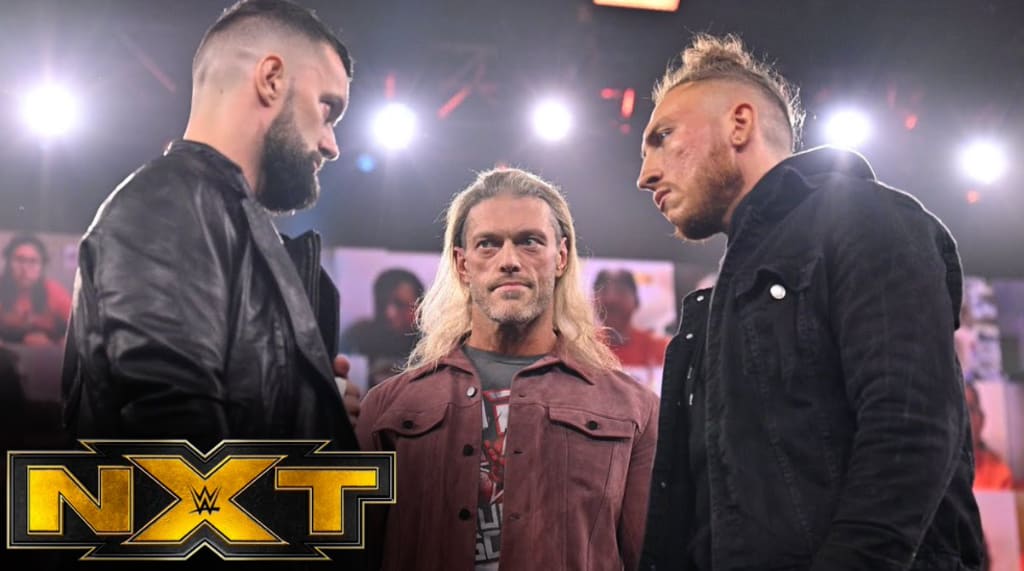 Image Credit: @WWE
Good day, fellow readers and NXT fans.
Welcome to 'M.A.R. Entertainment!'
The road to choosing a champion continues for 2021 Royal Rumble Edge....in Orlando, FL on NXT!!
Who would've thought that a Royal Rumble winner would visit an NXT building?!
Edge is the first Hall of Famer and wrestler to visit NXT for a chance to face one of the top wrestlers in the world, the NXT Champion, Finn Balor. Pete Dunne, a former United Kingdom champion, is also one of the best wrestlers to ever step foot int he ring. Both Balor and Dunne will compete at Takeover and whoever wins, Edge will decide if he wants to challenge the winner.
Once NXT aired, the 'Rated-R' superstar Edge wasted no time and intervened the segment between NXT champion Balor and Dunne for a challenge. Below is the video of Edge explaining his intent on being on NXT and stating that it will be intriguing to challenge for the NXT championship at Wrestlemania 37:
The Epic Confrontation Between Edge, NXT Champion Finn Balor & Pete Dunne
What made this segment special was Edge's confidence and willingness to wait for the match between Balor and Dunne to make his decision. The confrontation was the highlight of the night. Edge speaking to Dunne and telling him he 'reminds him of himself.' The 'brushing off shoulders comment was spot on. For Balor, Edge stated that the NXT champion is on another level.
If Edge wee to choose either men for the NXT championship at Wrestlemania, he would be the first wrestler/Hall of Famer to achieve that feat and win. I am surprised no one has ever thought about that stat.
There was one more highlight on this segment, and it was about the passion for watching NXT that allowed Edge to compete in the Royal Rumble. Hopefully, Edge challenges either men for the NXT championship. That would be very intriguing and exciting all at the same time.
The Confrontation Between Edge & Karrin Kross
After the segment, Edge went backstage and locked eyes with the unstoppable Karrin Kross. Unlike Edge, Kross never lost his title and vows to get it back. Kross would also be a great pick to face Edge down the road.
Now, Edge has one more stop to complete his Wrestlemania challenge journey is Smackdown.
As Edge prepares to go face-to-face with the 'Head of the Table,' the 'Tribal Chief' and reigning Universal Champion, Roman Reigns, will he make his decision?
I have to say, Edge appearing at NXT was a breath of fresh air. I know I am not the only one who experienced that same sentiment. This is a once in a lifetime where a legend or a Royal Rumble winner ever appeared at NXT for a chance to challenge an NXT champion.
My Thoughts
My thoughts about this whole situation is that after meeting up with Roman Reigns on Smackdown, Edge has a real decision to make. I have so much questions, I don't know where to begin.
I will just ask them anyway.
Will Edge choose to face 'Claymore City', the WWE champion, Drew McIntyre for the title?
Will Edge choose a different route and become the first wrestler in WWE history to challenge either Finn Balor or Pete Dunne for the NXT championship?
Will Edge be the man to end Roman Reigns' reign once and for all for the WWE championship at the grandest stage of them all?
All of these questions will be answered soon.
Let's hope Edge make his decision on Friday Night Smackdown.
Stay tuned for Edge's decision as the challenge journey continues!
If you enjoyed this post, make sure to donate and stay tuned for more upcoming reviews.
Every donation is much appreciated!
Stay safe and well everyone!

Michael Reynoso
The purpose of M.A.R. Entertainment is for all readers alike to experience entertainment in a fun, new way. There will be movies, sports, and artistry involved for me to do reviews, critique, and put forth my opinions on trending topics.
See all posts by Michael Reynoso →