Women's Hoop Review X
National Players of the Week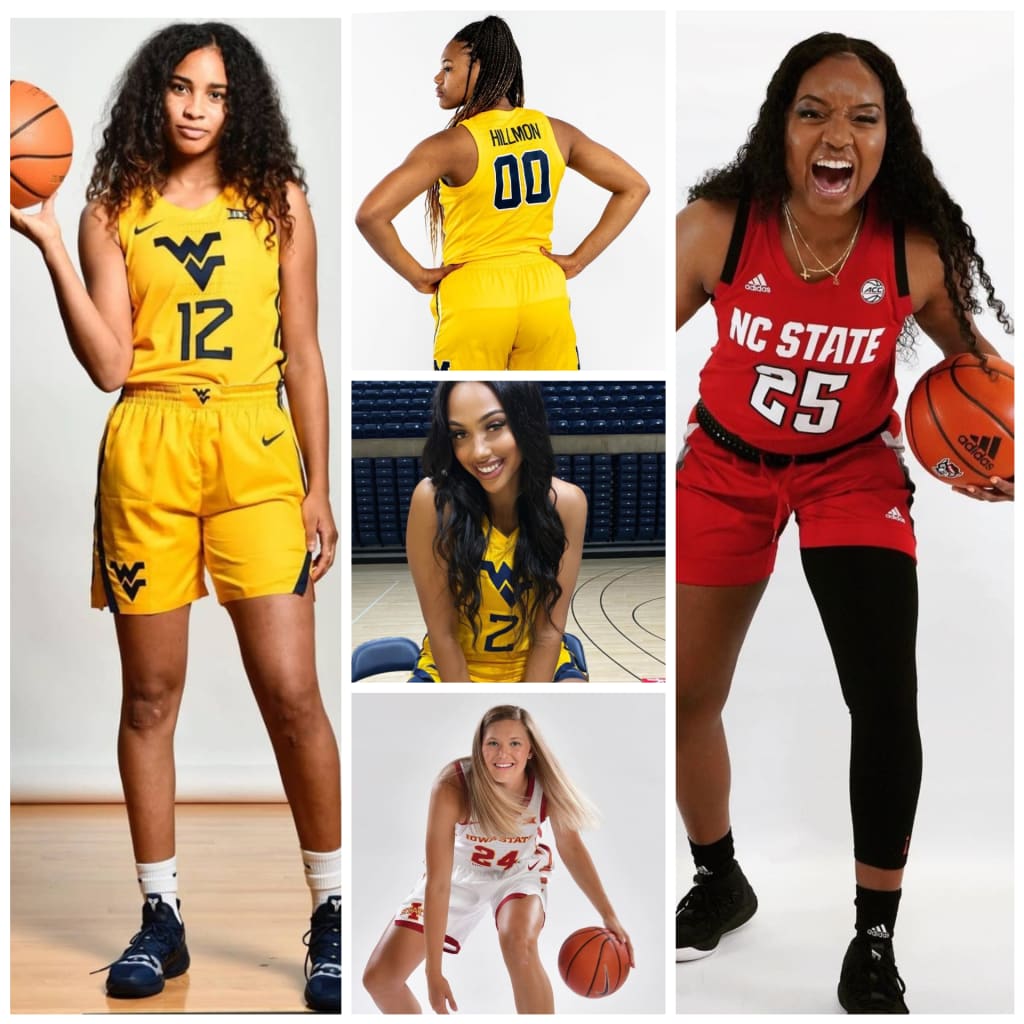 Esmery, Naz, Kayla, Kysre & Ashley
Ashley Joens - Iowa State - Junior Forward
In her first three games of the season, Ashley Joens averaged 31.3 points, 10 rebounds 1.3 blocks and one steal. Her first game was a 25-point, seven-rebound output against Nebraska-Omaha. Joens made a season high 11 field goals on 17 attempts. She followed that with an outburst of 36 points and 12 rebounds in a loss to South Dakota State. In that game she hit 15-of-16 free-throws.
Her third game was against TCU, where Iowa State improved to 2-1. Joens hit all 10 of her free-throws on her way to 33 points to go with 11 rebounds.
Naz Hillmon - Michigan - Junior - Forward
This 6-2 power forward and native of Cleveland, Ohio is a brute for opponents. Naz Hillmon is averaging 27.7 points, 9.7 points, 1.3 blocks and 1.3 steals so far this season. Michigan is off to a 3-0 start and she is a major reason. A noticeable improvement to her game has been free-throw shooting. She is a career 65 percent shooter from the charity stripe. In the first three games of the season Hillmon is shooting 84 percent, making 21-of-25 free-throws.
Her best game of the season came against Oakland where she dominated with 37 points. She posted two double-doubles so far this season. The first was 26 points and 11 rebounds against Central Michigan. The second was 20 points and 11 rebounds against Notre Dame.
Kysre Gondrezick - West Virginia - Senior - Guard
After transferring from Michigan, the 5-9, Kysre Gondrezick has been the go to player for West Virginia. This season she is red hot with a scoring average of 21.7 points through three contests. Gondrezick is shooting 58 percent overall, 56 percent from three-point territory and 88 percent from the three-point line. She has scored at least 20 points in every game and her shooting percentage has gone up in every outing.
Gondrezick shot a season best 66 percent during her 20-point performance against North Alabama. She scored a season best 23 points in the opener against Fresno State.
Esmery Martinez - West Virginia - Sophomore - Forward
In the first week of basketball, nobody has more rebounds than Esmery Martinez. After three games she has a Dennis Rodman-like average of 15.3 rebounds per game. The 6-2 forward, used her muscle and hustle against North Alabama to post 22 rebounds. Eight of those rebounds were offensive boards which were more than the opposition collected as a team.
Martinez also scored 17 points, blocked three shots and stole the ball two times in that contest. In the opening game against Fresno State, Martinez took in 15 rebounds with 14 points, two steals and four assists. So far in West Virginia's 3-0 start, Martinez is averaging 12 points, 15.3 rebounds, 1.7 blocks and one steal per game.
Kayla Jones - North Carolina State - Senior - Forward
With averages of 12 points, 8.3 rebounds, 2.7 assists and one steal per game, Kayla Jones makes our list as an important player that led her team to the biggest win of the year thus far.
On Dec. 3, North Carolina State toppled the top ranked team in the land South Carolina, 54-46. Jones played a season high 35 minutes where she scored 16 points, grabbed 12 rebounds with two assists and one block. The game was her first double-double of the season.
Prior to that contest, she scored 15 points in 19 minutes against North Carolina Central. In that game she made five-of-six shots, while collecting three assists and three steals. A career 32 percent three-point shooter, Jones is knocking down 80 percent of her three-point shots in her team's first three games which were all wins.