Top 10 Baseball Gloves for Pitchers
All gloves are not created equally. There are different gloves for different positions and if you want to be the next Clayton Kershaw, then check out the ten best baseball gloves for pitchers.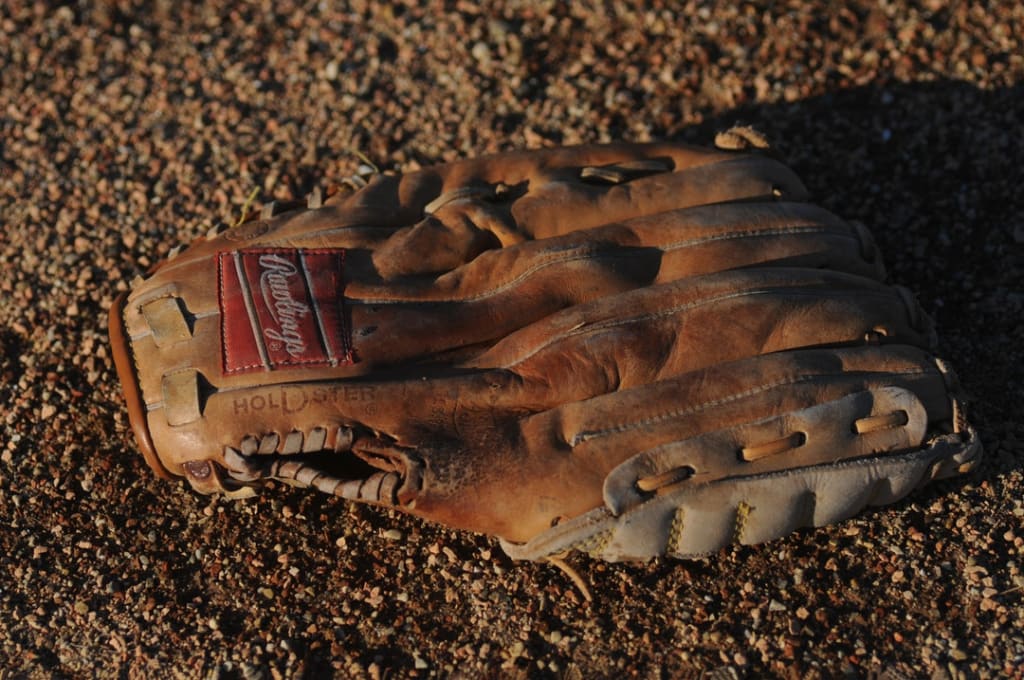 There isn;t much fielding equipment you need when you are playing baseball. That's why having the right glove is crucial to your success. You can focus all your energy on searching for the perfect design for whatever position you play because gloves are created differently to benefit certain spots on the diamond. Baseball gloves for pitchers are not the same as fielders gloves, and for good reason.
Both positions have varying responsibilities and experience the game in vastly different ways. It's important to know the exact differences and pick the glove that best suits where you are on the field. Of all the positions to choose from, pitchers need the most specific gloves because they have the most specific job. So if you're a pitcher and you're not sure what features you should be searching for, scroll down and see some of the gloves that can really help your game.
Ah, the nostalgia is strong in this one. I'm almost positive every kid that ever played little league had a Rawlings glove. That being said, Rawlings knows what they're doing when it comes to baseball gloves and they don't... wait for it... strike out with this model. The Champion Series is a quality glove.
It's best suited for pitchers because it has a 3D expanded basket-web, which hides your hand and grip on the ball. Now the batter will have no idea what you're throwing until after you've released the ball. It also comes already 70 percent broken in, leaving you only responsible for 30 percent. This also works out better for pitchers because they don't use their gloves for fielding as often, so having a glove already mostly broken in will only help.
Available on Amazon for both lefties and righties, Easton offers one of the more accessible baseball gloves for pitchers. The most important aspect of this glove is the VRS palm pad. With this palm pad, your hands will feel more comfortable and sting less. For a pitcher, whose hands are constantly in their glove and touching the ball, this would be ideal. Couple that with Buffalo leather the glove is made with and you have an incredibly comfy glove. The sleek design will make you look like your favorite professional baseball player and strike fear into all batters who oppose you. At the very least, they'll respect your look.
I told you, Rawlings knows what it's doing. The baseball glove giants are at it again with the Heart of the Hide series, specifically their Heart of the Hide model. Designed with pitchers in mind, there's a padded thumb sleeve which ensures you feel premium comfort and fit. Pitching is all about getting into a rhythm and in order to do that you must feel comfortable on the mound. This glove will provide the comfort, leaving it up to you to supply the rhythm.
Available in 31 color designs, this glove allows you to be more reserved or one of the more flashier players on the diamond. The Trap-Eze web will hide your fingers from the hitter and is perfect for snagging line drives. Pitchers normally don't have many line drives directed at them, if at all, but if you ever do have one ripped your way, you'll want a glove that can hold up at the right moment.
Another Goliath-sized sports brand takes a stab at baseball gloves for pitchers. Under Armour's UA Flawless is pretty solid in every aspect you would be looking for. Possessing a leather palm lining and made with a top steerhide, the comfort is certainly there. Expert glove technicians were responsible for the fit and balance of the glove, showcasing that is covered in that department as well, both of which are necessary for a pitcher to succeed.
Modeled after the most dominant pitcher in the MLB's glove, Clayton Kershaw, the Wilson A2000 will have you looking like the Los Angeles Dodgers ace whenever you take the mound. Let's face it, if there's one pitcher you want to be like in today's game, it's Kershaw. The southpaw has electric stuff, tremendous control, and is the author of numerous iconic moments. My favorite was against the San Francisco Giants a couple years back, it was one of the best MLB opening day performances in history.
This glove comes with a simple two-piece web for those who aren't looking to be too flashy. The DriLex wrist lining will keep your hand cool and dry, which will help your grip and won't affect the ball too much when you rub it down. Just be sure to check with the umpire when doing this, in order to avoid disqualification or any other nasty consequence. If you want to be anything like the best pitcher in baseball, who just silenced his critics with his World Series performance, you might want to look into this glove.
Although generally associated with bats, Louisville Sluggers does also make baseball gloves for pitchers. The 125 Series is relatively cheap for the quality of the glove and still provides all the functions you need. The H-web provides closed webbing, which keeps your hand guarded against prying eyes and line drives (mad rhymes, I know). It requires minimal breaking in and has the traditional baseball glove appearance. For what it offers and the price attached to it, this is the best deal.
Wilson has done it again. The A2K glove passes the eye test (it looks really cool), possesses double palm construction, tremendously improving pocket stability, and is made of Copper Pro Stock Select leather, known for its durability and performance capabilities. The length and depth of the glove allow you to hide your grip and even change it multiple times without being seen. You can trust the official glove of Major League Baseball, all the superstars do.
Rawlings cranks out baseball gloves for pitchers like it's going out of style. This glove is an installment from their Renegade Series and is perfect for those who are just starting to pitch. It has a cushioned leather palm, which protects the pitcher from any line drives or any other balls that will impact their glove. The Velcro strap offers an easily adjustable fit if you're a pitcher who is still growing and changing sizes seemingly every other week. Bottom line, this is a good starter glove if you're interested in pitching.
Are you a Nationals fan? So you must've hated the Kershaw glove above? Well, don't worry, I have you covered too. The only pitcher in the MLB who could give Kershaw a run for his money over the past decade, and no I'm not talking about Shohei Ohtani and his bright future. I am talking about Max Scherzer, who just so happens to have his own modeled glove available.
The glove has a sheepskin palm which cancels out any moisture accumulation and has a padded thumb sleeve for extra protection and comfort. Going the extra mile, as pros often do, this glove also has 100 percent wool padding so that it keeps its shape and lasts. You have two Cy Young award winners as options, take your pick.
Coming from the X2 Elite Series, Nokona's the X2-1200 is one of the better baseball gloves for pitchers. If my word (which is oak) is not enough to convince you, I have a few details you'll probably be interested in hearing.
This glove is made of stampede leather, which is a full grain, full oil steerhide that's perfect for consistent usage and can be broken in with ease. The closed webbing and back give you the privacy you need and just that image above shows how deep the pocket sinks.
About the Creator
Love sports and travel! Fan of almost every major sport and a soon to be world-renowned traveler (mostly interested in the food and drink of other cultures!)
Reader insights
Be the first to share your insights about this piece.
Add your insights