The Nicolas De La Pava Flag Football Tournament at Fox Lane Beats the Heat with Love and Friendship
A Community Remembers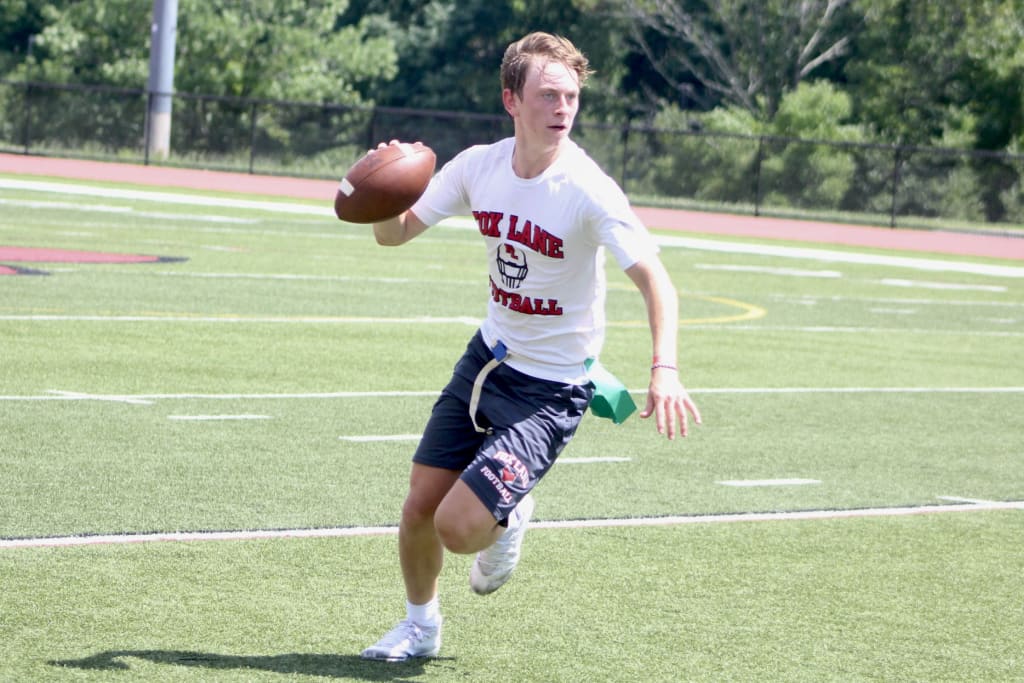 On Saturday Aug 4, five teams gathered at Fox Lane High School for the Third Annual Nicolas De La Pava Flag Football Tournament. Raising scholarship funding in the memory of the former football standout, the sweltering heat of the day could have easily zapped the strength of the fans and players in attendance. But the elements didn't stand a chance against the driving force of this family and friendship fueled event, according to Nick's Mother Myriam De La Pava.
"The motor that makes this happen is love," she beamed with pride and appreciation.
Seth Sullo could feel the amore too. "Amazing, it's in the atmosphere," said the 2017 Fox Lane Football Graduate.
The former football player was not unfamiliar with the aura either. "The way he played looked so effortless," Sullo remembered from the stands. "That's how I wanted to be."
Jack Fabry had a similar experience. "Growing up, we came to Friday Night Lights and seeing him play, we looked forward to the time when we'd get to play," said the current Fox Lane Football player.
Maybe not at 97 degrees but his teammate Brian Bailey was still determined to slog through. "The heat is tough, but we're making it work," said the junior.
Taking one for the team, Nick was all about selflessness, according to Fox Lane's current head coach. "He was a complete team guy and never about himself. That's why so many people are here," said Andrew Giuliano, who was assistant coach during Nick's tenure.
The points of origin definitely spoke to the sentiment. Coming from Staten Island, Long Island, Westchester, New Jersey, Brooklyn, and Poughkeepsie, Nick had friends everywhere. The biggest contingent came from Cortland, where he was a football walk-on for four years. "He was one of the most authentic human beings. That's why I loved him, he kept it honest," said Jimmy Contrini.
Just as important, Nick was always there for others. "If you looked upset, he'd grab you by the shoulders, shake you, and be like, come on - it's going to be ok," said 2013 Fox Lane Grad Ali Morea.
And those in his orbit covered a lot of ground. "He's your brother's cousin's girlfriend's sister - oh yeah, we know him," Morea remembered the buzz around Nick.
As for this day, the event is about coming full circle for her. "I feel special to honor him, because he honored us in so many ways," said Morea.
Amanda Hernandez, who was among the organizers, agreed. "We want to celebrate Nick's life and remember him for who he was," said Hernandez. "An amazing person with a beautiful heart and personality, he had such wonderful energy and cared so much about everyone."
An all hands on deck effort to put together the event, she still really gave it up for the players. "They are amazing," Hernandez asserted. "Every single year, it's the hottest day, and they just pull through."
Absorbing the heat above the rest, the Ballers from Thornwood flagged down the championship trophy, but for Nicholas' Mom, there was no need to hand out any hardware to signify a winner. "Coming from all over, they make the effort to come here and show appreciation and love that they have for me and Nick," De La Pava concluded. "It's an incredible group of human beings, and that means everything."
The Nicolas De La Pava Scholarship Fund was established to help football players in need at Fox Lane and Cortland State. A total of $2,850 was raised on the day.
Reader insights
Be the first to share your insights about this piece.
Add your insights