The 10 Most Durable Outdoor Basketball Shoes
The right durable outdoor basketball shoes will allow you to perform your best when playing on harder surfaces and in the elements.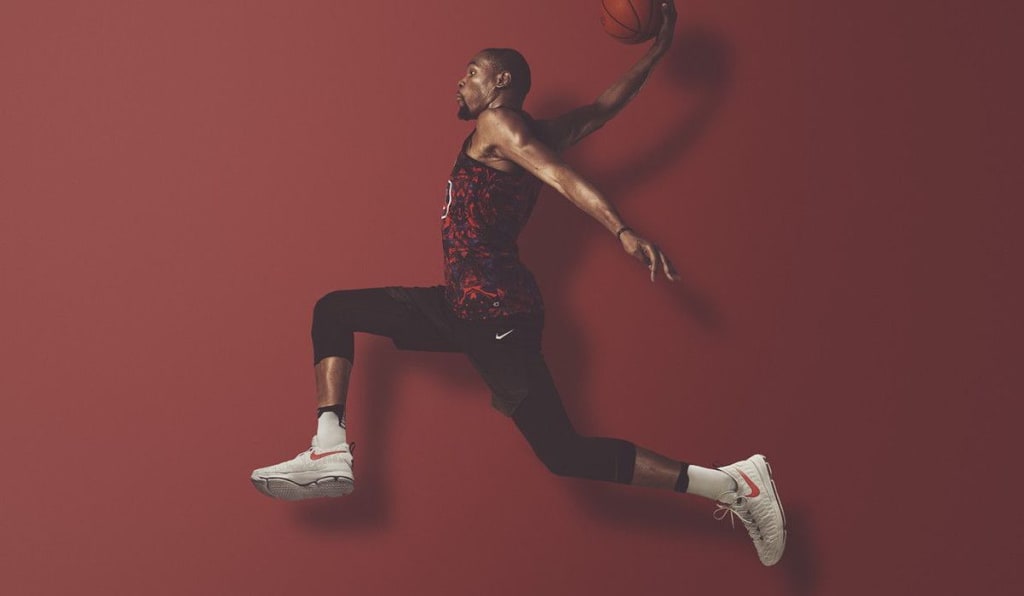 As any player will attest, basketball is an intense sport that demands a great deal of energy and stamina. That being said, your basketball shoes must also withstand a great deal of wear and tear over many games, requiring a great deal of flexibility and elasticity, as well as comfort and support. (There's a reason basketball players don't wear Chuck Taylors anymore!) From the first Air Jordan sneakers to the Nike Air shoes and the latest LeBron products, there has always been a lot of hype around basketball sneaker releases.
If basketball shoes are put to a rigorous test, then outdoor basketball shoes demand even more research, development, and durability. Playing outdoors, courts are usually asphalt or some other pavement surface, requiring numerous improvements such as a modified traction pattern. On these harder outdoor courts, shoes are also likely to wear more quickly than they do against a wood court. In order to beef up designs for paved play, designers must consider a variety of features. Accordingly, the most durable outdoor basketball shoes must be built to withstand more wear, tear, and damage. Though a basketball shoe for outdoor play is often over-engineered for asphalt, most sneakers will still be suitable for both indoor and outdoor basketball.
Bearing the name of one of the great superstars of our time, the LeBron Soldier series offers a mid-top shoe with velcro straps and a snug fit to assure they do not come loose or unfastened during use. Part of LeBron's (now nicknamed LA-Bron) vast line of basketball sneakers, these durable outdoor basketball shoes are guaranteed to stand up to rough pavement while elevating your playing level. Though not the newest in the Soldier series, the Soldier 10s and XIs are made from synthetic material and fabric with a solid rubber outsole. The sneakers are engineered to withstand repeated wear and tear from the game, making them a great choice for outdoor play. With their mid-top construction, these shoes are built to allow a bit of ankle support—without overly stiffening and hampering ankle movement—to minimize the potential of an ankle injury.
If you aren't so into the aesthetic or feel of velcro, you might instead consider these shoes from a similar series. Another great Nike LeBron sneaker, the LeBron XIIIs are great outdoor basketball shoes suited for a variety of playing surfaces and qualities. Despite being the unlucky number in the LeBron sneaker series, these shoes should be pretty well-suited to strenuous playing conditions, whether you are hitting the boards or the blacktop. Another mid-top basketball shoe, these sneakers are lace ups made with a synthetic material and a rubber sole that should stand up well to the grind of pavement. Though not as tight a fit as the velcro-fastened Soldier series, these shoes contain a similar synthetic makeup that should well withstand physical stress and tension.
If you're not a fan of Nike or Adidas, but you still want a player-grade, mid-top basketball shoe, there are certainly a number of other companies developing a variety of quality and durable outdoor basketball shoes. One such company is Under Armour, a brand known for its popularity among many professional and collegiate athletes. Though best known for their breathable workout clothing, Under Armour has done a great deal of work and research on all sportswear. Among the manufacturer's basketball shoes, the Under Armour ClutchFit Drive II model is engineered to offer optimal performance on the court. With a herringbone traction pattern on the sole (a tread pattern known historically for its traction and strength), the shoe is designed for maximum grip and minimal slip. The shoe's lightweight ClutchFit technology also wraps the foot in a flexible second layer for comfort.
Though the player signature models are often the most eye-catching and exciting shoes on the market, you do not have to pay for these names to get quality reliable basketball shoes for outdoor play. For another well-researched and innovative shoe design, look no further than the venerable Adidas. While there isn't very much that the colossal sports brand doesn't make in the world of equipment, they are perhaps best known for their athletic footwear in a variety of sports. Introducing the Adidas Crazylight Boost 2.5, made of a proprietary knitted mesh material, this sneaker will allow for a flexible fit while also offering improved breathability. With its high-tongued near low-top construction, this shoe gives players maximum ankle movement and comfort with soft padding and a strong heel counter that protects and supports your ankles without suffocating them.
As is the case with many sports equipment lists, Nike and Adidas have many offerings for outdoor basketball shoes. Not to be outdone by Adidas, Nike also offers a great high performance low-top shoe that will stand up to the wear of outdoor play. The Zoom Hyperrev features a lot of similar options to most basketball shoes, but with a few of its own unique traits. The Hyperrev features a warped and distorted herringbone tread that offers a great slip-resistant traction, distributed differently than standard herringbone patterns often used for optimal traction and grip. Combine this with the low-top construction for better ankle flexibility and the synthetic upper material, and you have a great solid outdoor basketball shoe without paying for the big name players.
Although not one of the 10 best basketball shoes for guards, specifically, the Adidas pair designed for Portland Trailblazer guard Damian Lillard, the D Lillard 2, combines many standard features with some innovations that make it particularly well-suited for outdoor play. With the upper shoe made from a synthetic material, this pair has been built to be sturdy and protective. Meanwhile, its mesh sides are meant to provide a cool and breathable feel. These shoes are also designed for the utmost comfort; with no seams on the inner tongue, you need not worry about the friction often created by a scratchy tongue. The D Lillard 2 offers a standard lace-up construction that's made to fit with the comfort and security of classic, yet durable outdoor basketball shoes! Lastly, the exterior is engineered to be "abrasion resistant," which may play as an important feature for those playing on rough pavement surfaces.
Another great Adidas option for the wear and tear of outdoor basketball is the D Rose 6. Engineered for star point guard Derek Rose, these shoes only contain the most optimal features one would expect from a high quality pair of durable basketball shoes. But, unlike the other outdoor basketball shoes, the D Rose 6 is a high-top basketball shoe—though it isn't the most traditional example of one. With it's complex mesh sidewalls, the D Rose 6 is engineered for flexibility and breathability without any substantial loss of elasticity or change in fit. In addition to being secured and tied by traditional shoe lacing, these shoes also have a tongue strap to further prevent slipping from the shoe. Unlike the traditional webbing in most basketball shoes, this "strap webbing" technology allows for better grip around the ankles.
If LeBron James is one of the top names in modern day basketball then Steph Curry certainly has to be right there with him, with a great deal of argument as to which is the NBA's true MVP. There is perhaps no greater rivalry in playoff basketball history, adding to the cultural capital of both players. Though LeBron's sneakers have been in production for longer, Curry's prowess assures that his signature shoes are built to the standard. Like his contemporaries, Curry designs his signature sneakers to stand up to the challenges of the game, making improvements to make the game even easier as they become apparent. Another Under Armour innovation, the Curry 4 basketball shoe is the latest signature shoe by the Golden State Warriors superstar. With its sock-like mesh high-top ankle supports, it is designed to cushion and secure the ankles while also allowing substantial ankle movement.
If you cannot seem to choose between ankle support and ankle flexibility, you may wish to look for a shoe with a hybrid top. With its hybrid top and lace-up construction, the Nike KD 9 offers optimal "support and lockdown" whenever necessary. Another titan of today's game, Kevin Durant promotes his own series of basketball sneakers for production. The ninth edition of Nike's Kevin Durant signature series, this pair of KD kicks offers a unique set of features to create a dynamic shoe. It has a hybrid top, low on the sides for lateral flexibility, with a high front and back top that adds stability and support. Like many similar offerings, the KDs feature a mesh construction to allow for flexible foot movement and sweat reduction.
As the years advance, sportswear manufacturers continue to find new ways to improve and upgrade their equipment to stand up to many types of adversity. If you are really looking for a hardy and strong shoe that will also up your game with its optimal design, look no further than the Adidas "Crazy Explosive" basketball shoe. The Crazy Explosive shoe took years to research and develop, applying it to a shoe line not built as a promotional tool for any famous player. The lacing on the shoe is distributed in an innovative way to reduce the inevitable wear and tear on well-worn shoes, creating one of the most durable outdoor basketball shoes on the market. With its "boost" technology, the shoe is designed to improve cushioning response to jump impact. The durable synthetic exterior is also complimented by a textile interior for a more traditional comfort.
basketball
About the author
Fred Park is a writer, singer and guitarist with a deep passion for music, sports and history. Fred graduated from Purchase College in 2016 with a BA in history.
Reader insights
Be the first to share your insights about this piece.
Add your insights