TF2k23
Arnold has top 400 time in NCAA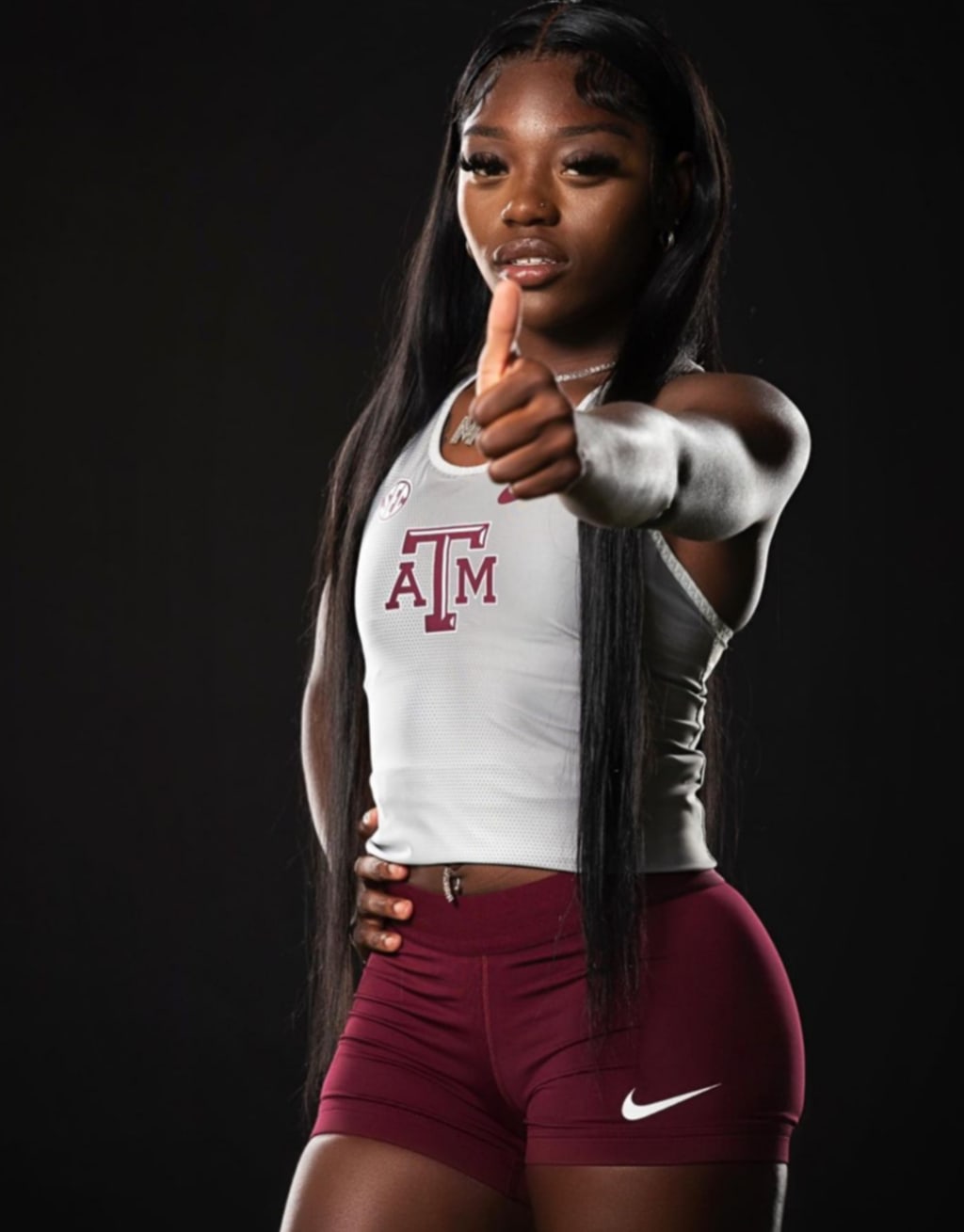 Jermaisha Arnold
Jermaisha Arnold's transfer to Texas A&M is going well thus far as she currently holds the world's top spot for all 40o-meter competitors this season at 50.71. Prior to this season Arnold starred at Coastal Carolina where she quietly built a resume that resulted to her becoming an All-American after two seasons.
During her freshman season she won the 400 meters gold medal at the Sun Belt Indoor Track & Field Championships at 54.46. During outdoor season she doubled up on gold and won another conference title in the 400 at 52.69, along with winning two more golds as a member of the 400-meter relay and 1,600-meter relay.
In her final season at Coastal Carolina, she successfully defended her indoor conference championship at 54.22. During the spring she placed second (52.21) to the woman she beat during the indoor Sun Belt meet, Mckenzie Kelley who was her teammate. Arnold ended her career at Coastal Carolina with second-team All-America honors as she qualified and competed in the preliminary round of the 400 meters at the NCAA outdoor meet running a time of 51.24. She also earned first-team All-American honors as a member of the 400-meter relay.
After debuting for Texas A&M during the indoor season, she wasn't able to get a medal in the 400 meters at the SEC indoor meet, but she did qualify for the NCAA Indoor Track & Field Championships. Arnold earned a top eight finish in the NCAA 400 meters final at 51.80. She captured her first medal at an NCAA meet with a third-place finish in the 1,600-meter relay with teammates Kennedy Wade, Jania Martin and Tierra Robinson-Jones.
As for outdoor season, Arnold ran her best 400 meters time ever of 50.71 at the Florida Relays on March 31. She finished ahead of a fine group of All-American sprinters with her teammate Tierra Robinson-Jones, Michigan's Ziyah Holman and USC's Bailey Lear all placing in the top four of that race in a field of 42 competitors.
Arnold is a native of Myrtle Beach, South Carolina. She and her teammate Robinson-Jones are two of only five Texas A&M sprinters who have finished the 400 meters under 51 seconds in the history of the program.
Top 15 NCAA 400 Meters Times of 2023
Jermaisha Arnold, Texas A&M, 50.71
Tierra Robinson-Jones, Texas A&M, 50.90
Ziyah Holman, Michigan, 51.21
Bailey Lear, USC, 51.69
Maya Singletary, Charlotte, 51.73
Yemi John, USC, 51.77
Aaliyah Butler, Georgia, 52.31
Janielle Josephs, Minnesota, 52.33
Ella Onojuvwevwo, LSU, 52.52
Kiah Williams, USC, 52.54
Jania Martin, Texas A&M, 52.56
Moriah Oliveira, Miami, 52.58
Latasha Smith, UCF, 52.70
Jessica Wright, Howard, 52.76
Jaydan Wood, Ohio State, 52.81
Fernandez-Sola wins long jump at Tennessee Invite
Indiana All-American jumper Paola Fernandez-Sola stepped her game up.
Last season, during the first weekend of April, she fought through the wind and sleet to earn a second-place finish of 6.08 in the long jump at the Tennessee Relays. Yesterday at the Tennessee Invite, held on the same track in Knoxville, she fought through moderate rain and chilly conditions to hit a winning mark of 6.49. The San Juan, Puerto Rico native dominated the competition finishing well ahead of runner-up Lynnika Vance of Middle Tennessee (6.03) and the field of 37 competitors. In fact, Fernandez-Sola could've won the competition on her second jump of 6.26 which was her third best mark of the day.
Fernandez-Sola's effort at the Tennessee Invite was her second-best collegiate mark. Her career best jump came at the Indiana Invitational when she hit a mark of 6.61 during, April 22, 2022. She went on to capture the bronze medal at the Big Ten outdoor meet before placing 14th at the NCAA Championships. During this year's indoor season, she fared better with a second place Big Ten performance and a top-nine finish at the NCAA indoor meet.
This feature is brought to you by Prolific Sports. You can follow the best in women's sports on TikTok by clicking the link below:
Reader insights
Be the first to share your insights about this piece.
Add your insights