TF2k23
Darci Khan wins at Penn Relays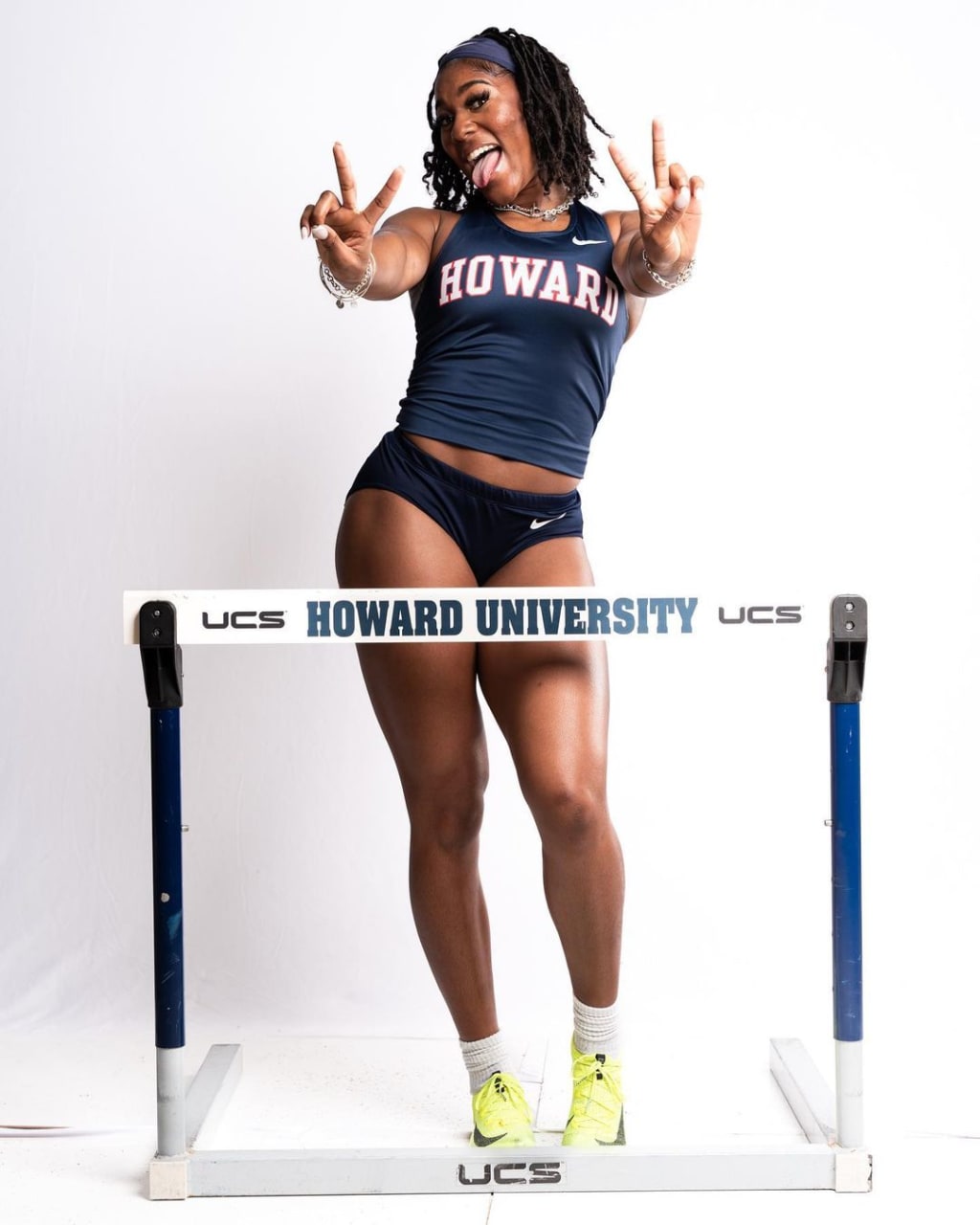 Darci Khan
One declaration that can officially be made in the 2023 NCAA track and field season is that Darci Khan is a winner. After years of toiling at the University of Kentucky in the gigantic shadows of All-Americans such as Masai Russell, Abby Steiner, DaJour Miles, Karimah Davis and Alexus Holmes, Khan made a move to Howard University.
The junior from Stockbridge, Georgia proved immediately to be a worthwhile investment. During indoor season, Khan won MEAC championships in the 60 meters as well as the 60-meter hurdles. She closed her first indoor season at Howard with wins in the same events at the IC4A/ECAC Championships.
That success leads us to last weekend where Khan lined up to compete at the famed Penn Relays. In the final round of the 100-meter hurdles she faced a field that included All-Americans Paula Salmon of North Carolina A&T, Destiny Huven of Wisconsin and Isabelle Wakefield of Duke. Khan was the only hurdler that finished the race in Philadelphia's Penn Franklin Field with a time under 13.20, when she crossed the line at 13.12. Salmon was second at 13.32.
After the race, Khan posted a photo of her victory on her Instagram account where she wrote, "My first Penn Relays was nothing short of amazing! After finding out I had a chip fracture in my foot earlier this week, my mindset was all over the place. I was so unsure of how the weekend would go, but I never let go of God's hand. I trusted him 110%. When I crossed the line in first place, I felt nothing but gratitude. This weekend was much more than just a win."
Khan's win is her career first in the event after two outdoor seasons at Kentucky. She is currently 11th in the NCAA with a time of 12.96, which she recorded in a fourth-place finish at the Clyde Littlefield Texas Relays, March 29. She started her outdoor season with second-place efforts in the 100-meter hurdles at the Charlotte 49er Classic and Raleigh Relays where she finished the races at 13.53 and 13.22 respectively.
Khan is the only hurdler in the MEAC so far this season with a sub 13 second time this season.
Penn Relays 100-Meter Hurdles Championship
1. Darci Khan, Howard, 13.18
2. Paula Salmon, North Carolina A&T, 13.32
3. Jayla Covington, Texas A&M, 13.38
4. Isabel Wakefield, Duke, 13.61
5. Kaya-Rae Dunbar, Howard, 13.76
6. Destiny Huven, Wisconsin, 13.77
7. Ally Henson, NC State, 13.77
8. Destiny Smith, Houston, 13.83
9. Shaleah Colaire, Syracuse, 14.28
NCAA Top 20 100-Meter Hurdles Times of 2023
1. Masai Russell, Kentucky, 12.36
2. Ackera Nugent, Arkansas, 12.52
3. Alia Armstrong, LSU, 12.56
4. Rayniah Jones, UCF, 12.63
5. Talie Bonds, Arizona, 12.65
6. Alexis Glasco, Costal Carolina, 12.83
6. Grace Stark, Florida, 12.83
8. Demisha Roswell, Texas Tech, 12.84
8. Charisma Taylor, Tennessee, 12.84
10. Leah Phillips, LSU, 12.89
11. Myreanna Bebe, Iowa, 12.96
11. Darci Khan, Howard, 12.96
13. Aaliya McCormick, Oregon, 13.03
14. Aasia Laurencin, Michigan, 13.07
14. Jalaysiya Smith, USC, 13.07
16. Paula Salmon, North Carolina A&T, 13.08
17. Allie Jones, USC, 13.10
17. Sedrickia Wynn, Texas State, 13.10
19. Jaiden Paris, Ole Miss, 13.11
20. Alexandra Webster, Florida State, 13.12
20. Rosealee Cooper, Mississippi State, 13.12
This feature is brought to you by Prolific Sports. Follow the best in women's sports on TikTok by clicking the link below.
Reader insights
Be the first to share your insights about this piece.
Add your insights