TF2K23
Hebron tops NCAA 400-meter hurdles times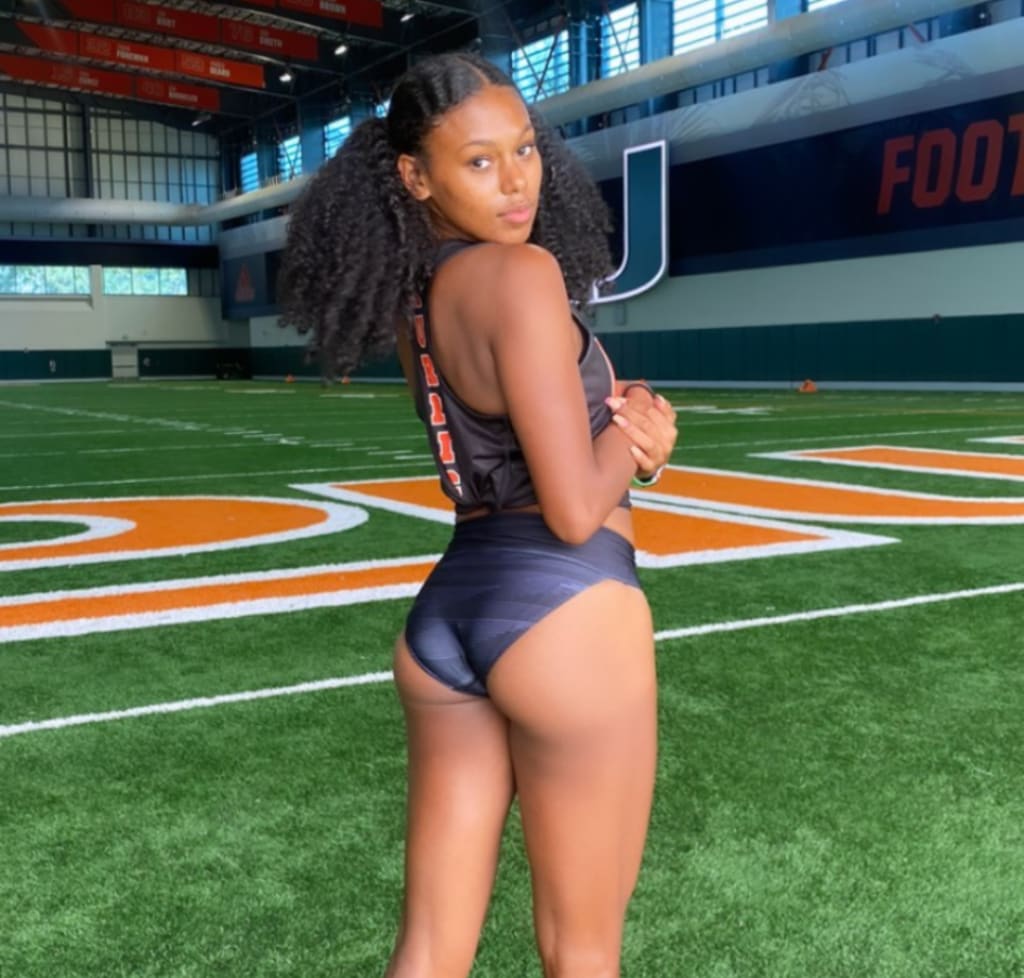 Sanaa Hebron
Hebron wins first NCAA 400-meter hurdles race
Just short of a month after leading her team to a 1,600-meter relay win at the ACC Indoor Track & Field Championships, Miami freshman Sanaa Hebron competed in her first outdoor meet earning a win in the 400-meter hurdles. The athlete from Newtown, Pennsylvania, recorded the top time in all of the NCAA for the opening weekend at 56.47 seconds during her win at the Hurricane Invitational in Coral Gables, Florida, March 17.
Hebron finished ahead of Mariel Bruxvoort, a junior from Iowa who placed second at 57.57. Miami transfer Skyla Wilson was third at 58.34. Wilson previously competed as an All-American at Penn.
In high school Hebron was a state champion in the 300-meter hurdles. She was also a 400 meters indoor national champ after winning at the Adidas championships.
Sooners' Warner grabs career best time in victory
Oklahoma's Ashonti Warner ran a career best 400-meter hurdles time of 57.38 at the Island Relays Bahamas meet on March 17.
Warner earned a win at the race held at the Grand Bahamas Sports Complex in Freeport, South Carolina. She finished ahead of teammate Daneesha Davidson (57.91) and Elena Kelety of South Carolina (58.19), who finished in the top three.
Last season Warner competed for Marshall where she was the runner-up in the 400-meter hurdles at the Conference USA outdoor meet. She also placed second as a freshman during the 2019 season. In 2022 Warner earned a bronze medal with a third-place finish in the 100-meter hurdles of the Conference USA Outdoor Track & Field Championships.
During indoor season Warner just missed getting a medal at her first Big 12 Championships. The senior placed fourth in the 400 meters at 52.64.
Pollock wins 400-meter hurdles at Georgia Tech meet
Georgia's Zoe Pollock had a successful 2023 outdoor opening race, winning the 400-meter hurdles at the Yellow Jacket Invitational.
Pollock running on the rival Georgia Tech track ran a time of 57.38, just edging out teammate Dominique Mustin's time of 57.39. Lashanna Graham of Clemson was third at 58 seconds flat. Pollock is a grad student and native of Oxford, United Kingdom.
Walker tops NCAA Division II 400-meter hurdles finishes
Azusa Pacific's Jaylah Walker was the lone NCAA Division II competitor to finish the 400-meter hurdles under a minute during the opening weekend of outdoor season.
The All-American hurdler and sprinter won with a time of 59.52 at the Ross and Sharon Irwin meet in San Diego, California. She was the best in a field of 20 competitors that included runner-up Sarah Taylor (1:02.09) and third place finisher Isabella Romasko (1:02.91), both of Navy.
In 2022 Walker was the PacWest champ in the 100-meter hurdles and 400-meter hurdles. She shined at last year's NCAA Division II indoor meet with third place finishes in the 200 meters, 400 meters and 1,600-meter relay.
Top 10 NCAA Division I 400-Meter Hurdles Times
1. Sanaa Hebron, Miami, 56.47
2. Masai Russell, Kentucky, 56.66
3. Ashonti Warner, Oklahoma, 57.38
3. Zoe Pollock, Georgia, 57.38
5. Dominique Mustin, Georgia, 57.39
6. Mariel Bruxvoort, Iowa, 57.57
7. Daneesha Davidson, Oklahoma, 57.91
8. Lashanna Graham, Clemson, 58.00
9. Dinedye Denis, Utah, 58.12
10. Elena Kelety, South Carolina, 58.19
This feature is presented by Prolific Sports. Follow the most productive women's sports account on TikTok after clicking the link below:
Reader insights
Be the first to share your insights about this piece.
Add your insights